No, buckwheat is not keto-friendly if you are thinking of consuming it regularly. In fact, if you are on a keto diet, consuming buckwheat ruins the entire purpose. Keto diet is about increasing fat in replacement of carbohydrates. By reducing carbs, your body enters a state of ketosis.
However, it is not strictly advised to avoid it. You might be benefitted from consuming buckwheat in limited portions.  If you are confused, and wondering if buckwheat is keto-friendly, this article is for you. 
Key Takeaways:
Buckwheat is not keto-friendly as it is relatively high in carbohydrate 
Buckwheat should be consumed as per individual needs, activity level, and daily diet plan
Buckwheat is highly nutritious and unlike most other grains or seeds
Buckwheat is not keto-friendly and not suited for all. This article talks about some gluten-free and keto-friendly alternatives to buckwheat. These alternatives offer almost the same nutritional value without compromising on the taste and culinary options. 
Buckwheat During Keto: Should you Have it?
Buckwheat can be a tricky choice during a keto diet. While it's gluten-free and rich in nutrients like fiber, minerals, and antioxidants, it's also relatively high in carbohydrates. 
A single serving of cooked buckwheat consists of approximately 33 grams of net carbohydrates, potentially affecting the state of ketosis. Buckwheat might not be the best option if you're on a strict keto diet. 
Prioritize your individual carb limit and monitor your ketone levels before including buckwheat in your keto diet. Much of this is also influenced by variables such as a person's unique metabolism and their level of physical activity.
The Dietary Guidelines for Americans suggest that an adult's daily caloric intake should be derived as follows:
45–65 percent carbohydrates
10–30 percent protein
20–35 percent fat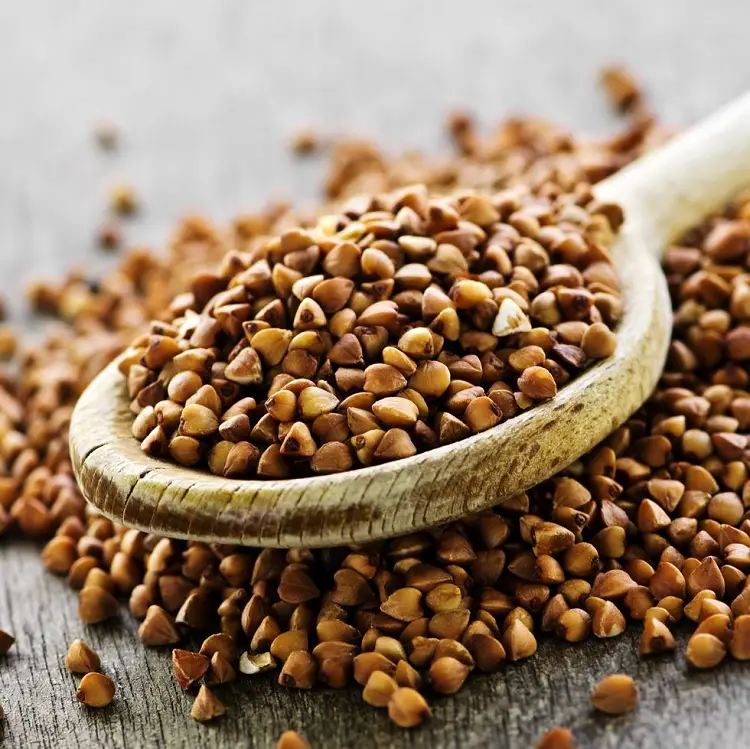 Source: Good Housekeeping
How Much Buckwheat is Enough?
To calculate how many grams of crabs you need to have per day, based on your activity levels, use this:
| | | |
| --- | --- | --- |
| Exercise Level | Type of exercise | Carbohydrate Target (per day) |
| Light | Skills-based activities | 3-5 grams per kilogram of body weight |
| Moderate | Regular exercise program (eg, ~1 hour per day) | 5-7 g per kg of body weight |
| High | Endurance program (eg, 1-3 hours/day of moderate to high-intensity exercise) | 6-10 g per kg of body weight |
| Very High | Intense workout (eg, >4-5 hours per day of moderate to high-intensity exercise) | 8-12 g per kg of body weight |
For example, if you are 65.9 kgs with a 9-5 job, with little to moderate physical movement, you should get 65.9 kg body weight * 5 g carbs = 329.5 g of carbs per day. 
For keto enthusiasts, buckwheat's high carb content might be too much to include in your daily diet. In such cases, other low-carb alternatives like quinoa or millet are best suited for the keto regime.. 
Food Science revealed: Buckwheat Is Not Any Wheat
In spite of being called Buckwheat, it's nothing to do with wheat. Additionally, unlike wheat, Buckwheat is entirely free of gluten. It is derived from a flowering plant akin to rhubarb, and it is a harvested seed rather than just a grain. 
Many health concerns are opting for gluten-free meals for maintaining a healthy weight and easing the digestive system. Hunting for gluten-free meals might be tricky, be it grains, meat, or any other food products.
As you can see, buckwheat is a good carb, but if not consumed in moderation, it will not be keto-friendly.
Buckwheat vs Wheat: Why Buckwheat is Highly Nutritious
| | | |
| --- | --- | --- |
| Factors (per 30 g) | Wheat | Buckwheat |
| Carbs g | 19.4 | 21.3 |
| Protein g | 3.17 | 3.97 |
| Fat g | 0.441 | 1.02 |
| Fiber g | 3.36 | 3 |
| Energy kcal | 96.58 | 102 |
| Magnesium g | 37.5 | 69.3 |
| Phosphorus g | 94.5 | 104.1 |
| Potassium g | 109.8 | 138 |
Buckwheat is higher in protein compared to wheat. Wheat contains about 10-15% protein, while buckwheat contains about 11-14%. Buckwheat is also rich in essential nutrients like magnesium, phosphorus, and potassium. 
Buckwheat has a lower glycemic index (GI) than wheat, which means it has a milder impact on weight loss goals. Diabetes patients can also benefit from this, since they need to control their blood sugar.
Buckwheat's nutrient profile is more diverse and concentrated than wheat's, making it a better choice.
Is Buckwheat Healthy?
Promotes Heart Health
Research suggests that individuals who incorporate buckwheat products into their diet tend to experience reduced levels of cholesterol, triglycerides, and blood glucose. Diets high in whole grains are associated with lower risks of heart disease, according to a systematic review published in 2015.
Digestive Support
Buckwheat is high in dietary fiber and aids in digestion, prevents constipation, and supports a healthy gut. A single cup of buckwheat provides 1.58 mg of niacin, which contributes to almost 10.5% of the recommended niacin intake for adults. 
Vitamin B-3, known as Niacin, functions as an enzyme responsible for transforming carbohydrates, fats, and proteins into usable energy.
Gluten-Free Alternative
Gluten is naturally absent from buckwheat. Anyone with a gluten-related disorder, such as 
celiac disease
non-celiac gluten sensitivity
wheat allergies
dermatitis herpetiformis
Can easily incorporate buckwheat into their diet. 
However, if you are opting for other gluten-free products, beyond meat and lunch meat is worth trying. 
Weight management
Buckwheat is rich in protein content. Studies indicate that incorporating protein-rich foods into your diet is crucial for effective weight control. This occurs because they result in increased feelings of fullness while containing fewer calories compared to other kinds of food.
Versatile Culinary Use
The variety of forms of buckwheat – groats, flour, noodles – provides creative culinary opportunities, enhancing the nutritional diversity of meals.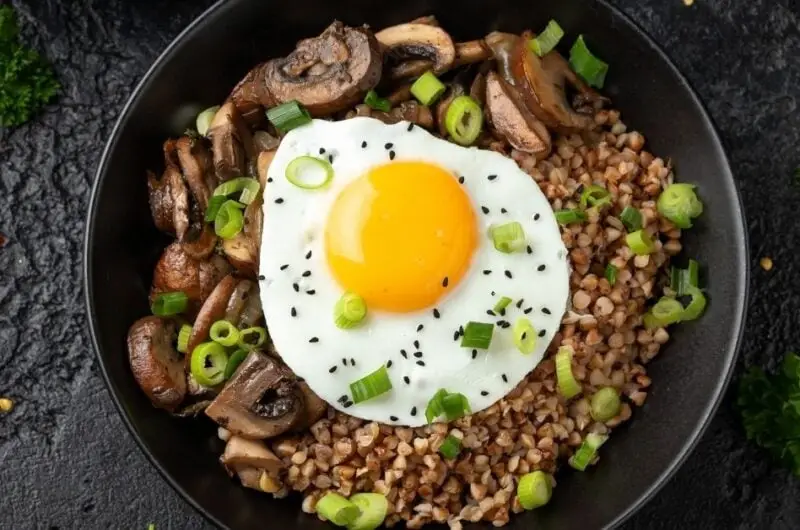 Source: Insanely Good Recipes
Downsides of Buckwheat
Following are some of the downsides of Buckwheat. 
Buckwheat is High in Carbs
Buckwheat's high carb content can add up and potentially push you over your daily carb limit on a keto diet. This may impede achieving ketosis, in which fat is the body's primary energy source. The high carbohydrate content of a keto diet makes it hard to fit within its strict carbohydrate limits.
Buckwheat Might Trigger Allergic Reactions
Individuals who have allergies to rice, poppy seeds, coconut, and latex could potentially also have an allergic reaction to buckwheat. The most common symptoms of buckwheat allergy are hives, skin rash, asthma, itching, swelling, and breathing difficulties.
Keto-Friendly Alternatives for Buckwheat
If you are following a keto diet, opting for lower-carb alternatives is generally recommended. Fiber-rich, health-enhancing, weight-loss-promoting grains with low carbs offer wellness benefits and support shedding pounds.
Oatmeal 16g carb (14g net carb)/half cup
Oats closely resemble buckwheat groats in size, shape, and texture. Buckwheat groats offer slightly superior nutritional value compared to oats. However, oats serve as a better option when on a keto diet. 
Oats are calorie-light, containing vitamins D, B6, magnesium, calcium, and iron in their nutritional profile. Spice up oatmeal with cinnamon, pumpkin pie spice, or nutmeg for a healthier and flavorful option.
Quinoa 20g carb(17g net carb)/ half cup
Quinoa has four grams of protein per half cup, making it one of the most protein-dense grains. Besides serving it as a side dish, topping salads, or eating it sweet, it can also be combined with beans or lentils.
Millet 21g carb(20g net carb)/half cup
Another protein-packed grain that provides 3 grams of protein per cup. With almost similar nutritions that buckwheat has to offer, millet is an excellent substitute for buckwheat. 
Bulgur 17g carb (13g net carb)/half cup
Bulgur is almost buckwheat resemblant but with lower carb content and higher fiber content.  Bulgur, a whole wheat grain, should be avoided by those with gluten allergies due to its composition.
The Role of Fats in the Keto Diet
Fat is the only primary source of calories when on a keto diet. To stay in ketosis, you need to get 55%–60% of your daily calories from fat. 
However, you have to be selective of which fat you consume, because not every fat is healthy.  Make sure to avoid having refined oils like peanut oil, it is not recommended for keto diets. Instead, go for healthful oils like almond oil, olive oil, etc. 
Also, be aware of stews like menudo and condiments like sriracha, as they can be disadvantageous to your ketosis. Again, note that the effects depend on a few variables, like individual metabolism, and the degree of ketosis. 
Frequently Asked Questions
What is the Healthiest Way to Eat Buckwheat?
Choose whole buckwheat groats over processed options to improve your health and nutrition. These can be prepared similarly to rice and used as an accompaniment or salads, stir-fries etc. To enjoy buckwheat-based noodles (soba) in soups, look for 100% buckwheat noodles for maximum health benefits.
Which Foods to Avoid on a Keto Diet?
Avoid starchy veggies like corn, potatoes, sweet potatoes, and beets due to their high easily-digestible carb content. Limit high-sugar fruits like banana, mango, dates, and raisins as they spike your blood sugar quicker than berries 
Is Keto Diet Safe?
You can get nutrient deficiencies from the keto diet if you don't manage it correctly. Consult a healthcare professional before starting, and consider long-term sustainability and potential health risks before committing to the keto diet.
Final Decision
Buckwheat makes an excellent choice for your meals, but not every day. Individuals adhering to a rigorous ketogenic diet might have to restrict their buckwheat  consumption to effectively stay in a state of ketosis. Hope now you know why it is said buckwheat is not keto-friendly.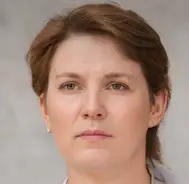 Latest posts by Leah Greenstein
(see all)