Curious about whether edamame beans are low-carb enough to be added to your keto diet or not?
No, even though Edamame is low in carb count however because it is a legume it is not suitable for a keto diet. If you are following your keto diet strictly, Edamame is not recommended. However, you can consume it in moderation occasionally as it has low carbs and high dietary fiber.
You can decide by yourself whether edamame is keto-friendly by learning more about it. So go through the following article to learn more.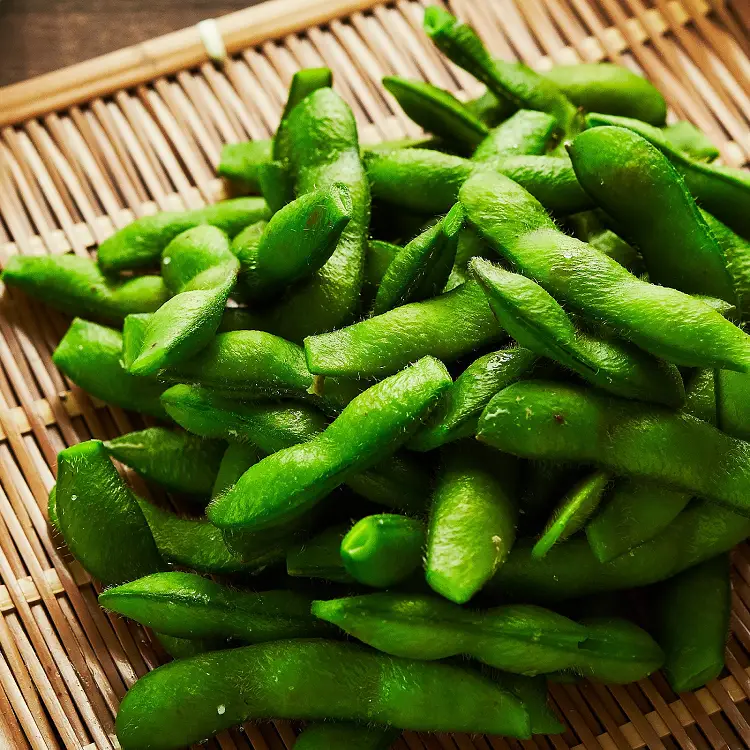 Source: No Recipes (https://norecipes.com/edamame/) 
Table of Contents
Key Takeaways 
Is Edamame Keto-Friendly?
No, Edamame is a legume that is highly restricted from a keto diet because of its high carb value. However, edamame is a unique type of legume. It is high in dietary fiber which neutralizes its high-carb contents. As a result, the net carb of edamame is quite less. 
Hence, Edamame falls into a grey area of the keto diet regime compared to peanut oil for keto diet which is not encouraged!
Why Edamame Is Not Keto-Friendly?
Edamame is not necessarily restricted from a keto-friendly diet. However, it is suggested to avoid it in case you are following a strict keto diet.  
A keto diet is a diet that relies on protein and fat for burning energy rather than carbohydrates. Usually, carbs are the main source of burning energy. However, in a keto diet, fat and protein helps burn energy by increasing fat intake and decreasing carb intake. This will lead the body to a state of ketosis.
There is no fixed ratio of fat, protein, and carb intake in a keto diet. But most keto diets limit carb intake to around 5-10% in your daily diet. You should have more fat and protein in your diet than carbs. 
Legumes are strictly restricted from a keto diet because of their high net carbs. Edamame is a type of legume however it is unique. Even though they are high in carbs, they have high dietary fiber. As a result, it is low. But it is not necessarily keto-friendly. 
For instance, peanut oil and Fairlife milk for the keto diet is still not recommended. Similarly, it is better to avoid Edamame if you are on a keto diet.
However, you can have Edamame in moderate amounts if you keep a check on your carb intake.
What Amount Of Edamame Is Appropriate For A Keto Diet?
Edamame is better to be avoided if on a strict keto diet. However, it won't kick you off ketosis if you consume it in small amounts. 
If your low-carb diet is more flexible, then it is completely fine to have a controlled amount of Edamame occasionally. In a half cup of Edamame, there are 9g of carbs and 4g of dietary fiber. So the net carb is 5g. Moreover, it has 4g of fat. So you will have the same amount of fat and carbs which is not recommended for keto.
Edamame is ok as long as they are taken in a small amount (½ cup). Also, you can take Edamame with high-fat, low-carb food such as bacon and meat to maintain ketosis.
Nutritional Value of Edamame 
The following table will have a detailed analysis of the nutritional value of one serving of Edamame:
| | |
| --- | --- |
| Nutritional Contents  | Amount in a 160g cup of cooked edamame beans |
| Calories  | 224 |
| Carbs  | 13.8g |
| Sugar   | 3.38g |
| Fat  | 8g  |
| Protein  | 18.4g  |
| Dietary fiber | 8g |
| Net carbs  | 5g  |
Is Edamame Healthy- Health Benefits of Edamame
Yes, though Edamame is not ideal for keto, it is healthy. It is rich in vitamins and minerals. Edamame also provides some health benefits. The health benefits of Edamame are as mentioned below:
Rich in Vitamins and Minerals 
Edamame is rich in vitamins and minerals along with fiber. It has a significant amount of vitamin K and folate. One cup of Edamame provides 56% DV vitamin K and more than 100% DV folate. 
Both vitamin K and folate have proven to be beneficial to our health in a number of ways. So having Edamame can fulfill our vitamin and mineral requirements.
Good for Acne 
Edamame beans are rich in vitamins and minerals. It contains a good amount of vitamin A which is essential for healthy skin, eyes, and immunity. Vitamin A deficiency mostly leads to cystic acne. 
Hence, including edamame beans in your diet can help you improve your skin by solving the vitamin A deficiency.
Prevents Migraine
Edamame beans are good for relieving migraine because they contain large amounts of magnesium. It has 25% of the DV for magnesium. More than 75% of Americans don't meet magnesium requirements.
A deficiency in magnesium is one of the causes of migraine. So, introduce Edamame in your daily diet if suffer from chronic migraine. You can also take magnesium supplements or eat magnesium-rich foods like shrimp.
Reduces Inflammation 
Edamame beans help with reducing inflammation because they contain a lot of antioxidants. These antioxidants combat free radicals, toxins, and inflammation boosting immunity 
Moreover, the choline and vitamin B contains in the beans help in lowering inflammation in asthma and heart disease.
Rich in Proteins 
Along with vitamins and minerals, Edamame is rich in protein. It is good for vegans as a protein option. They do not eat protein-rich foods like meat and fish. So Edamame beans are a great source of protein for them.
3 Recipes to Introduce Edamame to Your Keto Diet
You can often find eating edamame by itself an untasteful and unpleasant experience.
So here are 3 ways how you can eat edamame which is both healthy and tasty:
Keto edamame with bacon 
You can easily prepare keto edamame with bacon for when you are busy or feeling lazy and want something on the go. It is a quick and convenient meal option. Here is step by step process for preparing it:
Boil ½ a cup of frozen edamame for 4-5 minutes
Cook 5 slices of bacon in a pan with butter until it's crispy.
Seasoned it with salt and pepper.
Combine the cooked edamame and bacon for a delicious and satisfying dish.
Keto Edamame Spaghetti 
Edamame spaghetti is a quick and delicious dish for satisfying your carb craving. Here are the steps for preparing Keto Edamame spaghetti:
Boil 200g of Edamame spaghetti for 3-5 minutes until soft.
Then drain the water.
Mix in 6 tablespoons of butter, 2 eggs, 1 cup of grated pepper jack cheese, mushrooms, garlic, and soy sauce, and season with salt and pepper.
Keto edamame garlic and parmesan snack
Have a keto edamame recipe with garlic and parmesan for a quick and easy snack. If you crave some carbs, it is the perfect dish. Here's how you can prepare the snack easily at home:
Boil half a cup of edamame beans for 3-5 minutes then drain the water.
Transfer to a mixing bowl and add olive oil, garlic powder, and grated Parmesan cheese.
Toss the ingredients together for a flavorful mix.
Season with salt and pepper to taste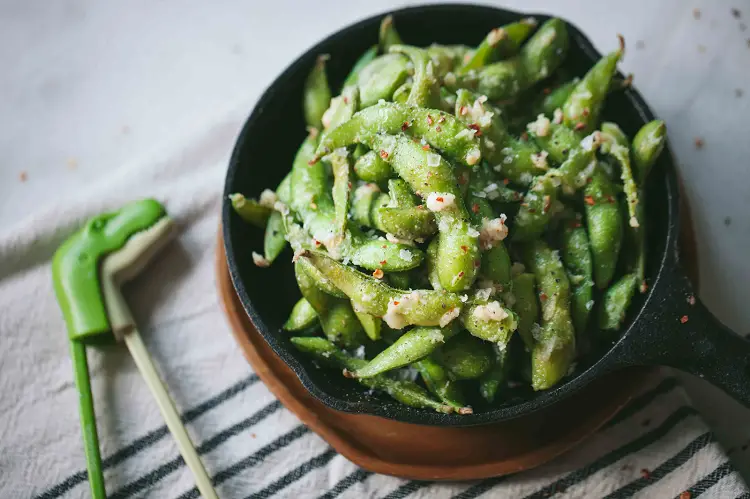 Source: Wicked Stuffed 
Keto-friendly Alternatives to Edamame 
Edamame is not quite ideal for a keto-friendly diet. So you may be wondering what are some good alternatives to Edamame beans. Here are some alternatives to Edamame mentioned below:
Brussel sprouts 
Brussels is good for your keto diet because it only contains 4.5g of net carbs. Moreover, it is not a legume. So there is no need to limit your intake. You can easily introduce Brussels sprouts to your keto diet.
Mushrooms 
Mushrooms are low in both carbs and sugars. So it is a great vegetable option for your keto diet. Moreover, they are also rich in fiber, vitamins, and minerals. For a healthy and tasty meal, have mushrooms with miso soup.
Eggplants 
Eggplants contain only 2g of net crans which is why these are excellent options for a ketogenic diet. Cooked eggplant is also low in carb count.
Celery
Celery is not only good for a keto diet, it is in fact good for weight loss. The calorie count of celery is only 14 and it only has 3g carbs. So, it is the perfect option for a keto diet. Celery helps to lower blood sugar and pressure.
Zucchini 
Zucchini is also low in calories and carbs. It only has 17 calories and 3g carbs. It also has essential nutrients like vitamins, manganese, and lutein that will help you prevent diseases.
These are not the only option for a keto diet. You can have any low-crab vegetables like broccoli and cucumber for a keto diet. 
Wondering if some of the common vegetables will suit your keto diet? Watch this video for a better understanding-
Frequently Asked Questions
Who should avoid edamame?
Try to avoid edamame if you suffer from depression or any other autoimmune disease because it contains lectins. Lectins act as a survival mechanism for plants. 
How much edamame is okay for the keto diet?
Edamame is not necessarily restricted from a keto-friendly diet. However, it's best to avoid it when you are on a diet. If you still want to have some you can have half a cup of edamame.
Is edamame good for weightloss?
Yes, you can have edamame for weight loss. It is good for weight loss because it is rich in protein and fiber and low in carbs. So you can add edamame to lose weight.
Closing Words
Coming to the question- is Edamame keto-friendly? It is a unique type of legume and legumes are strictly prohibited from a keto diet. So, it is not keto-friendly. However, the net carb count of edamame is low so it can be used in the keto diet occasionally. 
So, choose wisely depending on your diet!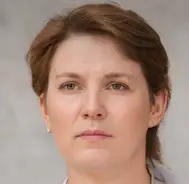 Latest posts by Leah Greenstein
(see all)