If you consume sriracha in moderation, it can be a part of a keto diet. Whether sriracha is keto-friendly largely depends on an individual's dietary needs and goals. While sriracha does contain some sugar, the amount used in a serving is relatively low. 
The Ketogenic diet does not have to be boring. In fact, Keto-friendly condiments like Sriracha are a great way to add healthy fat and flavor while staying in Ketosis. Learn how keto-friendly sriracha is, in this article.
Key Takeaways
Is Sriracha Keto?
Sriracha sauce is a low-calorie condiment, suitable for a keto diet. Made primarily from chili peppers, vinegar, and garlic, sriracha is low in carbohydrates and sugar. 
It adds a spicy and tangy flavor to dishes without significantly impacting the keto macronutrient ratios. 
While sriracha can be consumed in moderation on a keto diet, it's important to consider individual carbohydrate limits and track overall daily intake to maintain ketosis. This is similar to the keto-friendly pepper jack cheese. 
However, it's essential to check the label and choose a brand that doesn't contain added sugars or high-fructose corn syrup, as these can hinder ketosis. 
Instead of avoiding sriracha, you need to refrain from consuming sweet chili sauce. One teaspoon of sweet chili sauce contains more than 10 calories. 
Applesauce is not keto-friendly either, with more than 90 calories per serving size (0.5 cup), making it impossible to fit into keto macros.
Nutritional Value of Sriracha 
The nutritional profile for a 1-teaspoon (6.5-gram)
| | |
| --- | --- |
| Nutrition | Amount |
| Calories |                           6 |
| Carbs |             1 gram |
| Protein |                       0 gram |
| Fat | 0.1 grams |
| Fiber | 0 gram |
| Sugar | 1 gram |
| Sodium | 138 grams(8% of the Daily Value (DV)) |
| Calcium | 1.2 grams(less than 1% of the DV) |
Most brands of sriracha are low in calories. They might contain a few calories or grams of carbohydrates, but they typically don't have much protein, fat, or fiber. Thus they don't affect ketosis much, nor positively or negatively. 
However, due to the high concentration of capsaicin, the product can boost your metabolism and help you shed excess pounds easily. 
So, despite not being rich in fat and protein, sriracha can still be useful on your keto diet journey.
Is Sriracha Healthy? Should You Have It?
Sriracha doesn't affect your health when eaten in small amounts. However, consuming large amounts of it can cause many adverse side effects. 
One teaspoon of Sriracha contains more than 100 mg of sodium, which is relatively high for such a small serving. So people with high blood pressure may want to steer clear of sriracha. Unlike dextrose substitutes, there are no substitutes for sodium. 
Capsaicin could worsen symptoms of acid reflux. The sensation of heat can irritate your stomach lining, possibly causing reflux, heartburn, and other issues.
The capsaicin present in Sriracha is known to irritate the lining of the digestive tract, which could cause an upset stomach and diarrhea. It may also cause food to be digested too quickly, which can make your stool burn as it passes through your body. 
That being said, capsaicin present in the sauce has been associated with several health benefits. Sriracha's anti-inflammatory qualities make it good for your heart and blood clotting. It's also used in curing cold. 
These peppers can also boost endorphins in the body to help regulate the feel-good chemicals in your body, like serotonin.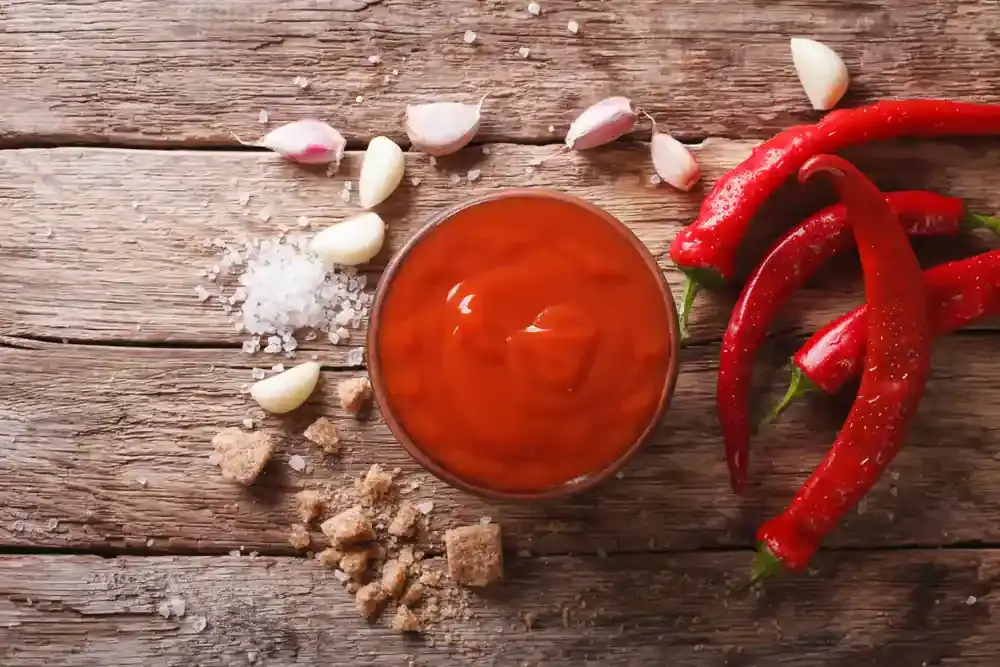 Source:slurrp
Disclaimer: Note that most of these studies focus on how large doses of capsaicin affect health, despite its impressive health benefits. You're very unlikely to consume such amounts of capsaicin from sriracha alone. Therefore, sriracha is healthiest when it's considered as one small, nutrient-rich part of an overall healthy diet.
Health Tip: Boost its nutritional value by pairing it with fruits, vegetables, whole grains, and lean proteins. Also, buy sriracha containing garlic to ensure maximum nutrition.  
How to Make Homemade Sriracha?
Best way to ensure that you are having the best sriracha is to make it at home. To make Sriracha in the healthiest way possible, follow the given steps. 
You will need: 
1 pound red jalapeno peppers, stems cut off
½ pound red serrano peppers, stems cut off
⅓ cup water
4 cloves garlic, peeled
3 tablespoons light brown sugar
1 tablespoon kosher salt
½ cup distilled white vinegar
Steps
Place jalapeño and serrano peppers into a blender with water, garlic, brown sugar, and salt. Pulse several times, then blend until smooth.
 Transfer the puree into a large glass jar or pitcher. Cover the container with plastic wrap and place in a cool dark location for 3 to 5 days. The mixture will begin to bubble and ferment. Rewrap after every stirring and return to a cool, dark place until the mixture is bubbly.
Pour fermented mixture back into the blender; add vinegar and blend until smooth. Strain the mixture through a fine-mesh strainer into a saucepan, pushing as much of the pulp as possible through the strainer into the sauce. Discard the remaining pulp, seeds, and skin left in the strainer.
Transfer sauce into a small saucepan; bring to a boil over medium heat, stirring often, until reduced to your desired thickness, about 5 to 10 minutes.
Let it sit at room temperature for about a week, occasionally stirring to prevent mold from forming. This fermentation process will enhance the flavors and develop the signature tanginess of sriracha.
Incorporating Sriracha into Keto Diet
Sriracha is known for its unique and bold flavor profile, which combines heat, sweetness, and tanginess. The versatility of Sriracha allows it to enhance the taste of a wide range of foods, adding a spicy and flavorful kick.
Use it with meat: Tired of the basic meatloaf or regular burger? The sweet, fiery flavor of sriracha works perfectly with any salty, savory meat or burger recipe. Sriracha, combined with honey, is popularly used to make a glaze for chicken wings and ham.
Use it with eggs and dairy: Even your regular breakfast can be made fancy just by adding a little sriracha. 
Stir it through soups: If you want to add a spicy, tangy flavor to your high-protein chicken soup, sriracha works the best among any sauces. 
Keto-Friendly Recipes with Sriracha
When on keto, finding delicious and low-carb recipes can be a challenge. However, with a little creativity, it is possible to enjoy the fiery goodness of sriracha while sticking to your keto goals.
Honey Sriracha Shrimp Stir Fry
Sriracha Beef Stir Fry
Sriracha Beef Lettuce Wraps
Sriracha Egg Salad Lettuce Wraps
Sriracha Swirled Cornbread Muffins
Inspired already? Here's a video for more inspiration. https://youtube.com/shorts/Oj6a1YhWf4c?feature=share
That will be all!
Frequently Asked Questions
Is Sriracha Halal?
Yes, most srirachas are halal. Sriracha is made of mostly nature-sourced ingredients- chillis, garlic, peppers, distilled vinegar, etc. and sodium bisulfite as preservatives. If in doubt, look for halal-certified sriracha bottles to make life easier. 
What is the Difference Between Sriracha and Tabasco?
Tabasco and Sriracha give totally different types of taste experiences, Tabasco is a spicier and thinner sauce than Sriracha. Sriracha has additional flavorings including garlic and sugar, so it is a little sweeter than Tabasco.
What are the Substitutes for Sriracha?
Mexican-style Hot Sauce, and Peri Peri sauce are good substitutes for sriracha sauce, with a few differences in terms of taste, spiciness, texture, color, and convenience/availability. 
Parting Words
While Sriracha may not be suitable for everyone, it can be enjoyed in moderation as part of a keto diet. 
However, it's important to be mindful of portion sizes and consider individual dietary needs and goals. 
So, go ahead, spice up your meals with sriracha, and enjoy the flavorful journey it takes you on! Hope this article has covered all the answers to if sriracha is keto-friendly.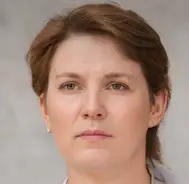 Latest posts by Leah Greenstein
(see all)