No, Banza Pasta is not a Keto-friendly option. The main reason is its nutritional profile. Banza Pasta is high in carbohydrates but low in fat. Which is opposite to what a keto diet requires. However, there are alternatives to banza pasta for a keto diet. 
This should answer if Banza Pasta is keto. However, this is just a small glimpse. We've discussed all these in detail throughout this article. So stick with us to find out more. 
Key Takeaways
Banza Pasta in A Keto Diet? 
Banza Pasta Nutritional Profile
Alternatives to Banza Pasta in Keto Diet
Banza Pasta in A Keto Diet?
Banza pasta is made from chickpea flour and water, making it a higher-carb alternative to traditional wheat-based pasta. 
While it is considered a healthier option due to its higher protein and fiber content, Banza pasta may not be considered strictly keto-friendly. Specially for individuals following a very low-carb ketogenic diet.
The fundamental purpose of a ketogenic diet is to induce ketosis. It is a condition in which your body uses fat as its major fuel source rather than carbs. 
To establish and sustain ketosis, you must keep your carbohydrate consumption to a minimum. Typically 20-50 grams of net carbohydrates per day.
However, Banza Pasta does not fulfil these needs. Even though it's considered a healthy food alternative. Like the keto-friendliness of rice flour
Here's why
Reason 1: High in Carbs
Banza Pasta is made from chickpeas. Chickpeas are generally very high in carbohydrates. Which makes the Banza Pasta's nutrition content filled with carbohydrates. 
Per 100g serving of Banza Pasta contains around 62g of net carbs. Which is clearly disruptive for your keto diet. 
Reason 2: Low in Fat
Banza pasta is neither low in fat nor high. Because this pasta was made so that health-conscious people could incorporate this into their meals. 
However, when it comes to a keto diet it is very crucial to have a higher fat intake. Because in this diet, fat is used as a source of fuel to energize the body. 
So, when it comes to the keto diet Banza Pasta doesn't provide enough amount of fat. Per 100 grams serving of Banza pasta contains only 5g of fat. 
Whereas the amount of fat contents should be around 70-80% of the entire food consumption. 
Banza Pasta Nutritional Profile
| | |
| --- | --- |
| Name of the Nutrient | Amount per serving (Per 100g) |
| Calories | 339 |
| Fat | 5g |
| Sodium | 36mg |
| Carbohydrate | 62g |
| Dietary Fiber | 9g |
| Sugars  | 2g |
| Protein  | 20g |
| Calcium | 70mg |
| Iron  | 5.4mg |
| Potassium  | 930mg |
The Banza Pasta nutritional profile suggests that it is a healthy alternative to traditional pasta. However, it's not very suitable for a keto diet. Like how buckwheat is not keto friendly.
Per 100g serving provides a good amount of calories. Which sums up to 339g. But it's mostly derived from carbohydrates. Where the amount of carbs is 62g per 100g serving. 
On the flip side, the amount of fat is only 5g. Whereas the sugar content is 2g and protein content is 20g. 
There are other essential nutrients present in Banza pasta too. Like 70g of calcium and 5.4g of iron. As well as 930mg of potassium per 100g serving. 
Alternatives to Banza Pasta in Keto Diet
Up until this point, we've pretty much established the fact that Banza pasta is not necessarily ideal for the keto diet. Here are a few alternatives you can look into instead:
| | | |
| --- | --- | --- |
| Alternatives | Carbs (per Serving) | Fat (per Serving) |
| Zucchini Noodles (Zoodles) | 1g | 0g |
| Shirataki Noodles | 3g (per 112g) | 0g (per 112g) |
| Kelp Noodles | 1.3g | 0g |
| Palmini Pasta | 5.3g | 0g |
Here are the alternatives to Banza Pasta and Keto pasta brands that you could try. 
Alternative 1: Zucchini Noodles (Zoodles)
Zucchini noodles, sometimes referred to as "zoodles," are keto-friendly. They're a popular option for people on a ketogenic diet. 
Spiralizing or finely slicing zucchini into noodle-like forms produces zucchini noodles. Zucchini is a low-carb vegetable with 3-4 grams of net carbohydrates per 100 grams.
Zucchini noodles may be used instead of regular spaghetti in a variety of keto-friendly meals. They go well with keto-friendly sauces like pesto, Alfredo, or marinara. As well as sriracha because sriracha is keto-friendly. 
You can make your Zucchini noodles easily at home. All you need is a vegetable spiraliser. Here's where you can find a Zucchini noodles maker.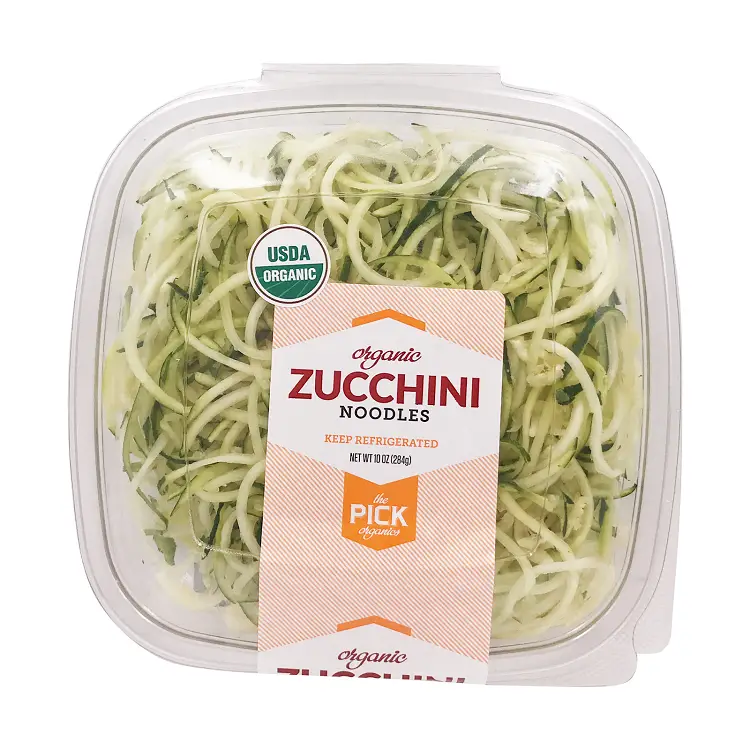 Source: Whole Foods Market
Alternative 2: Shirataki Noodles
Shirataki noodles are mainly manufactured from glucomannan. It is a soluble fiber obtained from the root of the konjac plant. As a result, they have a low digestible carbohydrate content. 
In reality, the majority of shirataki noodle products contain almost no net carbs. Shirataki noodles have a very low-calorie count.
This makes the Shirataki noodles keto-friendly and a good option for keto pasta. Here's where you can find it.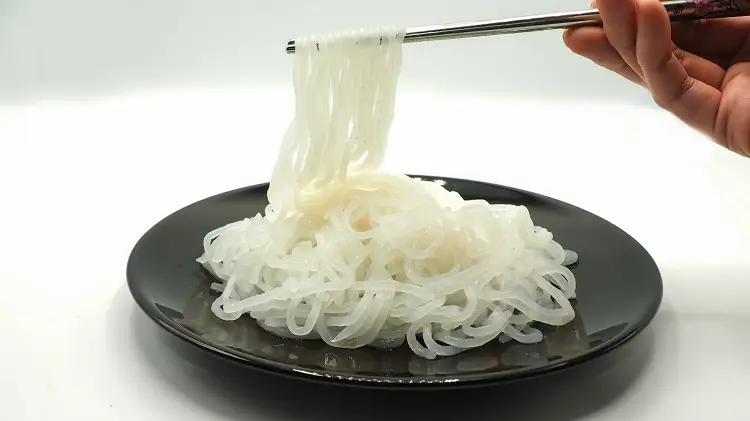 Source: Bon appétit
Alternative 3: Kelp Noodles
Kelp noodles are keto-friendly and might be a good supplement to a ketogenic diet. Kelp noodles are created from the kelp seaweed's gel-like extract. 
Specifically, kombu (Laminaria japonica), a brown seaweed. Kelp noodles are low in calories since they are mostly made up of water and fiber.
Kelp noodles, unlike some other low-carb noodle options, do not include any starchy fillers or added sugars. This might result in an increase in carbohydrate content. 
Per 100g serving of kelp noodles contain about 1.3g of carbs. This makes it a perfect substitute for traditional pasta. Especially for a keto diet. Here's where you can find it. 
Alternative 4: Palmini Pasta
Palmini pasta is produced from vegetarian hearts of palm. It is very little in carbohydrates, having only around 5.3 grams per 100g.
Palmini pasta is gluten-free, making it ideal for people who are gluten-intolerant or follow a gluten-free keto diet.
Here's where you can find it.
That will be all!
Frequently Asked Questions
Can I eat ramen on keto?
No, ramen is not keto-friendly. Regular ramen noodles include carbohydrates. In fact, they contain up to 25 grams of carbohydrates per serving. If you're following a low carb or keto diet, you should absolutely avoid normal ramen noodles.
Is there keto rice?
Yes, there is keto-friendly rice available. Cauliflower rice is keto-friendly. Many keto diet rice dishes use riced cauliflower instead conventional rice.  Cauliflower rice is created by cutting or shredding cauliflower into little rice-like bits. It is a low-carb vegetable with approximately 3-4 grams of net carbohydrates per 1 cup (raw) serving.
Is banza pasta good for weight loss?
Yes, Banza Pasta is good for weight loss if eaten as part of a well-balanced, calorie-controlled diet. Banza pasta is manufactured from chickpeas. Which are strong in protein and fiber naturally. This makes them a more nutritional option than regular wheat-based pasta.
Conclusion
This should clear out your concern about whether Banza Pasta is Keto. Now you know what you can add to your keto-diet to fulfil your pasta cravings. 
If you are following a less strict version of the ketogenic diet that allows for slightly higher carb intake or if you are simply looking for a pasta with more nutritional value, Banza pasta could be an option.
 However, if you are aiming for a very low-carb intake to maintain ketosis, you might want to consider other pasta alternatives that better align with your carb goals.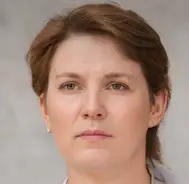 Latest posts by Leah Greenstein
(see all)