The most renowned Chicago-style pizza is the deep-dish one. But it's more famous in the cities with big shoulders. Most Chicagoans won't eat this type of pizza on a regular basis.
Rather they prefer tavern-style pizza. It's not from a regular chain. It's more likely cracker crust pizza sliced in a square shape. This pizza is the go-to style pizza for the Chicagoans.
Usually, you won't find the proper description for this pizza on the internet. Hence, we have prepared this recipe only to guide you to bake the pizza at home. 
If you got some time, let's take a look at the recipe-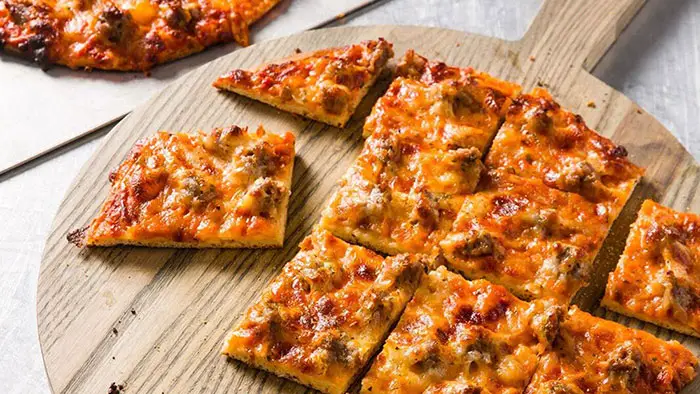 Difficulty Level: Intermediate
Serving Portion: 4-5 servings
Preparation Time: 24 hours
Resting Time (Dough): 20 minutes 
Cooking Time: 15 minutes 
Total time: 24 hours 35 minutes
Nutrition Facts (Per Slice):
| | |
| --- | --- |
| Calories | 370 |
| Total Fat | 21gm |
| Sodium | 0.83gm |
| Carbohydrates | 25gm |
| Protein | 19gm |
Ingredients List
Dough
4 cups all-purpose flour
1/2 cup cornmeal
2 teaspoons salt
1 pinch of sugar
2 teaspoons active dry yeast
1 tablespoon extra virgin olive oil
2 cups warm water, divided
Pizza Sauce
28oz crushed tomatoes
1tsp salt to taste
1 tablespoon oregano
2 cloves of garlic
5 fresh basil leaves, OR 1 tablespoon of dried basil
some shakes of black pepper
Toppings
Low moisture, whole milk mozzarella
Grated parmesan
Dried oregano
1/2 lb mild Italian sausage, cooked
1/2 green pepper diced, softened in the sausage grease
1/2 medium white or yellow onion diced, cooked along with the pepper
Necessary Cooking Equipment
To cook a yummy pizza we will need some extra equipment. These will make the process a lot easier. These are-
14 inch Pizza Pan
Rolling Pin
Dough Scraper
Hand Whisk
Step-by-Step Instruction for Star Tavern Pizza
A pizza requires a gradual procedure to serve a perfectly cooked tasty dish. You have to follow some instructions to cook this dish.
These are-
Step 1: Prepare The Dough
Take lukewarm water first. Then pour yeast and sugar into it. Give it a stir and leave to sit for 5 minutes.
Meanwhile, let's prepare the dough. Gradually add flour, cornmeal, salt, and olive oil to a bowl. Stir them with a whisk. Then slowly pour the yeast water into your flour mixture and mix them with a spatula.
Then knead the mixture with your hand. Add around 1 tablespoon of water 3-4 times while kneading. The dough will be sticky at this moment. 
But don't worry about it. For now, keep it like that. Then cover up the bowl with a wet towel. Lastly, place it in a nice and warm place.
After an hour, you'll see the dough has risen. So, take an airtight box and smear 3-4 tablespoon olive oil inside the box wall. Add some oil to the lid as well. 
Now, reshape your dough like a ball and transfer it into the bowl. Settle the lid and stick it in the fridge. Wait for 24 hours at least.
Step 2: Prepare The Sauce
While the dough is in the fridge, prepare the sauce. Take another airtight box and pour two cans of crushed tomatoes. Then add these ingredients one by one- oregano, basil, salt, pepper, and 1 tsp garlic. Now, just mix, mix and mix! 
When you're happy with mixing then settle an airtight lid on it. And place it inside the refrigerator at least for a day.
Step 3: Prepare The Crust
One day later, take your dough out of the fridge. Prepare a plain surface and sprinkle a handful of flour onto it. Then place dough on the surface. Shape it into a ball. 
Let the dough rest for about 20 minutes now. Now, divide the dough into equal 4 pieces with a dough scraper. Then prepare a circular shape to the dough.
Then take a cookie sheet and put some cornmeal on it. Now, take one piece of the dough and place it over your cookie sheet. 
Next, use a rolling pin to roll out the dough. You can try the hand-tossed method to stretch and shape your dough as well. 
Step 4: Add Toppings
We have already prepared the crust. It's time to add some toppings. So, we are adding sauce, half-cooked sausage, green pepper, and onions to the toppings. 
But obviously, you can customize your toppings. Lastly, just add grated mozzarella onto it.
Step 5: Baking time!
You must preheat the oven at least 1-1.30 hours before preparing the pizza. The temperature should be 425°-450°F. When the oven is ready, place your pizza on a pizza stone. Cook it for about 12-15 minutes. 
Once the time's up, take the pizza out of the oven and cut it into squares.
Voila! Your star tavern pizza is ready to serve!
Some Extra Tips on Improving Your Star Tavern Style Pizza
Our step-by-step description should give you a smooth direction to prepare the pizza. Even so, you face any hassle while making your pizza, these tips might help you-
Why Does My Pizza Stick to The Peel?
If you coat less flour to the peel, the crust will stick to it. Sprinkle flour so that it acts like the teeny ball bearing. It creates a slippery layer between the crust and your peel.
Can I Use Parchment Paper With My Pizza Stone?
No, you should not use parchment paper for the pizza stone. Because this paper can't absorb much heat. Parchment paper gets burned when the stone starts heating up to 450°-500°F or more.
Now, you are prepped with what to do. We hope you have understood the process and try it yourself. You can leave a comment down below to share your cooking experience.
Good luck!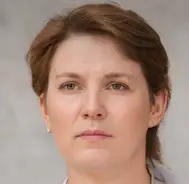 Latest posts by Leah Greenstein
(see all)