Papa John's pizza sauce has one interesting recipe. Papa John's pizza lovers have been looking everywhere to get the sauce recipe. This sauce is sweet and gravy-like and the recipe is unique. 
As it appears, there are several ways to create the sauce at home. Every recipe is distinct from the others. However, we tried to provide an identical sauce to Papa John's. 
Don't worry, it's easy to follow these instructions. Won't take you much time to recreate your favorite pizza sauce.
Level: Easy
Serving Portion: 1 cup 
Preparing Time: 10 minutes
Cooking Time: 20 minutes
Total time: 30 minutes
Nutritional Fact (1 cup): 
| | |
| --- | --- |
| Calories  | 34 |
| Total Fat | .7g |
| Saturated Fat | .3g |
| Cholesterol  | 0mg |
| Protein | 1.4g |
Ingredient List For the Pizza Sauce
1 can tomato puree (10 3/4 oz.)
1 cup of water
1 tablespoon of sugar
1 teaspoon extra virgin olive oil
a quarter-teaspoon of lemon juice
1⁄4 teaspoon salt
1⁄4 teaspoon oregano
1⁄8 teaspoon basil
1⁄8 teaspoon thyme
1⁄8 teaspoon garlic powder
Step-by-Step Instruction For Making the Sauce-
Making Papa John's pizza sauce doesn't take much effort. You'll be relieved to learn that it's fairly simple to create. All you have to do now is follow the directions precisely.
So let's make this delicious sauce- 
Step 1 of 3: Mix the Ingredients 
Papa John uses sweet ripe tomatoes. You can find them in the store under different brands. 
First, pour your tomato puree into a pan. You can get tomato puree easily in one of the stores. If not, you can also use fresh tomatoes. In that case, blend the tomatoes in a blender. 
However, make sure there are no lumps. This sauce needs to be smooth.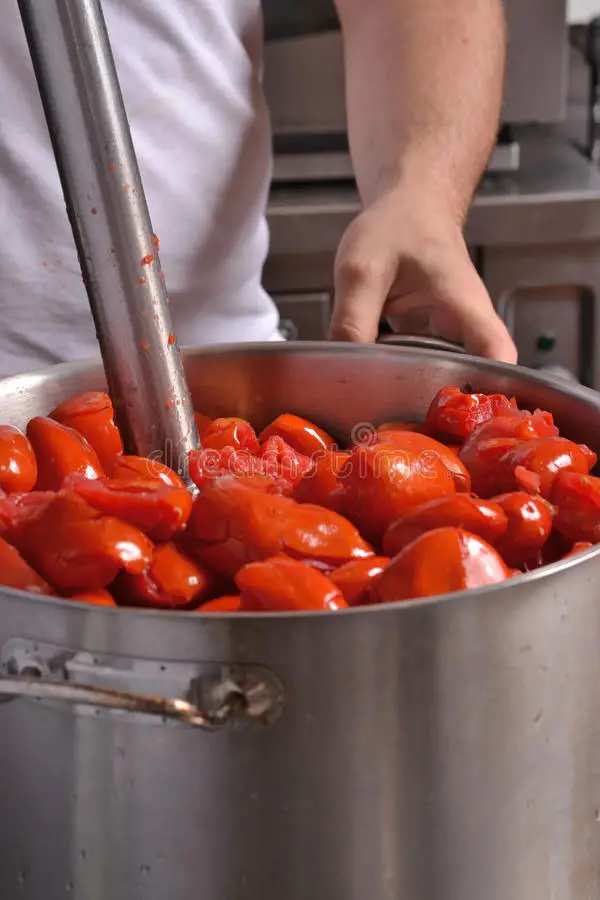 Now add water to make the puree or sauce more liquid. Also add sugar, olive oil, lemon juice, salt, oregano, basil, thyme, and garlic powder to it. 
Step 2 of 3: Cook the Sauce
Taste the smooth tomato puree. If it's not sweet, feel free to add sugar to your taste while cooking. Papa john's sauce generally tastes sweet.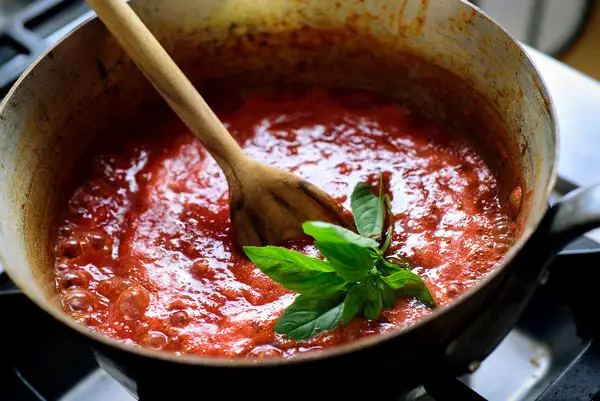 Pour the mixture into a saucepan. Place it on a medium heat setting. Reduce the heat when the sauce begins to boil. The sauce should then be simmered for 15 to 20 minutes on low heat.
Step 3 of 3: Ready to Serve 
After cooking the sauce, cool it down. Then it's ready to be smeared on the pizza. You can change the taste by increasing salt or sugar to your preference.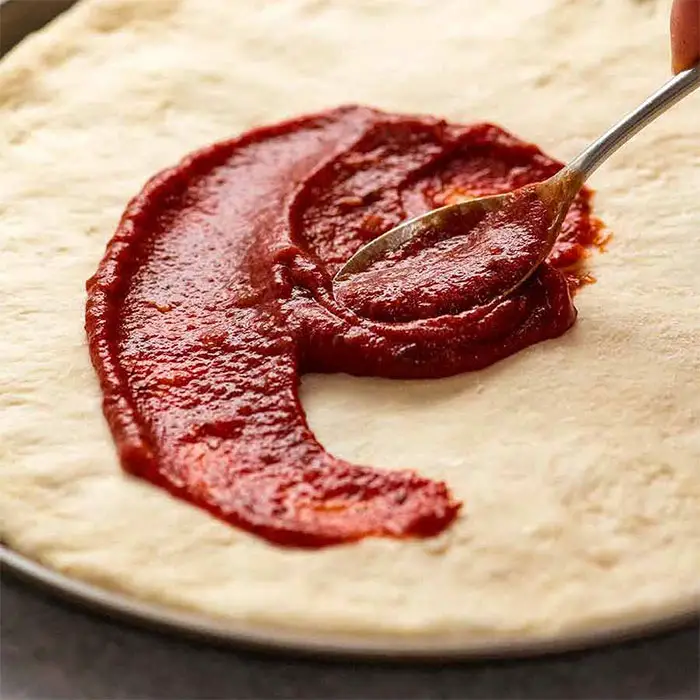 So, this is all about papa john pizza's sauce recipe. 
Storing the Sauce
Got some leftover sauce? You don't have to waste it. Freeze for up to three months in advance in a Ziploc bag. 
Before you want to use the sauce, defrost overnight and microwave in 30-second increments. Or you can melt it in a small saucepan until it's smooth. 
Pizza sauce may be kept in the fridge for 5–7 days. And keep the temperatures between 35 and 40 degrees Fahrenheit. However, if stored correctly at 0°F in the fridge, the sauce can last up to three months. 
Similarly, sauce purchased from an opened store lasts between 7 and 14 days. It depends on the preservative packaging. 
Well, that was all. Now Your pizza sauce is ready. Enjoy your pizza with this delicious sauce.
Some Important Tips-
We already stated that the recipe is easy to follow. But you might still have some confusion regarding the recipe. That's why we are going to give you some tips- 
What's The Secret To A Good Homemade Sauce? 
You may either boil the tomatoes for a very short period. Alternatively, let them simmer for at least 40 minutes to make a tasty tomato sauce. Since they only start to discharge their acid juices after approximately 10 minutes. And it takes at least half an hour for them to dissipate. 
How To Make Tomato Sauce Taste More Flavorful?
Using a little butter to sauté your vegetables at the beginning and a couple of teaspoons. In the end, it gives your sauce a softness and depth of flavor. Add 1/2 to 1 cup fresh chopped basil to the sauce after it's done. Toss in 2 tsp oregano, chopped, or 1-2 tsp dried oregano at the start of the cooking process.
Why Should You Sprinkle Sugar In The Sauce? 
The reason for adding a teaspoon of sugar into a boiling tomato sauce is simple. Sugar reduces the acidity of the tomatoes, resulting in a more balanced sauce. The acid content varies greatly depending on the freshness of the tomatoes. It also changes if they are canned.
Now you know what ingredients Papa John uses in his special pizza sauce. Cook the sauce and let us know how you liked it!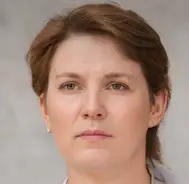 Latest posts by Leah Greenstein
(see all)