If you ask for an easy yet delicious sauce to make for your pizza. Then I must say, you are in luck today. And those who have an idea about Donatos Pizza, you know how awesome pizzas they make in-house.
But for those who have no idea what Donato is: Donatos is a pizza joint from Columbus, Ohio. The way they cook pizza will undoubtedly take your breath away. This classic Ohio-based pizza is offbeat for its thin-crust pizza with little to no crust (100 percent Pizza) and a savoury sauce.
So let's get started with our Donatos Pizza Sauce Recipe.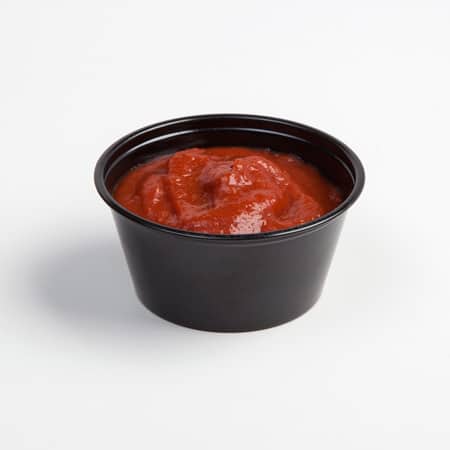 Difficulty Level: Easy
Servings: 4-6 servings
Preparation Time: 30-45 minutes
Cooking Time: 15-20 minutes
Total Time: 60-75 minutes
Nutrition Facts:
Serving Size: 2.01 oz(s) – 57 g
| | | |
| --- | --- | --- |
| | Amount per Serving | My Daily Value |
| Calories | 35KCal | 2% |
| Total Fat | 0g | 0% |
| Saturated Fat | 0g | 0% |
| Trans Fat | 0g | 0% |
| Cholesterol | 0g | 0% |
| Sodium | 330mg | 14% |
| Total Carbohydrate | 8g | 3% |
| Dietary Fiber | 2g | 8% |
| Sugars | 5g | 7% |
| Protein | 1g | 2% |
Ingredients
1 6oz can tomato paste (Contadina seems to be the best if you can get it)
9/10 can water (the same size can)
3/4 tsp table sugar
1/2 tsp table salt
1/2 tsp basil
Step By Step Process For Donatos Pizza Sauce Recipe
Did you get your ingredients ready? Then what are we waiting for? Let's get into the recipe.
Step 1: Prepare the Paste
First, gather your fresh tomatoes. Then, slice them into 4 pieces each and get rid of all the tomato seeds in them. This will assure you with a smooth texture for your sauce. 
After that, start to mash them till you get your desired thickness. You can use a masher or pound them with your hands. 
You may alternatively puree them in a blender if you want a smoother paste. But make sure you don't add any water. With that, your tomato paste is ready.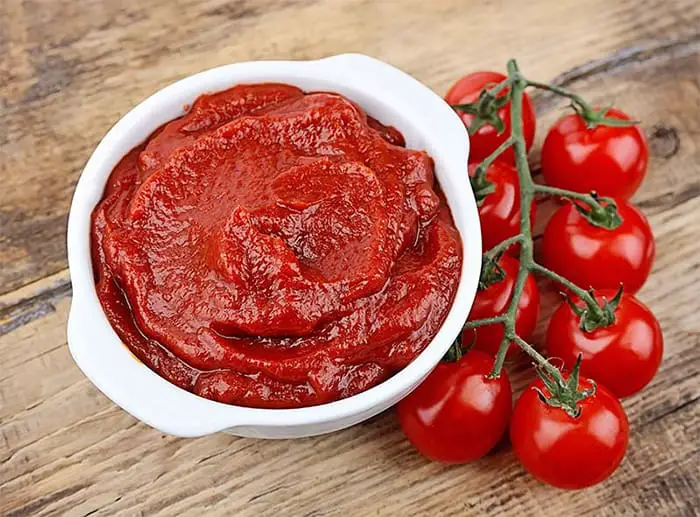 Step 2: Add the Sugar and Salt
Next, take the paste in a bowl and add the sugar and salt to it. Mix it for a while. You can also carry out this step in a blender.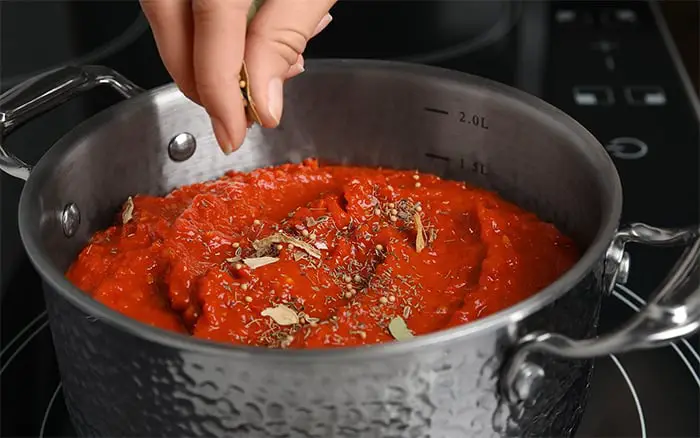 Step 3: Pour Water and Mix it Well
Right after that, Pour 9/10 cans of water and mix it up. Whisk all of them together and keep it that way overnight. But be careful that you can't cook the sauce.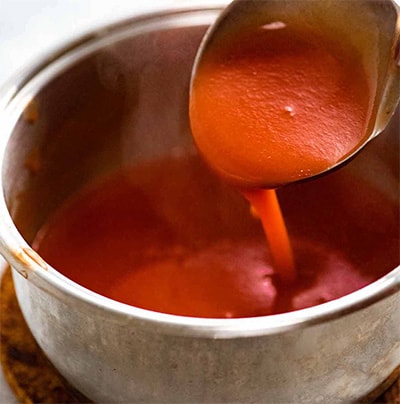 Your Donatos Pizza Sauce is now ready. This is indeed a sauce easy to make. But for better flavours, add extra herbs and spices. This will definitely alter the original Donatos Pizza sauce but will taste great.
This sauce could also be used as a dipping sauce. It blends better with pizza dough and gives the pizza a better texture. 
Some Important Facts about Donatos Pizza
If you follow the instructions carefully, you will be ready to carry out this easy recipe. But in case you want to have it on your own, here we got some tips.
Do Donatos Have Gluten-Free Pizza Crust?
Donatos also offers gluten-free and vegan pizza crusts and plant-based sausage as one of their topping options. They also launched their brand new Cauliflower Pizza for your best vegan experience. 
Is Donatos Pizza Sauce A Good Option For The Keto Diet?
To our knowledge, yes it is. You can try other sweet options instead of sugar for the low carbs and healthy food. Even some of their pizza crust comes with 16 grams of carbohydrates. I would suggest this sauce if you are conscious about your diet.
What Do Donatos Use In Their Pizza For Toppings?
Donato uses authentic Wisconsin cheese, Biery Provolone Cheese to be specific, as their cheese preferences. And with the touch of Ezzo Giantonio 38mm pepperoni, you can make a great topping like Donatos.
With this, you must have an idea by now, how you can create Donatos Pizza Sauce easily. We hope you will enjoy this recipe and believe that you will give it a try. You can try your hand at making your own Donatos Pizza Sauce. We tried to make it as simple as possible for you to understand.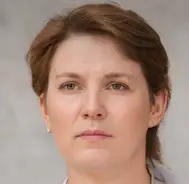 Latest posts by Leah Greenstein
(see all)