Soda cracker pizza crust is a familiar Italian-style pizza. It's an ultra-thin pizza crust made with an uncommon ingredient, baking soda. 
They make this crust as thin as possible so that it becomes crispier. To be fair, the crust is so thin that you can see the counter below through it.
Sounds interesting, right?
Well, it is both interesting and tasty!
So, we wanted to guide you to prepare this delicious soda cracker pizza crust at home. 
Thus, let's take a visit throughout the article-
Difficulty Level: Intermediate
Serving Size: 4-6 servings
Preparation Time: 30 minutes 
Nutrition Facts (Per 113 gm Dough):
| | |
| --- | --- |
| Calories | 308 |
| Carbohydrates | 12gm |
| Protein | 56gm |
| Sodium | 444gm |
| Potassium | 92gm |
Required Ingredient List
1 cup (125gm) of all-purpose white flour
⅓ cup (40gm) of wheat flour
1 tsp (2gm) of baking soda
½ tsp of salt
½ cup (119gm) of water
1 tbsp (15gm) of olive oil
Necessary Cooking Equipment
To prepare pizza dough we will need some extra equipment which will make the process lot easier-
14" Pizza Pan
Rolling Pin
Kitchen Weight Scale
Step-by-Step Instruction for Soda Cracker Pizza Crust Recipe
Ready with all the ingredients and equipment? If yes, now just follow our steps and you'll get the best results. So, put on your apron and jump into the dough making process-
Step 1 of 3: Prepare The Dough
First, take a medium-sized bowl. Add flour, salt, and baking soda to it. Combine those ingredients properly with the help of a spatula.
Now, pour lukewarm water and oil into the bowl. Mix them until a loose sticky dough forms. Next, put the dough onto a floured surface and knead it with your hands. Continue the process for 3-4 minutes.
Then shape the dough like a ball. Now, place the ball into an oiled bowl and cover it with plastic wrap. Leave it to rise for 10-15 minutes.
Step 2 of 3: Roll The Dough into Thin Crust
After rising, it's time to roll your dough into the thinnest crust. Divide the dough ball into 113 gm 4 pieces with a kitchen weight scale. Now, place one dough on a plain surface.
Then take about 1 tablespoon of flour and sprinkle half of it over the surface. Because a well-floured surface will help you make thinner pizza crust.
Now, use a rolling pin for stretching your dough. There is no necessity for handwork as the rolling pin will do the work for you. 
So, roll until you reach near to the desired size. A 113gm (4 ounces) dough will be enough to roll out a 14" cracker crust pizza. 
Now, let us tell you one thing, this cracker crust is gonna be ultra-thin. Its thickness will be around 3mm. The thinner it is, the crispier it's gonna be.
You can compare your crust's thickness with a US coin. You have to make the crust as thin as the coin itself.
Note: If you face hardship while stretching, leave the dough to relax for 10 minutes. Then start the process once again. 
Step 3 of 3: Create Perforations 
As we have used baking soda in this process, creating perforations is a must. Because baking soda has CO2 in it. And CO2 creates tiny bubbles inside the crust and fills them out while baking. 
So, take a fork and create as many perforations as you can. Don't forget the border as well.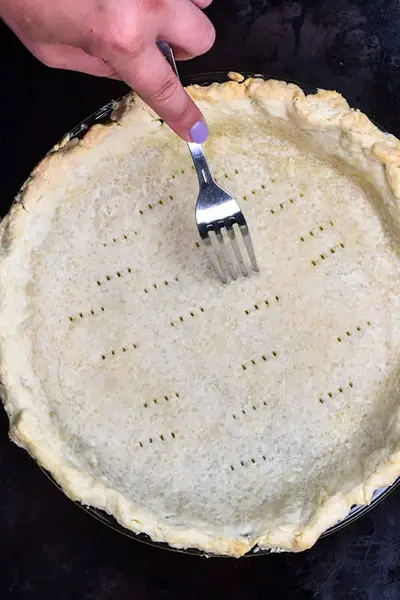 Voila! Your soda cracker crust is ready!
Now, just add sauce and toppings and put the pizza into the oven. You'll end up with an amazing soda cracker pizza!
Important Titbits to Making A Good Soda Cracker Pizza Crust
We tried to provide you with the gradual process of making soda cracker pizza crust. Your cooking procedure should be hassle-free if you follow us properly.
In case, you face any trouble these tips can help you out-
What Does Baking Soda Do to The Dough?
Baking soda creates an airy effect on the dough. It releases CO2 gas bubbles and makes the dough more fluffy. While baking, the carbon dioxide starts to filter through the dough.
Why Did My Pizza Dough Come Out Hard?
Your dough can be hard and stiff if you add more flour than the dough needed. It can also happen when you overwork the dough. Because it creates air bubbles inside the dough and the crust rises while baking. Lastly, the dough can even get hard if the quality of the flour is compromised. 
Should Pizza Dough Reach Room Temperature Before Using?
Letting the dough sit at room temperature will help you in the stretching process. Gluten gets tighter in cold temperatures. So, when you stretch the cold dough it snaps back just like elastic. Hence, pull out the dough and warm up your cold dough for 30 minutes at least before stretching.
Now, we hope we were capable enough to help you out on this! Hopefully, you liked the recipe and will try it by yourself. 
After your attempt, don't forget to leave a comment down below. 
We wish you all the luck!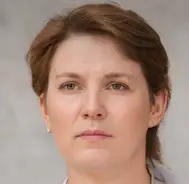 Latest posts by Leah Greenstein
(see all)