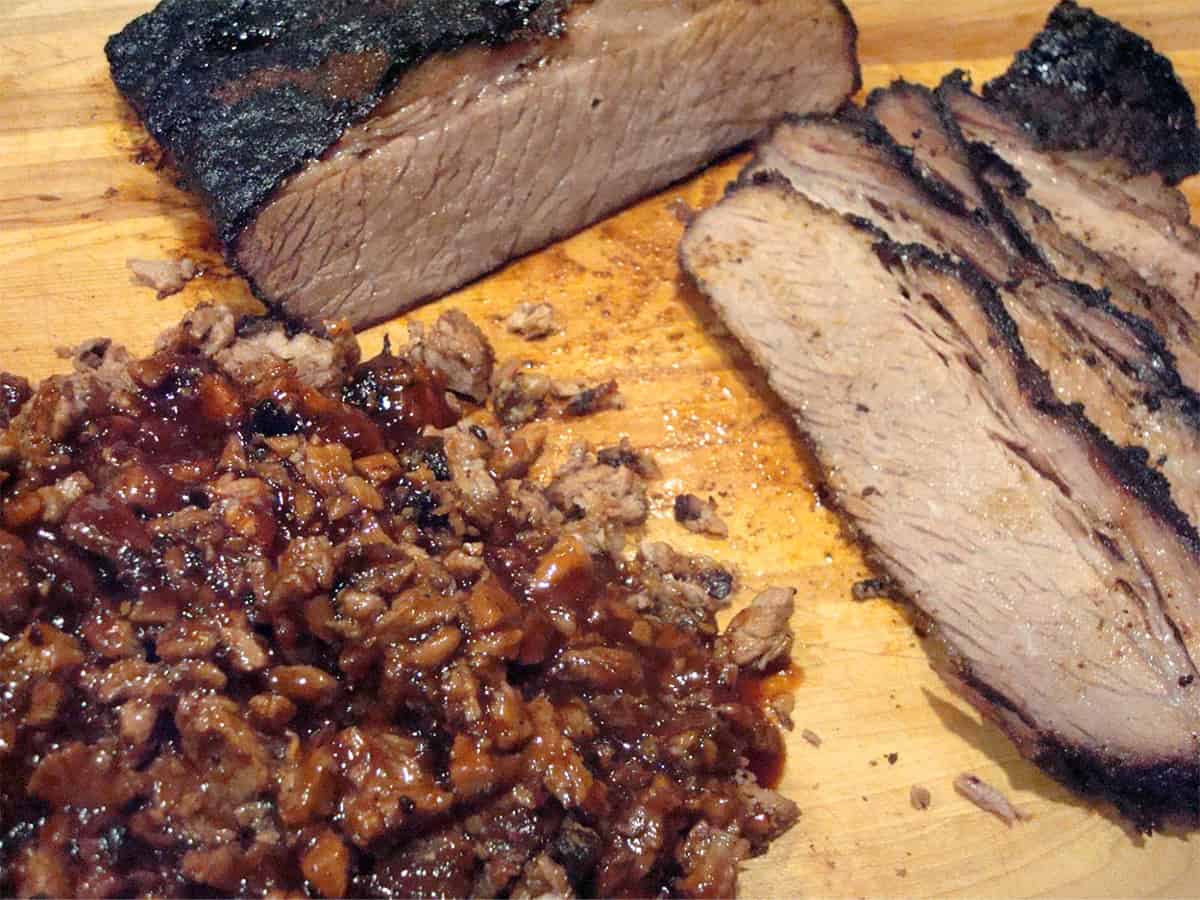 Source: bullbbq.files.wordpress.com
Don't know which one to pick between chopped and sliced brisket?
Well, it's quite understandable. Because brisket is eaten in different ways. Therefore, you might not be sure what the actual difference is. Or even which is better?
So, what are the basic differences between sliced vs chopped brisket? 
Firstly, unlike chopped brisket, you can find pre-sliced brisket at your local supermarkets. And it won't cost you much too. However, the cutting process of sliced brisket is a bit more complicated. Next, the serving portion and uses of the two types are different too. Also, sliced brisket has a smokier beef flavor and a juicier texture.
Now there are more dissimilarities between the two. And we've provided those as well.
Therefore, give us some of your time and keep reading!
Sliced Brisket or Chopped Brisket: What's the Difference?
Now, let's start with the small details. This way you can save your time and also grasp the basic differences!
Moreover, it's always a bad idea to directly move to the complex part. That's why we've provided you a sneak peek of the difference between the two types-
| | | |
| --- | --- | --- |
| Factor | Sliced Brisket | Chopped Brisket |
| Cost and availability | Cheaper and widely available | A bit pricey and rarely available. |
| Cutting process | A bit complicated but less time-consuming | Easier but a little more time-consuming. |
| Cooking process | Mainly baked in the oven, Smoked/BBQed/grilled. | Used in sandwiches after smoking. |
| Serving portion | ½ pound per person | ¼-⅓ pound per person |
| Taste and texture | Meatier taste with juicier meat | Less meaty flavor and less juicy |
| Storing process | Placed in a tray and wrapped with a plastic wrapper. | Stored in a vacuum-sealed bag. |
| Reheating process | Can be reheated in the oven, in the sous vide method, in a slow cooker. | Reheated in the smoker, on the stove, or in the oven. |
So, these were some differentiating factors between chopped and sliced brisket. Hopefully, you've got the idea about the two.
If so, let's move on to the complex details.
Sliced or Chopped Brisket: Overall Comparison
Now, to help you understand the differences more, an overall comparison is necessary. That's why we've arranged this part.
Therefore, let's not waste time and go through the comparison-
Price & Availability
Now, cost and availability might be the first thing to come to your mind.
Because not everyone wants to cook a whole brisket. And then either slice or chop it.
So, can you find pre-sliced or chopped brisket easily?
Well, you'll easily get pre-sliced cooked/uncooked brisket from a supermarket.
You can find 2 pounds of sliced brisket for almost $19. Which is pretty cheap if you think of the benefits.
In reverse, it's quite hard to find chopped brisket at supermarkets or groceries. So yeah, you can say it's not widely available.
However, you can get this version of brisket in restaurants. But it'll be either with sandwiches or rice.
And it'll cost something around $19 for one person which is close to 1 pound. Thus, it's definitely more expensive.
But you can act a little clever here. How?
Well, you can just chop the pre-sliced brisket! This way you can save money and also eat chopped brisket.
Cutting Process
Now, let's talk about the cutting process of both versions of brisket. Because it's obviously different.
So, first of all-
You've to be pretty careful when slicing an uncooked or cooked brisket.
To slice a raw brisket-
Firstly you've to detach the point part from the flat if it's not separated already. Then for a good sliced brisket, people often grab the flat cut of brisket.
However, you can use the point too.
Now, for both cuts, you've to use a sharp slicing knife. Otherwise, the cutting process will be quite difficult.
That's why we've mentioned some of our top picks regarding slicing knife-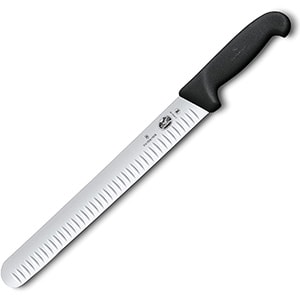 Victorinox Swiss Army – 47645 Cutlery Fibrox Pro Slicing Knife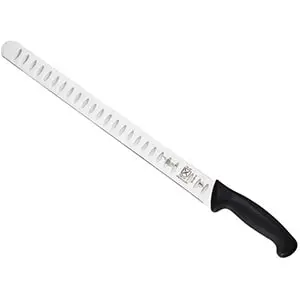 Mercer Culinary Renaissance Granton Edge
Therefore, grab the knife and start slicing the brisket!
Now, how to cut sliced brisket?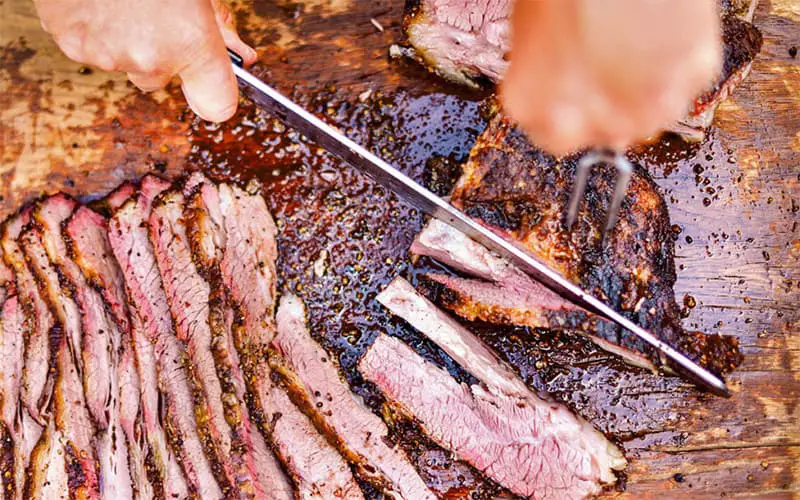 Source: barbecuebible.com
Well, firstly, wear your hand gloves. Then place the cut you'll slice on the cutting board.
Now, remember-
Cooked or uncooked brisket, you always have to slice it against the grain. Or else, the brisket will turn tough. Which is a big bummer.
You can slice the brisket into thin (½ inch) or thick slices (2 inches). It's totally your call!
So, that's all about sliced brisket.
Now, let's talk about how to cut chopped brisket-
Source: amazingribs.com
Well, a brisket is often chopped after cooking/smoking. So, for chopping a cooked brisket, you've to slice it first.
Then chop it into cubes or even thinner pieces.
Thus, the cutting process of chopped brisket is obviously lengthier.
Serving Portion
Knowing the serving portion is important before cooking something.
As sliced and chopped brisket is different, their serving portion isn't the same too.
For starters, let's see how to serve sliced brisket. To be honest, the portion depends on the thickness of the slices.
To help you out, we've discussed two differently sliced brisket-
| | |
| --- | --- |
| The Thickness of Sliced Brisket | Serving Portion Per Person |
| ½ inches | ½ pounds |
| 2 inches | ¼ pounds |
So, from the table, it's pretty clear that-
You can serve ½ pounds per person if the brisket is sliced thinly (½ inches). Then ¼ pounds per person for a thick-sliced brisket (2 inches).
Now, how to serve chopped brisket?
Well, the serving portion of chopped brisket also depends on how it's chopped.
For your comfort, here's the required portion for two types of chopped brisket-
| | |
| --- | --- |
| Chopping Style | Serving Portion Per Person |
| Cubes | ¼ pounds |
| Thinner pieces | ⅓-½ pounds |
So, you can say that-
Sliced brisket needs to be served a little bit more per person than chopped. Therefore, you'll have to buy a bigger-sized brisket if you're going to slice it. And this means you've to pay more too.
Uses/Cooking Process  
Now, the cooking process is another essential factor.
Firstly, you can cook sliced briskets by smoking, BBQing, or grilling them. Also, if you didn't know, BBQed sliced briskets are great with a glass of beer.
Then you can even bake the slices in the oven for a classy meal. To enjoy this meal, pair it up with a glass of wine.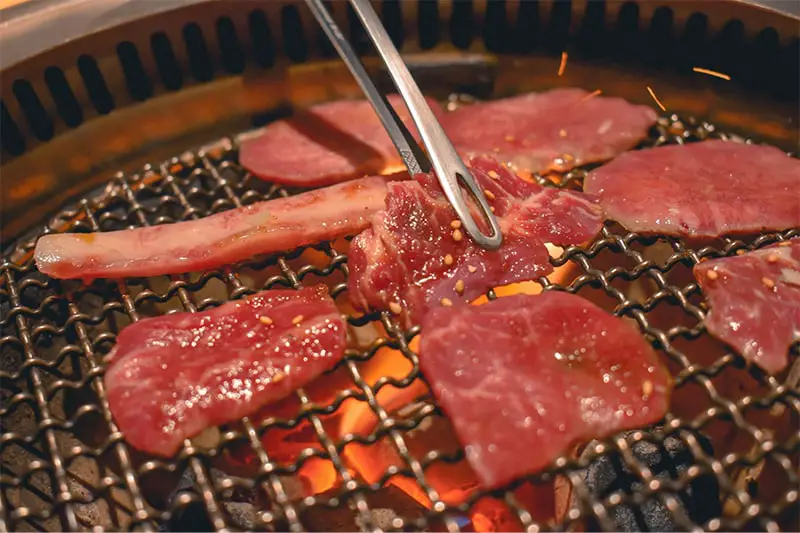 Source: thespruceeats.com
Lastly, slow-cooked or braised sliced brisket is another great way to cook it.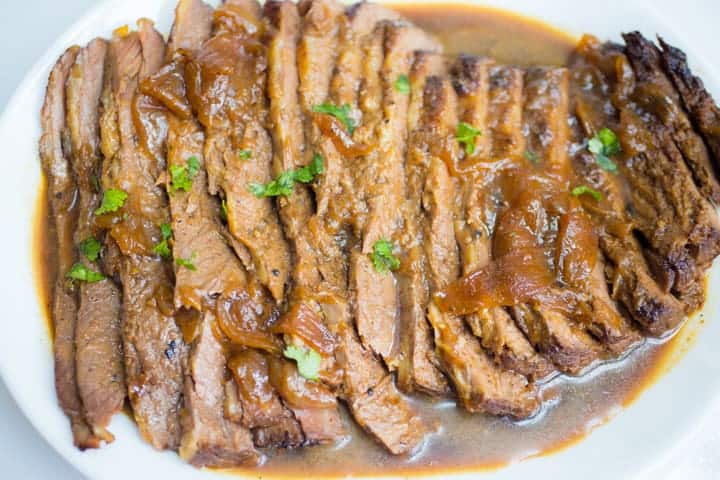 Source: tastyeverafter.com
Now, as you know-
Brisket is mostly chopped after you're done smoking slow cooking it. Once the brisket is all chopped up, make a brisket sandwich/burger. And enjoy it with a glass of soda.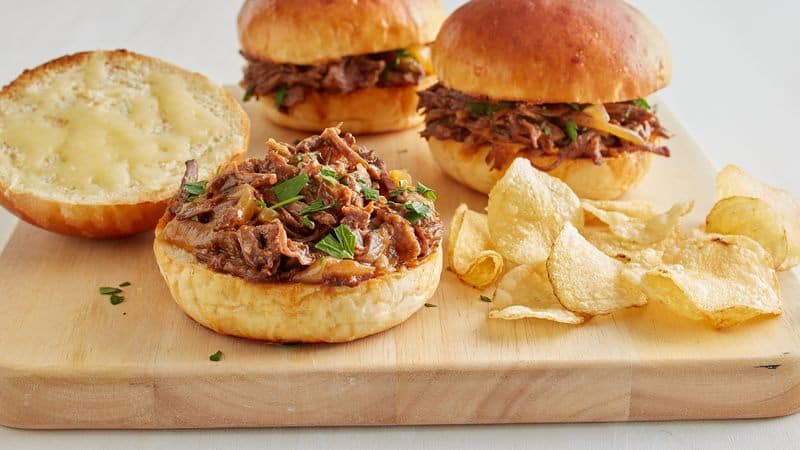 Source: bettycrocker.com
So in conclusion-
The cooking process of sliced brisket is more complex than chopped brisket. Because you can use and eat it in different ways.
Taste & Texture
Yes, even if both are versions of brisket, they do have different tastes and textures.
Because brisket is often chopped if it's not cooked perfectly. And by not cooked perfectly, we mean overcooked.
Chopping an overcooked brisket will surely hide the flaw. However, the taste of chopped brisket is gonna be more smoky than meaty.
And the texture won't be tender as well. You'll get a little amount of juice from the meat. But the meat will be a bit more on the tougher side.
On the other hand, sliced brisket can be easily cooked to perfection.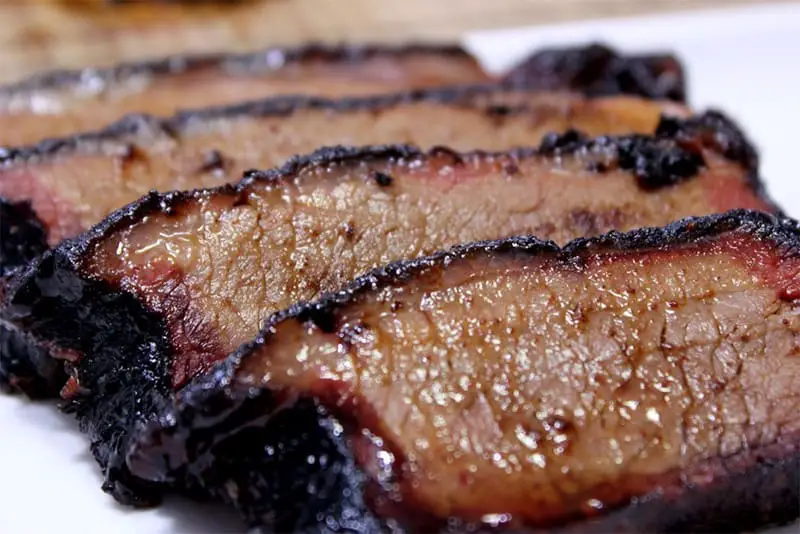 Source: smoking-meat.com
Therefore, you'll get a meatier flavor. Plus the texture will be more on the tender side.
So, which type of taste and texture do you prefer?
Storing Process
Storing your food items is pretty important. However, the process is not the same for every food item.
For example, you can store both raw and cooked sliced brisket. However, chopped brisket can only be stored after cooking.
So, how to store sliced brisket?
Well, firstly, place the slices on a baking pan or tray. Pour a little bit of juice or beef broth. This will help you keep the meat moist.
Next, cover the tray. Use a plastic wrapper for this.
Also, make sure to wrap it tightly around the tray. Otherwise, air can get in and spoil the brisket.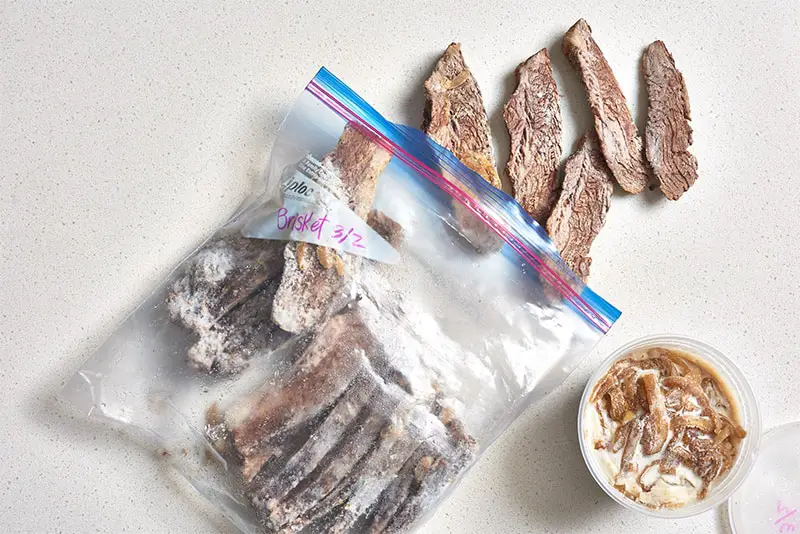 Source: thekitchn.com
Lastly, label the bag and write the storing date. Then either put it in the fridge or your freezer.
Now, we strongly suggest refrigerating the sliced briskets. Because this way, the texture won't get ruined.
Then let's see how to store chopped brisket-
Well, you can easily store it in a freezer or vacuum-sealed bag. Just how you freeze your leftover or raw pork shoulder. You can store it using an airtight container as well.
Now, it's important to know for how long you can freeze or refrigerate. That's why we've provided the exact storing time for chopped and sliced brisket-
Brisket Version
Meat Type
Freezing Time (0 Degrees Fahrenheit)
Refrigerating Time (35-40 Degrees Fahrenheit
Sliced
Cooked
2 months
2-3 days
Uncooked
3 months
3-5 days
Chopped
Cooked
2-3 months
3 days
Therefore, note down these timings and store them no longer than mentioned.  Otherwise, you'll end up with spoiled pieces of meat.
Reheating Process
After the storing process, it's necessary to know the reheating process.
As the two have different storing processes, they are reheated differently too.
Firstly, how to heat up sliced brisket?
Well, cooked sliced brisket can be reheated in different ways. For you, we've discussed the two methods shortly-
Let's start with how you can reheat sliced brisket in your oven-
Thaw the meat in the fridge for 24 hours after taking it out of the freezer. Or let it rest for 30 minutes once it's out of the refrigerator.
Set your oven to 325 degrees Fahrenheit and preheat it.
Place the brisket in a baking pan. And pour beef broth until the brisket is fully covered.
Wrap the trap/pan properly with aluminum foil or plastic wrapper.
Heat and bake the sliced brisket for 20 minutes.
And that's all!
Now, using the sous vide method is another effective way to reheat sliced brisket-
Allow the brisket to come to your room temperature.
Then place it into a vacuum-sealed bag.
Fill the basin of sous vide with water or beef broth and put the frozen brisket in it.
Set the machine at 150 degrees Fahrenheit. And wait for the meat to come to the temperature of the water.
So, that's how you can reheat your sliced brisket.
Now, chopped brisket isn't that hard to reheat. All you've to do-
Let the chopped brisket come to your normal room temperature.
Then put it into a crockpot or stove pot.
Pour some beef broth into the pot. If you don't have broth, use water.
Lastly, heat it for 20 minutes.
That's all you've to do to heat up chopped brisket!
By the way, you can even heat your chopped brisket in your smoker. Just let the meat come to the normal room temperature, first. Then place it in the smoker!
Chopped Vs Sliced Brisket: Which One is for You?
Now that you've gone through almost everything-
We assume you've come to a conclusion.
You haven't decided which one is more suitable for you?
Well, no worries! That's when we come into the picture.
To be honest, the decision completely relies on your food preference.
For example-
If you want a tender texture with a meatier taste, sliced brisket is the better option.
However, you might crave a smoky meat taste with your sandwich. In that case, try chopping your smoked brisket.
Moreover, if you want to save your time and enjoy a good meal-
We suggest going for the chopped brisket. But to enjoy a proper luxurious meal, sliced brisket is your best pick.
So, that's all the help we could provide. Now, it's time to pick one for yourself!!
FAQs
Question: Is sliced brisket healthier?
Answer: Well, brisket, in general, is a healthier option when it comes to meat. Because it contains cholesterol that's actually good for you. However, sliced brisket might be a better option than chopped. Because chopped brisket consists of more sauce and spices.
Question: How to keep chopped brisket moist?
Answer: You can maintain the moisture content of chopped brisket by storing it properly. That includes sealing the freezer or vacuum-sealed bag tightly. So, no air can enter inside it. Furthermore, while reheating it, make sure you add beef broth or water to it.
Question: Is sliced beef tastier?
Answer: Well, there isn't an exact answer for this. If the sliced brisket is from point cut, it'll be much tastier. Otherwise, chopped brisket takes the lead, in our opinion. Because you'll get a nice smoky taste due to the burned ends. And you can enjoy chopped brisket with bread and without it.
Take Away
So, that's all on sliced vs chopped brisket. By the way, chopped brisket can be reheated in your oven as well. Then you can serve it on top of rice!
So, which type of brisket do you prefer?
Share your opinions with us in the comment box. Lastly, good luck picking one!!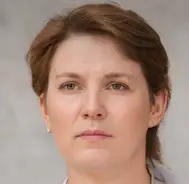 Latest posts by Leah Greenstein
(see all)