While thinking of camping, we surely think of the weather, view, and adventure. But a huge part of camping is what we cook and eat in nature.
While thinking of cooking outside, what can be better than quality products right? But there are many options and two of the companies are almost a tie. 
So you're asking which one to go for – camp chef vs lodge?
Well, if you're looking for a cheap option, the camp chef should be the choice. Their products also require less charcoal as it withstands lower temperatures. But if you want to look for a more durable and easy to clean option, Lodge is better. 
There are many more factors to the comparison. For that, stay tuned with us till the end.
Camp Chef vs Lodge- Quick Comparison
Well, comparing these two companies is like comparing pizza pronto and pizzaque. Because both of them are similar yet different. So we described them in detail. 
But before we move to the full-on comparison, here's a quick preview. We figured that you'll be benefitted from this head-to-head comparison. So here it is.
| | | |
| --- | --- | --- |
| Comparison Factor | Camp Chef | Lodge  |
| Price & overall quality | Low | High |
| Product Versatility | More | Less |
| Ease of use | Easy  | Medium to hard |
| Temperature  | Moderate | Higher |
| Charcoal Needed | Less | More |
| Maintenance  | Medium to high | Easy  |
| Durability | Moderate | High |
After seeing the table, you can choose which one's right for you. But to be more accurate with your choice, see the following segment.
Camp Chef vs Lodge- Detailed Explanation 
So in this segment, we'll show you an in-depth comparison between the factors. It'll help you to judge your options.
Price & Overall Quality
Let's start with the most important factor to consider, that is price. Because people are more price-conscious nowadays.
Well, most of the products that these two brands offer have a similar price range. But it's not true when comparing lodge and camp chef.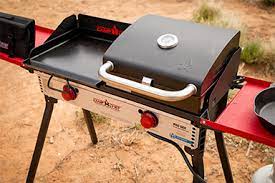 For example, the camp chef oven is half the price of the lodge oven. When you compare the features and usage, the camp chef is a great deal. Because it ensures quality products at a minimum price.
Well, the price of the lodge is higher. But it has been known to be the best dutch oven for ages. 
So if the price isn't a concern for you, go for the lodge. And if you want a quality product at a lower price, the camp chef is perfect for you.
Product Versatility
Well, while considering versatility, Camp Chef wins the race because they produce a lot of products. Some of them are stoves, grills, smokers, and ovens.
But when it comes to Lodge, they have cookware, ovens, and grills. 

Even if you consider one single criterion like ovens, Camp Chef has a lot of variety. So if you're looking for product versatility, Camp Chef should be your choice.
Ease of Use
Well, when it comes to usage you could say that camp chef products are easy to use. For instance, their dutch ovens are seasoned. That means you can just open and use the camp chef oven. And no need to do seasoning on your own.
But for some lodge dutch ovens you'll have to season yourself. And then wait for 3-7 days to set the seasoning and then it'll be usable.
So if you're in a hurry to use it, go for the camp chef. But if you have a few days left till camping, go for a Lodge product.
This is true for even the cast iron as well. You need to use cast irons of the lodge after 3 days of buying. In between the time, you can warm it up in the heat for a minute. After the 3days, it becomes usable.
But for camp chef products, delaying is not an option. Because you can use its smokers and grills just after unpacking. 
Temperature Range
Camp Chef offers a wide range of temperatures on its products. Let's take into consideration that the camp chef oven can stand 300 degrees Fahrenheit of temperature. You can use gas or charcoal to heat it up. 
On the other hand, a lodge dutch oven can withstand up to 400 degrees Fahrenheit. So if you want to put your oven at a higher temperature, a lodge oven is for you.
Lodge even provides unique features to its products. Like, if you have a lodge oven you can check the temperature even without opening up the lid. Because the lid has a place to insert the thermometer. 
Well, in this case, you'll need the perfect thermometer to keep the temperature in check. That's why we recommend you our favorites.
Alpha Grillers Instant Read Meat Thermometer
DOQAUS Meat Thermometer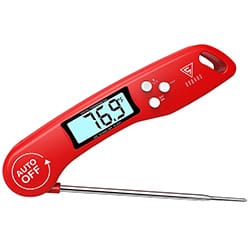 So you can use the thermometer to access the temperature while cooking.
Volume & Charcoal Requirement
Well, the most popular product that Camp Chef and Lodge have is their dutch oven. So let's compare how much charcoal they need to fuel up.
The amount of charcoal needed will differ from the volume of the oven. Also, it depends on the temperature.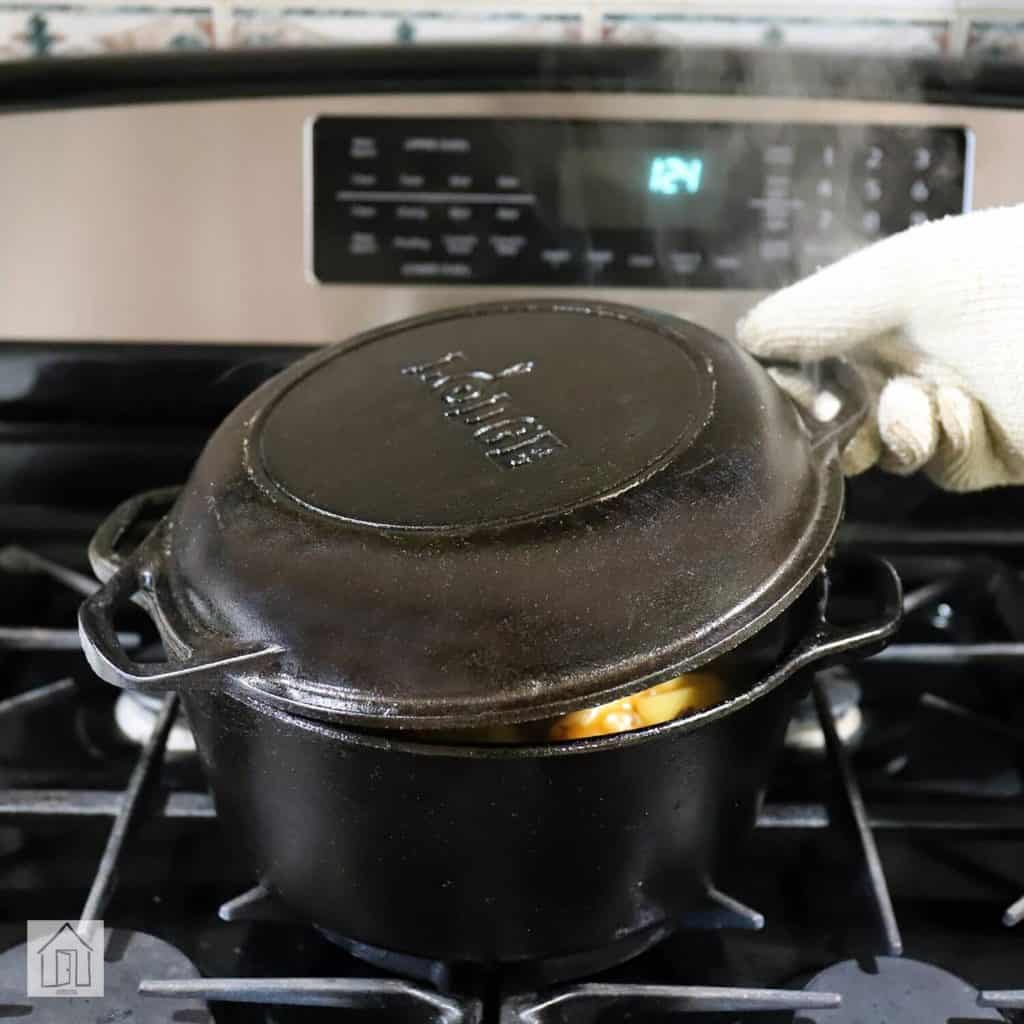 For example, a lodge oven can withstand higher temperatures. So it will need more charcoal than the camp chef one. And the charcoal requirement would be measured accordingly.
If your oven is 12 inches then you'll need double and plus one number of briquettes. That means for a 12-inch oven, you'll need 25 briquettes of charcoal.
Maintenance & Cleaning
Now the maintenance of products for both companies is quite similar. But the cleaning process is different depending on the products. If you consider most lodge products, you'll find that they're easy to clean.
You won't need any extra tools for cleaning. Regular nylon brush, detergent, and water would be enough for the products. But as cast iron products tend to rust, be careful about that.
Keep them dry once you've cleaned them. Even if you get rust, try to remove that just as you remove rust from cookie cutters. 
On the other hand, cleaning Camp Chef products is a bit difficult. Because it says not to use any soap. Or you can't put it in the dishwasher as well.
So cleaning it would be tricky. So here's what you have to do. Just fill the product with water and boil it. Then turn it off and place it in a cool place. Then take a nylon brush and try to clean it with it. While cleaning the water should be hot. So that any grease would come out.
Then just pour the water into the sink. After that, again fill it with water and boil. 
When it starts to boil, add half a lemon to the water. Let it simmer for 5 minutes. Then throw away the water. And when the pot is almost cooled down, wipe it clean with a towel.
It'll finally be clean and dry for your use! 
Although,  we mentioned cleaning for one product out of the lot. This was to give you an idea that Lodge products are easier to clean. 
Durability
Well, both the companies offer durable products. But when you compare, one will offer more than the other. The type of product these companies offer is long-lasting. But the durability also depends on proper maintenance and care. 
For example, a camp chef oven still works fine for 10 years. But you need to keep away from the rust and proper maintenance is the key.
On the other hand, Lodge has a longer life span. It lasts for 15 years at least. It mostly depends on its top-notch quality materials. The company has held onto this reputation for centuries. So there's no question about that.
Which Brand Provides A Better Value- Camp Chef or Lodge?
If you want to opt for cheap and ready-to-use products, the camp chef is for you. It has more product versatility. But you may be looking for the more durable and easy to clean option. Then the lodge will be the better opponent.
However, your criteria for buying a product from these brands may vary. So, make your choice based on what you'd like!
FAQs
Question: Is camp chef portable?
Answer: Yes both camp chef and lodge are portable. But the camp chef is less heavy than the lodge. So it's easier to carry around. 
Question: What material are dutch ovens made of?
Answer: Dutch ovens are made of cast iron. That is the reason why they can stand on the direct fore and charcoal surface. 
Question: Can I put charcoal over the dutch oven lid as well?
Answer: Of course, you should put 1/3rd of the charcoal used on the top of the oven. And the rest should be put under. This way the temperature would be accurate.
Bottom Line 
We're finally at the end of this article. You know which one to go for camp chef vs lodge. So best of luck choosing the right one.
If you need any further guidance, just comment below.
Happy Camping!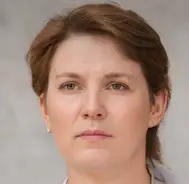 Latest posts by Leah Greenstein
(see all)