You might wonder what differences the length of the blade could make. Therefore, it left you confused about which one you should get.
A Gyuto knife is practically a one-knife army. From peppermint to meat, everything can be cut with them. So, you definitely need one for yourself.
But which knife to get between a 210 vs 240 Gyuto?
A 210 Gyuto knife costs less and requires less space than 240. They also weigh less and are nimbler to use. On the other hand, a 240 Gyuto knife can cut more types of things than a 210. It has a better rock chopping performance and more precise handling.
Looking for more details? Don't worry, this was just the tip of the iceberg! Hang tight with us and let's find more about the knives!
210 vs 240 Gyuto: Quick Look
Choosing the perfect knife can be just as baffling as choosing between mugnaini vs forno bravo. But lucky for you, we are here to save your time and effort.
Now, before jumping into the details, let's take a quick look at the features of these cutter-masters!
| | | |
| --- | --- | --- |
| Feature | 210 Gyuto | 240 Gyuto |
| Price | Less | More |
| Weight | Less | More |
| Material | Varies from brand to brand | Varies from brand to brand |
| Board shape | Small | Large |
| Required counter space | Small | Large |
| Preferred size of the cutting object | Small | Small and large |
| Handling | Nimble | Precise |
| User's physique | Small | Large |
| Rock chopping | Moderate | Better |
| Heel to bolster distance | Less | More |
Found your winner yet? If not, don't worry! Here we've explained everything regarding the 210 and 240 Gyuto knives.
210 vs 240 Gyuto: Head to Head Comparison
We've seen the quick differences shortly. But this is not enough to choose a knife, right?
We have to know how all these features work. So, let's take a deeper dive into the ocean of these Gyutos!
Price
If you're planning to save money, 210 Gyuto knives will be the perfect choice for you.
The price range for 210 Gyuto ranges between $50-$200. You can find a decent 210 Gyuto knife for around $100.
On the other hand, a 240 Gyuto knife can charge you between $80-$280. A decent, not-so-premium knife will cost you around $160.
In short, a 240 Gyuto will always cost you more than its 210 counterpart.
But here's the thing, you can always find a Gyuto knife for your budget. Let's say, you have a budget of $150 and you're not sure which knife to get. With this budget, you can get either 210 or 240.
In the end, it comes down to the comfort of using the knife. So let's get into the other features and find out which one would be the perfect fit for you. 
Weight
Weight plays a crucial role in knives. It affects the amount of pressure you have to put, the handling, the inertia, etc.
The weight of a knife depends on various factors. The blade, material of the handle, size of the handle, size of the blade, etc. to name a few.
But considering the handle and materials are the same, 210 Gyuto knives weigh less than 240 Gyuto knives.
For instance, Tojiro 210mm Gyuto knives weigh around 200 grams. On the other hand, Tojiro 240mm knives weigh approximately 265 grams.
However, on average, 210 Gyuto knives weigh between 110-180 grams. Whereas, 240 Gyutos weigh 120-270 grams.
Material
The materials generally used for Gyuto knives are stainless steel, white steel, and blue steel.
Stainless steel is just steel with at least 10.5% chromium added to it. The chromium is what makes stainless steel more corrosion-resistant than white and blue steel.
On the other hand, white steel contains 0.8-2% carbon and around 0.3% manganese. Among the three types of steel, white steel is the sharpest one. But these materials also make them more brittle than other steel. This increases the risk of your knife burring. In that case, you have to deburr your knife.
Lastly, blue steel contains tungsten added with white steel. This gives it more abrasion resistance, durability and the sharpness lasts longer.
For instance, a 210 white steel Gyuto will be sharper than a 240 blue steel gyuto. But the 240 blue steel gyuto will be harder to break and can cut through harder things.
However, the build material varies from knife to knife. Different brands use different materials. So, when choosing a gyuto knife from a brand, look for the build material.
User's Physique
The physique of the user greatly affects the choice of a knife.
In general, tall people will feel more comfortable with long knives and vice versa. But still, it remains vague exactly which length of the knife you should go for.
Let's keep it simple. To choose the perfect length, hold both of the knives beside your forearm. Now see which knife matches the size of your forearm and pick the closest one.
Board Shape
Is the board shape really that much of a deciding factor?
Well, it is. Imagine your knife going out of the board when cutting! So, if you have a small chopping board, 210 Gyuto will be a better choice for you. But if you have a bigger board and want a 240 Gyuto, you are safe with it.
Now, this naturally begs the question, "how would I know if my board is big enough?"
Unfortunately, there are no exact dimensions for that. But hey, don't worry! Let's find out as we go!
There are several cutting techniques with knives. One of them is the back slice. Okay, but why are we talking about the cutting techniques?
With this technique, we'll decide whether to choose a 210 or 240 Gyuto. When we run the knife backward through the vegetables or meat, is called back-slicing.
Now, different people go at different lengths with the slice. This is the reason there are no constant dimensions for determining a Gyuto knife.
Back-slicing requires the most space on a board among all the cutting techniques. So take a knife you already have or any other object first. Then run it through the chopping board till you are satisfied with the length. After that, measure the distance of your slice.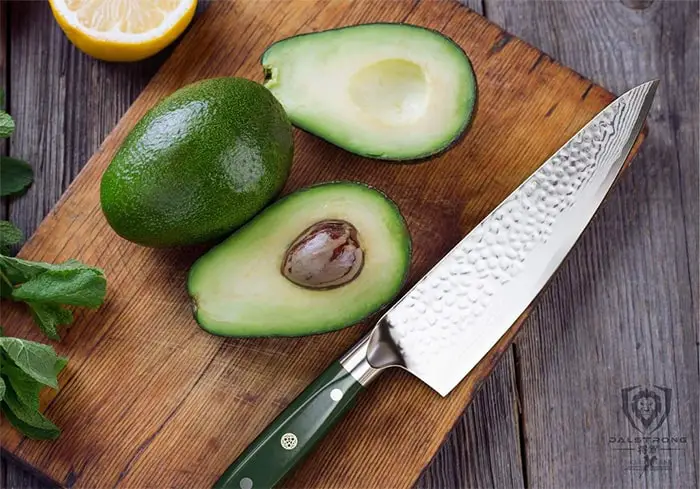 The distance you just measured is the space you need at most on a chopping board. So, when deciding on a knife, see if the whole knife blade is still inside the board after the slice.
If a 240 Gyuto crosses the line, you should probably go for a 210 Gyuto knife.
But it is possible that the board is the only thing holding you back from your favorite knife. In that case, here are some of the best chopping boards to get rid of your problem-
HOMWE Kitchen Cutting Board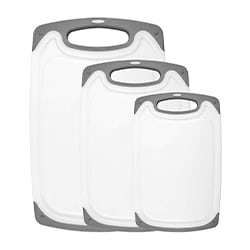 Gorilla Grip Oversized Cutting Board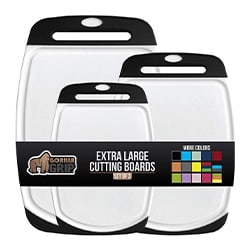 These chopping boards can fit both of these knives. However, it's still up to you which knife gives you more comfort.
Required Counter Space
Counter space means the space required for operating the knife.
It's true that operating a knife doesn't require the world. The kitchen has a hefty amount of space to operate a mere knife. But here's the catch, sometimes a major portion of the kitchen space is occupied by other accessories. For example, a rack, oven, refrigerator, etc. can take quite the space!
But when operating a knife, it doesn't only have to create space for the board and the knife. The space has to fit you, the board, the knife, your movements, the cutting objects near you, etc.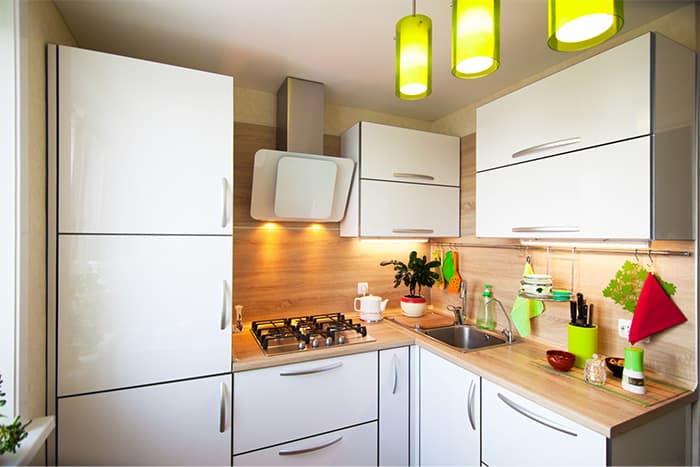 You understand now how important counter space is for operating a knife. Usually, 210 Gyuto knives are better for home use and 240 Gyutos for restaurants. Because home kitchens might not have enough space to fit all these. But the restaurant has.
Unfortunately, there is no metric that can determine the knife in regard to kitchen space. You understand better what amount of space is available in your kitchen. So get the Gyuto knife that meets your criteria.
Preferred Size of The Cutting Object
This one is a pretty simple differentiator, isn't it?
Everything you can cut with a 210 Gyuto, you can also cut them with a 240 Gyuto. But vice versa doesn't happen here.
Because of greater length, a 240 Gyuto has more coverage on the cutting object.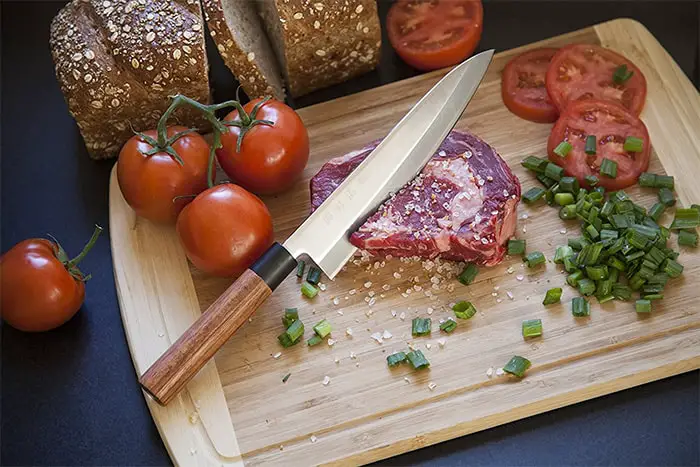 For instance, you can cut tomatoes with both knives. But let's say you're cutting a melon and it has a diameter of 220 millimeters. You can't cut it in a single slice with a 210 Gyuto, but with a 240 Gyuto, it won't be a problem.
Another important aspect regarding knives is the rock-chopping advantage.
You might already know how crucial rock chopping is. Especially for professional chefs, it is a must. You need very precise handling for this.
Rock chopping is when we place the tip of the knife down the board with one hand. And use another hand for moving the cutting object.
A 240 Gyuto knife will give you more comfort than a 210 Gyuto when rock chopping. How? Let's find out!
When rock chopping, almost ⅓ of the blade starting from the tip stays down the board. We move the rest ⅔ up and down for chopping. So, when we pull the knife upwards, the short knives create a greater angle with the board than long knives.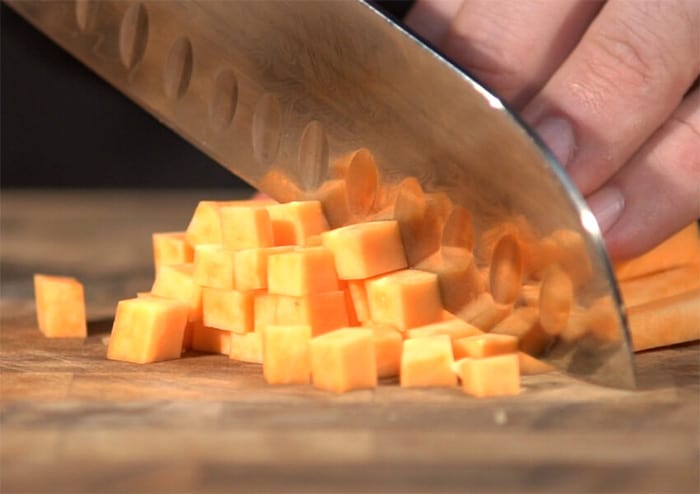 As a result, we have to move our hands more with short knives. Short knives also take comparatively more time as we have to cover a greater angle.
If you're a rock chopper, a 240 Gyuto knife will be a better choice for you.
Here's a small tip for you. When rock chopping, try not to use the knife perpendicularly. It will cause the knife to go blunt faster. In that case, you have to regularly sharpen your knife.
Heel to Bolster Distance
Another important factor regarding knives is the distance between the heel and the bolster.
The heel is the rear edge of a knife blade. This is the exact opposite end of the tip of the knife. On the other hand, the bolster is the metal part that connects the blade with the handle.
You might think why even would it be an important factor, right?
Actually, It is a very crucial factor, especially for the rock-choppers.
Imagine, you're rock-chopping your carrot. But your fingers are hitting the board after every single chop. It would prevent you from cutting your carrot smoothly.
Not only that, but it will also charge a toll on your fingers too. Frequent hits on the chopping board may give you swollen fingers. Not to mention, it hurts!
Now, how to prevent the hits? The answer is the heel to bolster distance. If the distance is too less, you might face this issue. So look for the knives that have a greater heel to bolster distance.
The width of Gyuto knives usually varies from 1.5-3 inches. Usually, 210 Gyuto knives have a shorter width than 240 knives. As a result, 240 Gyuto knives will be a safer choice in this regard.
But as we said, the distance is a variable for different knives. See how wide your finger is and make sure that the heel to bolster distance is greater than your finger's width. This way, you don't have to worry about hitting the board.
Handling 
Nimble or hefty?
This handling concern is completely subjective. If you're a fan of lightweight and nimbleness, you should get a 210 Gyuto. It will give you the advantage of moving the knife with more ease.
But there are also some downsides to nimbleness. Sometimes the knife might give you less stability and precision. This means, lighter knives can compromise safety a little bit if not careful.
On the contrary, if you like precision, 240 Gyuto knives would be a better choice for you. It will give you more stability and precision at the expense of nimble handling. 
However, handling also greatly depends on the handle of the knife. But given both of the knives' handles are the same, the aforementioned choice is the main aspect.
Our Pick for You – 210 or 240 Gyuto?
We hope that you've already chosen your knife by now. To make the selection easier for you, you can apply this simple formula. Calculate all the criteria mentioned above and see which one gets more points. We hope this would help you find the perfect cutlery-mate for you.
But if you're still in a dilemma, our suggestion is to go for a 240 Gyuto knife. Though it needs a bit more space than a 210 Gyuto, it has comparatively more advantages.
However, in the end, comfort lies in the hand of the beholder!
FAQs
Question: Which is better Gyuto or Santoku?
Answer: Santoku knives are usually not longer than 7". So a Gyuto knife would be a better choice for overall use.
Question: What is a Bunka knife?
Answer: Bunka knives are a cross between a Gyuto and a Nakikiri knife. Bunka knives are great for cutting and their thick belly makes them the best for pushing.
Question: Is a Gyuto knife a chef's knife?
Answer: Gyuto knives are multipurpose chef's knives. They can be used for various purposes and can cut pretty much everything regarding cuisines.
Final Words
Knives are one of the things that we can't live without. Therefore, choosing the right one should require proper homework.
We hope we've been able to help you choose between a 210 vs 240 Gyuto. If you have any other queries or suggestions, do let us know in the comment section.
Hasta la vista!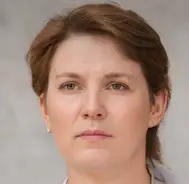 Latest posts by Leah Greenstein
(see all)