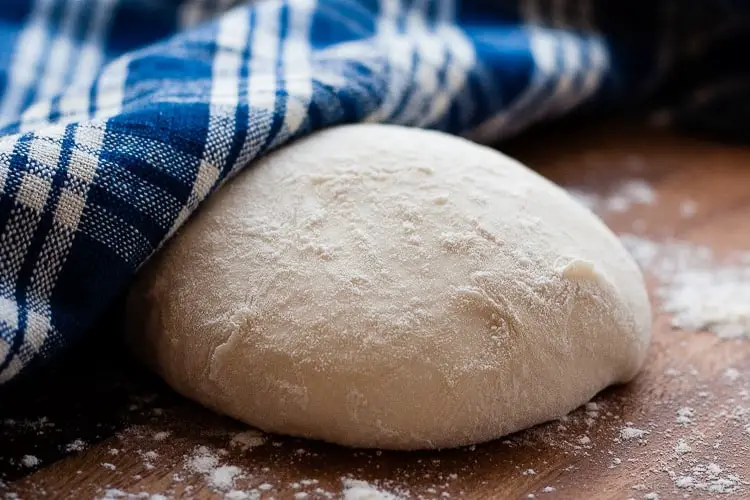 It's not uncommon to think whether you should use cold pizza dough or make it reach room temp. But unfortunately, there's only one answer for this. 
So, which one is it; pizza dough cold or room temp?
Well, using a pizza dough right after you take it out of your fridge is a big error. Because the protein and gluten in the cold dough are tighter. This makes the dough chewier. Thus, you've to warm the dough up so it reaches room temperature. 
Now, this is not enough, we know. Thus, we've mentioned everything in detail. This includes how to store and warm up the dough. 
Hence, we request you to keep reading! 
Should Pizza Dough be Used Cold vs Room Temp?
To be honest, pizza dough should always be used when it reaches room temp. Why? 
Keep reading with us to know!
Now, we believe, pizza dough is the most important aspect when making a pizza. Yes, you might say other ingredients are equally important. 
For example, you might turn your marinara sauce into pizza sauce. Then there are different toppings too.
This can actually enhance the taste of your pizza. But if the dough isn't up to the mark, it's a waste, we promise. 
Because you're still going to have to eat the dough. Because that's the actual base. 
So, you need to make the dough properly. Now, let's assume, you have prepared the dough. However, you're not going to use it now. So, you're refrigerating it. 
But is it okay to use cold dough? 
Well, the answer is pretty clear. You should never use cold dough while making your pizza. 
Why? To understand this better, go through the info mentioned in the table down below-
| | | |
| --- | --- | --- |
| Aspects | Cold Dough  | Room Temp |
| Dough stretching process  | Hard | Easy |
| Dough shaping process  | Hard  | Easy  |
| Dough Elasticity | Tight  | Loose but not too loose |
| Dough texture  | Hard  | Proper  |
| Crust texture (After baking) | Dry  | Chewy and crispy |
Have you understood why cold dough shouldn't be used? 
You haven't? Don't worry! We have discussed it in detail. 
Now, if you didn't know, stretching the dough is quite important. This helps you to get a better-textured dough. However, with cold dough, the protein and gluten will be super tight. 
This makes it super hard to stretch the dough. Whenever you try to stretch the cold dough, it'll go back to its original form. 
More specifically, the dough will snap back just like an elastic rubber band. Hence, you won't be able to shape the pizza dough properly as well. 
But when the dough is at room temp, the process is much easier. The gluten and protein level will be just perfect in this condition. So, it's easier to stretch your dough and shape it into your preferred size.  
See? Working with cold dough is frustrating. Therefore, you have to know how you can stretch cold pizza dough!
How to Stretch Pizza Dough after Refrigeration? 
It's time for the main part. You have taken the cold pizza dough out of the fridge. Or you have bought a ready-made cold dough. Now, what to do with the cold pizza dough?
Well, you have to stretch it! To do that, just go through the 2 easy directions provided below-
Step 1: Bring the Pizza Dough to Room Temperature
We have mentioned before-
Bringing the cold pizza dough to room temperature is highly recommended. This will loosen up the tightness of protein and gluten in the dough. So, you can easily shape the break. 
Now, how to bring pizza dough to room temperature quickly?
Grab a large bowl and pour 2 teaspoons of olive oil in it. Cover the whole bowl with oil so it'll be greasy. 
Now, place the cold pizza dough in that bowl. Cover the bowl with plastic wrap or even a lid of your choice. But make sure the lid is big enough for the large bowl. 
So, now, you just have to place the bowl in a warm place. For example, move the bowl near your cooking space while you're busy preparing other food. This way, you can keep the dough warm. 
After placing the bowl in that place, wait for 30 minutes. Within this time, the dough will warm up and reach room temperature. 
Now, there are some ways to be sure if the dough has reached room temp or not. First of all, you'll be able to poke the dough easily. It should feel soft and cold unlike hard and cold. Furthermore, the area you poked won't go back to its previous form quickly or fully.
Step 2: Press & Stretch the Dough
Now that the dough has come to room temperature, you're all set for shaping it. For that, first oil the board on which you're going to shape the pizza dough. This will help your dough from getting stuck to the board. 
Next, take the dough out of the bowl. Flatten the dough like a disc by pressing it. You can use the palm of your hand for this task.
Then with the three middle fingers of each hand, press the dough in the middle. Lastly, just keep widening the pizza dough to your preferred size. 
Now, in this process, you'll see the dough shrinking a bit. But that's alright!
However, if the dough literally snaps back, place it in the bowl again to let it rest. You can let the dough rest for 20 more minutes under one of your clean towels. 
Then repeat the pressing and stretching of dough again. Keep doing it till the pizza reaches the shape you desire and stays that way.
Lastly, when your pizza has got the proper shape, it's time to start making the pizza. You can use a pizza screen or stone and lay the dough on them. Next, add the sauce and toppings. Then just bake the pizza for the appropriate time at the proper temperature. 
You might also want to stretch the pizza dough again before putting the toppings. You can obviously do that. But make sure you don't make it too thin. The pizza crust should be at least 1.5-2 inches thick.
So, that's it! The easiest way to warm up and stretch the cold pizza dough.
How to Store Pizza Dough Properly?
Now, you have worked so hard to make the pizza dough. But if you don't store it properly, it'll surely go bad. Just how cooking spray can go bad without proper storage. 
That's why it's important to learn about the storage process of the dough-
Tips on How to Store Pizza Dough at Room Temperature
Now, while trying to bring the pizza dough to room temp, it can go bad. There's a huge chance of bacterial growth if you don't use it after 30-60 minutes. So, to avoid this, we want to share some awesome tips-
First, take an airtight container. This type of container totally decreases the chance of the dough going bad.
So, if you don't have any airtight containers with you, it's best to get them now. To make things easier, here are some of our recommendations regarding it-
Airtight Food Storage Container Set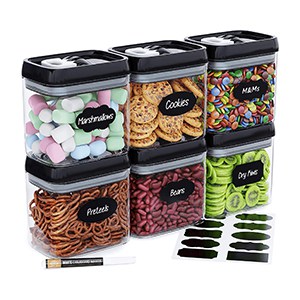 SHOMOTE Food Storage Containers with Lids Airtight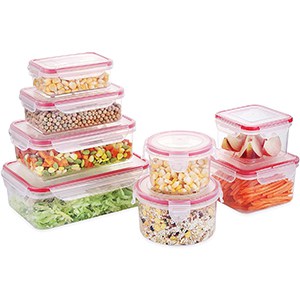 Just pick and start the storing process!
If you have the container now, grab a cooking brush. Dip the brush into a small cup or bowl of olive oil. Now, just brush the container and dough with it.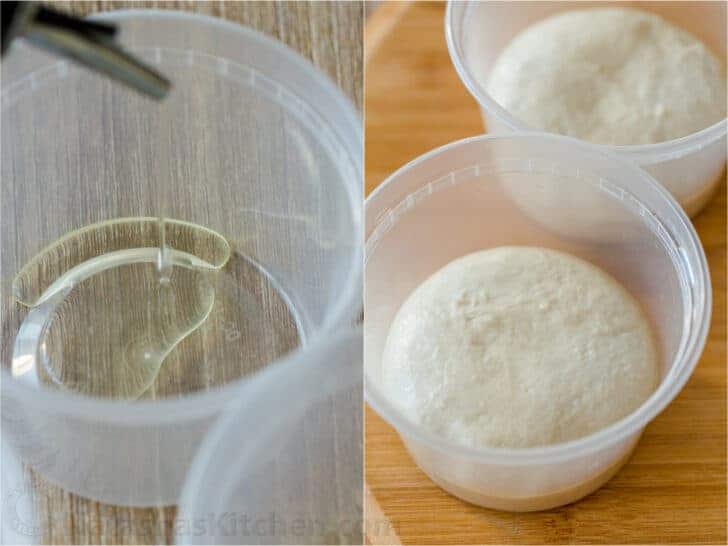 This way you're ensuring that the dough won't stick to the container. Plus it won't also dry out while the storing process. Next, close the lid and store it for 1-2 hours, not more than this. 
And this is how you store the cold dough at room temperature!
Tips on How to Refrigerate Pizza Dough
Now, refrigerating your pizza dough keeps it safe from going bad. Yes, pizza dough will go bad if you keep it out for more than 3 hours. Consuming this spoiled pizza dough will surely make you sick. 
So, it's necessary to keep your dough in the fridge till you're ready to make pizza. Moreover, this will enhance the flavor too. Because while it's being refrigerated, the fermentation will slow down. 
So, the sugar will be eaten by the yeast and CO2 will be released at a slower pace. This helps to build up more complex flavors. 
But how to store pizza dough in the fridge?
Well, you'll need an airtight container. So, after taking the container, place the dough in it. Then close the lid properly. To avoid the dough from sticking, you can oil the container.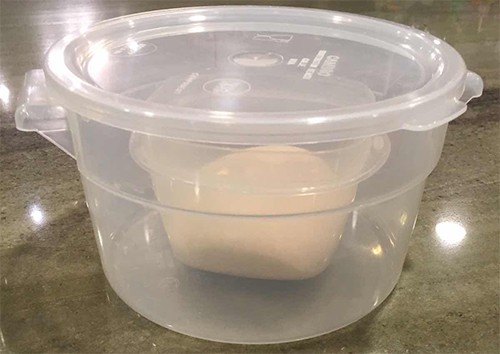 Lastly, just put the container in the fridge. But remember you can keep the dough in your fridge for 3 to 5 days. If you keep it more than that, the texture of the dough will surely be ruined. 
So, here is where we stop! Hopefully, you have learned what you wanted to know.
FAQs
Question: How long should pizza dough rest at room temperature?
Answer: Well, pizza dough can be out at room temp for 3 hours. Keeping it out for more than 3 hours is not a good idea. If you think the dough needs more time to rest and rise, you can put it in an airtight container. This way air won't be able to come in contact with the dough. So, it'll be fine.
Question: How to store pizza dough in the freezer?
Answer: Leftover pizza dough can be easily stored in the freezer. To store it this way, you'll need a freezer-safe airtight container. Just gently place the dough into it and keep it in the freezer. The pizza dough will be safe in the freezer for up to 3 months. Within this time, you have to take it out.
Question: Can I leave the pizza on my counter overnight?
Answer: No, we don't recommend doing that. You can allow most pizza dough to sit on your counter for about 2-4 hours. However, Neapolitan-style pizza dough can be left on the kitchen counter for up to 24 hours. Furthermore, the dough can sit outside for a longer period if you have used less yeast. 
Final Verdict
So, that's basically what you know regarding pizza dough cold or room temp. Hopefully, you're clear about how you should use the pizza dough. 
By the way, you should let your dough sit out at room temp for proofing too. The time should be anywhere between 1-24 hours.
Now, good luck dealing with your pizza dough!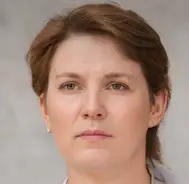 Latest posts by Leah Greenstein
(see all)