As a rich source of various nutrients, meat is an important aspect of any healthy diet. However, we still come across various questions as healthy meat consumers. One good example is the calf liver vs beef liver argument. 
While each is beneficial for health purposes, getting a better perspective on their similarities and differences is necessary. Most of these characteristics relate to the nutritional value of both types of meat. 
Each of these meats contains significant amounts of protein, minerals, and vitamins. But, calf liver is generally healthier than beef alternatives. 
What Is the Difference Between Calves Liver and Beef Liver?
The main difference between calf liver and beef liver is that the former meat type comes from animals under one year old. However, beef liver comes from animals past the one-year age group. It's this difference that accounts for many of the calf liver vs beef liver Reddit threads. 
The other major difference is in the calf liver vs beef liver nutrition argument.
Here is what you need to know:
Calf Liver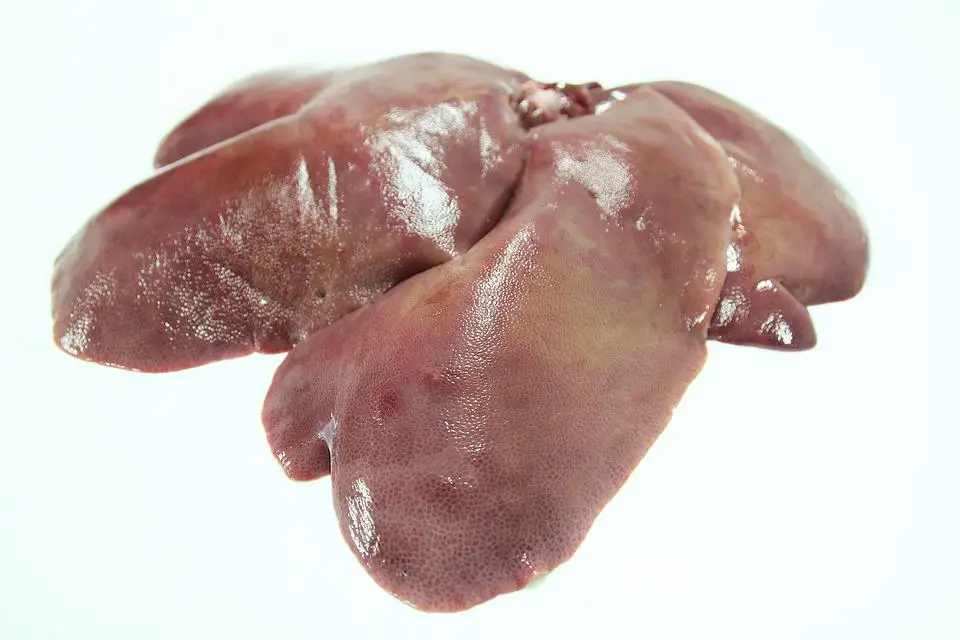 Just as the name suggests, calf liver is meat derived from the young one of a ruminant animal. 
You might also have asked, "why is calves liver so expensive?"
Well, it's because of its rich flavor, taste, and nutritional balance. Common examples include cows and bison. Here is an in-depth guide on calf liver nutrition:
Proteins and Fat
Also referred to as veal liver, calf liver tends to have significant amounts of protein. On average, expect it to provide 120 calories per 3-ounce serving. The protein amount per serving is between 16-18 grams. 
Calf liver also falls in the complete protein source category. It provides all the important essential amino acids for body functions. The average fat amount is 17 grams for every 3.5 ounces of meat. Plus, it also contains 1.6 grams of cholesterol. 
Vitamin A
Calf's liver contains significant amounts of Vitamin A. It contains up to 10,000 micrograms for every 4-ounce serving. Plus, vitamin A in calf liver is unique because it's the form of retinol. It's a biological chemical that the body can absorb easily.
The recommended dietary amount for Vitamin A is an average of 800 micrograms. So, consuming a single serving of a calf's liver can address these nutritional goals. 
The eyes also require Vitamin A, which makes up most of it's light-sensitive cells. These vitamins help support body functions, such as the lungs and kidneys.
Additional Vitamins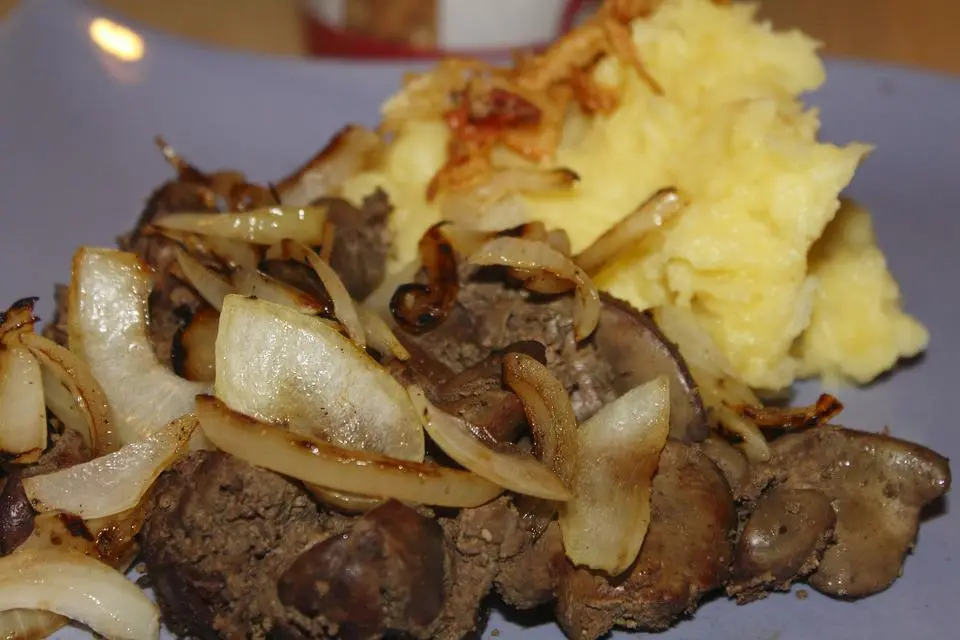 Calf liver also contains various vitamin types, including:
Thiamin.
Niacin.
Folate.
B-12. 
B-6.
Riboflavin.
All these vitamins are crucial for deriving energy from foods in the body. It's also crucial for producing fresh blood cells in the body. 
Folate is also crucial for body functions such as fetal and child development. Expect a single 4-ounce serving of calf liver also to contain Vitamin E and K (0.4 and 0.9 milligrams respectively.)
Minerals
Dietary minerals are crucial for various basic functions. It's no secret that liver meat contains various types of minerals. The most common type is iron. The average iron RDA averages 8 to 15 milligrams for both men and women.
Expect beef liver from a healthy calf to provide up to 6 milligrams of iron. It's a mineral that helps with the production of haemoglobin in the blood. The mineral helps to transport beneficial nutrients in the body.
A similar-sized serving of calf liver will provide up to 11 milligrams of zinc. It's a metric that suffices the RDA amount for an adult. Zinc is a mineral that supports various body functions. The body requires it for immune functions, DNA production, and the healing of wounds.
So, which meat type wins the calf liver vs beef liver iron debate? Well, beef liver has a higher mineral level. That is because of the advanced body functions it has to serve compared to that of a calf.
Beef Liver Nutrition Facts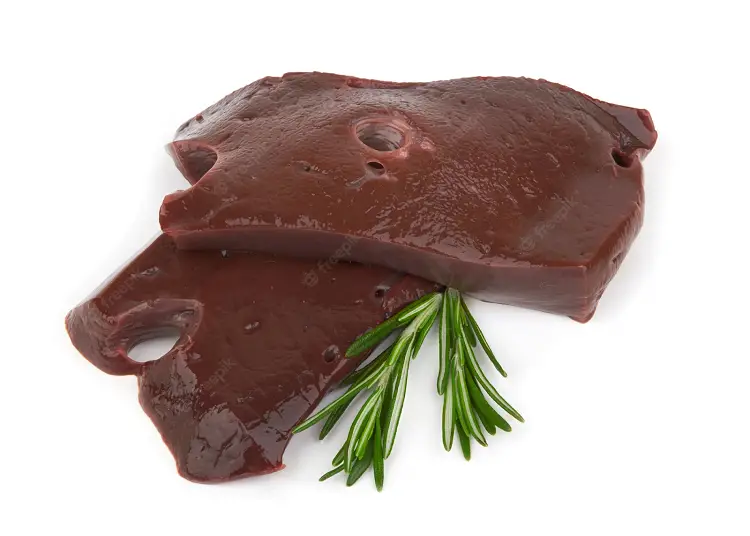 Below is a guide on the nutrition details you should expect for beef liver (4-ounce serving):
Calories: 150.
Fat: 4.3g.
Sodium: 75mg.
Carbohydrates: 4.9g.
Fiber: 0g.
Sugar: 0g.
Protein: 25g.
Carbs
There is a small carbohydrate amount in beef liver, with a single 4-ounce serving providing just 4.4g of carbs. According to USDA data, beef liver has no fiber or naturally occurring sugar.
The estimated glycemic load of a single serving of beef liver is 3. Glycemic load considers portion size when estimating a food's impact on blood sugar levels.
Fats
There is about 4.1g of fat in a single serving of beef liver. This includes different types of fat. A serving of the meat contains 1.4g of saturated fat, 0.54g of monounsaturated fat, and 0.53g of polyunsaturated fat.
Protein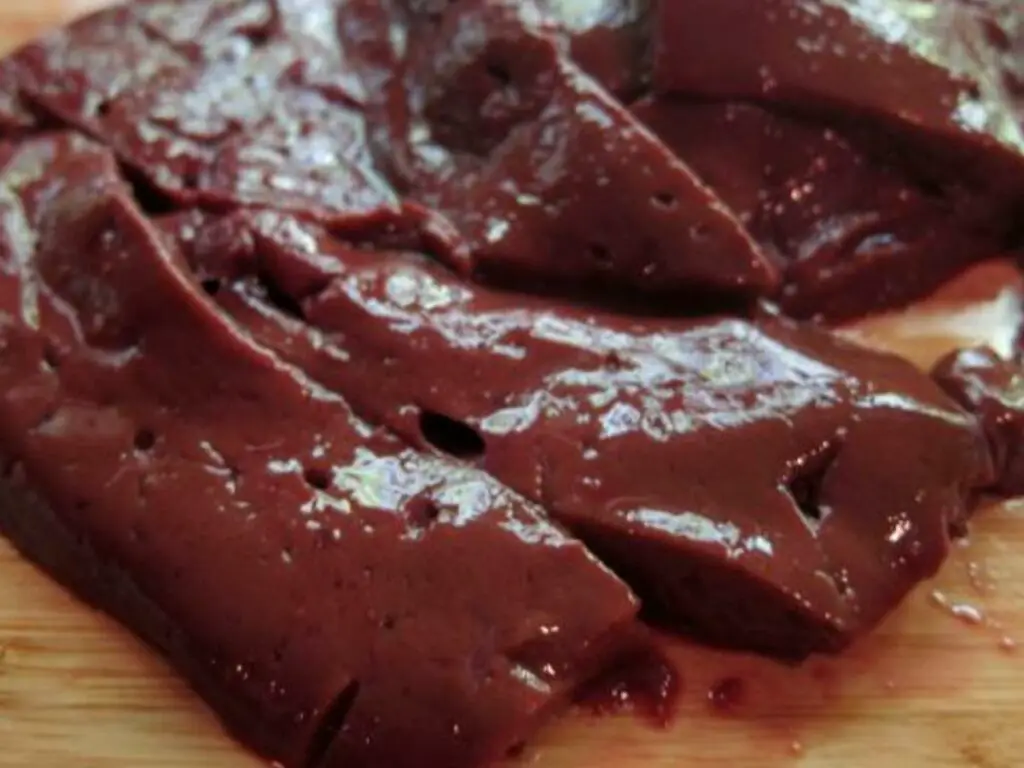 A single serving of beef liver provides 23g of protein. Protein is the macronutrient that body cells require. It helps build body tissues, muscle, bone, hair, and muscle. Protein also helps to support body functions like hormone production and immune system functions.
Vitamins and Minerals
Beef liver is a significant vitamin resource. Expect to find up to 58mcg of BI2 in a single serving. It will also provide up to 10.2mg copper and 2.9mg riboflavin. Beef liver is also an excellent source of various other essential nutrients. These include iron, selenium, thiamin, and manganese. 
Calf Liver vs Beef Liver Taste
Both types of meat have a similar taste: slightly meaty, rich, and flavorful. Liver is also a popular recipe item because it can absorb the flavors of its surroundings exceptionally. The taste of the liver also varies based on the animal's size. The larger the animal, the stronger the taste. 
The liver has a rich taste because it usually contains myoglobin, which is packed with iron. Many people like to refer to this liver taste as "metallic."
Who Should Avoid Liver Meat?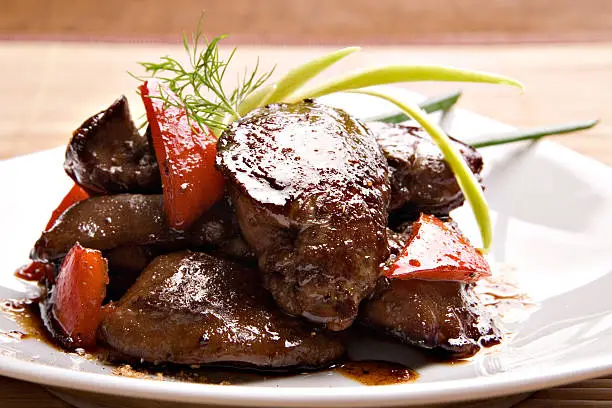 While calf and beef liver are healthy nutrient sources, some might want to avoid them. Here are some of them:
Pregnant Women
Liver contains significant amounts of Vitamin A. But, such high Vitamin A levels are not healthy for the fetus. It can have adverse effects on the development of the fetus. One common issue it causes is the teratogenic effect. 
It's a biological term referring to a fetus's nervous system malformation. Some experts have also associated excessive Vitamin levels with spontaneous abortion issues. 
People with Gout
Recent reports from the Arthritis Foundation also show that people with gout should avoid organ meats. The reason is that liver contains purines, which can easily break down into uric acid. A body with high levels of uric acid can lead to gout complications.
Frequently Asked Questions (FAQ)
What's the Difference between Beef Liver and Calf Liver?
Calf liver originates from cows that are below the age of one year. However, beef liver originates from cowers that are over the 12-month age. The difference accounts for the variation in the nutritional value and flavor of both meat types.
Is Calf Liver Healthy?
Calf liver is an important source of Vitamin A. It contains over 10,000 micrograms for every 4-ounce serving. The vitamin in calf liver is ideal because it's in the form of retinol. It's a compound that the body can break down easily.
What Type of Liver Is Best to Eat?
Beef liver ranks highly among some of the most nutritious meats out there. Gram for gram, beef liver is more nutritious than other meat types. However, calf liver is way better because of the improved nutritional value it can provide.
What Does Calf Liver Taste Like?
Calf liver is delicious and tasks like the traditional liver meals you might have encountered. However, the only difference with beef liver is that the former has a healthier nutritional balance. It also works well for different diet plans.
Why Do You Soak Liver in Milk Before Cooking?
There are various reasons for soaking liver in milk. Doing this helps improve the meat's taste, texture, and feel. Milk is also helpful in removing the high levels of blood in the meat.
Is Calves Liver High in Cholesterol?
Calf liver is generally healthy, which means it contains reasonable cholesterol levels. It also contains generous amounts of zinc, copper, and vitamins. It's generally a healthy meal alternative.
There we have it – the calf vs beef liver argument doesn't lead to any major discoveries. Both types of meat have a similar taste, but calf liver seems to be the healthier of these two. Regardless, both are excellent sources of nutrition and balance well with various recipe condiments.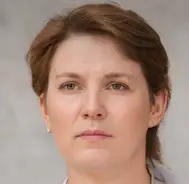 Latest posts by Leah Greenstein
(see all)