A knife is one of the kitchen essentials. But it gets hard to work when your knife gets burred. 
First of all, it might cause you an injury. Moreover, even the cuts won't be smooth.
Now, you're wondering how to deburr a knife?
To deburr a knife, you've to slide the knife on a gritstone. While doing so, you've to identify your pressure points to ensure it deburrs evenly. Then slide it on a finishing stone and strike on a wooden piece. Repeat the process a few times. Lastly, slide it on a leather strap.
We haven't provided the detailed instructions here. Well, that's because we've saved them for later. Why don't you scroll down and become the master of your knife? 
Why Do You Need to Deburr Your Knife?
Some knives get burred during manufacturing. Many of them get burrs and dings while we use them.
When you continue working with a burred knife, the cut might not be smooth. If you want to carve meat properly or specifically cut something, a burred knife can be a hassle.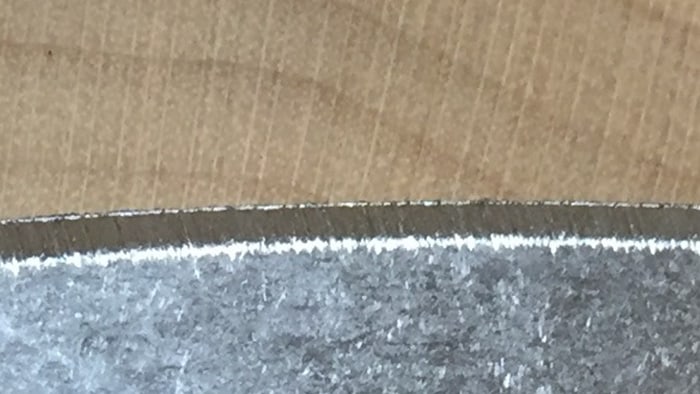 So, you need to deburr your knife to get the perfect cut each time. Remember that sometimes while sharpening, we create burrs ourselves. In that case, we've to deburr the knife immediately. Because a sharpened burr can cause accidents.
But can you deburr a knife at home?
Yes, you can deburr a knife at home. For that, you'll be needing exact directions. Because if you don't follow them, you might end up destroying the knife.
But don't worry the deburring process won't be that long. We'll guide you on the deburring process. Just read the next segment.
How to Deburr A Knife? -3 Easy Steps!
Well, deburring a knife isn't as hard as mirror polishing a knife. But still, you'll have to follow the steps. Once you do, you'll be successful to deburr your knife.
Without delay, let's get to the point already. 
Step 1 of 3: Clean The Knife
The first thing you've to do is clean the knife. Because without it, you won't be able to deburr it. But be very careful while washing a burred knife.
Do not try to scrub it. otherwise, it might cause injuries. Instead, hold it under the tap water. Use a dish cleaning brush to clean it. Then take a thick towel and wipe it carefully.
Step 2 of 3: Deburr The Knife
Now, take a medium gritstone. Then put some water in it. Place the knife in an angle over the gritstone. While doing that, hold the knife handle with one hand. Keep the index finger over the knife to put pressure on the part that's closest to the handle.
Put the other hand over the knife's non-sharp edge. Then slide the knife, flip it and slide again. Keep sliding for 5 minutes. If you had a burr on the edges, it should be smoothened by now. 
But you might have a burr on the head of the knife. Then slide the knife by putting pressure on the head. So that the burr smoothens.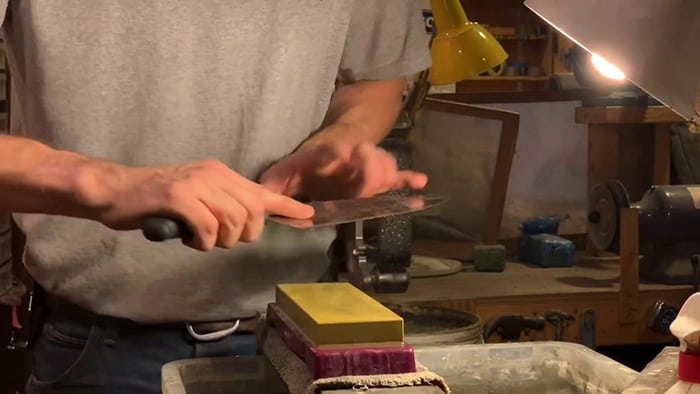 To smoothen the burr on the head, you'll need about 7 minutes. Once you're done, keep sliding the knife on a finishing stone. This would take about 5 minutes. 
Now take a wooden piece and cut strokes on it 5-8 times.
Then again slide the knife on the finishing stone. Keep repeating this process 3-4 times. 
Now hold the knife over the finishing stone in a manner that you'll cut with it. slide the knife like this 8-10 times. This would remove any remaining burrs. Your knife would finally be almost even. Then again slide it as before. 
Step 3 of 3: Slide The Knife on Leather Strap
Now wash the knife with water. Wipe it with a towel to dry it completely. Then take a leather strap and slide the knife over it 15 times at least. You'll see that the knife doesn't have any burrs. Moreover, it's super smooth. 
You need to purchase leather straps that are better suited for the job. So here's what we use pretty often.
Black Leather Strap 72Inches Long 0.78Inches Wide Long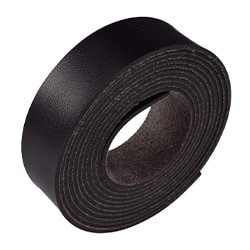 CDY Lychee Pattern Dark Brown Leather Strap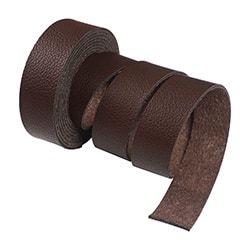 Once you're done smoothening with the leather strap, know that it's helpful. It can even help to remove scratches from the knife blade. So the knife will be much easier and safe to use now than before.
Tips to Follow to Keep Your Knife Safe from Burrs
Well, now you've learned to deburr a knife. Let's tell you some tips so that you can prevent the knife from getting a burr anytime soon.
Tip 1: Don't Use The Knife Roughly
In the kitchen, we tend to use our knives roughly. But like other utensils, knives should have some limitations. you need to understand the purpose of each knife.
Some knives are for fruit cutting only. If you use them to cut meat, the knife will get burred.  Thus, you should make sure which knife you're using for what purpose.
Tip 2: Keep The Knives Clean & Dry
Well, after you use the knife, clean it immediately. Then wipe it dry. It'll help to keep the knife away from getting rusty.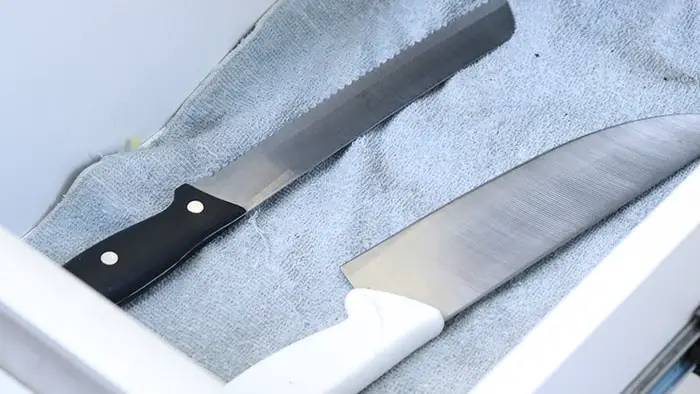 Because once you get rust on the knife, it becomes a hassle. Your knife definitely can't cut through whatever you need. So it's better to prevent it before that happens. 
Tip 3: Keep The Knives Separate
While storing, you should opt for keeping the knives separate. Place it in a box and store it in a drawer. Do not place other utensils with it.
Otherwise, your knife will not be safe from dings and burrs.
So these are some of the ways you can avoid having to deburr your knife. Speaking of which, we hope you've learned something about this topic. Next time, you can just get rid of the burrs on your own.
FAQs
Question: Should I remove scratches before deburring?
Answer: If the scratches are less they'll go away while deburring. But if the knife has severe scratches, you can remove them before or after deburring.
Question: Can I put oil on the gritstone before sliding the knife?
Answer: some may suggest you put oil for better sliding. But we don't recommend that. Because putting oil will make the knife slip away. you won't have the grip. 
Question: Can I deburr a broken knife?
Answer: Well, a lot of the time, the burrs break down. But you can fix it by deburring. However, if the knife tip is broken, there's nothing you can do to fix it. 
Bottom Line
We're done with today's topic on how to deburr a knife. We hope that it was a quick and easy guide for you.
Here's an added tip for you. If you want to protect the knife from getting rusty, add a patina on it.
If you have more questions on this, comment below. We'll be glad to answer those.
Thank you!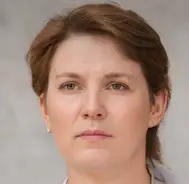 Latest posts by Leah Greenstein
(see all)