Detaching the point from the flat on a brisket can seem like a lot of work. But surprisingly, it's not that hard! You can easily do the job without messing up anything. 
So, how to separate point from flat on brisket properly? 
Well, for starters, you've to grab the essentials tools for the job. Then identify where the two parts are on your brisket. After that, try to find the fat seam. Because you've to start cutting from that line to separate the two parts. Lastly, trim off any excess fat that's attached to the point and flat. 
Now, this might sound a bit difficult. 
That's why we've broken down the whole process for you. However, that's not all! We also gave some tips regarding the separation process during and after cooking. 
Therefore, we hope you'll give us some time and read till the end! 
Should I Separate Point from Flat Brisket?
Now, a brisket is pretty large and heavy. A whole brisket can weigh around 10-12 pounds. That's why it's best if you cut it in two.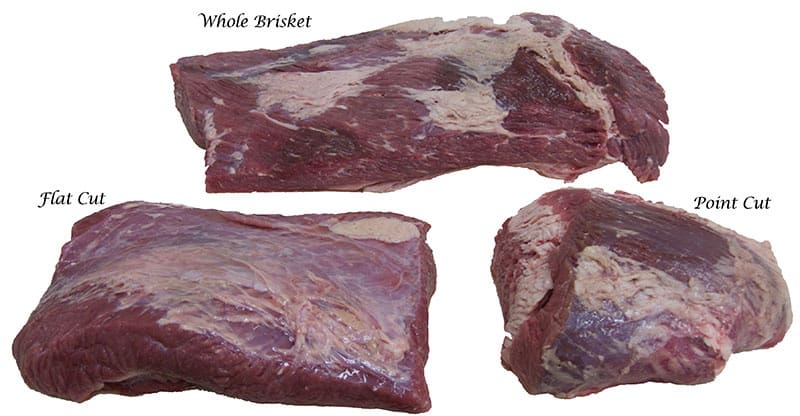 Source: bostonbrisket.com
Because it's quite hard to handle a whole brisket. For example, you might not have enough space in your smoker. 
Plus you'll face problems while getting the perfect taste and texture. Why? 
Well, the two muscles or parts of the brisket aren't the same. 
Yup, a brisket mainly contains two different muscles. One muscle is called the point and the other one is named the flat. 
Now, the point cut is actually well-marbled and fatty. On the other hand, the flat cut is lean and has less amount of fat. The cut also doesn't have much marbling. 
And that's why you've to smoke or cook them in a different way. Otherwise, your smoked brisket will get tough instead of being tender.
So, these are all the reasons why you should separate the point and flat cuts. You can separate both parts before, during, or after cooking. 
However, we suggest you do detach them before cooking. Why? 
Well, let's check out the aftermath of the three different separation process then-
| | |
| --- | --- |
| When to Separate | Result |
| Before Cooking | Will get the perfect texture and taste. The brisket parts can be cooked/smoked easily and quickly. |
| During Cooking | Might face trouble separating the two parts due to the brisket being hot. They need to be cooked/smoked differently after being separated. |
| After Cooking | The texture can switch from tender to tough during the separation process. |
So, these are the results you should anticipate for each of the processes. 
Moreover, as you can see-
It's best to separate the point and flat before cooking. Thus let's go through that separation process.
3 Steps on Separating Point from Flat Before Cooking
Well, this option is the most effective one from our point of view. Because you won't get into any trouble while attempting this process. 
Plus it won't take much of your time. But before getting to process, let's check how much time it'll need-
| | |
| --- | --- |
| Step | Time  |
| Identify the point and flat | 5-10 minutes |
| Finding the fat seam and cutting through it  | 30 minutes |
| Trimming the excess fat parts off | 10-20 minutes |
| Total Process | 45-60 minutes  |
Anyway, let's quickly see how to separate the two brisket parts before cooking-
Tools You'd Need: What Knife Do You Use to Cut Brisket?
Now, first of all, you'll have to get a good sharp knife. Because not every kitchen knife is appropriate for this job. 
So, which knife do you use to cut brisket?
Well, it's better if you get a stiff and curved knife. Also, if you didn't know-
This type of knife is used for taking out bones before refrigerating pork shoulder. 
So, for your comfort, we've mentioned the best knife to cut brisket with-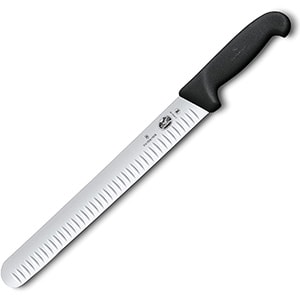 Victorinox Swiss Army – 47645 Cutlery Fibrox Pro Slicing Knife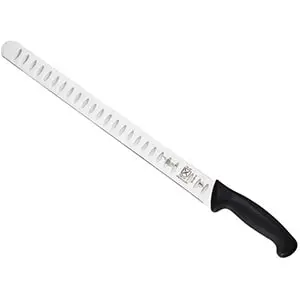 Mercer Culinary Millennia Granton Edge Slicer
Now, other than the knife, you'll also need-
Cutting board 
Gloves 
Two different large/extra large bowls or meat trays
Therefore, quickly grab them, and let's start our work!
Step 1: Identify the Point & Flat Parts
Once you're ready, place the brisket on the cutting board. However, make sure the fattier side of the brisket is faced down. 
Because you've to identify which part is the point and which is flat. Now, how to tell the difference between the point and flat of a brisket? 
Well, it's not that difficult to identify. Because you see, the flat part is actually sitting above the point cut. 
The flat brisket part is quite lean. And in reverse, the point is pretty fatty. You can easily tell them apart because of these characteristics. 
 If it still seems difficult, check out the brisket flat and point diagram given below!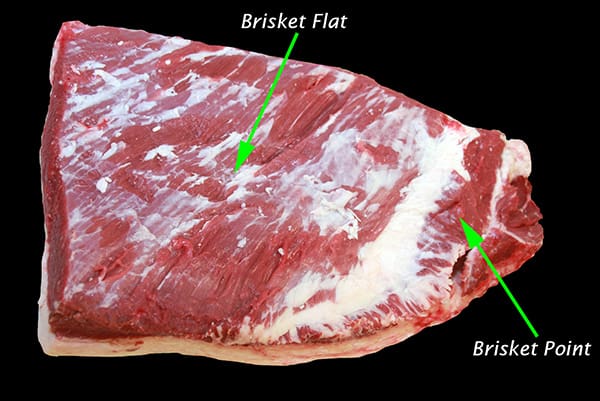 Source: aggiemeat.tamu.edu
So, now, you can easily identify the point and flat muscles of the brisket. 
Step 2: Look for the Fat Seam & Start Cutting
Once you're done differentiating the parts, start looking for the fat seam. And to be honest, it's the easiest job ever! 
Because you'll definitely come across a fat line on the surface of the brisket. And if you didn't know-
That's the fat line that is keeping the point attached to the flat.
Source: ocbarbecue.blogspot.com
Therefore, to separate the two parts, you've cut through that fat line/fat seam.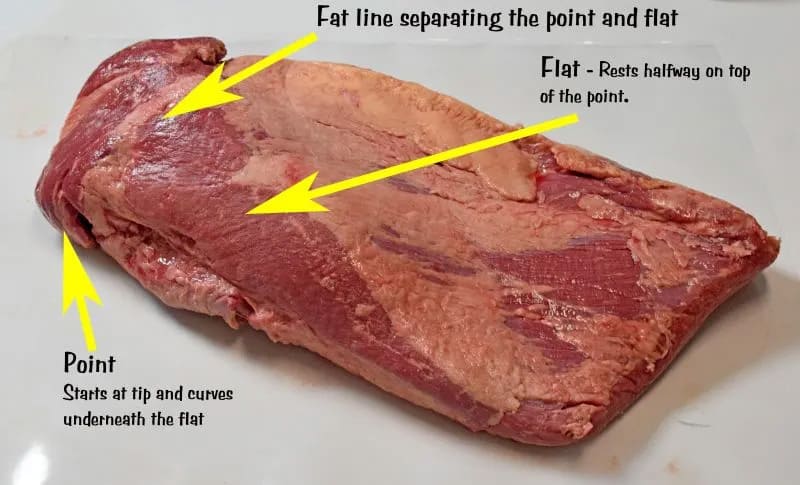 Source: oklahomajoes.com
Now, take your knife and cut downwards into the fat line/fat seam. You'll see the fat seam is curving back.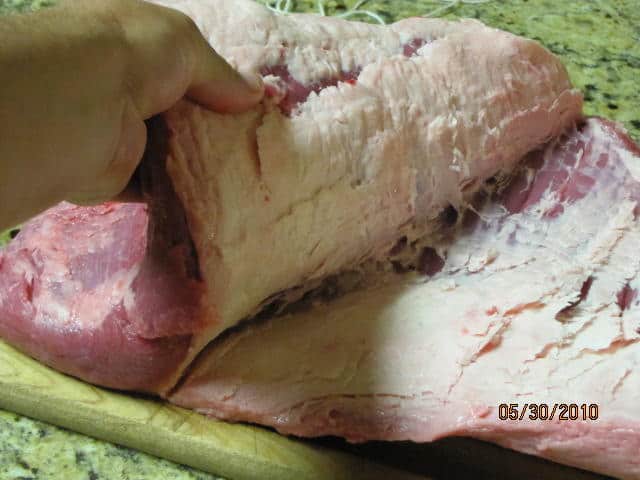 Source: smokingmeatforums.com
All you've to do is follow the fat line and cut through it. You can use your hand and pull the flat part out too. It's totally your call!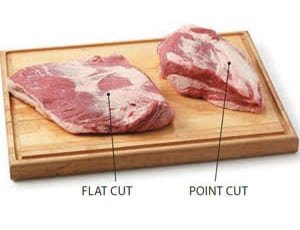 Source: cuisineathome.com
Because either way, you'll end up with two separate parts of the brisket.
Step 3: Trim out the Excess Fatty Bits
First of all, congrats! You've separated the point and flat briskets. But there's still a little bit of work left.
Because you'll see some excess fat attached on both the parts. Therefore, grab the knife again, trim those fat parts off.
Source: clearcreekbeef.com
Once you're finished, you can start your cooking/smoking process! 
5 Tips on Separating Point from Flat During Cooking
Now, you might've skipped separating the point and flat parts before cooking. And you're thinking about detaching them during your cooking process. 
Well, you can separate the two while you're in the middle of cooking. However, you got to follow some simple rules. These rules are actually more like tips!
Therefore, don't be afraid and go through them with a calm mind-
Take out the brisket and place it on a flat surface carefully. 
Allow the brisket to cool down or rest for at least 5 minutes. Otherwise, you'll probably burn your hands while touching it. 
Identify the two different brisket parts. Also, find the fat line of the brisket. 
Take your boning knife and position it to the fat line. Then start cutting through that line. 
Cook both the parts separately. It won't need much time for the point to fully cook. However, the flat will take more time to cook perfectly. 
Lastly, keep an eye on the two parts brisket while cooking. Use a thermometer to be sure if they're properly cooked or not.
Now, we wanted to help you out a bit regarding picking a thermometer. Because checking the temperature of the brisket is really important.
Therefore, we've suggested our favorite meat thermometers-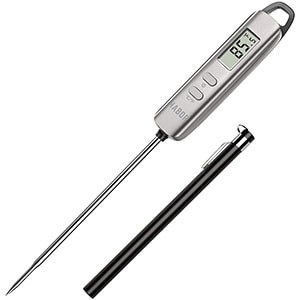 Habor 022 Meat Thermometer
Powlaken Instant Read Meat Thermometer
So, grab your thermometer and follow these few things. These will surely help you separate point from flat during cooking! 
4 Tips on Separating Point from Flat After Cooking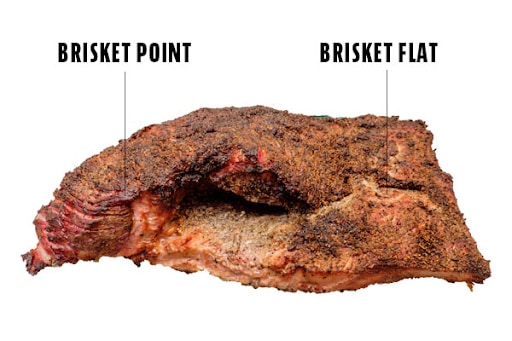 Source: pitboss-grill.com
Now, you might want to detach the brisket parts after cooking. Well, it's completely fine! 
You can certainly separate the brisket parts after cooking. Thus, to help you out, we've provided some tips- 
First of all, let the meat chill for a while. Therefore, wrap it with aluminum foil. And keep it in the chiller. 
Check whether the brisket's internal temperature is 185-190° Fahrenheit or not. If so, take it out of the chiller. 
Then unwrap the brisket. And place it on a flat surface fat cap facing up. So that the point cut can sit above the flat cut. 
Next, find the soft fat seam and slice through it carefully. 
However. If you don't find the fat seam, see where the brisket got leaner. Because that's where the fat layer is. 
Now, just start slicing downwards that part. And the two parts will be separated.
That's all! Also, don't forget to be careful. Because one wrong move can make your brisket tough. 
Point Cut vs Flat Cut Brisket: Which is Better?
Now, as we're talking about point and flat briskets, let's talk a bit more. 
Well, there's a pretty popular debate on- 
Which cut is better: flat or point cut brisket? 
Thus, we thought it's best you know about it here! 
So as you know point cut is on the fattier side. Plus, it also comes with beautiful marbling. 
That's why it's easier and quicker to perfectly cook this part. Also, if you're thinking which is better for smoking, point cut wins again! 
On the contrary, the flat cut is more on the tough side. It's a lean cut of meat with less fat and marbling. 
For that reason, it's best if you slow cook or braise it. Because trust us, it'll be pretty hard to smoke this piece of meat to perfection. 
However, it's up to you which part you want to work with. Moreover, both cuts of brisket can be cooked in the oven.
FAQs
Question: Is it difficult to separate point from flat on brisket?
Answer: Well, to be honest, it's not that difficult. You just need to get a good knife and cutting board. Then put on your gloves. And start cutting through the fat line on the brisket. This way the two brisket parts will be separated in no time.
Question: When should I separate point from flat on a brisket?
Answer: We suggest you separate the brisket parts before cooking it. Because this way, you can cook your brisket perfectly without burning one side. Both the flat and point cut will come out as tender and tasty as well. 
Question: When to separate point from flat for burnt ends?
Answer: Well, it's best to separate the two right after smoking the brisket. At first, let the brisket rest a little. Then carefully detach the two through the fat line. For separating the meat cuts, use a sharp boning knife. 
Wrapping Up
Now, that's everything on how to separate point from flat on a brisket. 
Also, you can cut your cooked brisket in half to separate the parts. Because that's how you'll see there are two different muscles inside. Once you see that, just slice through the line that's separating them.
So, was the separation process easy?
Let us know how your experience was by commenting. Lastly, good luck!!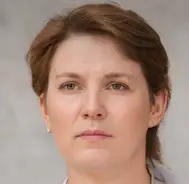 Latest posts by Leah Greenstein
(see all)