It's disheartening if your smoked brisket becomes tough after all your efforts. But hey instead of sulking, you need to know the reasons behind this. 
So, are you questioning yourself- why is my smoked brisket tough? 
Firstly, your smoked brisket will come out as tough if you choose the wrong cut. Then another reason can be the incorrect smoking process. Next, you've to smoke the brisket for long enough. Otherwise, you'll have undercooked and tough brisket. Lastly, if you don't let it rest in the cooler, the brisket will be tough and chewy.
Source: texasmonthly.com
Now, even though your brisket is tough, you can fix it. And we've mentioned the fixing processes in detail for you. 
Therefore, we hope you'll read till the end!
Is Your Smoked Brisket Actually Tough? 
Now, before getting to the reasons-
You need to identify whether the brisket is really tough or not. Because some people often assume that the brisket is tough without testing it. 
But my friend, you've to be clever. So, we've mentioned two techniques to help you out-
Thermometer Technique
For this technique, you'll need to insert the probe of the thermometer in the brisket. 
However, there's a catch-
You can't just insert the probe in any part of the brisket. You need to pick the thickest part of the brisket. And take the read.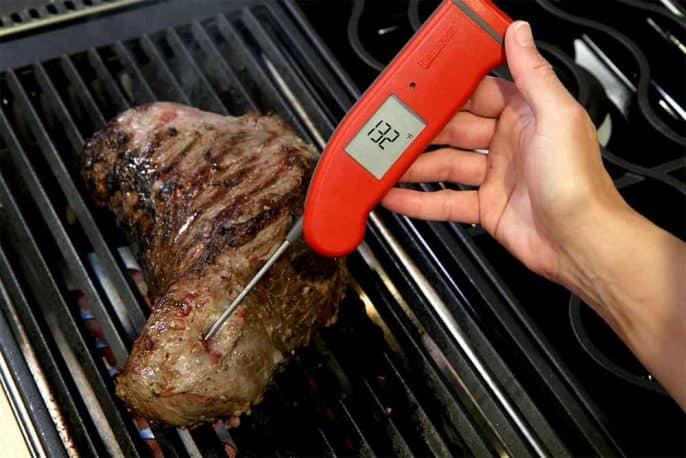 Source: smoking-meat.com
A tender brisket needs to have an internal temperature of 190-200 degrees Fahrenheit. Therefore, if you get this read, then congratulations! 
And if not, you've got yourself a tough piece of brisket.
Toothpick Technique 
If you don't have a thermometer, you've nothing to worry about! 
All you need to test your smoked brisket is a toothpick. Sounds interesting, right? 
Well, some grill masters call this technique the easiest and most accurate. Thus, let's check out how you can test a brisket with a toothpick-
It's not that hard. Just poke the thickest part of the brisket with the toothpick. And if the toothpick inserts into the meat without any resistance-
The meat is tender. 
If it's hard to even insert the toothpick, brace yourself. Because your brisket has turned tough.
Now that you're sure the smoked brisket is tough, let's know the reasons behind it.
4 Reasons Why Your Smoked Brisket Turned Tough 
Brisket is a difficult meat cut to work with. That's why people often encounter a tough brisket after smoking it. So, you can relax a bit as you're not alone!
Now, what causes smoked brisket to be tough? 
Well, a smoked brisket can get tough because of four common mistakes-
Did You Pick the Wrong Cut to Smoke?
The first mistake is choosing the wrong cut of brisket for smoking. As we've mentioned it's pretty difficult to get a brisket to its perfect tenderness. 
But do you know why is brisket so hard to smoke? 
Well, this meat cut is already a bit tougher than other cuts. Because it carries too many muscle fibers/connective tissues. And these have to break down to get a tender brisket. 
However, the tissues/fibers take too much time to disintegrate. That's why it's important to pick a brisket cut that has more marbling. Because it isn't that hard to smoke a perfectly marbled brisket.   
But which cut of brisket has this perfect marbling? 
If you buy an untrimmed brisket, you'll get a whole brisket. And we don't recommend using this entire piece. Instead, we suggest always going for individual cuts of brisket. 
Now, there are two cuts of brisket. One is known as the flat cut. And the other is the point cut. The flat cut is leaner than the point cut. For that reason, it contains less fat and marbling.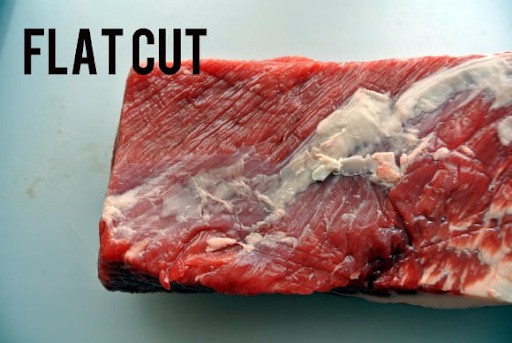 Source: eatlikenoone.com
In reverse, the point cut has more fat and marbling to it. And this makes it appropriate for smoking.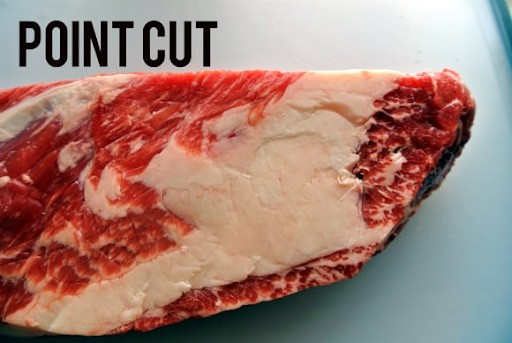 Source: eatlikenoone.com
So, which cut of brisket did you pick for smoking?
Was the Smoking Process Correct?
Smoking the brisket in an incorrect way will obviously result in tough brisket. To be honest, the smoking process of brisket is quite elaborate. 
Because the process involves-
Starting the fire 
Building the fire 
Maintaining a decent temperature
Because of this, we've broken down the three processes for you. So, you can understand where you messed up. 
Starting the Fire for Smoking the Brisket 
This part is only for charcoal-based smoker users. If you're an electric or gas smoker user, you can relax! Because charcoal is obviously not needed for your smoker.
Now, the main element for starting the fire for a charcoal-based smoker is coal. However, you've to put in the right amount of charcoal. Otherwise, you won't get the right smoke. 
And for smoking any meat, the right type of smoke you'll need is-
The thin blue smoke.
You've to always aim for this smoke to achieve the best results. If you use too much coal, you'll get thick white smoke instead. 
This thick white smoke is definitely not a good sign. Because it indicates that the temperature of your smoker is too high. And too much heat causes the brisket to be tough. Thus, you need to be careful about the charcoal amount.
Now, the coal input is different according to different smoking methods. For example, the snake and minion methods have different coal placing and amount. 
So, which one to choose between snake method or minion? 
Well, we recommend starting the fire in the snake method. Because it's much easier to get the right smoke with that method.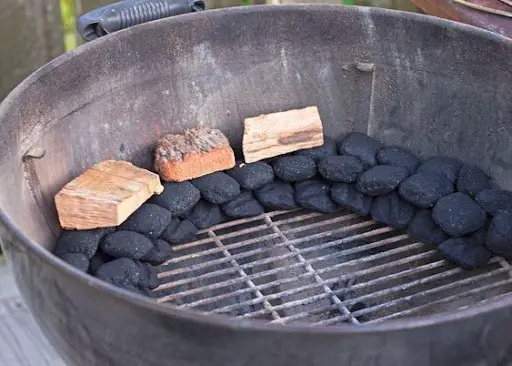 Source: pinterest.com
Now, how much coal did you use to start the fire?
Building the Fire for Smoking
After lighting up the charcoal, you need to add wood to build the fire. The same goes for gas or electric smoker users. 
To build a good fire, you need to use the right wood. For smoking a brisket, you should always go for cherry or applewood chunks or chips. Because these two will match the flavor of the meat.
Now, let's see how to build a good fire for a charcoal-based smoker- 
Well, as you know brisket takes a long time to reach its perfect tenderness. That's why we suggest soaking your wood chunks or chips in water beforehand. 
You've to use one packet of wood chips every 30-45 minutes. And if you want to add wood chunks, add 3 fist-sized chunks at first. Add another 3 chunks after the first ones have turned into ash. 
After building the fire-
Wait till the temperature inside the smoker reaches 225-250 degrees Fahrenheit. 
Once the temperature gets to that range, place the brisket inside. Make sure you're smoking your brisket fat cap down. Otherwise, the bottom part of the brisket will turn tough and crusty. 
You can even use a drip pan while smoking. This will help to reduce the heat. Another option is wrapping the brisket with butcher/foil paper at 160 degrees Fahrenheit. This way the bottom of the brisket won't get tough. 
Now, for gas or electric smokers, there's already a wood pan. So, you just need to fill the pan with wood chips. 
You'll also find a water bowl/pan inside the smoker. Make sure to fill that bowl with hot water. Using cold water is one of the culprits behind tough and dry brisket. 
So, did you maintain all of these when building the fire?
Maintaining the Proper Temperature
After starting and building the fire, you need to maintain a decent temperature. 
Because smoking the brisket in high heat will definitely make it tough. Why?
Well, as you know a brisket has a lot of muscle fibers that break down slowly. Therefore, slow-cooking the brisket at a low temperature is the best option for you. 
Now, you've to maintain a 225 Fahrenheit temperature in charcoal-based smokers. For this, you've to adjust the vents of the smoker.
The adjustment of the vents varies from smoker to smoker. That's why we've discussed some adjustments of the popular smokers-
| Smoker Name | Vent Adjustment |
| --- | --- |
| Offset smoker | Keep the side vents of the firebox ⅓ open. And the chimney vents halfway open. |
| Kamado smoker | Let the bottom vents be 1-inch open while the top vents are closed. But keep the daisy wheel hole fully open. |
So yeah this is how you've to adjust the vents of your offset and kamado smoker.
Now, let's look at the adjustments for electric smokers-
Well, maintaining the temperature is pretty easy with this type of smoker. Just use the digital controller pad. Adjust the temperature to 250 degrees Fahrenheit for smoking the brisket. 
Lastly, gas smoker users have to maintain a temperature of 230-250 Fahrenheit. For this temperature range-
You'll need to set your smoker to the lowest setting possible. And keep the dampers of the smoker open. If you do this, the smoker's internal heat will be 232-240 degrees Fahrenheit.
Now, if you fail to maintain the proper temperature ranges-
You'll get tough and chewy smoked brisket.
So, were you able to maintain the right temperature range?
Have You Smoked It for Long Enough? 
Briskets need to be cooked in low heat for a longer time. Otherwise, the muscle fibers won't break down. And you'll have an undercooked tough brisket. 
But how long does a brisket need to be properly cooked? 
Well, the time depends on the weight of the brisket you'll be cooking. 
Thus, we've mentioned the right time according to the weight and temperature-
| Smoker Type | Brisket Weight (Pounds) | Temperature of Smoker | Time | Internal Temperature of Brisket |
| --- | --- | --- | --- | --- |
| Charcoal | 5 pounds | 225 degrees Fahrenheit | 5 hours | 195-200 degrees Fahrenheit |
| Electric | 5 pounds | 250 degrees Fahrenheit | 5 hours | 180-190 degrees Fahrenheit |
| Gas | 5 pounds | 230-250 degrees Fahrenheit | 5 hours | 195 degrees Fahrenheit |
Now, did you catch the rule of thumb here? No? 
Well, don't worry! We're here to help. So, it's 1 hour per pound of brisket.
Cook the brisket less or more than this. And you'll have tough smoked brisket. 
However, you can cook for another hour if you want. But only if the brisket doesn't reach the right internal temperature. 
Did You Put the Brisket in the Cooler Afterward? 
After finishing the smoking process, you've to place the brisket in the cooler. This is how you're letting the piece of meat rest. 
And to be honest, letting smoked meat rest afterward is important. 
Because if you didn't know-
The internal temp of the brisket can rise up to 10 degrees Fahrenheit. Even after the smoking process is finished. So yeah it'll be tough.
However, if you let it cool down, the internal temperature will drop. And you'll get the right read later on. 
For the cooling process, you'll have to wrap the brisket with aluminum foil. Place some towels in the cooler. And then put the brisket inside the cooler.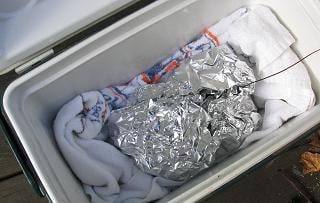 Source: nakedwhiz.com
Keep it there for at least 1 hour. Also, make sure that the temperature doesn't go under 140 degrees Fahrenheit. Otherwise, the brisket will get tough. 
To make things easier, always keep a thermometer with you. And check the meat from time to time. 
But to get a proper read, you'll need a good-quality meat thermometer. So, on that note, here are some of our top picks-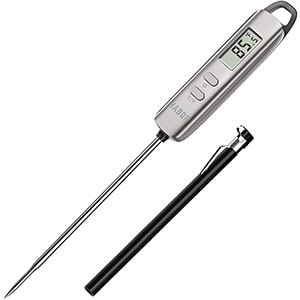 Habor 022 Meat Thermometer, Instant Read Thermometer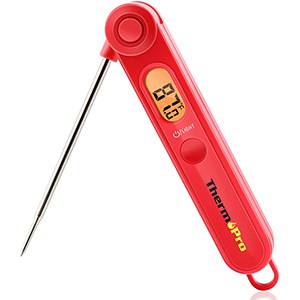 ThermoPro TP03 Digital Instant Read Meat Thermometer
Therefore, just grab the meat thermometer. And check the temperature of your brisket to avoid it from turning tough.
Now, where did you go wrong?
How to Tenderize Brisket? [1 Solution+3 Methods]
Even if you got yourself a tough smoked brisket, you can tenderize it! You'll only have to be a little patient throughout the fixing process.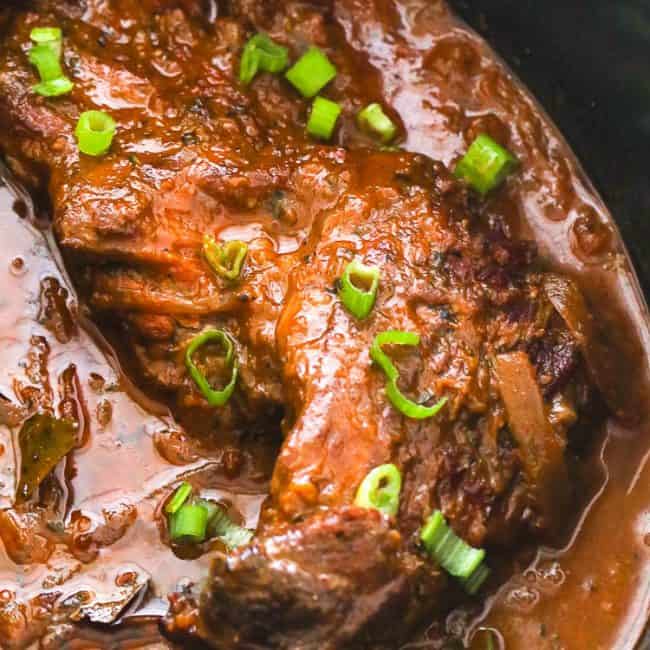 Source: africanbites.com
Now, there's only one way to tenderize a tough brisket. And that's by cooking/simmering it for a bit longer. 
This cooking/simmering process involves three methods-
Stockpot method 
Oven method 
Pressure cooker method
We've discussed all of the methods for you. Therefore, just read along!
Stockpot Method
After you've realized your brisket got tough, don't sulk for too long. Instead, grab a stockpot and follow these simple steps-
Cut some veggies such as carrots and onions. And place the brisket with the veggies in the stockpot. 
After that, start adding water. Remember to pour water until the brisket is fully covered.
Now, set your stove to medium heat. Close the lid of the stockpot and let the brisket simmer for 30-45 minutes.
Within this 30-45 minutes, the muscle fibers of the meat will break down. And you'll soon get a tenderized brisket.
Pressure Cooker Method
Now, you might have less time in your hand. And your guests might be losing patience. What to do in such situations? 
Well, we've got our pressure cooker to the rescue. Just follow these easy steps to tenderize the tough brisket-
Again cut some onions and carrots into bite-size. Now, remember to add the veggies before in the pressure cooker. Then place the brisket on top of them. 
After that, keep adding water until the brisket is completely covered. Then close the lid and set the pressure cooker at high pressure. 
Cook the brisket for 25-30 minutes to let the fibers break down. 
After cooking, check the internal temperature of the brisket with a meat thermometer. This time you've to get a 180-200 degrees read.
To check veggies use a fork to pierce through them. If they are cooked, piercing them should be easy.
And that's all! 
Oven Method 
Some people like to finish off cooking the brisket in the oven after smoking. Well, it makes sense. 
Because cooking the brisket a bit longer can improve its texture. And ultimately you'll have a tender brisket. 
But the steps to tenderize a tough brisket in the oven are a bit different. So, let's take a look at the steps- 
First, preheat your oven. Make sure to set the temperature at 300-325 degrees Fahrenheit.
Slice the brisket against the grain if you haven't sliced it already. 
Cut some veggies of your choice. But make sure to add onions.
Place both the brisket slices and veggies on the pan. 
Then pour beef broth and wine until the pan is filled. You can even use leftover pulled pork juice for the simmering process.
Now just cook the brisket and veggies for about 2-3 hours. 
This method will surely give you a delicious and classy dish!
To make things simpler, we've compared the three methods for you. So that you can pick the right one for yourself.
| Method | Ease Level | Time-consuming | Expensive or Cheap |
| --- | --- | --- | --- |
| Stockpot | Medium | No | Cheap |
| Pressure cooker | High | No | Cheap |
| Oven | Medium-low | Yes | A little expensive |
Now, choose the method you like and start tenderizing that tough piece of brisket!
FAQs
Question: Does brisket get tender the longer it's cooked?
Answer: Well, yes brisket does need a long time to be cooked to perfection. However, there's a limit for everything. So it's best if you keep an eye on the internal temperature. And take it out while it reaches 190-200 degrees Fahrenheit. 
Question: What to do if my smoked brisket is tough?
Answer: Just cook the brisket for a little bit. You can try out different methods for this. You can use an oven or crockpot, or even a pressure cooker to tenderize your tough brisket.
Question: Can I use too much coal when smoking brisket?
Answer: Nope, you can't. It's always better to start the fire with less coal. Because more coal means more smoke. And too much smoke will turn the brisket tough and bitter in taste.
Take Away
By now hopefully, you've got what you needed on why is my smoked brisket tough. Also, slicing the smoked brisket before letting it rest can turn it tough.
Now, why did your smoked brisket turn tough?
Share your answers in the comment section. Lastly, we hope you were able to tenderize your tough smoked brisket.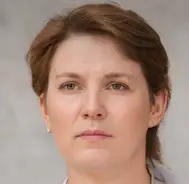 Latest posts by Leah Greenstein
(see all)