Honestly, it's hella annoying to find flies flying around you and your smoker. But you still have to deal with them. 
So, ask yourself- how to keep flies away from my smoker? 
Well, start off with a fly trap. You can even try out the water bag trick to keep the flies away. Holographic objects can help to avoid them as well. Trapping the flies in a pint jar is another good way. Then vinegar can also come in handy. Lastly, Sterno gel can help you too. 
This is only the preview. To get an effective result, you need to know the methods in detail. And we've covered every bit of them. 
Therefore, do check out our entire piece!
Why Do Flies Come Near Your Smoker? 
Now, before getting to the methods-
Aren't you curious why they are actually coming towards your smoker? 
Well, it's crucial to know what caused the situation before looking for solutions. Whether it be why your smoked brisket turned tough. Or why flies are buzzing around you while smoking. 
So, if you are intrigued, we've gathered some possible reasons for this situation. 
The first reason why they are flying towards you and your smoker is-
Because of the smell of the food, you're smoking. Flies can detect smells from miles away. For example, regular house flies are able to detect smells from almost four miles away. Interesting, isn't it?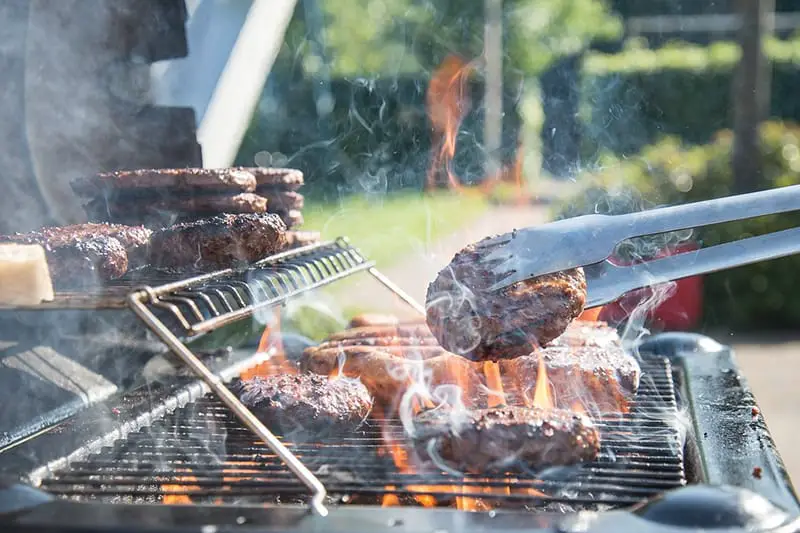 Source: eieihome.com
Maybe but it's not a good sign for you. Because after you start smoking something, the flies will come to your spot gradually.
Another reason why you're seeing flies around your smoker is the smoke. Yup, some flies are naturally attracted to smoke. 
But only if the smoke is from charcoal and hickory wood. Therefore, you'll encounter the flies even before smoking the meat. So, don't use hickory wood to smoke from now on.
Lastly, you'll come across more flies in the summer. And unfortunately, summer is the best time of the year for smoking/BBQing. Now, why are they more present in summer?
Well, the answer is easy. The reason is- the dry atmosphere and humidity in summer air. 
Because the flies never miss the smell in this type of environment. Thus, your smoker will easily be surrounded by lots of flies. 
But don't you worry! You can keep these annoying creatures away from your smoker. You just need to be patient and willing!
6 Effective Ways to Keep the Flies Away from Smoker
Now that you know the reason, let's come to the point-
How to keep flies away from the grill or smoker? 
Well, people have been trying out many methods to keep them away. And so far they've been successful as well. Also, it's necessary to keep the flies away from your food and smoker. Because flies carry lots of germs with them.
So for you, we've gathered the methods that have been most effective-
Get a Fly Trap to Get Rid of Them
Fly traps are quite easy to work with. And you'll see different types of fly traps out there. Some fly traps have sticky substances on them. While others use bait to attract the flies. 
Sticky fly traps mainly have glue attached to them. And the scent of this glue can attract flies. 
Now, it's better to hang this trap. Therefore, keep these traps at a higher place, especially in a corner. You can hang it from a tree as well if you want. 
Some sticky fly traps also have vertical pillars/stands. Thus, use this type if you don't want to hang them. 
Plus you can even make your own sticky trap. All you'll need-
Firstly, you've to warm water and honey together. For this, pour ¼ cup of warm water into a bowl. And add ¼ cup of honey to it. Now, cut the paper you've grabbed into strips. 
After that, start coating the paper. But make sure you're coating only one side of it. And lastly, use the tape to hang the papers. Choose somewhere around your backward doorway as the hanging spot.
Then let's come to the most popular fly traps- disposable fly traps. These traps often use some sort of water-soluble bait. 
So, after filling the bag with water, the bag will spread a scent. And flies are quite attracted to this type of smell. Therefore, they will come flying and get trapped in the bag. You can just discard the bag afterward.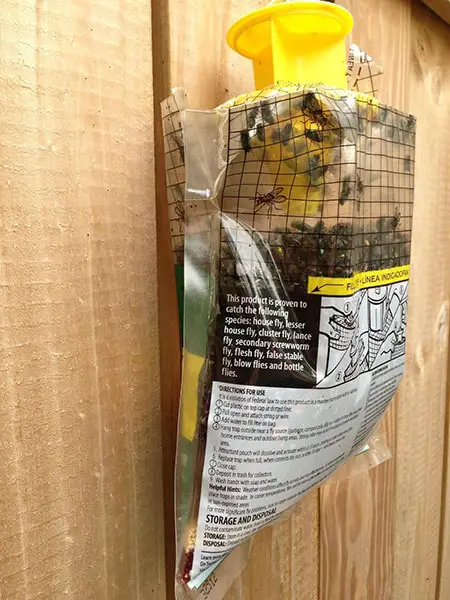 Source: reddit.com
However, you've to get yourself the good ones. Or less you're just wasting your money and effort. 
Therefore, we've mentioned disposable flytraps that have worked great for most people-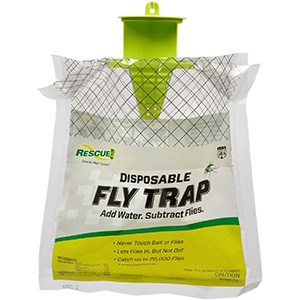 RESCUE! Outdoor Disposable Hanging Fly Trap
Just follow the instructions on the label, and you're all good!
Try the Water Bag Trick to Retract Them 
You might have come across this water bag in pennies trick already.
Well, for some people it worked perfectly. But for some people, it didn't actually work. However, you can still give it a try! You've to grab-
Zip-lock bag
Some pennies/coins 
Paper clips
So yeah that's all! Let's check out the steps now-
Firstly, fill the zip-lock bag with water until it's ¾ full. Then drop the pennies in the water. Also, you can squeeze a bit of lime juice to keep the pennies shiny. Then lock the bag and grab a paper clip. 
The paper clip is for hanging the bag outside. It's better if you hang it in front of your door. And especially where there's enough sunlight.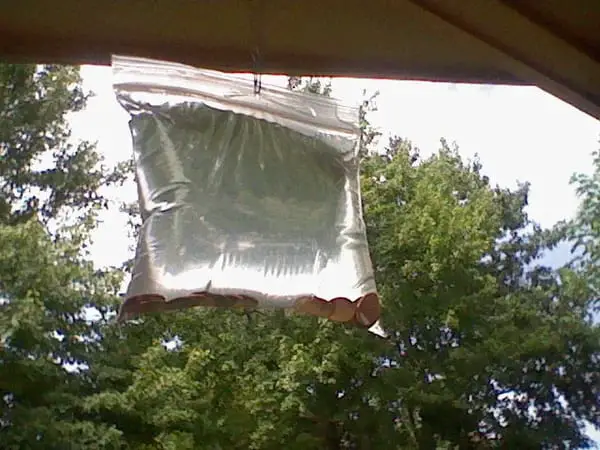 Source: instructables.com
Because the logic behind this trick is-
The sunlight will create distorted light while it goes through the water bag. And flies won't be able to focus due to this type of light. They will get scared and stay away from that area. 
Some even say that the flies think the water bag is actually a beehive. Because of the shiny pennies.
Nevertheless, you don't have much to lose. So, we suggest trying the trick out. 
By the way, even if you don't use the pennies, this trick will work! Because even without pennies you'll get distorted light. And that's enough!
Hang Holographic Objects to Confuse Them 
As you know flies have ommatidium instead of pupils. What is ommatidium, you may ask? 
Well, ommatidium is basically the compound eyes that arthropods have. And this makes them unable to control the amount of light that enters their eyes.
This is why flies are scared of reflective lights. Just like we mentioned in the water bag trick segment. 
Now, you might not have much time. So, if that's the case, skip the water bag trick. Instead, use a different and quick method with the same logic. 
And that's- using holographic objects such as CDs.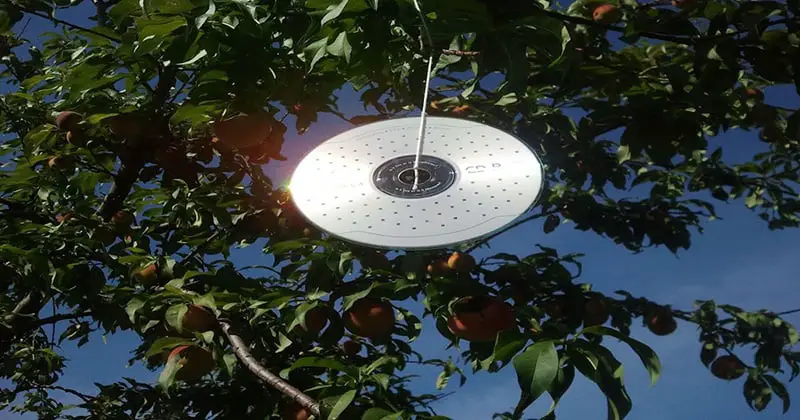 Source: gosocial.com
Just hang an old CD nearby. Make sure the CD gets proper sunlight. Because that's the main part of the trick. 
If you're unable to find CDs, you can use holographic ribbons as well. However, the CDs are more effective.
Use Pint Jar & Meat to Trap Them Inside 
The pint jar method is another good one to try out. 
For this method, you'll need-
1 or 2 pint jars
Penny nails 
Old raw meat
Now, grab the jar and create some holes on the lid with the nails. Then place some sort of meat inside the jar. For example, go for a leftover piece of chicken or beef. You can use your spare rib trimmings for this method.
After putting the piece of meat inside- 
You need to add an extra element to make the process more effective. Thus, slowly pour water until the meat is covered. Water will basically keep the meat moist. 
Anyway, the smell of moist meat is stronger than a dry piece of meat. So, it'll attract more flies. 
After doing all these, you need to place the pint jars around your backyard. 
The logic behind this method is-
The flies will get inside the jar because of the meat. And then the jar will start heating up due to many flies. This will affect their eyes and they won't be able to see the holes. Therefore, they'll get trapped inside. 
After the jar is all filled up, you can easily throw it somewhere far away. 
Vinegar to the Rescue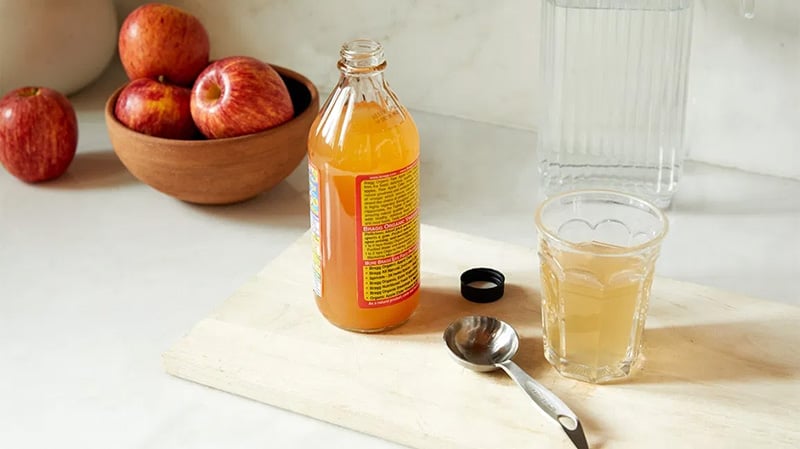 Source: healthline.com
At first glance, you might be wondering- 
How to keep flies away with vinegar? 
Well, the scent of vinegar does attract flies. So yeah you can use vinegar to trap them. 
Now, to apply this method, you'll need some other ingredients with the vinegar-
Liquid dish wash/soap
A tall glass 
A plastic wrap
A rubber band
However, you also need to know how much dish soap and vinegar you'll need-
| Apple cider vinegar | Dish soap |
| --- | --- |
| 1 tablespoon | 2-3 drops |
So just start mixing the ingredients in these amounts. Then grab the plastic wrap to cover the mouth of the glass. 
After that, use a rubber band to secure the wrap in place. You also have to poke some holes in the plastic wrap.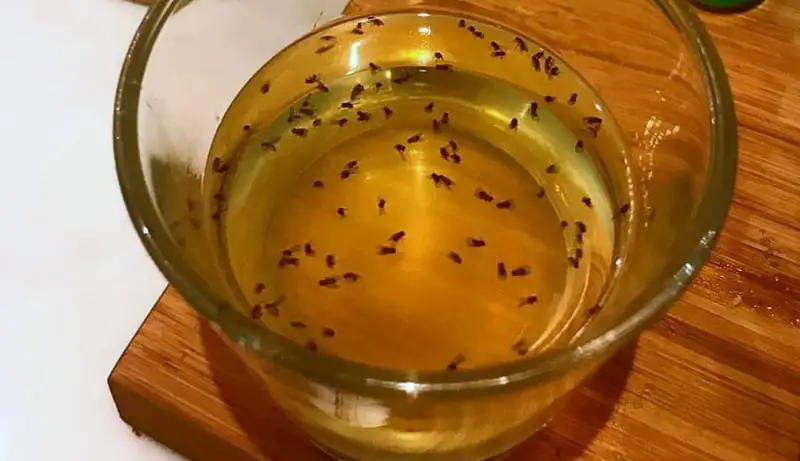 Source: craftymorning.com
Just keep this glass filled with vinegar and dish soap on a table nearby. You can even make multiple versions if there are too many of them!
Sterno Gel
You might see lots of flies while smoking and dining outside. To get rid of them, we've got an easy solution. 
And that's Sterno gel. You never heard of it? 
Well, no worries! Sterno gel is basically a cooking fuel. And heating this can of gel will definitely keep the flies away from your smoker. 
Therefore, just use a lighter to heat up the Sterno gel can. Also, you can present this method in a classy way. If you're dining outdoors or having a party.
You only have to buy a good-looking heat-resistant candle holder for this. However, this type of holder may be hard to find. 
That's why we mentioned some splendid ones just for you-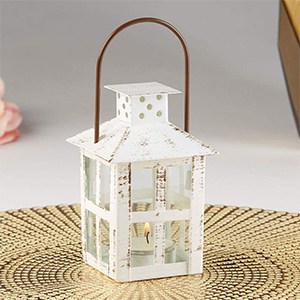 Kate Aspen Vintage White Distressed Small Candle Lantern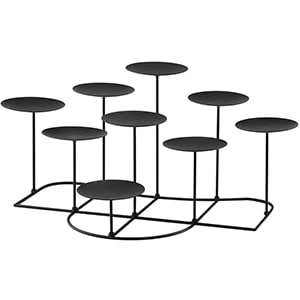 smtyle DIY 9 Mantle Candelabra Flameless or Wax Candle Holders
Now, just put the can inside the vase and you're all done!
The flies will stay away from your smoker and your dining space. As long as the Sterno gel can is hot and the gel is burning.
How Do Outdoor Restaurants Keep Flies Away? [Preventive Methods/ Tips]
Well, we added this segment keeping in mind that-
You might be up for more effective tricks/methods of keeping the flies away. Well, some can remove flies from your area right away. And you can even use these tricks as prevention. 
So, let's take a look at the tricks/methods that'll surely help you out-
Using an outdoor fan. Most outdoor restaurants install outdoor fanning systems. Which definitely tackle the flies right away. Thus, try placing the box fan during smoking. 
Keeping the smoker neat and clean. Restaurants always keep their cooking equipment clean. And this keeps every type of bug away. Therefore, remember to clean your smoker afterward.
Cleaning the surroundings of your smoker. Outdoor restaurants have a clean tidy environment which helps them avoid flies. Thus, discard any leftovers immediately from the ground or table. 
These are some of the ways outdoor restaurants fight flies.
Now, just pick the method that suits you. We hope you'll be able to keep the flies away!
FAQs
Question: Can I spray in my yard to keep the flies away?
Answer: Of course, you can. You can spray vinegar around your smoker's area. You can even spray fly repellent. 
Question: What is the best outdoor fly killer?
Answer: Flytraps are pretty effective when it comes to killing the flies. This trap will attract the flies. And the flies will get stuck to the trap due to a sticky substance. 
Question: Why does the water bag trick work?
Answer: There's a simple logic behind this trick. Placing a water bag filled with pennies under direct sunlight creates light refraction. And this type of light confuses the flies. Therefore, they avoid that area and fly to another area.
Wrapping Up
Hopefully, you've understood how to keep flies away from my smoker. By the way, you can spray lime juice in your yard to avoid them too.
Now, did the methods work for you? 
Let us know your answer by commenting. You can share your own methods too. Good luck!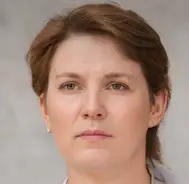 Latest posts by Leah Greenstein
(see all)