Yes, lunch meat is naturally gluten-free. 
But if you ask, are all lunch meats gluten-free? No, all lunch meats are not gluten-free. 
The statement that "all lunch meats are gluten-free" is a myth. While naturally, lunch meat is gluten-free, processed deli meats can come into contact with gluten substances. This in turn makes them a potential source of gluten.
For more detailed information, you can dive further into the topic of whether lunch meat is gluten-free or not down below. 
Key Takeaways:
Top 18 Gluten-free lunch meat brands
Checking tips for if lunch meat is gluten-free
Alerts for gluten-sensitive people
18 Gluten-Free Deli Lunch Meat Brands
Here are some top gluten-free deli meat brands that you can try if you are gluten sensitive. The process transparency for the brands is additionally included, along with the purchasing source, to double-check and buy.
| | | |
| --- | --- | --- |
| Gluten-Free Deli Meat Brands | Process Transparency | Popular GlutenFree Deli Meat Products |
| Applegate | Gluten-free and follows strict cleaning protocols for allergens before production. | Find on Amazon  |
| Armour Meats | Popular for gluten-free meat, but doesn't clarify adding gluten to meat. | Find on Amazon  |
| Bar-S | Produces products in dedicated gluten-free facilities | Find on Amazon  |
| Boar's Head | Certified gluten-free, but they have no available transparent manufacturing process.  | Find on Amazon  |
| Buddig | Certified gluten-free, but there is no available process  | Find on Amazon  |
| Dietz & Watson | Produced in a dedicated gluten-free facility | Find on Amazon  |
| Jennie-O | HACCP plan is ensured to prevent cross-contact | Find On Amazon  |
| Kunzler | 85% of their products are stated to be gluten-free | Find on Kunzler.com  |
| Trader Joe's | Their product contains less than 20 ppm of gluten | Find on Traderjoes.com  |
| Wellshire Farms | Offer allergy-free and gluten-free foods | Find on Amazon  |
| Butterball | Only the turkey ham is labeled to be gluten-free | Find on Amazon  |
| Gallo Salame | All five of their previously-packaged salamis are gluten-free | Find on Amazon  |
| Land O'Frost | As per their website, all the meats they have are gluten-free. | Find on Amazon  |
| Columbus | All of their salami and deli meats are gluten-free as well as dairy-free | Find on Amazon  |
| Diestel | Their lunch meats are gluten-free and they contain no artificial ingredients, no phosphates or nitrites or MSG. | Find on Amazon  |
| Hormel Natural Choice | Pre-sliced deli sandwich meats and Deli lunch meats by Hormel Natural Choice is not only gluten-free but also dairy-free.  | Find on Amazon  |
| Jones Dairy Farm | All of their products except Scrapple are gluten-free | Find on Amazon  |
| Niman Ranch | All Niman Ranch meats are claimed to be gluten-free. | Find on Amazon  |
Gluten-Free Deli Meat Types
Gluten-free deli meats are a great option for people who have gluten sensitivity or celiac disease. It lets them enjoy their favorite lunch meat without worrying about gluten contamination. 
Turkey, bacon, salami, ham, etc. are gluten-free lunch meat types that go well with delicious oven-baked BBQ turkey recipes.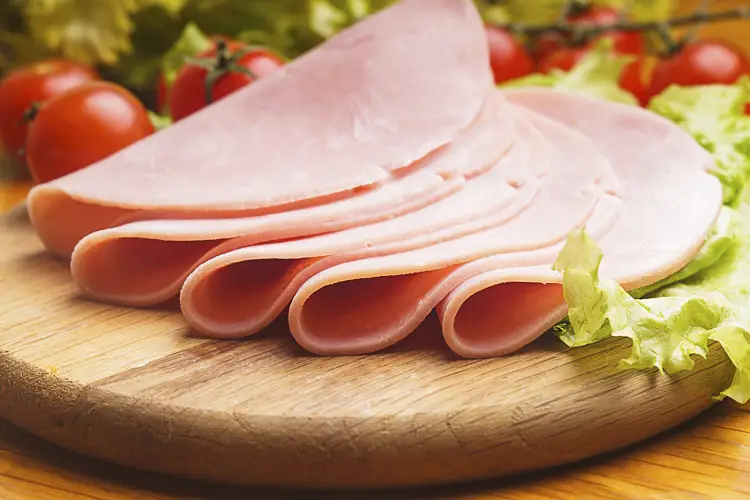 Source: Livestrong
But if additional components are added to the bacon or ham, gluten may be included in the result. For further clarification, you can double-check if your hamburger meat alone is gluten-free. 
Check: Is Your Lunch Meat Gluten Free? 
Since you are going to check if your lunch meat is gluten-free, you can look at the labels first. 
Deli meats usually don't contain any gluten ingredients, but a few of them do. Deli workers often use the same slicing machines to cut various materials, resulting in cross-contamination.
Pre-packed deli meats are the best choice in this case. Also, there are a few things concerning the identification of pre-packed gluten-free lunch meat. 
While purchasing your deli meat, you can follow three simple tips for identifying the gluten-free product.
Tip 1: Scan for any Third-Party Certification
Scan through the packaging to see if it carries any third-party certification, like GIG's GFCO. If it contains GIG's Gluten-Free Certification Organization mark, CSA mark, or NCA mark (National Celiac Association), it's safely gluten-free.
Tip 2: Scan for the Word "Gluten-Free" in the Packaging
Scan through the label and look for words like "gluten-free", "free of gluten", and "without gluten" regulated by the FDA. 
Tip 3: Inspect the Ingredient List for Gluten-Free Ingredients 
Look into the ingredients section and see if the list contains wheat, Rye, Barley, Oats, Malt, or Brewer's yeast. If it does, the product is not gluten-free. 
BONUS: Save Some Time Reading Labels
Scanning through the entire food label is troublesome. You can always look for the new or old GFCO mark on the product label while buying the meat.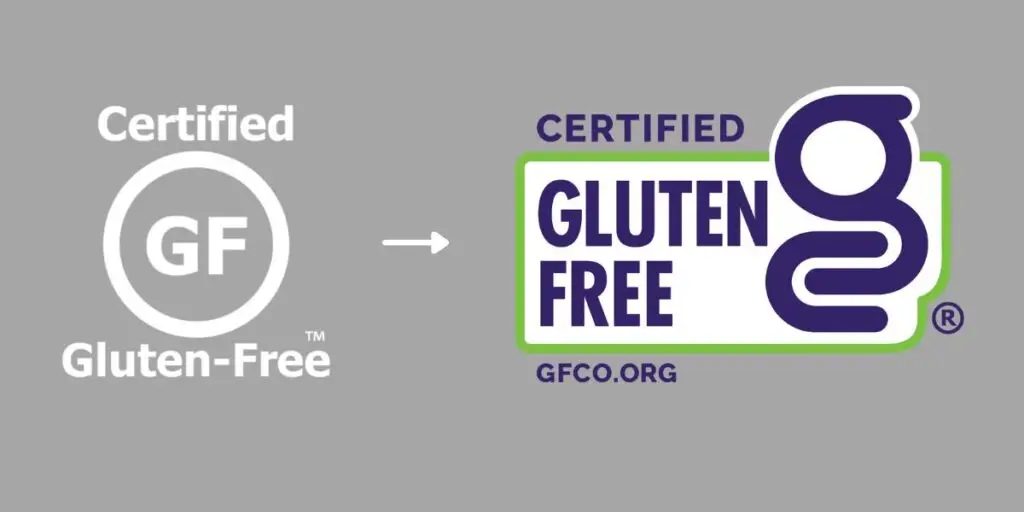 Source: Gluten Intolerance Group
Common Alerts for The Gluten Sensitives!
When you are gluten sensitive, there are certain things you need to be aware of. You need to thoroughly check if your deli meat is gluten-free or not. Also, you need to know if those unprocessed red meats are gluten-free or not. 
But apart from that, there are some common things in between that you should be alert about. Let's preview some of the common alerts.
Plain or Fresh-cut Deli meat
Avoid deli cuts by slicers. The deli slicers cut a variety of meat and cheese and aren't completely cut in between uses. As a result, to avoid gluten cross-contact stick to pre-sliced deli meats.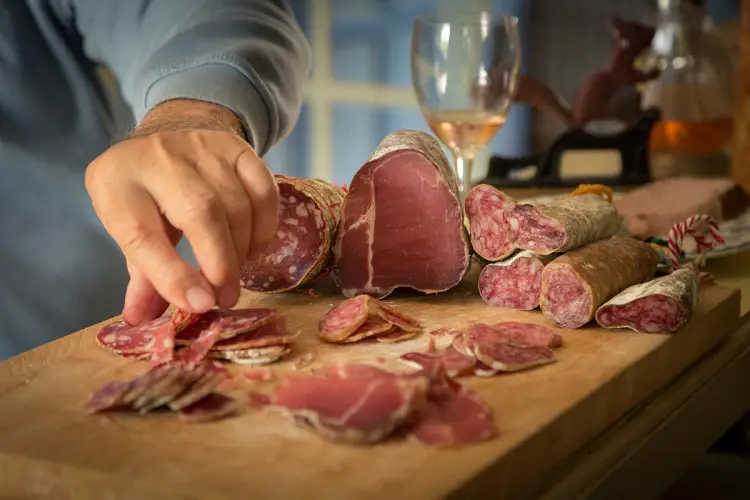 Source: Gluten-Free Grubbin
Additive Deli Meats
Refrain from slices of deli meat glued together. Deli meat isn't always cooked and sliced at once. Gluten-free lunch meat may contain pieces that have been glued together with food-safe glue, maltodextrin, or modified food starch. 
Gluten-containing goods, broths, flavorings, or modified food starches may be present in these items.
Breaded or Floured Deli Meat
Do not consume breaded or floured deli meats. Breaded or floured deli meats mostly contain wheat, which is a great source of gluten. So, if you follow a gluten-free diet, you should avoid eating breaded or floured deli meats. 
Marinated or Saucy Deli Meat
Keep an eye out for meats that have been marinated or drenched in sauces or broths. Because soy and teriyaki sauces usually contain gluten. Meats marinated with such sauces are typically unsuitable for persons with celiac disease or non-celiac gluten sensitivity.
Poultry Deli Meat Products Without Labels
Avoid farm deli meat products that do not have the source of dextrin or starch listed on the label. It is critical to carefully read labels, especially on any form of processed beef product. 
Gluten may be included in certain processed beef products as a result of additional components like dextrin or starch. It's advised to avoid ingesting a product if the dextrin or starch source is not specified on the label.
Cross-Contact 
Meat and cheese platters might result in allergy cross-contact, as even a modest sensitivity to gluten can cause reactions. 
Sandwiches can potentially be cross-contaminated. Reaching into deli meat containers with hands that touched gluten products may result in gluten contact. 
Gluten-Free Vegetarian Lunch Meat Alternatives    
It might be difficult to obtain enough protein if you are on a gluten-free diet and are a vegetarian. Meanwhile, if you're sick of eating gluten-free veggie burgers and want a sandwich, try Quorn Meatless Vegetarian Turkey Roast. You can also go for Meatless Chicken Fillets. 
These gluten-free chicken or turkey alternatives are created from mycoprotein and egg whites. Thus, these types of lunch meat options help your vegetarian and gluten-free diet while providing protein enrichment.
Frequently Asked Questions
Can celiacs eat lunch meat?
Yes, celiacs can eat lunch meat if it is labeled gluten-free. People who are celiacs or gluten sensitive can buy prepacked deli meat items. This is because unpacked cuts are cut consistently with cheeses and other gluten items, which may result in contamination.
What are some non-gluten-free deli meat brands?
Hillshire Farm, Russer, Sara Lee Deli, Weaver, Wilson, Wunderbar, etc. are Tyson Foods subsidiaries and examples of some non-gluten-free deli meat brands. They may contain gluten since these brands don't label their products gluten-free. 
What are some gluten-free bread options for deli sandwiches?
Some gluten-free bread options are- Trader Joe's gluten-free bread, Three Bakers, and Canyon Bakehouse. Also for further reference, Franz Gluten Free, Glutino Gluten Free Breads, etc. are great options. These go along with your deli meat and are widely available.
End Notes
To conclude, you can have tasty and safe sandwiches and lunches while following your gluten-free lifestyle. Even though not all deli meats are gluten-free, the top 18 gluten-free lunch meat brands are mentioned for convenience. 
Choosing basic, unprocessed meats and cooking gluten-free choices at home can bring you added peace of mind.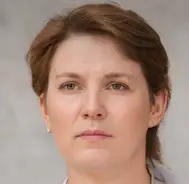 Latest posts by Leah Greenstein
(see all)