Smoking store-bought sausage is possible when you have the right resources and an informed approach. 
Who says that you have to visit a local restaurant when you want to enjoy your favorite sausage recipe? Even though smoked sausages aren't your everyday meal, it's still possible to cook them DIY. 
Join us as we identify all you need to know about this process:
How to Smoke Store Bought Sausages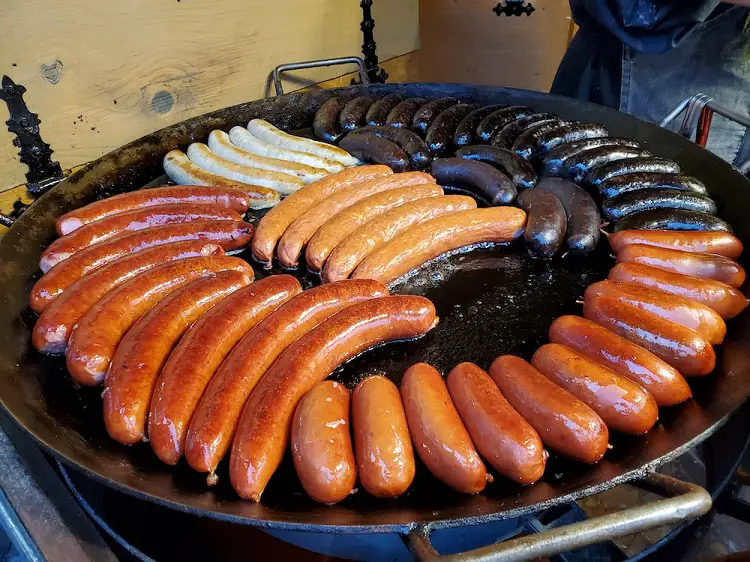 The guide below is going to provide insight into smoking store-bought sausages. For starters, there are some types that require a different approach. 
Here is what you need to know:
Time
Preparation time – 15 minutes.
Cook time – 150 minutes.
Items Required
Steps 
Preheat a smoker so that it gets to the 200 degrees Fahrenheit mark. Then, set a baking dish with some water on one side of your smoker. Or, you can also use an electric smoker for summer sausages.
Set the sausages on the grate of the smoker, and leave some space between each sausage. Doing this makes it easy to track the cooking progress, and flip them over.
Shut the lid, and smoke the store-bought sausages until they get to the 170 degrees Fahrenheit mark. Do this for between for up to 120 or 150 minutes (depending on your sausage type). The other alternative is smoking sausage at 180 degrees Fahrenheit.
Get a pair of tongs, and a clean tablecloth. Remove the cooked sausages from the smoker, and let them sit for a few minutes before serving them. 
PRO TIP! Our research has also shown that many people like the Smoked Italian Sausage on the Big Green Egg recipe.
Tips for Smoking Store Bought Sausages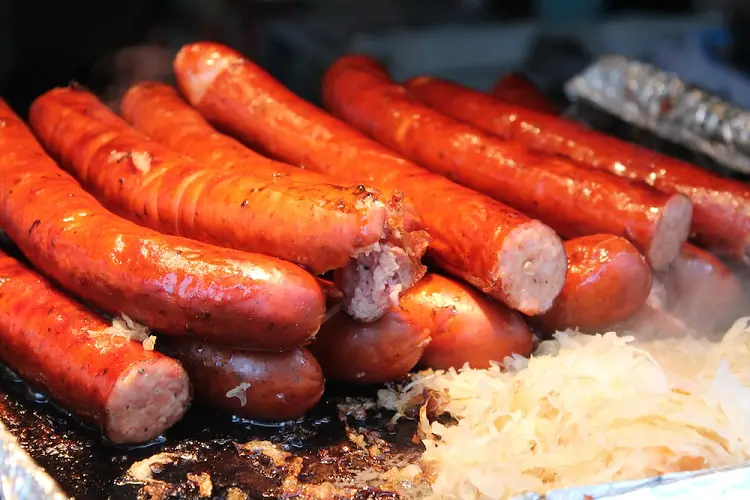 Regardless of whether you are a smoking pro or a novice, you have to be cautious. Here are some tips you should consider:
Pick the correct wood type. While there are various wood types for smoking meats, you have the pick the right one. Many people like the mesquite or hickory smokey flavor types. The reason is that it tends to be exceptionally flavourful, especially when exposed to heat. We also recommend that you check this guide on choosing smoking woods.
Maintain a consistent temperature level. Consistency is crucial for the quality of your meat. Avoid any major elevations or mishaps in regulating the temperature. That's because it can lead to the dried-out sausages issue. We recommend you learn more on how long to smoke raw sausage because it relies heavily on temperature management.
Use a thermometer. Instead of ballparking the required temperature levels, consider using an accurate resource – a thermometer. That is because it helps you gauge when the internal sections of the meat have cooked sufficiently. Sausages also tend to be tender, which makes them prone to overcooking issues.
Store the sausages correctly. Ensure you store any remaining sausages in a fridge, using an airtight container. If the sausages have already undergone the smoking process, store them using an airtight freezer bag. Storage is also crucial if you opt for smoking homemade sausage.
Sausage purchases. You also have to research where to buy sausage to smoke thoroughly. Doing this will save you from the hassle of spoilt meat or poor quality issues.
The Three Common Smoked Sausage Types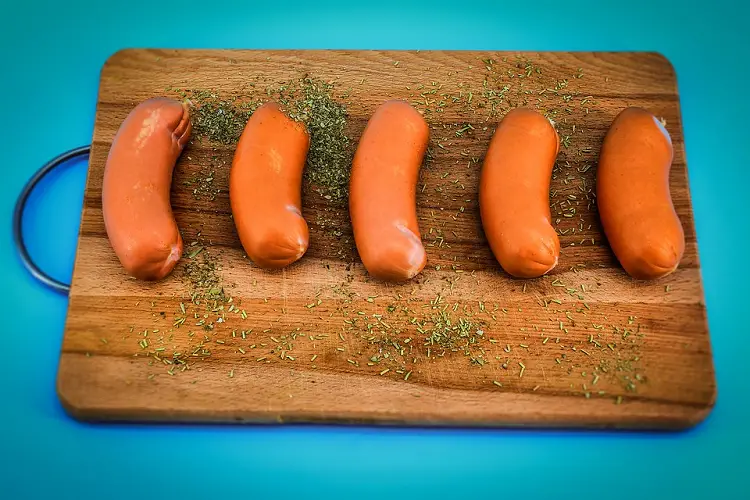 It's possible to smoke any type of raw sausage. It can be chicken, turkey, or lamb sausages. Some of the popular smoked sausage types include:
Bratwurst
The term Bratwurst originates from Germany, and is one of the best store-bought sausages for smoking. The term "brat" refers to ground meat. The term "wurst" refers to sausages. Usually, Bratwurst sausages mainly feature pork and veal meat cuts.
The German Bratwursts are unique because of the process involved in preparing them. You can find sausages that contain different seasoning types including ginger, paprika, marjoram, coriander, and nutmeg. These sausages have also been the major inspiration for the production of hot dogs.
Chorizo
There are two types of chorizo, which mostly include pork sausages. The Spanish chorizo has a bright red appearance and is often available as cured meats. These are the meats that are ready for use on a charcuterie board. 
You might also come across raw Mexican Chorizo, in the fridge sections of different Latin American business markets. Usually, people like removing them from the casing, and preparing them using ingredients like eggs, rice, or potatoes. 
Italian Sausage 
This sausage type often consists of meat cuts like chicken and pork, with different types of Italian Seasoning. These include seasoning products like fennel and pepper. Some sausage makers also like to incorporate their meat cuts with bread crumbs for an improved taste.
5 Ways to Use Smoked Sausage Recipes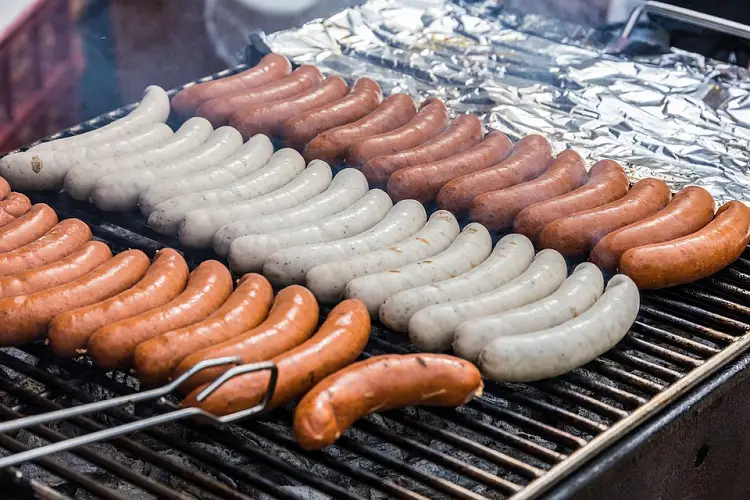 Here are the five ways through which you can use a smoked sausage recipe:
Egg meals. You can introduce smoked sausages to your meals as part of egg meals. The common alternatives include quiche, frittata, and breakfast casserole.
Pasta. Add your smoked sausages to different variations of pasta meals. The common recipe type here is the Cheese Pasta type.
Rice dishes. Smokes sausages are popular in classic rise meals such as Paella and Jambalaya. The dish also blends well with spices such as cardamoms and ginger. 
Sandwiches. Get some cheese, broccoli, and peppers to create a memorable smoked sausage sandwich.
Shawarma. Smoked sausages also go well with shawarma recipes that contain ingredients like bacon, onions, and tomatoes. Many people like using smoking store-bought sausages using an electric smoker.
Frequently Asked Questions (FAQ)
Can I Smoke Store Bought Sausage?
Yes, it's possible to smoke store-bought sausage. The key to getting the best results involves getting the smoker settings right. It also involves realizing that temperature control is crucial for the results you will achieve.
Can You Smoke Already Cooked Sausage?
Yes, it's possible to smoke an already-cooked sausage. The entire process should take between 30 and 50 minutes for the best results. Since the sausages are already cooked, you will just warm them and add some sauce.
How Long Does It Take to Smoke Sausage at 225 or 250?
It takes an average of 3 hours to smoke sausages at 225 or 250. The process involves preheating a smoker and using a baking dish to heat the meat. You also have to leave some space between the sausage and the smoker for the best results.
Can You Smoke Store Bought Brats?
Yes, it's possible to smoke store-bought brats. Unlike sausages, brats require a little bit more TLC to ensure the best results. You also have to keep track of the user settings to ensure the meat comes out right.
The process of smoking store-bought sausage mainly involves maintaining the right temperatures. The sausage types also vary, and its good to pick the type that suits specific recipe ingredients.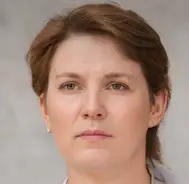 Latest posts by Leah Greenstein
(see all)