Different people pick different methods to smoke their food items. Well, snake and minion are the two most commonly used smoking methods. However, some people often get confused between the two.
So, how can you differentiate between snake method vs minion method?
Well, for snake method, you need to set up a thin and long briquette line. Whereas you've to set charcoal in a pyramid shape for minion method. Unlike minion, you can't use lump charcoal in snake method. Next, snake method is more appropriate for a longer smoking process. Lastly, minion method is more harmful to your health than snake method.
Now, this isn't all! There are more differences between the two. And we've provided those dissimilarities throughout our piece. 
Therefore, to easily understand which to pick, keep reading!
Minion Vs Snake Method: The Basic Differences 
Now, let's start with the basics. Because we don't want you to get confused from the start. 
Moreover, you'll also get an idea about the smoking process. Just how basics can help you to differentiate between butcher and kraft paper.
So, what are the differences between snake and minion methods-
| | | |
| --- | --- | --- |
| Factors | Minion Method | Snake Method |
| Charcoal setup | Charcoal is organized in a pyramid-like setup. | Charcoal is organized in a thin, long line. |
| Wood setup | Wood chunks are placed at the edge and around the peak's perimeter. | Chunks of wood are placed on top of the briquette line. |
| Smoker type  | Kamados | Steel kettle-style  |
| Charcoal size  | Any size  | Same sized charcoal is necessary  |
| Wood size and shape | Any shaped and sized of wood chunks | Similar shaped and sized wood chunks |
| Smoking session time | 6-18 hours | 12-16 hours |
| Temperature control  | A bit difficult | Easier |
| Safety issues | Riskier  | Safer |
So, these were all the differences between minion and snake methods. Now, it's important to get into in-depth research. 
Thus, if you're ready, let's move on to the detailed comparison.
Snake Vs Minion Method: Overall Comparison
Now, you've got the basic idea about the two. Therefore, are you ready for some detailed info? 
If yes, just keep reading along! Because we've discussed every differentiating factor for you-
How to Place The Charcoal and Wood on the Smoker?
The first and most common difference between the two is the setup. People can easily set them apart due to how the charcoal and wood are organized. 
So, how exactly is the setup different?
Charcoal Setup
Now, both smoking processes are used in charcoal-based smokers. Thus, charcoal is a necessary part of both snake and minion methods. 
So, firstly, let's see the charcoal setup for snake method-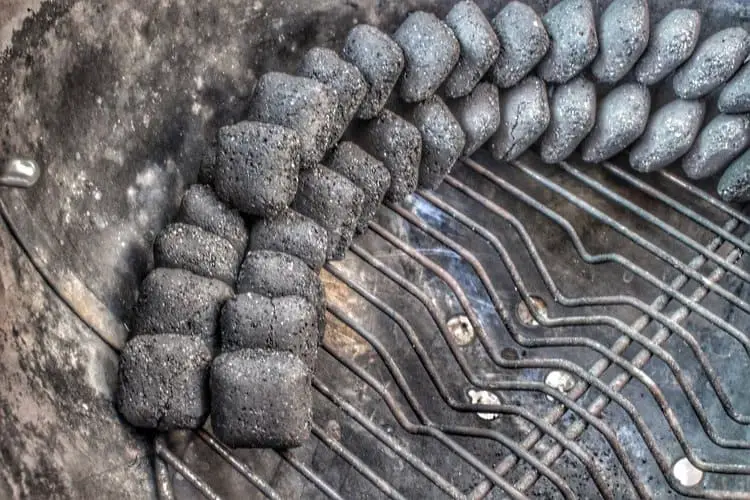 Well, at first, put on some gloves. Next, you'll have to put briquettes in a long yet thin line. 
Then take out your cooking grate that's in your kettle. Next, grab the briquettes. And lay them in two rows around the kettle's perimeter, side by side. 
While you're placing the briquettes-
Make sure they're resting against the side of the kettle. Place them in such a way that they're overlapping each other. 
Now, once you're done with the bottom row, start making another top row.
But this time, you've to put the briquettes in between the two bottom rows. The line of briquettes should look like dominoes tilting but not falling. 
So, that's how you place the charcoals for the snake method. 
Now, in the minion method, you'll encounter a different setup. Because this method requires-
A large amount of coal (at least 20 lumps) into the pit that's below your cooking surface. 
For setting it up properly-
You'll have to dump the charcoal lumps or briquettes in the middle of the pit. Then start forming a peak by using your hand.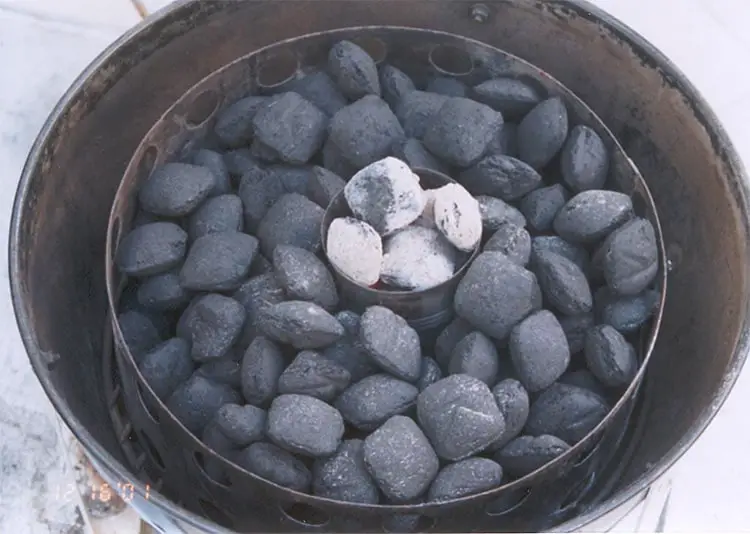 The whole setup should look like a pyramid. 
And that's about it! 
Wood Setup
Now, after the charcoal, you'll have to add the wood chunks. However, there's a difference in the wood setup too. 
And we've discussed that below- 
For the snake method-
You'll need to place wood chunks on the very top of your charcoal setup.
Just add some wood chunks a little more than halfway around the charcoal. And you're all good!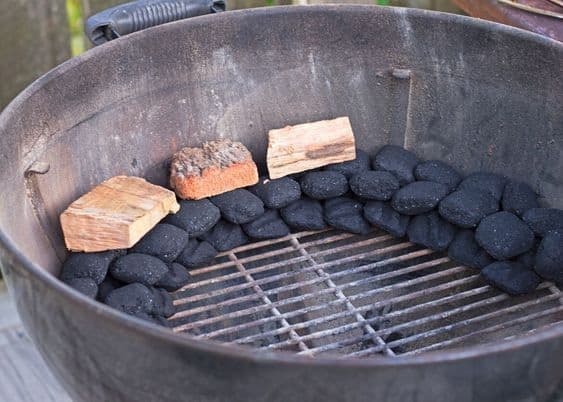 In the minion method-
The wood chunks have to be placed around the border of the charcoal peak. Plus you'll need to add wood chunks at the edge of it as well.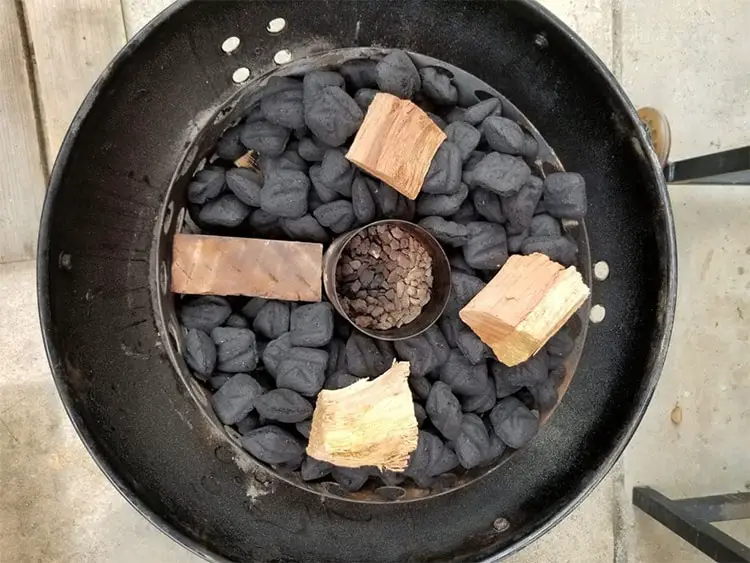 So, that's the difference between the charcoal and wood placing for both methods. 
Compatibility: Smoker, Charcoal, and Wood Sizes
Now, we talked about the charcoal and wood setup in your smoker. But if you didn't know-
There's a difference between the sizes of the charcoal and wood chunks. Even though you can apply both methods in similar types of smokers-
Sometimes, you've to pick one method for a specific smoker. 
Smoker Type and Size
Firstly, the snake method is great for steel kettle-style BBQs. Thus, it's mandatory to use the method in steel kettle grills. 
Because in the snake method, it's necessary to create a line of briquettes. And a kettle grill is perfect for this type of setup. 
Whereas, the minion method is commonly used in Kamados. Why?
Well, kamados are either made of metal or ceramic. 
Furthermore-
These smokers will let you place more charcoal into their pit than others. And you already know that the minion method does require lots of charcoal. 
Plus it's important to stick to the right smokers. Otherwise, your smoking process might be difficult. And the meat or fish you're grilling/smoking won't be cooked properly.
Charcoal Size
Even though you might think it's just charcoal, there's a difference. 
Now, in the snake method, you can't use regular charcoal lumps. Because you have to make a line. And using irregularly shaped charcoal lumps can make the process quite difficult. 
Therefore, it's better to use briquettes. Because they can be found in the same shapes and sizes.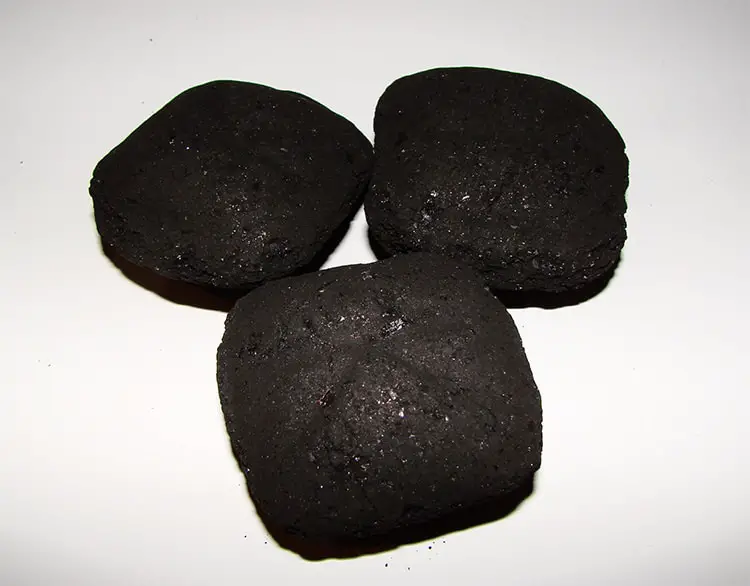 On the other hand, in the minion method, you won't have this type of restriction. You can use any shape or size of charcoal.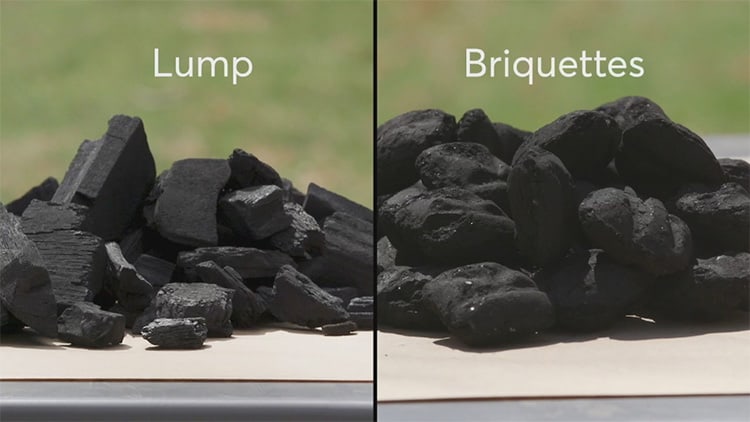 You can grab either charcoal lumps or briquettes for the method. 
Wood Size
After the charcoal comes in wood chunks. Now, similar to coal, there's a difference in using wood chunks too. 
For the snake method-
It's better to use wood chunks that are similar-sized to your briquettes. 
Therefore, we suggest you cut the wood into chunks yourself. To make things easier, you can get some wood logs. Try marking the logs with a marker so that the cutting process gets easier. 
In reverse, you can use any sized or shaped wood chunks in the minion method. You can even use wood chips. 
However, make sure you're using wood from fruit trees. For example, apple, cherry, etc. Because they are great for smoking meat. 
Now, for your comfort, we've mentioned some applewood chunks-
Weber 17139 Apple Wood Chunks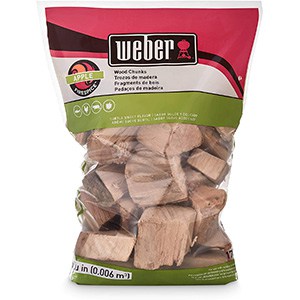 Western Premium BBQ Cooking Chunks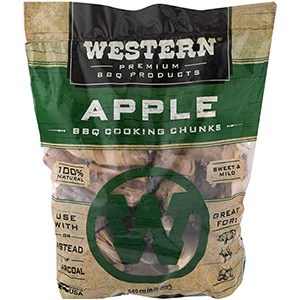 So, get the wood chunks and start working in the minion method. 
Considerations During Smoking Process 
Now, the method you choose will directly affect your cooking/smoking process. That's why you need to be sure which method to pick beforehand.
There can be two things to consider before choosing one method-
Session Time
How long you're going to smoke your meat, fish, or pizza is quite important. That's why you've to note down your cooking time. And then choose one smoking method. 
Also, you might not know about the proper time for smoking different food items. But fear not, we've got you back! 
So, here's the information you're looking for- 
| | |
| --- | --- |
| What You're Smoking  | Smoking Time |
| Beef brisket, chuck roast | 12-20 hours  |
| Beef and pork back, short, spare, prime ribs  | 4-7 hours  |
| Beef rump roast, whole ribeye  | 25-30 minutes per pound  |
| Pork whole hog  | 16-18 hours  |
| Pork butt  | 1.5 hours  |
| Whole chicken  | 2-3 hours  |
| Whole turkey, turkey breast  | 4 hours |
| Fish fillet | 1 hour |
| Pizza  | 60 minutes till the crust is crispy and then 30 minutes on the top rack.  |
So, these were some common food items that are smoked. So, now which method should you use? 
Well, that depends on how long the methods last. 
Now, the snake method is pretty great for slow-cooking. It's appropriate for food items that need to be smoked for 12-16 hours. 
For example, with the help of the snake method-
Beef brisket and chuck roast can be smoked to perfection. Otherwise, there's a chance of chuck roast and brisket turning tough.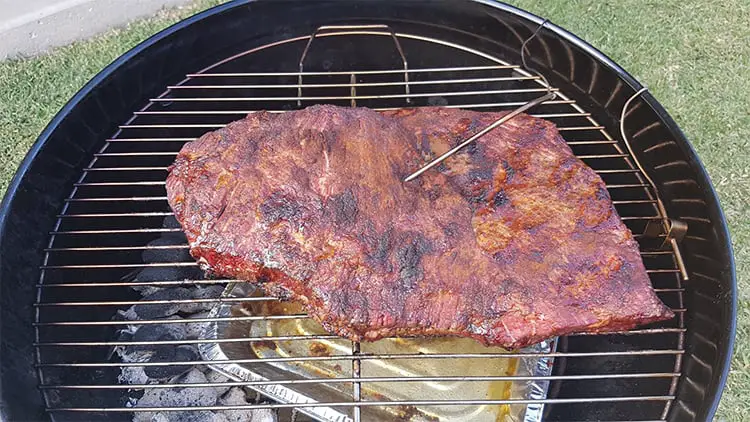 The minion method is ideal for both fast and slow-cooking. You can smoke for 6 to 18 hours if you choose this method. 
Hence, fish, pizza, poultry, ribs can be easily smoked using this method. 
Temperature Control
Now, smoking time and temperature are related to each other. 
So, is there a difference between the temperature controlling process?
Well, yup, there is. Now, we'll keep it short because there's not much to discuss!
For starters, you'll get more heat if you use the minion method. One big reason behind that is- there's more charcoal.
So, as you're getting more heat that means-
The temperature is rising inside. And, it's pretty hard to control the temperature by closing or opening the vents.
However, you won't have this problem with the snake method. Because you aren't using as much charcoal and they'll be at the edge of the grill. 
Therefore, the difficulty level for controlling the temperature is less. 
Safety Issues 
Last but not the least, let's talk about your safety. 
So, you already know-
There will be more heat and temperature in the minion method. Along with that, there will be more smoke. 
Because obviously by now you should know-
Charcoal and wood generate smoke. And there's a high possibility for you to inhale this smoke while smoking. Therefore, if there's too much smoke, the chances of inhaling get higher.
 Also, if you didn't know-
The BBQ smoke is quite harmful to your health.  
On the contrary, you won't get as much smoke by using the snake method. Thus, there are fewer chances of getting sick. 
Snake or Minion Method: Which is Better? 
So, now the moment of truth! 
Which method do you think suits your smoking style and process? 
Still a bit confused? 
Well, let's clear up the confusion! 
Now, firstly-
If you don't have briquettes ready with you, it's best to choose the minion method. Because briquettes might be difficult to source sometimes.
However, if you have briquettes and a kettle grill-
The snake method is definitely the one you should choose. 
Then let's talk about your smoking time and temperature. 
Let's assume-
You aren't going to smoke for a long time. And you'll also smoke in high heat. Therefore, in that case, the minion method is your best option. 
But if you want to smoke for a longer time at low heat-
We suggest going for the snake method. 
Plus if you're a beginner, this method will be much easier for you. Because you'll be cooking at a lower temperature. 
Now, we hope you've understood which one you prefer more!
FAQs
Question: Is the snake method easier?
Answer: Well, the charcoal contraction process might be a bit difficult. But smoking with this method is much easier. Because you can control the temperature easily. 
Question: Which smoking method is better for smoking brisket? 
Answer: We recommend the snake method. Because the smoking time for brisket is 12-20 hours. And it also needs to be cooked at a lower temperature. So, definitely choose the snake method. 
Question: Is the minion method safe?
Answer: Well, it's safe as long as you maintain a distance from the smoker. And don't inhale too much smoke. But if you're a newbie, we wouldn't recommend it to you at first. 
Bottom Line
Now, that's everything we had to discuss on snake method vs minion method. 
By the way, you might want to try out the minion method as a beginner. For that, we suggest you keep the temperature low at first. Then gradually increase it.  
So, which method did you pick? 
Let us know your opinions and experience in the comments. Good luck!!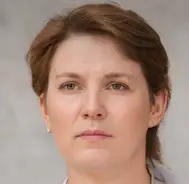 Latest posts by Leah Greenstein
(see all)