It's important to cover up your food for storing, packing, or cooking them. 
But for this, you might've come across different kinds of papers. For example, butch and kraft paper. Thus, there's a possibility of getting confused about which one to pick. 
So, what are the dissimilarities between butcher paper vs kraft paper? 
Well, for starters, butcher paper is 100% FDA approved while kraft paper isn't. Then butcher paper is better for absorbing moisture/fat as well. However, it's more expensive than kraft paper. Next, you'll mostly find kraft paper in brown and butcher paper in white. Also, kraft paper can be used for other commercial uses. But it isn't always the safest paper for food.
Now, we suggest you read more about the papers. Because that's how you'll be sure of which paper to choose. 
Therefore, please try reading the whole piece! 
Butcher Paper Vs Kraft Paper: Why Compare in Food Service?
Now, in food service, you don't want to mess things up. Because one mistake can make you lose your customers. 
That's why comparing both papers is important. And to help you in this matter-
We've discussed two factors that are necessary to observe in food service. 
To Ensure Your Packaging is 100% Food-Grade
The first thing you've to prioritize while looking for a paper for food items is-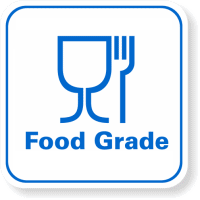 Source: likon.com
Whether it's 100% food-grade or not. Otherwise, the food might get spoiled. Or can cause harmful effects on human health And no one wants to go through that. 
So, you've to check the details about the paper you're willing to buy. For example, their raw materials. 
To Preserve Food For Longer Period of Time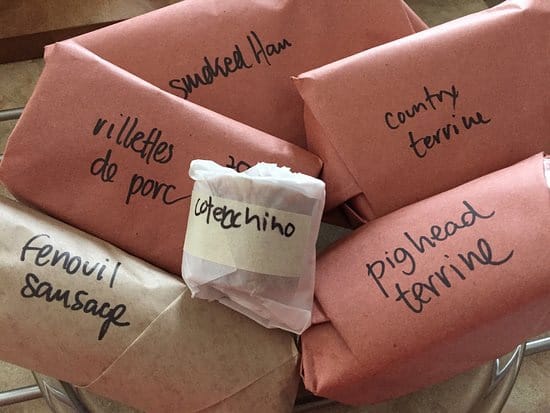 Source: tripadvisor.com
Now, you're also choosing the paper to store your food item properly. Therefore, you obviously need to know if you can preserve the food for a longer time or not. 
And that's not all! 
You've to keep the food fresh even while freezing or refrigerating it. Because if you didn't know- 
Storing fresh food in the freezer or refrigerator can turn it tough as the days go by. However, wrapping it with good-quality paper will keep the freshness intact! 
So, these two factors are essential to consider before buying wrapping paper. 
Butcher or Kraft Paper: Comprehensive Comparison
Now, it's time to learn about the differences between both butcher and kraft paper! 
It's best to start with the basics first. Why? Well, knowing the easy dissimilarities can give you an idea about the methods. For example-
To pick one between the snake and minion methods, you need to know what they are! 
So, what are the differences between kraft and butcher paper?
Kraft Paper Vs Butcher Paper: Sneak Peek
| | | | |
| --- | --- | --- | --- |
| Concern | Butcher Paper | Kraft Paper | Winner |
| Food-grade | 100% food-grade | 100% food-grade but if it's the glazed kraft paper | Both |
| Moisture absorbing capabilities | Absorbs moisture more | Can't absorb much moisture | Butcher paper |
| Color diversity | Mostly white, pink | Mostly brown | None |
| Cost | More expensive | Cheaper | Kraft paper |
| Diversity of uses | Storing and smoking meat/food | Storing food, making bakery bags, food packaging, wrapping gifts. | Kraft paper |
| Safety issue | No harmful ingredients in any butcher paper | Only natural brown kraft paper is safe. | Butcher paper |
Now, these are all the differentiating factors of butcher and kraft paper. We hope you've understood them all. 
If so, let's get to the comprehensive comparison. Because this way, you'll gain more knowledge about the two. 
Food-Grade or Not?
Food grade basically means if a piece of equipment is suitable for food or not. Now, to be food-grade, a product has to be non-toxic. 
That's when the raw material used to make the product comes into the picture. Well, if you didn't know-
There's not really a difference between the raw materials of butcher and kraft paper. 
So, both kraft and butcher paper is made from pulpwood. Which is great for making paper. 
Even, the technique for making butcher and kraft paper is the same. And it's known as the kraft process. 
Through this making process, the cellulose in pulpwood is kept under control. Hence, the papers gain more strength. 
However, there's one difference! 
And it's the treatment that's applied to butcher paper. This is what makes butcher paper more appropriate for food. And it's the reason why it's 100% FDA approved. 
So, what about kraft paper?
Well, not all types/versions of kraft paper are 100% FDA approved. 
For example, only glazed kraft paper is known to be fully FDA approved. Because the  Ph level, sulfur, and acid content match that of the butcher paper.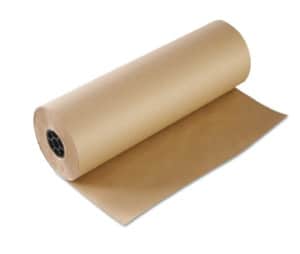 Source: instructables.com
Therefore, butcher paper is much safer to use for wrapping food items.
Fat/Moisture Absorbing Capability
Now, you already know how important the fat/moisture absorbing capability is. But what does this exactly mean? 
Well, when food packaging or smoking, especially meat and fish- 
It's essential that the freshness and tenderness of it stay intact. For that, you've to pick a paper that's suitable for this. 
For starters, butcher paper is known for having much more fat-absorbing capability. Because the most commonly used butcher paper doesn't have any coating on it. 
Furthermore, it's completely unwaxed. Hence, it'll act as a fat-absorbing warm blanket. And it'll help the meat from drying out. 
Thus, if you cover meat or fish with it, they'll surely stay moist.
In reverse, kraft paper isn't the best for wrapping food items. Because it often has a wax coating on it. For that reason, it can't absorb moisture or fat.
And to be honest-
This is why butcher paper is chosen over kraft for storing and smoking meat/fish. 
Color Differences
So, another way to differentiate between these two is by their colors. For example, in the past-
People used to know butcher paper as white-colored paper. And kraft paper as brown-colored paper. 
That's how they distinguished between them and chose one. However, in recent times, both papers have more color varieties. 
Surprisingly, with the change in color, there's a little bit of change in quality too. 
Now, butcher paper is available in lots of colors. To make things easier, we've discussed two different colored butcher paper-
| | | | |
| --- | --- | --- | --- |
| Color | Weight (Thickness) | Impurities | Availability |
| White | 40 lb  | Bleached | Not that widely available |
| Pink | 40-50 lb | Unbleached | Widely available in stores |
So, these were the difference between two of the most commonly used butcher papers. Plus if you didn't know, the pink butcher paper is often picked over the ordinary white. Why? 
Well, clearly it doesn't contain any bleaching agents. And this makes it perfect when cooking meat or fish. 
Now, there are some differences between kraft paper varieties as well. For example-
Food-grade kraft paper is available in mostly brown and white colors. And these three have some differences among them. So, what are these-
| | | |
| --- | --- | --- |
| Color | Weight (Thickness) | Raw Material/ Impurities  |
| White | 40-50 lb | Bleaching pulpwood  |
| Brown | 40-60 lb | Ordinary pulpwood/ unbleached |
These are the only dissimilarities between the two based on their colors. Both are eco-friendly and reusable. 
However, brown kraft takes a lead when it comes to popularity. Because again there are no bleaching agents involved. Moreover, this paper is also called virgin natural kraft paper!
Price Point
Now, there's an obvious difference between the two papers. 
For starters, it costs around $23.39 to buy a 36″x700′ white butcher paper. 
Then for a 24″x700′ pink butcher paper, you've to pay about $19.49. Lastly, 18″x1000′ brown butcher paper is available for $13. 
Next, let's check out the prices for kraft paper- 
Well, the 36″x1000′ natural brown kraft paper costs $20. And the price of the white version is similar as well.
Therefore, it can be said butcher paper is definitely pricier than kraft paper. 
Diversity of Uses
Now, butcher paper is mainly used for food packaging and cooking. The uses might vary from one type or color to another.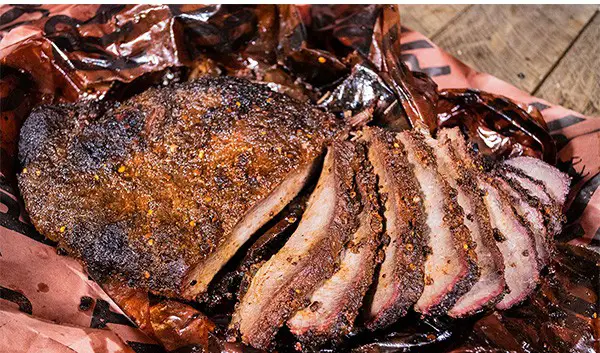 Source: pittboss-grils.com
That's why we've already provided the different uses of butcher papers in food service-
Types  

Uses

White

Ideal for wrapping sandwiches, burgers, subs. Covering meat before smoking. Used as table cloth as well.

Pink

Great for covering raw meat for storing because it masks blood and juices from a raw cut of meat. 

Pretty resistant to contaminants and leaks. It's also perfect for wrapping fish or meat before smoking to make it more flavorful and juicy.

Peach treated

Perfect for preserving or refrigerating fresh meat. This paper can keep the color of meat bright red and the quality fresh. Because the meat cuts you're storing will get enough oxygen due to its treated qualities.
So, these were some butcher papers and their uses. Also, by the way, if you couldn't figure out-
The peach treated and pink ones can be used to freeze meat like pork shoulder!
Now, let's talk about kraft paper-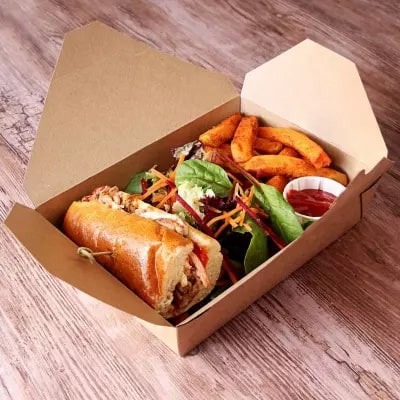 Source: shengyuanlife.com
To be honest, kraft paper has lots of uses!
Firstly, white and brown kraft papers are typically used for packing food. But they aren't that appropriate for wrapping up meat or fish to cook them afterward. 
Because as you already know it traps the moisture. Which isn't a good thing while you're smoking a brisket.
However, kraft paper is pretty strong. As a result, it's used for bakery or fast food bags.
Moreover, brown kraft paper can be seen while wrapping gifts, covering tables, etc. So, kraft paper is well-known when it comes to artworks too.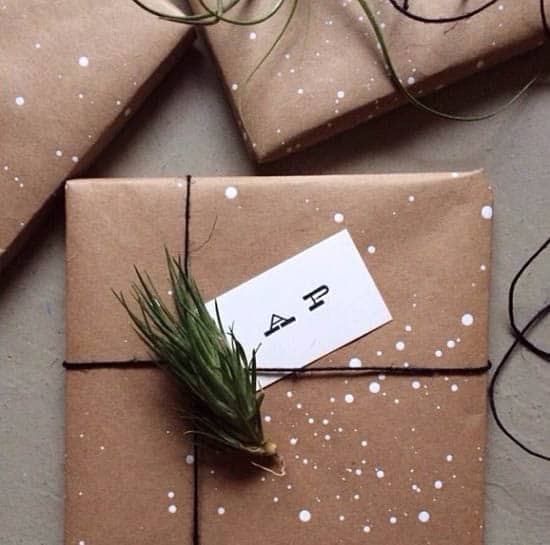 Source: bostonmamas.com
Safety Issues
To be honest, safety is a big issue while making, storing, and serving food. So, are butcher and kraft paper 100% safe? 
Well, butcher paper is 100% appropriate for food storing, cooking, or serving. Because it doesn't contain any harmful ingredients. 
However, it's best to use the pink version of this paper instead of the white. Because as you know, pink butcher paper is completely unbleached! 
Now, kraft paper isn't always 100% safe. Because the white version of this paper carries fluorescent agents. And if the paper contains a high number of these agents-
Your health can be at risk. 
But why do manufacturers add this agent? 
Well, the whiteness is pretty difficult to get if a brightener isn't added. That's why a high amount of phosphorus is used while producing this paper. 
If you didn't know, too much phosphorus isn't good for your health. Therefore, white kraft paper is a risky choice for food packaging or serving. Furthermore, this is one of the reasons why kraft paper isn't 100% FDA approved. 
Thus, the butcher clearly wins in this category!
Now, these were all the comparing factors of butcher and kraft paper. 
Thus, it's pretty clear that butcher paper isn't the same as kraft paper. Just how flap meat and skirt steak are different. 
Kraft or Butcher Paper: Which Paper is Better for Food Service?
Now, we have gone through lots of differences between butcher and kraft paper. But have you come to a conclusion yet? 
Which one is more appropriate for use in food service? 
Well, if you haven't yet understood which is better, we're here to help. 
So, butcher paper takes the win. Because this paper is 100% food-grade. And it's typically used for issues related to food. 
As you've seen already in the uses section-
Butcher paper is great for storing, cooking fish and meat. Yes, it's a little pricey. But still, you can't really compromise the quality to save some money. 
On the contrary-
Kraft paper isn't always FDA-approved. Therefore, it's wise not to use it in food service more than butcher paper. 
However, you can use kraft paper for packing the food once it's done cooking. For example, if you want to send out some cookies to your customers-
Use the natural brown kraft paper as bakery bags!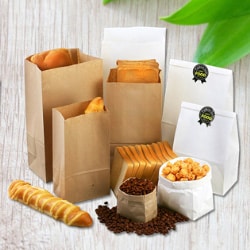 Source: webpackaging.com
Kraft or Butcher Paper: Which Paper is Better for Home Users? 
Now, for home users, the decision can change. Because they might lean towards a cheaper option. 
However, it's the FDA approval that you should prioritize. You shouldn't ignore the fact that-
Using butcher paper will surely give advantages when cooking. For example, let's assume-
You want to smoke brisket and then serve it as either sliced or chopped. But to get a proper texture and taste, you've to choose butcher paper over kraft.
Otherwise, you'll end up with a tough smoked brisket.  And it's not only for smoking meat! The same can be said for baking pizza, fish, and meat.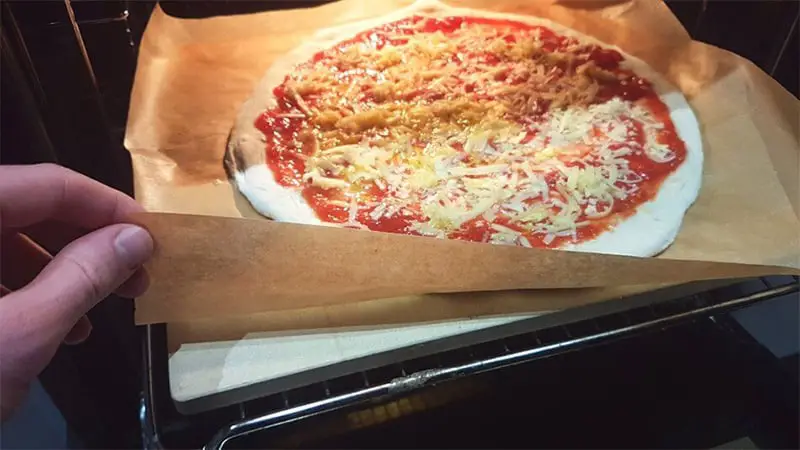 Source: piacipizza.com
Therefore, we strongly suggest using butcher paper even if you're a home user! 
Now whether you're choosing kraft or butcher paper. We've got some of our picks for you down below: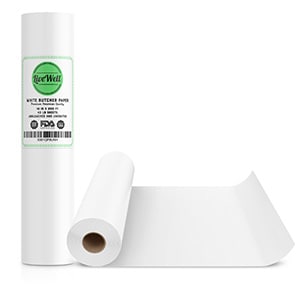 White Kraft Butcher Paper Roll USA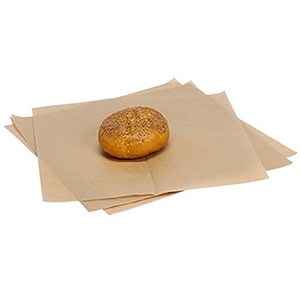 100 Sheets / 12 X12″ Natural Kraft Food Paper Liners / Wrapping Tissue
Grab either one and wrap your food up!
FAQs
Question: Can I use kraft paper instead of butcher paper?
Answer: Well, it's for food packaging, you might use kraft paper as an alternative. However, in most cases, it's best not to use kraft paper. You can use parchment paper instead. 
Question: Which one is better between white vs brown butcher paper?
Answer: To be honest, we prefer the brown one. Because the fibers/materials between the two aren't the same. For example, some white butcher papers can have a waxy side. Which is a big bummer. In reverse, the peached or brown butcher paper is completely unwaxed and uncoated.  
Question: Is kraft paper safe for food?
Answer: Well, it isn't 100% safe. Because not all types of kraft paper are FDA approved. Especially the white version of it. Plus you can find wax coating on kraft paper as well. Because of these reasons, it isn't always safe for food or humans. 
Take Away
Now, these were everything we could provide on butcher paper vs kraft paper. Hopefully, you're all cleared about their differences. 
So, which paper did you use for yourself? 
Share your experience and opinions in the comment section. Lastly, have a nice day!!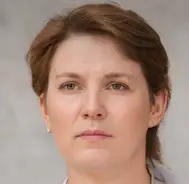 Latest posts by Leah Greenstein
(see all)