Round Table pizzas are loved by all. Wouldn't it be nice if you could get the pizza experience from them at home? 
On top of that, their pizza crust is just out of the world! They have this unique crusty and yet soft within kind of texture in every bite. It gives you the feel of amazing tasting crackers topped with pizza sauce and toppings.  
So how amazing would it be if you have the power to make the best pizza crust at your home! Yes, you can achieve that power! Only if you read through this Round Table Pizza Crust Recipe!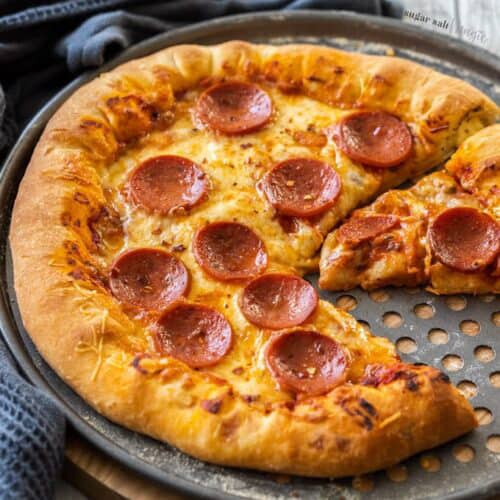 Level: Easy
Serving Portion: 1 serving of 15-inch pizza
Preparing Time: 15 minutes
Fermentation Time: 24 hours
Rolling time: 10 minutes
Baking time: 4 minutes
Total time: 24 hours 30 minutes
Nutritional Facts ( Per Serving)
| | |
| --- | --- |
| Calories | 115 kcal |
| Protein | 3g |
| Carbohydrates | 19g |
| Fat  | 3g |
| Saturated Fat | 1g |
Ingredients To Use
212cups of high-gluten flour (9.33 oz or 264.51g)
58cups of water (4.48 oz or 127.01g) 
34teaspoons of salt (0.16 oz)
1 teaspoon of Crisco (0.14 oz or 3.97g)
About 58 teaspoons of sugar (2.64g or 0.093 oz)
About 78teaspoons of non-fat milk (0.093 oz or 2.64g)
About half a teaspoon of instant dry yeast  (0.05 oz or 1.64g)
List Of Equipment
Food processor
Kitchen thermometer
Step-by-Step Directions Of Round Table Pizza Crust
So, have you gathered all the listed ingredients and equipment? If yes, then you're all set to jump into pizza-making! 
Step 1: Combining All The Ingredients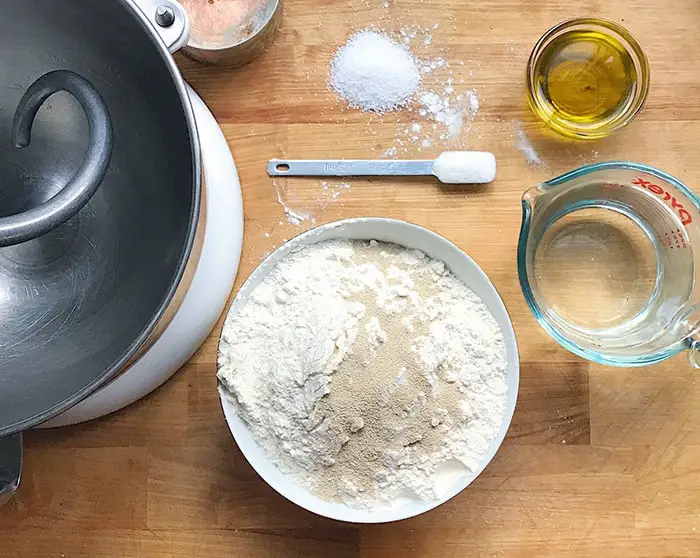 Except for water and milk, add all other ingredients to the food processor. Combine them very thoroughly. 
Now prepare the water. Take half of the water. Mix it with all of the dry milk. Bring this mixture to barely below boiling. Let it cool and then mix it with the remaining water. 
The most important aspect of a Round Table pizza is that the water must be temperature adjusted. And the temperature should be around 80 degrees Fahrenheit. So the water should be allowed to be brought to the stated temperature for the next step. 
Step 2: Add The Water To The Food Processor
Slowly add the temperature-controlled water to the food processor. It should be added slowly from the top as the mixture is slowly combined in the food processor. 
Keep combining the mixture till it takes the texture of cornmeal. Then gather the dough. And knead it into the shape of a round ball. Make sure that the dough temperature is at 80 degrees Fahrenheit at this point.
Step 4: Let the Dough Ferment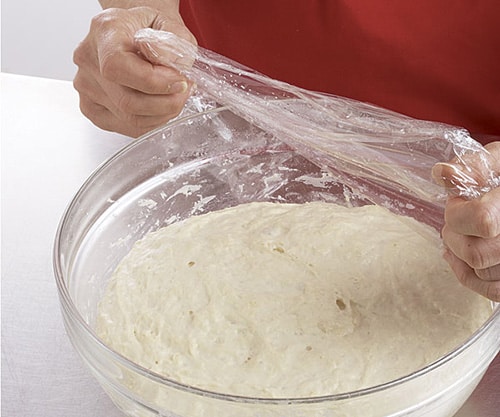 Take the dough in a large bowl. Airtight the bowl completely. You can either take a bowl with an airtight lid. Or you can make it airtight with plastic film paper. Leave the dough to ferment at room temperature for 24 hours.
Step 5: Roll Out The Dough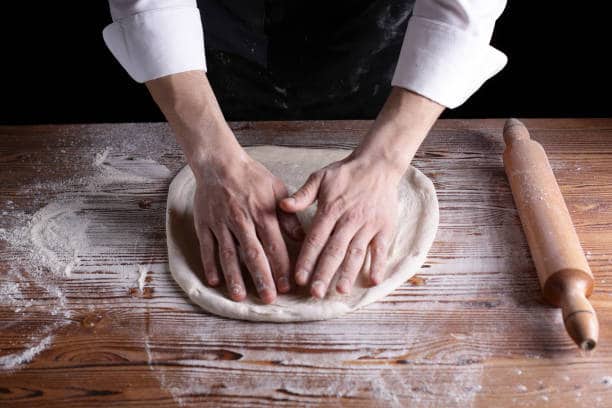 Roll the dough out to a circle of about 15-inch diameter. Fold the dough in quarters. Then roll it again to a circle of 16-inches. It is very important to fold in quarters and reroll it. This helps the dough to be kneaded very thoroughly. 
Step 5: Prepare The Rolled Out Dough For Baking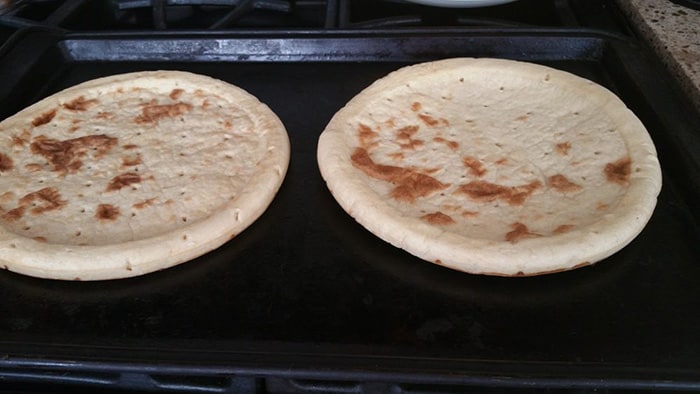 Cut out a 15-inch circle of the dough. Place it on the 15-inch cutter pan, docking it on the sides. Preheat the oven to 500 degrees Fahrenheit for 4 minutes to preheat the dough. Small to medium-sized bubbles would be visible on the dough at this point.
And voila! Your crust is all set for turning it into a pizza! Keep a very good eye on the proportions and the temperatures. If you follow this recipe 100% then you wouldn't need to go to Round Table again! You can just bring Round Table to your kitchen. 
Some Additional Tips For A Better Round Table Pizza Crust
Now that we know about the recipe, let us look at some additional tips. These tips would help you to strive closer towards perfection. 
Is the Use of a Food Processor Essential for This Recipe?
You can avoid it. You would still get a nice pizza crust. But using it would surely give you better results. 
Can I Replace Gluten-Free Flour with Normal Flour?
If you do that, then you would not be able to achieve the cracker kind of texture. That texture is the signature aspect of the Round Table pizza crusts. So you would not want to miss out on that. 
Do We Need to Create Tiny Perforations on the Dough before Baking It?
Yes, it would be good to create tiny perforations on the dough with a fork. That way, the dough would be able to rise more while it's baking. 
Craving for the crust pizzas of Round Table? Now you know the complete recipe of the crust itself. So, it would be a piece of cake to make those for yourself! So go ahead, be the chef. Best of luck. Let us know how it goes.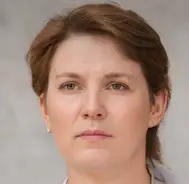 Latest posts by Leah Greenstein
(see all)