Pizza is one of our favorite dishes! But it has a lot of ingredients included in it. Pizza sauce is one of the ingredients which plays a significant role in its taste! 
Nowadays, the Costco pizza sauce is quite a popular sauce among pizza lovers!It's easy to make and only requires a few ingredients. Thus, you'll be able to save your time and make your own pizza sauce easily. 
Furthermore, your favourite pizza might not be available whenever or wherever you want. But with the recipe we've provided, you can enjoy Costco pizza anytime!
So, take some time off and check the recipe of this delicious pizza sauce with us!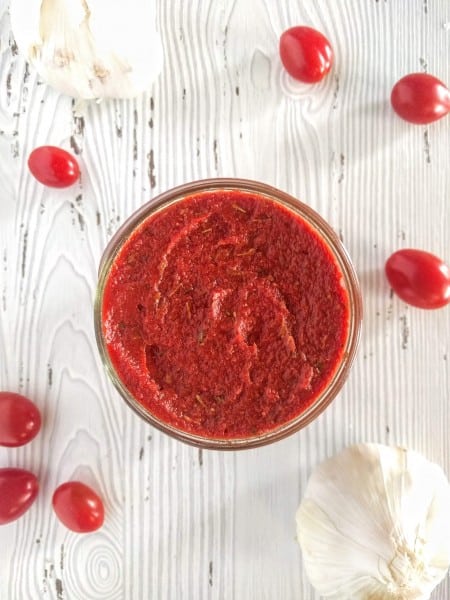 Level: Easy
Yields: 2 tablespoons
Preparing Time: 15 minutes
Total Time: 15 minutes
Nutritional Facts
| | |
| --- | --- |
| Calories | 23 kcal |
| Fat | 1 g |
| Carbohydrates | 3 g |
| Potassium | 0.124 g |
| Sodium | 0.288 g |
| Sugar | 1 g |
| Vitamin C | 0.0063 g |
| Iron | 0.0007 g |
| Calcium | 0.023 g |
Ingredients Required
6 oz of canned tomato paste 
15 oz of canned tomato sauce 
1 to 2 teaspoons of oregano as per taste
2 tablespoons of Italian seasoning
½ teaspoon of garlic powder
½ teaspoon of onion powder
½ tablespoon of garlic salt
¼ teaspoon of fresh black pepper, ground
1 teaspoon of sugar. Coconut sugar for paleo or omit is preferred
1 teaspoon of citric acid
Step by Step Directions to Prepare Costco Pizza Sauce Recipe
Now, we must be ready with the ingredients that we need. For your information, this recipe doesn't require any special equipment while preparing. However, you need to maintain the steps. Make sure to follow the directions provided below-
Direction 1: Combining The Tomato Paste And Sauce
In a medium mixing bowl, combine the tomato paste and sauce. Now, mix them thoroughly. Make sure they're well blended. All of the paste lumps should be absorbed into the sauce.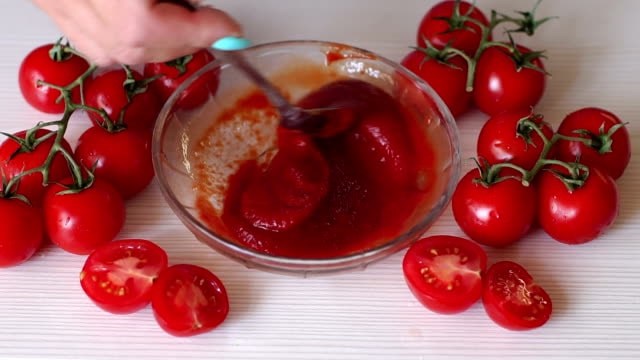 Direction 2: Mixing The Other Ingredients
Combine the remaining ingredients in a mixing bowl. Toss Italian seasoning, oregano, garlic powder, and garlic salt in a large mixing bowl. 
Also, toss the onion powder, salt, and pepper. Now, combine them thoroughly. Make sure you mix them properly and the mixture is firm.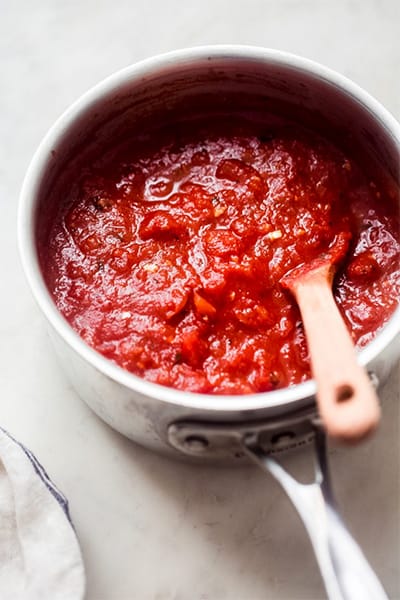 Direction 3: Finishing The Recipe
Now, add the citric acid and stir the sauce properly. Finally, your pizza sauce is ready! You can now get your favorite toppings and toss them over the dough. Finally, you get your favorite dish!
Enjoy the pizza! 
Some Important Tips
We already know the recipe for this mouth-watering sauce now. But you might still need a few important tips that were not given in the recipe. Because tips are always helpful. So, here are some important tips-
Can I Store The Pizza Sauce That I Prepared?
Yes, you can store it. You can either refrigerate or freeze it as well. To refrigerate, keep it for up to one week in an airtight container. Don't keep it there for more than that time. Because the sauce will thicken in the refrigerator.  To freeze it, You can place it in the freezer for up to two months. But make sure you're storing the sauce in an airtight container.
What Kind of Cheese Does Costco Pizza Use?
Their pizzas have 24 ounces of aged, creamy cheese on top. Part-skim-milk mozzarella accounts for 80% of the cheese. The remaining 20% of the blend is made up of shredded parmesan. This is generally aged for ten months.
What Is The Alternative For Tomato Sauce?
We occasionally run out of tomato sauce cans. You can, however, use diced tomatoes from a can. Simply combine all ingredients in a blender and puree until smooth. Freshly blended tomatoes can also be used.
Is There Any Substitution for Italian Seasoning Or Oregano?
Yes, there is substitution. You can use dried spices, but fresh spices are also fine. You might also like a milder sauce. In that case, you should start with a smaller amount. However, you can gradually increase it to your preference.
What Is A Good Substitution for Garlic Sauce?
Well, you might like or have garlic salt for the recipe. But that isn't an issue. Because you can just make it up by adding a little more garlic powder as per your taste. Additionally, you may add 2 teaspoons of regular sea salt as well.
Now, you know how to make this mouth-watering pizza sauce. We hope our recipe was helpful to you. Make sure to try out our recipe!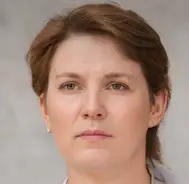 Latest posts by Leah Greenstein
(see all)