Who doesn't love pizza, right? But making pizza dough from scratch is a lot of hassle.
So you usually use readymade pizza crust. One of them is a jiffy pizza mix but the taste is not up to the mark.
So you're asking how to make jiffy pizza crust taste better?
Well, you can brush butter over the dough. Or you can try adding flavorful toppings to the dish. Maybe you can go for some herbs and mix them with butter. Or just make it a bit spicy with chili flakes and olive oil combo.
So to reveal the details you have to keep scrolling down.
How Does Jiffy Pizza Crust Taste Normally?
Jiffy pizza crust tastes a bit floury. The taste is not that different from regular store-bought pizza. But you know it misses the freshness of the dough when you taste it.
The taste is not odd, but you certainly can not tell it is tasty. But it does work pretty well for a basic flavorless pizza crust.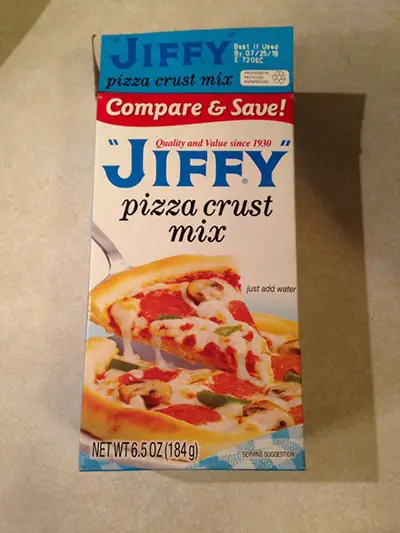 But wait, you do know what is jiffy pizza crust right?
If you don't know, here's the answer. It's a ready-made pizza crust mix. You just mix water with the jiffy pizza crust and knead it. So you don't have to measure each and every ingredient and worry about the rising.
Also, there's no chance of you messing up the dough when you're using this mix. So, it saves time and makes the pizza perfect. But that's not true when it comes to taste.
But don't worry, we've got suggestions to make your jiffy crust yummy. Just follow our instructions.
How to Make Jiffy Pizza Crust Taste Better? 
Well, you already know how jizzy pizza tastes. But you can't actually change the basic taste. That's because you can't make any changes to the jizzy pizza crust mix. But what you can do is make it taste better with some add ons.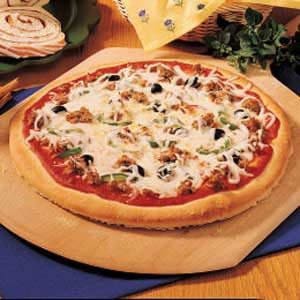 So here's a list of options you have open to make the jiffy pizza crust taste better. Now don't wait and choose the one you think is most suitable. 
But before, see the table where we compare the flavors you're going to get. So check it out.
| | |
| --- | --- |
| Options | Flavor added to the crust |
| Butter layer | Mild  |
| Butter & Italian herbs | Moderate to high  |
| Garlic & olive oil | Moderate  |
| Olive oil & red chili flakes | Moderate to high |
| Toppings | Moderate |
So now you know about the flavor concerns, then just move on for details.
Add Layer of Butter to The Crust
Well, it's the simplest option to follow. Just meltdown about two tablespoons of butter. And brush the butter over the dough. 
After you brush the dough you can sprinkle some salt. And it will add a kick with the buttery flavor. 
But while you brush with butter, just don't overdo it. Otherwise, the pizza crust will get greasy. And you won't like the taste then.
So apply butter as we mentioned and bake the dough with toppings immediately. If you delay then the added butter will make the dough sloppy.
Add Butter And Italian Herbs to The Crust
Just like you added butter before, it's a lot similar. But, before melting the butter, you need to do something else.
Take 2-3 tablespoons of butter in a small bowl. Then add 1.5 teaspoons of mixed Italian herbs. Now melt the butter in the microwave for 50 seconds. And then take it out and give it a stir. Then brush the dough with the mixture and place the toppings.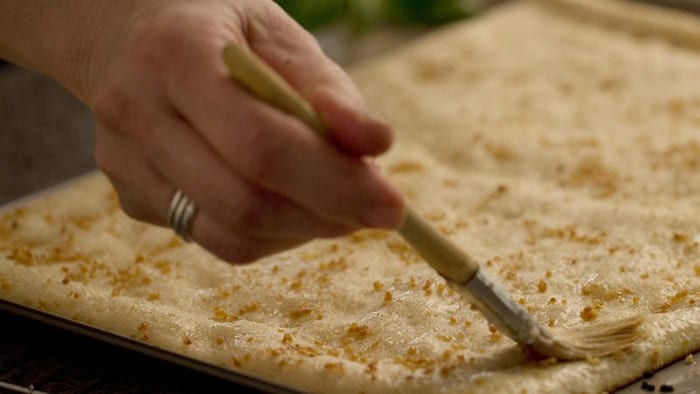 Now bake the dough and enjoy delicious pizza.
Well, here's another thing you can do. You can purchase seasoned butter and use that instead. Either way, the pizza will be tasty.
Any of these options will add a new flavor profile to your crust. Moreover, you can even try to make your own herb butter if you want.
Brush Garlic And Olive Oil to The Crust
If you're wanting a mild flavor change in the crust, try this option. Just take 2 tablespoons of olive in an oven-proof ramekin. Then crush half a garlic and put it on the ramekin. Now microwave that for 40 seconds. After that, brush the olive oil and garlic mixture on the dough.
Try to brush on every inch of the dough. Then let the dough rest for 10-15 minutes. So that is the flavor. Then bake the pizza. 
Add Olive Oil And Red Chili Flakes to The Crust
So now you may not like the texture of the jizzy pizza crust. And you want to add in some flavor. But you also want to soften your pizza crust.
In that case, mix 2 tablespoons of olive oil with 1 teaspoon of red chili flakes. And then add some kosher salt as per your taste.
Now mix them together and brush on the dough. Now, wait for 10 minutes. And then brush a second layer. Now just add toppings and bake them.
After baking, you'll end up with a perfect crust and spicy pizza.
Play with The Toppings
Now you may not want to add any effort to make the crust different. But you still want the pizza to be tastier. In that case, you can just be innovative with your toppings.
Add onion rings and garlic flakes so that the pizza has a kick. You can even add your favorite veggies or meat. And finally, add your favorite seasonings. We once tried curry powder as a seasoning and it wasn't bad.
So you can also experiment with your toppings.  Here are some of our favorite topping ideas:
Frontier Natural Products Garlic Flakes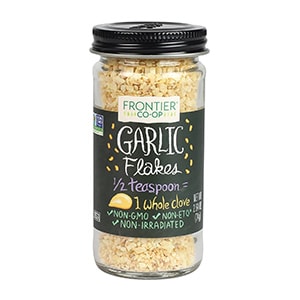 Enrico Formella | Hot & Spicy Pizza Toppingunks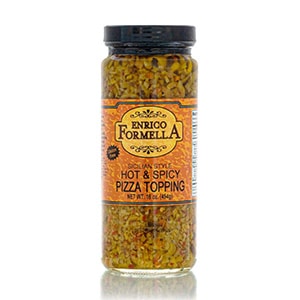 You'll surely enjoy having any of these on your crust!
With that, we're done with how to make jiffy pizza taste better. Hope you got to know what you wanted to know.
FAQs
Question: What can I add to my pizza dough to increase the taste?
Answer: You can add milk to your dough instead of water. So that it tastes better. Or you can also add buttermilk to have depth in the natural flavor.
Question: How to make a crispy crust with jiffy pizza mix?
Answer: Well, to make that, you have to spread the dough well enough on the pan. So that there remains a thin layer. But before that, you have to stretch the dough well enough so that it spreads.
Question: Why does the pizza dough taste bland after putting in all the ingredients?
Answer: It simply means that you missed salt while making the dough. Or you may have put less salt into the dough. So adjust the salt from next time.
Endnote
It is indeed the end of the article. And it was about how to make jiffy pizza crust taste better.
We've answered your queries. But you're allowed to have questions. In that case, let us know by commenting. 
Thank you!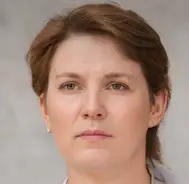 Latest posts by Leah Greenstein
(see all)