The taste, aroma, and appeal of well-prepared ribs make up for one of the best meal experiences that anyone can have. However, various challenges often come up for any rib lover, especially in dealing with longevity. 
A good example would be in how to tell if ribs are bad?
The best way to tell if ribs are bad involves a few simple techniques, including the smell, taste, and vision tests. Ribs will produce an unusual smell, almost similar to that of ammonia. However, we also provide a few tips to help ensure your ribs don't go bad.
Ready?
Let us get started!
What are Some of the 5 Ways to Tell if Ribs are Bad?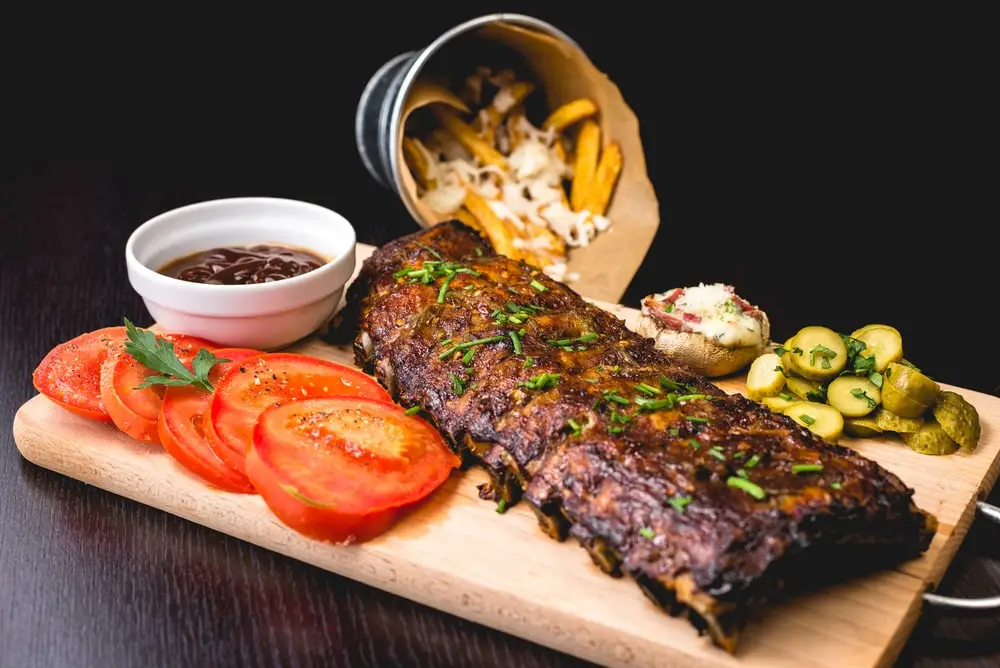 Source: Unsplash.
There are various ways to tell if ribs are bad, and the steps below help to outline this process:  
Tip #1. Smell Test
An unusual smell is a tell-tale sign of spoilt food, including ribs. The distinctive smell is usually similar to that of sulphur and ammonia. Identifying the smell can sometimes be difficult, so consider getting someone else to help you evaluate the meat. In general, be on the lookout for any unusual odours, other than anything meaty.
Tip #2. Appearance Test
If you notice the ribs have anything other than a pinkish, maroonish or red appearance, consider it a sign of spoilt meat. The reason the ribs change colour is often due to bacteria that break down the meat. 
Common color signs of spoilt meat include grey, green, and brown colours. However, be careful because the change of colour doesn't often indicate that the beef is spoilt. 
The fat on the ribs can sometimes have these unusual colors due to bacteria. If this is the case, you can remove the spoilt sections and re-evaluate the remaining portion. 
You should be keen when evaluating the meat's appearance, especially the color. Similarly, it doesn't make sense to throw your ribs without performing further evaluation on the meat.
Tip #3. Firmness Test 
Now that you are done using your senses to test the ribs let us check their firmness. Good meat should still be firm enough in your hand, so be keen on any inconsistencies. 
This approach works well when you store the meat DIY. If you plan on buying the meat from a butcher, the owner will not allow you to perform this test.
Remember that the firmness test isn't always practical when used solely. The best suggestion is to use the test as a complementary technique for evaluating the meat. 
Therefore, if you are not confident about the taste of the meat, consider assessing other aspects of the meat. Common examples include the expiration date, smell and color.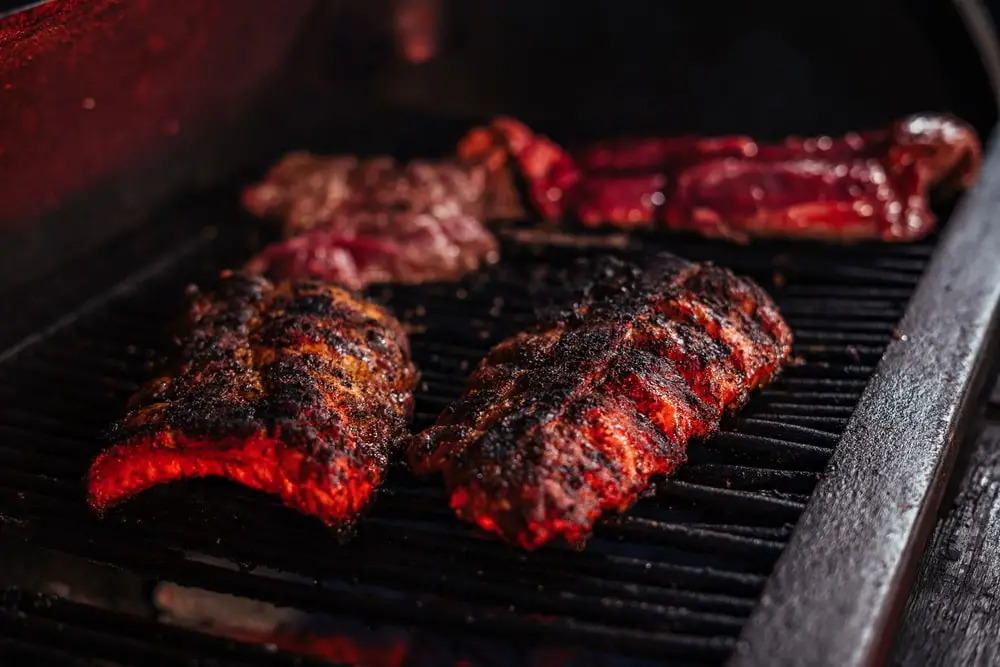 Source: Unsplash.
Tip #4. Mold Test 
If you ever noticed unusual spots on your meat, consider the possibility that it could be mould. Avoid second-guessing, and realize that it's often easy to spot, mainly due to its rich color. The unique aspect of mold development is that you can easily spot its spread by evaluating all your ribs. 
Sometimes the outside might look fresh, but the insides might already have fallen victim to the mold issue. Therefore, the best suggestion for ribs with mould is to throw them away. 
Plus, avoid touching the affected sections of the meat at all costs. Most of the time, the leading cause of mold is poor meat storage. Avoid storing the meat for long durations before usage to prevent this issue. 
Tip #5. Expiration Date 
While many people are unaware of this yet, meat products have short expiration date, primarily based on your preferred storage method. Usually, most meat producers set expiration details on the meat for ease of identification. 
Therefore, the best suggestion is to ensure you consume the meat before it expires. The safest and most convenient technique for getting ribs is to avoid making purchases before the expiration date. 
Though it's unlikely for any setup to store spoilt meat, ensure you evaluate the ribs for surety. If you want to keep the ribs for long durations, you won't require an extended expiration date. 
However, if you plan on storing the meat before consumption, ensure you choose the type with an excellent longevity rate.
How Does Someone Tell if Cooked Ribs are Bad?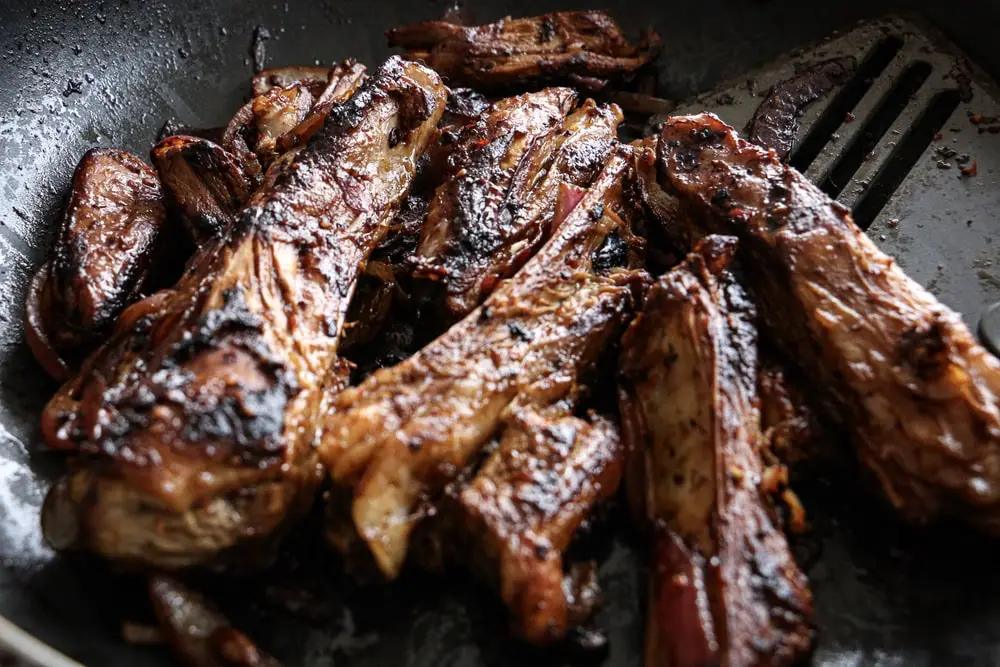 Source: Unsplash.
There are various ways to tell if cooked ribs are bad. The obvious sign would be that the meat will have an unusual smell, feel, and taste than the regular types. Therefore, ensure you evaluate the meat and check whether it's slimy or has a distinctive appearance. 
Cooked ribs should have a "meaty taste" rather than anything that borders on the ammonia or sulphur taste category. If there is nothing unusual about the texture or smell of the meat, and you are still unsure, consider tasting the meat. 
If the meat tastes unusual, other than anything meaty, then it's spoiled. You can also have anyone else with you in the house to help with the meat testing process. 
Tips for Improving the Shelf Life of Ribs 
Below is a comprehensive list of tips that you can use to improve the shelf life of your ribs:
Ensure you store the ribs in the freezer, and don't mix them up with other store-bought alternatives for longevity.
Avoid freezing meat more than once because it can compromise its natural taste. Freezing the ribs won't fix the issue, and ensure you plan ahead of time to avoid meal wastage.
If the ribs are already bad, avoid placing them in the freezer. Freezing the ribs is not a solution to the problem. The only thing freezing will do to decrease the time span with which the meal will go bad.
When purchasing ribs, ensure you go for the freshest type, particularly those with vacuum sealing.
Ensure you evaluate the expiration dates of your ribs each time before purchasing.
How to Prevent Ribs From Going Bad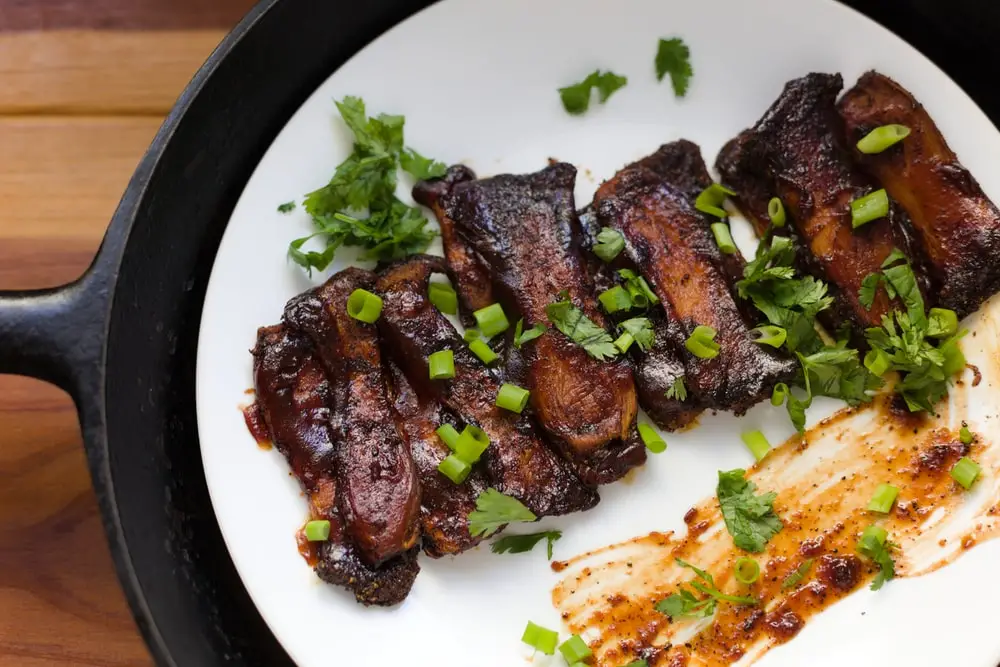 Source: Unsplash.
There are various through which you can prevent ribs from going bad including:
Keep the Meat Frozen
The best method to ensure the meat stays cold is to set it at a 40 degree F temperature level. Recent reports from USDA show that it's the perfect temperature for addressing any spoilt meat issues. Therefore, ensure you store your meat as soon as you get it home. 
Never allow your ribs to sit exposed for long durations. Keeping the ribs at room temperature for long durations will encourage the development of harmful bacteria.
Evaluate the Meat Before Purchases 
You have to evaluate the meat each time before making a purchase. Ensure the ribs you purchase have reasonable sealing and are free from issues such as dust or dirt. In addition, remember to evaluate the "best before" and "expiration dates" of the meat before each purchase.
Thaw Using the Right Method 
If you plan on using an oven, grill or stove – you won't have to thaw the hot dogs. However, using a slow cooker means that you have to thaw the meat. 
The ideal thawing process is crucial for the results you can acquire. Most people want to thaw their meat using hot surfaces, which isn't always good. 
A recent report by the USDA showed that resources such as fridges, microwaves, and cold water are best for thawing meat. You also have the option of storing the ribs after you cook them. Resources such as a fridge are crucial for the results you can achieve in this process.
How Long Do Leftover Ribs Stay Safe?
Expect leftover ribs to stay safe for up to four days. However, the third day will be a challenge, and you have to be cautious with meat. If you want long preservation dates, consider using a freezer.
How Long Can Raw Ribs Be Left at Room Temperature?
The average time you can leave raw ribs at room temperature is about 2 hours. Bacteria can develop fast, especially if you decide to leave the meat at room temperature.
How Long Do Raw Ribs Last in the Freezer?
Expect meant to last for up to 2 months in the freezer without going bad. Meat that surpasses this duration isn't likely to have the rich taste you often associate with the freshly prepared alternatives. However, a freezer still makes up for an excellent storage solution for your meats.
Final Words
Knowing a thing two about ribs can save you from various hassles in preparing meat. With an informed approach, you are sure of ribs you can enjoy for long periods without any unusual changes in taste. So, ensure you adhere to all that there is in how to tell if ribs are bad.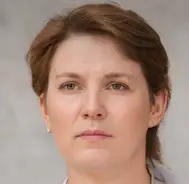 Latest posts by Leah Greenstein
(see all)