Fermented feed makes up for one of the best nutrient sources for your chicken. Preparing it is also easy, and perfect for when you have several chickens to feed. However, it can be difficult to gauge the specific amount that applies to each chicken. 
Join us, as we answer an essential question in this guide – how much fermented feed per chicken? We also examine its benefits, preparation methods, and other crucial factors. 
Fermented Chicken Feed – A Quick Breakdown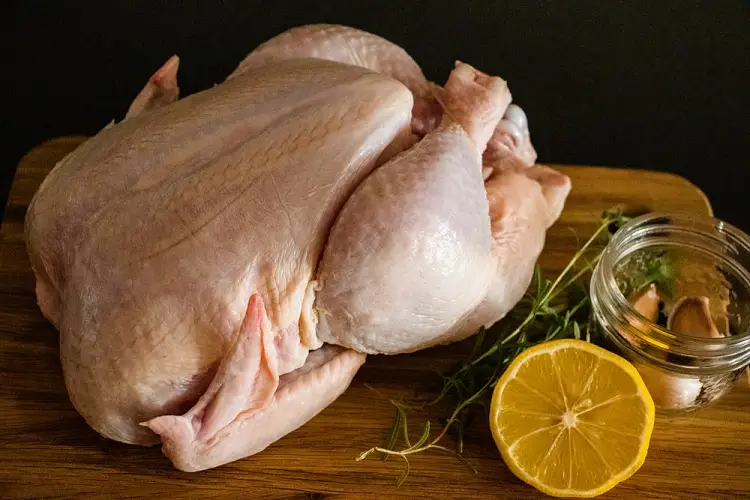 So, what makes fermented feed exceptional for chicken?
The fermented feed provides various natural probiotics that are crucial for body functions. They are packed full of beneficial ingredients like bacteria and yeast. It's a healthy food source, making it popular for different types of pet and animal owners. 
Chicken feed often ferments when you set it in water for a significant period. Factors such as temperature play a role in the fermentation process's effectiveness. The average temperatures for this process range between 70 to 75 degrees Fahrenheit.
Any amount higher than this can easily cause the chicken feed to spoil. The feed fermentation process can occur at any time of the year. During the cold seasons like winter, the process might require an additional light source. 
The fermenting process involves gathering naturally occurring yeasts and cultures. You then combine them with chicken feed to undergo the fermentation process. These yeasts and cultures are the main ingredients responsible for the metabolic process of fermentation.
Ingredients like starches and sugars in the feed ingredients break down into lactic acid bacteria. These bacteria will proliferate and provide various nutritional changes to the feed. The fermenting process works almost in the same way as growing seeds by soaking them first.
You must first cover the feed with some water to help acquire yeast. Wild yeast often occurs in the air and can also be in the chicken feed ingredients. 
The process can take up to three days. You also have to be careful with the fermentation timespan. Any period longer than three days can cause an increase in the amount of alcohol produced from the fermentation process. 
Nutritional Benefits of Fermented Chicken Feed
Here are the most common benefits of fermented chicken feed:
The lactic acid produced during fermentation encourages important microbes' growth. These microbes go by the name probiotics. They help improve the functions of the digestive system.
The nutrients in fermented chicken feed are easy for the digestive systems of chicken to break down.
The fermented chicken feed contains well-controlled sugar amounts.
The wild cultures and yeasts in fermented chicken can help with the regulations of mold spores.
It's also a natural process that doesn't require any harmful chemicals.
How to Make Fermented Chicken Feed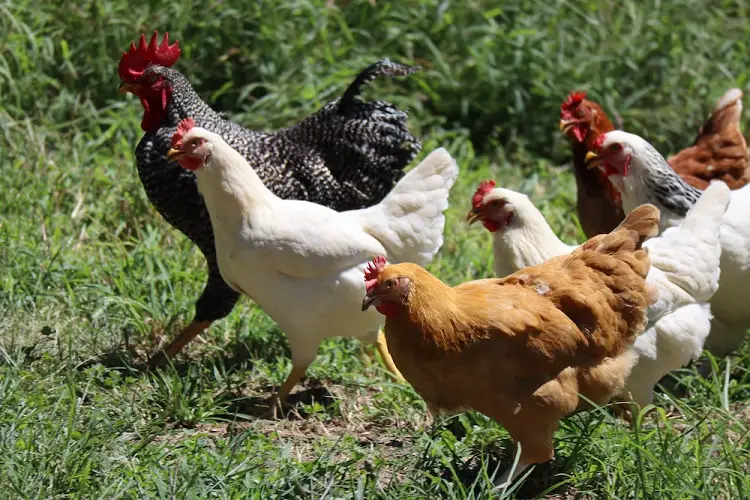 While all these health benefits sound exceptional, how does someone make fermented chicken feed? 
It's an easy process (especially for those soaking chicken feed overnight!).
You first must pick the ideal type of chicken feed for fermentation. It's best if you go for chicken feed that hasn't undergone extensive processing procedures. Whole grain feeds are great because they soak water, which can kickstart germination.
The germination helps improve the nutritional value of your fermented chicken feed. Remember the importance of determining the amount of chicken feed required for this process. If you already have insight into this amount, cut it in half. 
Why?
You can't feed the same amount of fermented chicken as other traditional alternatives. If unsure of the amount, try estimating the average size a chicken can consume. 
A good example is determining the feed amount an entire flock will consume (½ cup per bird). Then, break down this amount by 50%. The result should be the amount of feed you ferment daily for your chicken. 
So, how long to ferment chicken feed?
It takes three to four days to ferment chicken feed. You have to set up in a location with moderate temperature for a few days.
Here are the other specific details related to the chicken feed fermentation process:
Materials
Chicken feed (half the amount your flock consumes in a single day).
Ample sized container
Slotted wooden spoon.
Rubber bands.
Clean water.
Cheesecloth.
Steps
Here are the specific details for each day of fermented chicken feed that you should supply to your chicken
First Day – Fermenting Chicken Feed in 5 Gallon Bucket
Morning- Measure the feed into the container. Then, add some water, and ensure that it covers the feed by up to 2 inches. Next, stir the setup by fastening a cheesecloth on the container. Use a rubber band to secure the cloth on the mouth of the jar. 
After noon- Check back on the feed. It should have absorbed the water at this point. Then stir for a few seconds.
Evening – stir the feed. The water level should not be excessive. Stir the fermented feed, and you should notice some bubbles at this point.
Recommended Products: Olicity Cheese Cloths
Second Day
Stir the feed up to three times on the second day. A good stirring should occur preferrably in the morning. You may also come across a few bubbles during this process.
Third-Day 
Stir the feed 3x times during the third day. Again bubbles should come up, and you will notice a sour smell.
Fourth Day 
It's the day when you serve the feed to your chicken.
PRO TIP!
It's easy to determine when the fermented feed is ready by checking for the presence of bubbles. The bubbles develop as the yeast breaks down the ingredients. The process also produces lactic acid bacteria responsible for the bubbles. 
Using the Right Fermented Chicken Feed Schedule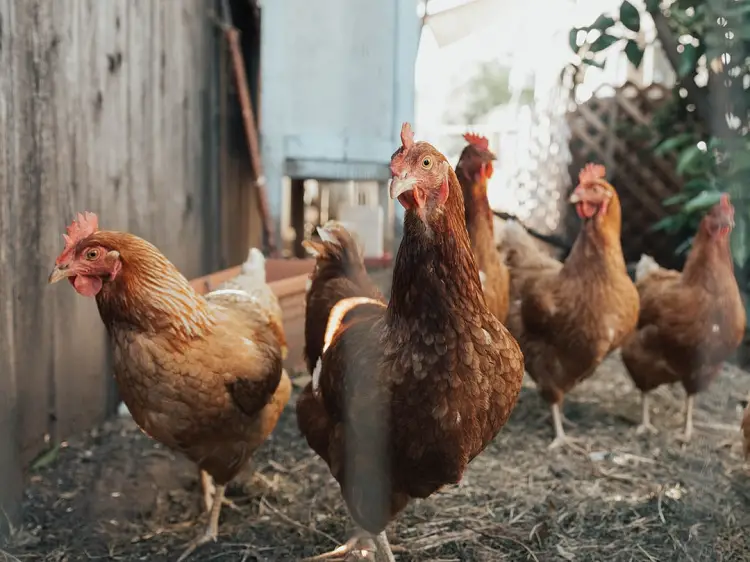 Feeding your chicken with fermented feed can seem like a challenging task. You must realize that it's a process that requires you to make time in your daily schedule for the routine. But it doesn't have to be a challenging experience if you have the correct information. 
The first step is determining whether you are ready for such an obligation. Fermented feed is a tasty and healthy treat for your chicken flock. You can make the meal part of your pet's diet for an entire day. You can also opt for a unique combination of these meals. 
If you have asked, "can fermented feed be given to a day-old broiler?"
Yes, it's possible to give fermented feed to a day-old broiler. However, you must be careful with this process for the best results.
If you want a fermented feed that saves you money on chicken feed, consider doing it at least 2-3 times a few. The other option is to develop an automated feed system that delivers a specific batch to your kitchen daily. 
Here is a simple guide you can use for feeding your chicken:
Sunday: Start the fermented feeding regimen, preferably in the morning.
Monday: Stir the feed at least three times daily to ensure it ferments as required.
Tuesday: Stir the feed once again.
Wednesday: Give the first meal to your chicken in the morning, and repeat in the evening.
Thursday: Stir the feed again as earlier recommended.
Friday: Stir, strain the feed, then serve your chicken the next morning.
Saturday: Give the feed to your pet, and clean all the items used in the process. Then repeat this for every week of feeding your chicken.
PRO TIP! This should be a guide to help you put things into perspective better. The main takeaway is to ensure you use the fermented feed such its relevant to your day-to-day schedule. 
10 Tips For Successful Chicken Feed Fermenting
Here are the tips we recommend for fermenting chicken feed:
The DOs
Use the right mix of oats, seeds, legumes, and grains. We recommend that you learn more about preparing poultry feed DIY.
Ensure you use a loosely covered glass container.
Ensure you use clean water for the best hygiene results.
Cover the grains with several inches of water, and stir as recommended above. The stirring might have to occur several times a day.
Wait until you encounter bubbles developing on the surface.
Ensure you store the mixture in a cool and dark place. Avoid setting it out in the sun.
Never give fermented feed to your chicks and ducklings. Ensure they have the grit to help with the breakdown of the feed.
Realize the fermented feed has a smell, which can sometimes be discomforting.
Learn more on how to store fermented chicken feed. Store the chicken feed in a dark, cool place, not outside and not in the sunlight.
According to this Cambridge Report, you can use molasses to prepare fermented chicken feed.
The Don'ts
Here are the things we recommend you avoid when preparing fermented feed for chicken:
Never add any apple cider vinegar or yeast to the fermentation process. Doing this will produce alcohol, which can adversely affect your setup.
Never store your fermented chicken feed in areas with excessive sunlight.
Never let the water levels reduce past the solids in your fermented feed setup.
Never feed your chicken fermented chicken with mold. Doing this can have negative health side effects for your chicken's development.
Frequently Asked Questions (FAQ)
How Much Fermented Grain Should I Feed My Chickens?
Expect a chicken to consume up to ¼ cup of feed each day. But, chicken also consumes less than this amount daily once the feed undergoes fermentation. Also, remember chickens require caution, as hey can consume the feed all day when left unchecked.
How Often Do You Feed Chickens Fermented Food?
If you want fermented feed that offers a pocket-friendly alternative, consider feeding it to your pet at least 2-3 days a week.  You also can set a fermented feed system so your flock enjoys the feed automatically. 
How Do You Feed Fermented Feed to Chickens?
The process of feeding fermented feed to chickens is simple. You just have to set some of the feed in a container and cover it with fresh or clean water. Ensure you cover the container so the formula can rest for a few days.
Is Fermenting Chicken Feed Worth It?
Yes, fermented chicken feed is worth the investment. It helps preserve the nutrional content of grains and contains a unique variety. These include niacin, thiamin, folic acid, and rivoflavin.
How Long Will Fermented Chicken Feed Last?
The longevity of fermented chicken feed averages at four to five days. However, it also relates to the feed quality and storage methods used by the owner. The quality of the feed also has an impact on feed longevity. 
Does Fermenting Chicken Feed Increase Protein?
Yes, fermented feed has a positive impact on the protein level for a chicken. It can enhance the protein content of your feed. Thus, this helps allow your flock to acquire more beneficial body proteins.
The amount of fermented feed per chicken you should provide depends on your preferences. However, be cautious so as not to overfeed your chicken with the feed.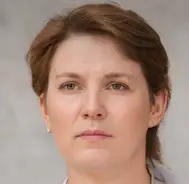 Latest posts by Leah Greenstein
(see all)