Vegetarian chili with beans and grains has always been one of the popular dishes. Fresh and canned veggies, canned tomatoes, and dry spices make up this simple dish. Additionally, vegetable broth and canned beans are also included in the recipe. 
It's just as filling as its meatier counterpart. No wonder, you are planning to cook this dish! But you are surely confused about the steps of the recipe. 
Well, It's your day today! Because we've got you the recipe just like you would want it to be. Keep reading to know more!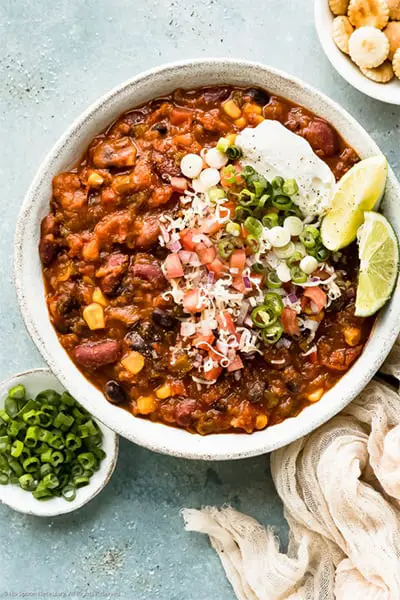 Yields: 8 cups
Total Time: 8 hours and 25 minutes
Nutrition Facts
| | |
| --- | --- |
| Calories | 141.3 |
| Total Fat | 2.9 g |
| Saturated Fat | 0.4 g |
| Monounsaturated Fat | 1.8 g |
| Polyunsaturated Fat | 0.4 g |
| Sodium | 12.7 mg |
| Potassium | 447.6 mg |
| Total Carbohydrate | 23.0 g |
| Dietary Fiber | 7.6 g |
| Sugars | 0 g |
| Protein | 7.2 g |
Ingredient List
2 tbsp of olive oil
1 diced yellow onion
2 large diced bell peppers
2 diced carrots
¾ cup of wheat berries
2 diced stalks celery
4 minced cloves garlic
2 tbsp of chili powder
1 tbsp of ground cumin
2 tsp of dried oregano
2 tsp of kosher salt. Add more to taste
½ tsp of freshly ground black pepper
¼ tsp of cayenne pepper
1 (28-ounce) can of diced tomatoes
2 (4-ounce) cans of green chiles, roasted and undrained
3 (15- to 15.5-ounce) cans beans, such as black, pinto, kidney, garbanzo, or cannellini, drained and rinsed
2 cups of vegetable broth, with low sodium 
1 (15-ounce) can of drained whole kernel corn
Direction To Cook Vegan Chili with Beans And Grains
It's time to move into the kitchen and prepare our favorite dish! So, you must be looking for the recipe now! The recipe has been elaborately discussed below.
Step 1: Preparing The Veggies
To begin, cook onion, bell pepper, carrot, wheat berries, celery, and garlic in a skillet until soft. This might take about 10-15 mins depending on your choice of vegetables. 
You can substitute shallots or scallions for the yellow onion. A parsnip or sweet potato can be substituted for a carrot. For the bell pepper, you can use another chili pepper like a poblano.
Step 2: Combining The Spices
Take chili powder, dried oregano, ground cumin, kosher salt, cayenne pepper. Additionally, black pepper is also used in this dish. This combination produces a somewhat hot chili. 
Reduce the chili powder a bit and leave off the cayenne for a milder, kid-friendly version. To get a super hot chili, top with fresh jalapeno along with increasing the cayenne a bit. Add a dash of smoked paprika for a smokier chili.
Step 3: Adding Cooking Liquid
After you've coated the vegetables and grains  in spices, pour in the cooking liquid. Only using canned tomatoes and liquids results in an acidic, thick, and tomato-forward chili. 
Adding in vegetable broth or water is also a good idea. This will further thin out your chili if you're not fond of a thick consistency.
Cook the contents of the pot for 7-8 hours on low heat. So that the wheat berries are chewy enough.
Step 4: Putting in The Beans
Now that chili has just the right amount of heaviness. Now, you should pour in your preferred beans. You can choose anyone among pinto beans, kidney beans, garbanzo beans, or black beans. You can also choose from cannellini beans, or even black-eyed peas or lima beans.
Warm the beans in the mixture for about 8-10 mins. Now, pour the chili into serving bowls and sprinkle with your favorite toppings. Finally, your mouth-watering dish is ready.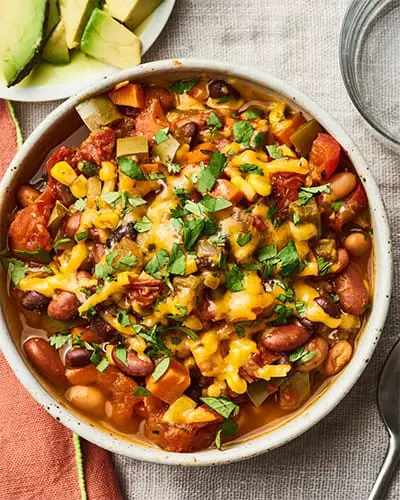 Important Tips
You already have a decent idea about the recipe of the dish. But we would still like to provide you with some important tips which would be helpful! 
Is The Dish Keto Friendly?
Beans and crumbles are high in fiber and vegetarian protein. This will help you stay healthy. This chili is a heart-healthy recipe for the whole family. This is the combination of veggies, low-sodium lean proteins, and spices. Thus, this is keto-friendly.
How To Control The Thickness of The Vegan Chili?
Before the chili begins to simmer, add only 1 cup of the broth. The longer you leave it to simmer, the thicker it gets. If desired, whisk in more broth just before serving to thin it up.
How To Serve Vegetarian Chili?
You can serve this chili over cooked couscous, cooked quinoa, or cooked elbow noodles. You may have a variety of toppings. You can choose from lime wedges, shredded cheddar cheese, or diced avocado.
We have finally come across the recipe. This delicious dish is filled with nutrients. Moreover, this can be prepared very easily. We hope the recipe becomes even easier after you follow our one! Make sure to try out our recipe!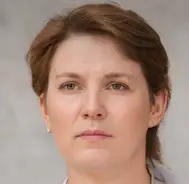 Latest posts by Leah Greenstein
(see all)