Thanks to their bold color and taste, tomatoes make an excellent foundation for chili recipes. They contain high essential acids, making them perfect ingredients for meats. 
However, any regular use of this ingredient might have come across the chili is too tomatoey. While this seems like a lost cause, there are things you can do to save your sauce. We have also identified a few prevention measures for your needs:
Why Is My Chilli Too Tomatoey?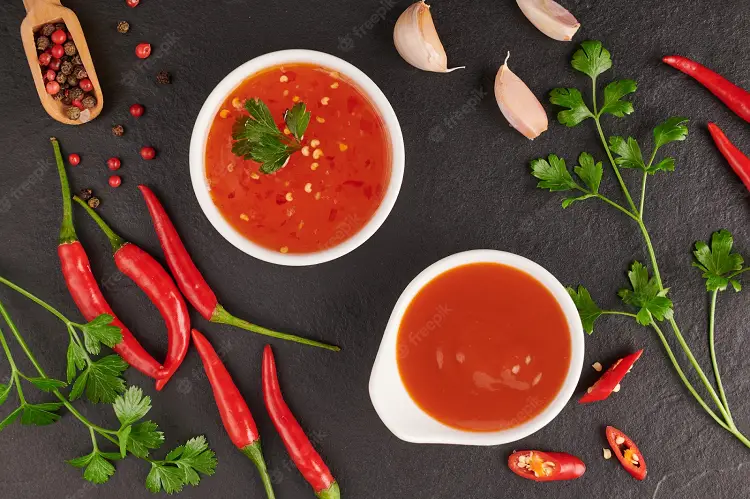 One of the primary mistakes people make is adding excessive tomato amounts compared to other ingredients. Usually, authentic curry recipes contain a small number of tomatoes. It's why you have to be careful when preparing chili using such ingredients.
Using unmeasured tomato amounts will likely flood the recipe and compromise the other chili ingredients. The common ones can include garlic, ginger, and onions, which are also crucial for flavoring. 
Making the chili right involves chopping up the base ingredients to achieve an improved flavor. 
It results in a smooth sauce, which you can use in various meal ingredients. Here are some of the other things you can do to achieve the ideal tomato and ingredient consistency:
Start by using the right curry recipe. We recommend that you research online and try out books or guides on Youtube. 
Control the number of tomatoes or pastes that you use in your chili. 
Ensure you brown ingredients like ginger, garlic, and onion for enhanced flavor.
Try to neutralize the taste of the tomato by adding some sugar. It also works well when your chili is bitter.
How to Reduce Tomato Taste in Your Chilli Sauce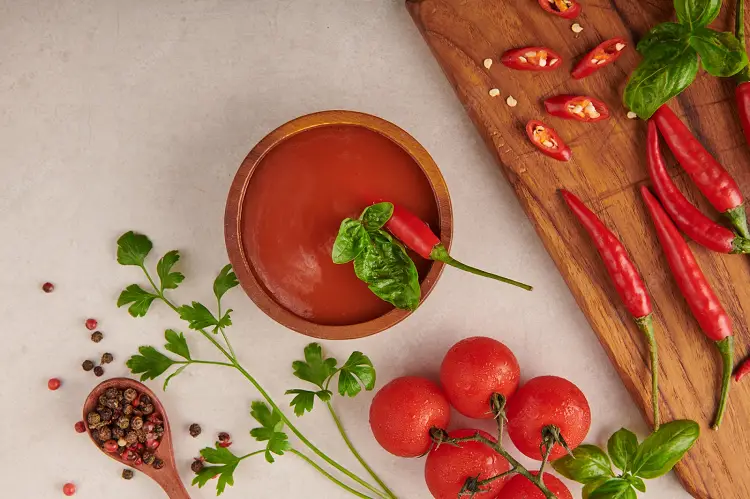 Even if you made the mistake of making your chili too tomatoey, you could still fix it. The steps depend on the level of errors you make. Here are some suggestions:
Tip#1. Low Overpowering Ingredients
We noticed this solution is common among people who have experienced the chili con carne too tomatoey issue. With low overpowering ingredients like bay leaves, herbs, and powder, you can separately reduce the impact of tomatoes. 
Using these ingredients correctly helps ensure they become "tomato flavor agents in your meal." Instead of adding them directly to the chili, we recommend that you prepare these ingredients aside. Then, add them to the chili.
Fry these ingredients in a pan until they turn brown and give out all their flavor. Next, add them to the chili (while boiling in a saucepan.) One of the best ways to fry these ingredients for chili involves using some ghee. 
Why?
Ghee has a strong flavor, and regulating the specific amounts you need for a chili sauce is easy. Consider topping out the setup with some Alfredo or Soy Sauce. 
Tip #2. Add Some Curry Powder
Curry powder is mild and exceptional for managing your tomato chili's flavor. The process of using this product is simple – and it's perfect for when your chili sauce is too tomatoey!
You just add an average of 2 teaspoons of the powder curry into your chili. Do this until you get the right consistency level.
Then, add some boiling hot water (like five teaspoons of the water) to your set up. However, be careful as you also risk making the chili too watery.
Why do you add water?
Water helps balance the effect of the curry powder. Surprisingly the curry powder also works well with the tip we have mentioned above!
Tip #3. Bay Leaves and Chicken/Meat Broth 
Cut up some bay leaves, and let them simmer in the chili for a few hours. Then, add some chicken or meat broth to the mixture. 
Doing this will boost the meat's flavor and reduce its tomato content. However, ensure you let it simmer down for the best results. You can add some ginger and garlic paste to the mixture for improved flavor.
Tip #4. Red Bell Pepper 
After sauteing it first, red bell pepper does an excellent job of giving your meals a bit more of a kick. You can even try out some chipotle chilies, which will take the results of the sauce to a new level. 
We recommend getting a small can of Adobo Sauce (it works wonders for chili!). If you want to use the chilies, just cut them up, and blend them before setting them into the sauce. Red Bell Pepper is also common among those looking to reduce the tomato taste in pasta sauce.
We recommend adding some broth when adding the red bell pepper. It helps to bring out your chili sauce's unique and acidic flavor. Or, you can opt for adding a small amount of butter if you don't like adding broth to your chili.
PRO TIP! Are you still struggling? Take a look at this how to fix chili that is too tomatoey youtube video.
Preventing The Chili From Being Too Tomatoey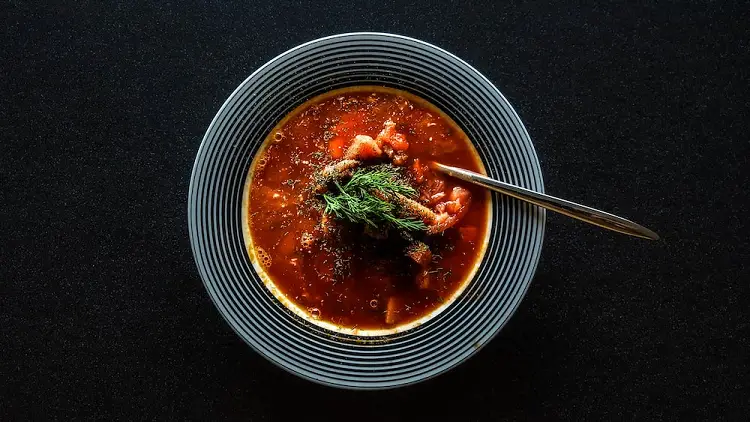 The tips should ensure your chili doesn't become too tomatoey next time:
Use the right mixture of tomato products, including the chopped and paste types. You may have to experiment with this ingredient balance till your find the perfect balance.
When preparing chili, keep some chicken or beef broth with you (piping hot!). Do this to help ensure your chili will have the right consistency and taste levels.
Add some water to your chili when possible. Remember to let it simmer for a few minutes for the best results. This solution also works well if your chili is too spicy.
Add a pinch of sugar or salt to the chili. Doing this will help balance the effect of the tomato taste in your chili. Try adding these ingredients gradually and in relevance to the results you expect.
Add some baking soda to your chili to help it balance the ingredients. Ensure the baking soda you add is relevant to the amount of chili you have prepared. Baking soda is also popular among those who want to regulate the acidity of their chili.
Frequently Asked Questions (FAQ)
What Do You Do if Your Food Is Too Tomatoey?
There are various things you can do if your food is too tomatoey. Some include using low overpowering ingredients, and adding some curry powder and red bell pepper. The best approach depends on your personal preferences.
What Offsets Tomato Flavor?
Various resources can offset the flavor of tomatoes. These include ingredients like raw sugar, natural honey, and agave syrup. You can also use ingredients like carrots and onions for improved results. 
How Do You Fix Tangy Chili?
There are various ways of fixing tangy chili. We recommend you try some low-overpowering ingredients, water, and chicken broth. The result you expect depends on your personal preferences.
What Can I Add to Chili to Give It More Flavor?
The best way to add more flavor to chili is to add some ingredients like fried onion, garlic, and soy sauce. You can also add some salt and sugar to the mixture. The amount you add depends on the chili levels. 
How to Make Chilli More Tomatoey?
The best way to make chili more tomatoey is to add some tomato paste and freshly chopped potatoes. You also have to regulate the amount of liquid or chicken broth you can incorporate into your setup.
What do you do when your chili is too tomatoey? The first step is to look at your options. Pick any from the abovementioned ones, and you will notice an improvement. You can also use these tips as suggestions for developing your unique ways of solving this issue.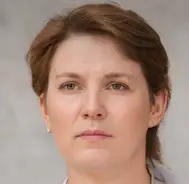 Latest posts by Leah Greenstein
(see all)