Making pizza at home is fun and exciting. But if you're not a pro, you end up messing it up.  The most annoying thing is when the pizza crust turns out to be hard.
It seems like all your hard work has gone in vain. But you're certainly not in a mood to redo it.
So you're asking how to soften hard pizza crust?
You can microwave the pizza with a glass of water. Or you can just brush water on the crust. You may also brush oil or milk on the crust. But make sure to microwave afterward. This is so the pizza gets nice and soft enough to eat. 
But that's surely not everything we got to tell. We've mentioned a few more ways to make the crust soft. So check them out.
Is Your Pizza Crust too Hard? How to Know?
The crust of the pizza can turn out to be hard sometimes. But how hard the crust is depends on our personal taste as well. Because some of us might actually find a bit crispy to be normal. 
Whereas, some of us like to have the crust moderate. Others may like it to be a bit soft. But whatever your preference is, we came up with some pointers, to let you know if it's actually hard.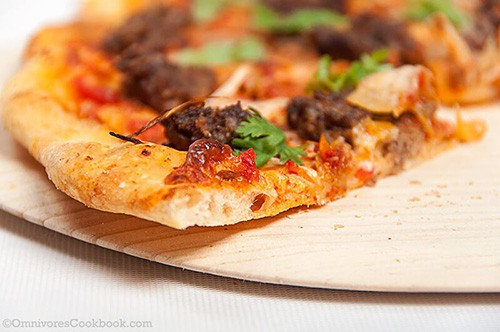 So let's start to check. And you can bookmark the article. So that from the next time you can check your pizza as we mentioned. 
Color
The first thing you'll see is the color of the pizza crust because it'll tell you a lot. See if it's dark brown in some places. The whole crust can be near to dark brown.
In that case, the crust must be hard. If you see black spots on the crust, it's gone too far and is burnt. So you probably shouldn't eat that.
But if it's dark brown, you still possibly can eat it.
Sound
After the color, you can check for sound. Well, it might seem a little weird. But yes, you can take a hint from the sound of the pizza crust.
For that pinch on the crust, and try to listen. If the dough tears with a pinch and feels soft, it's undercooked.
The dough may also sound like breaking a cracker or might make some noise. Then know that it's hard enough.
But if you can break the dough by pinching, it's actually hard. 
Taste
Finally, you need to taste the crust because it's the final factor to understand. So just have a bite of the crust only without the toppings.
If it feels hard to chew, then it's hard enough.
So if all the factors are true, your pizza crust is actually hard.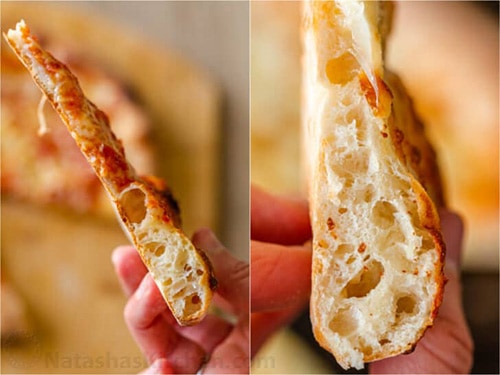 Sometimes, maybe not all pointers click, but you still think the crust is hard for you. In that case, you might want to know why it keeps happening. Nobody wants to chew on hard pizza.
That's what we've discussed in the next section. 
Why is Your Pizza Crust Too Hard?
Well, there can be multiple reasons why the pizza crust is hard. So we listed all the reasons we know below. You may find one or multiple factors where you messed up. 
Let's see what those reasons could be.
Dough Not Kneaded Properly
The first thing that might have gone wrong is the dough wasn't kneaded properly. You should know that a well-kneaded dough makes a perfect crust.
So you might have missed kneading the dough well. The dry and wet ingredients might not get mixed properly. Hence, the texture of the dough would be stiff in some places. When you bake, you'll see that certain places in the crust are harder than the others.
Moreover, the overall texture of the dough would be hard to chew.
Excessive Flour Used
Another thing we do is use loose flour to avoid pizza sticking to the pan. But too much flour can also make the dough rough and stiff.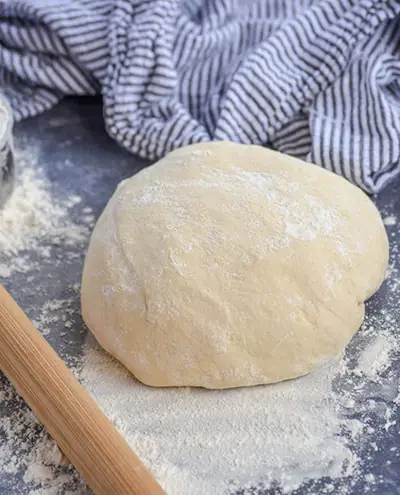 What happens is, the excess flour soaks up the water in the dough. The dough becomes hard before even baking it. When you bake, it turns out to be harder and you can barely chew it.
Not Greased Properly
Now greasing is important just as it's important to flour. But you need to know the balance between these two.
To eat a floured pizza, you've to grease the crust before baking. But if you do both the mistakes here, you won't be able to eat the pizza.
Because it'll turn out to be horribly hard. So you have to grease the pan and dough before baking. But don't grease it too much, otherwise, it'll make the pizza greasy.
Used Rolling Pin instead of Stretching
We've seen people using rolling pins instead of stretching by hand. It's the most common mistake people make. You should never use a rolling pin on pizza dough. Because rolling only spreads the dough like flatbread.
But the dough needs to be punched and stretched. So that it can be well combined and the dough is perfectly stretched. But rolling it will make the dough thinner. When you bake the thin crust, it becomes too crispy. 
OverBaked The Pizza
When you bake the pizza, you need to follow the exact time limit. Otherwise, you'll overbake it and it will become hard. Sometimes, the crust can be burnt totally.
You don't want to chew on a pizza that's overbaked and hard. So you might want to know how to soften hard pizza crust if you've made it hard. 
How to Soften Hard Pizza Crust?- 6 Alternate Ways
Well, softening a hard pizza crust can be hard. But know that you can not totally change the texture. But you can make it better. So here's what you can do.
But before that, check the table for an instant overview.
| | |
| --- | --- |
| Alternatives | Effectiveness  |
| Brushing water | Medium  |
| Brushing oil/milk | High |
| Reheat  | Medium |
| Watering  | Medium to high |
| Adding cheese  | Medium |
| Microwaving  | Medium |
Well, you know how effective which method is, but that's just a glimpse. Just see the details now.
Brush Water on The Crust 
After your crust is hard, you've to brush some water on your crust. But don't add water right after taking it out from the oven. 
Because then the pizza would be hot and soak up the water. So you have to wait for 3-5 minutes after baking the pizza. Then brush 1 coat of water on the pizza crust. Bake it for 10 seconds. You'll see the texture of the crust has smoothened a bit.
Brush Oil or Milk on The Crust
Now another thing you can do is brush some milk on the crust. Then bake it in the microwave for 20 seconds.
The milk will be soaked up by the crust. So the crust will be a bit soft than before. Or you can just brush oil on the crust and wait for 1 minute. And then microwave it for 20 seconds.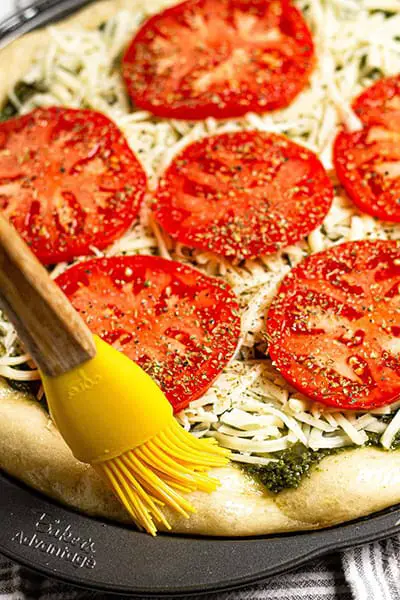 The oil will make the dough a bit greasy.  However, you can eat it without feeling the hardness. 
 So oiling is a good option to soften any sort of dough.
Reheat by Putting it Upside Down
There are times when we have leftover pizza. So then we need to reheat it. We all know how hard the texture becomes after reheating. Most of the time, it's because we can't stop food from drying out when reheating.
But here's how you can reheat leftover pizza. You can just flip the pizza and then microwave it.
This way, the maximum heat will be on the toppings. The crust will also be warm. So it won't be further hardened. 
Add Water to The Bottom of The Skillet
Another thing you can do is take 2 teaspoons of water for a small pizza (8-10 inches). And then add the water to a skillet. Now place the pizza on the water. Then warm it up on the stove. 
You can use low to medium heat to warm it up. When the water is gone, just take the pizza out of the skillet.
Add Cheese to The Hardened Parts
One fun way to soften hard pizza is by adding cheese to it. Cheese enhances pizza flavor. So just add about 10 grams of cheese on the parts that are hard to chew. 
Microwave for 10 seconds so that the cheese melts. The pizza will be soft.
But you'll need to add the perfect cheese to your pizza. Because not all sorts of cheese have the meltability that you need. So, here are  some you should look for:
Sargento Creamery Shredded 3 Cheese Mexican Natural Cheese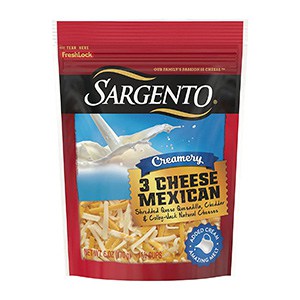 Amazon Brand – Happy Belly Shredded Queso Quesadilla Cheese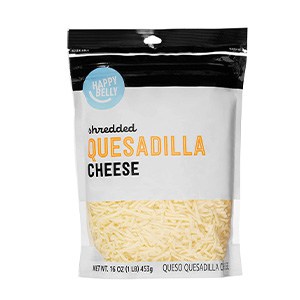 Once you get the cheese, follow the instructions we gave. This will lead to you having a soft pizza crust.
Microwave with A Glass of Water
Well, one thing you can do is, take a glass of water. Put your hard pizza and that glass together in the oven. Now microwave it for 30 seconds. That way, the pizza crust will soften a bit.
Because some of the moisture will be transferred to it. So that's how you soften hard pizza crust. We hope these were hacks worth learning for you.
FAQs 
Question: Can I eat harden leftover pizza?
Answer: Yes, you can definitely eat leftover pizza if it's hard. But then you can just sprinkle some water on the crust. And then microwave it for 20-30 seconds. After that, you can eat it.
Question: Can I put oil and herbs over the pizza crust and eat it without reheating?
Answer: Well, you can do that. But the thing is if you add herbs, you might want that flavor to be on your pizza. But without heating, the flavors won't enhance. And the oil would be raw. If you used olive oil then it's fine, otherwise no.
Question: Can I soften Roma pizza crust?
Answer: Well, it's almost impossible to soften Roma pizza crust. Because they're made to be crispy and cracker-like. But you can add a bit more water while making the dough. So that the crust won't be that crispy.
Endnote
Here we are at the end of this article. You got to know a lot about how to soften hard pizza crust.
You may have some other tips to soften your pizza. In that case, why don't you share the tips in the comment section?
Good luck!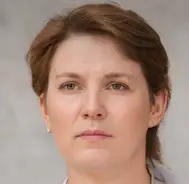 Latest posts by Leah Greenstein
(see all)