You want to eat Numero Uno Pizza at home. Hence, you're looking for its secret recipe. Then this article has the best Numero Uno Pizza recipe for you. So you can easily make it. 
By this, you can also avoid going out and spending money. Above all, let's recreate this delicious restaurant dish in the comfort of your home. This dish is intended for those who want to satisfy their pizza cravings without leaving their homes.
Deep-dish pizza is the most well-known type of Numero Uno Pizza. It's famous for its chunkiness and a thick coating of pizza toppings. Thus, it's distinguished by a larger layer of ingredients compared to its crust. We're going to make it by following some simple steps.
But don't worry, we've got the perfect recipe for you. So that you can easily process it. Now, let's jump into the segment.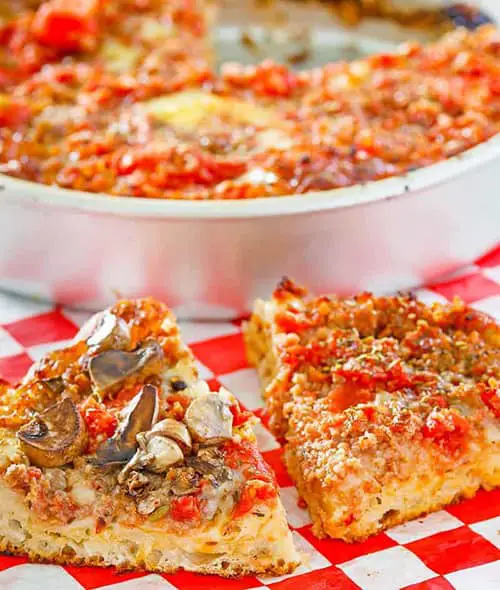 Difficulty Level: Easy
Serving Size: 12-inch pizza (4 person servings)
Required Time: Dough making 40 minutes + Baking time 30 minutes + Sauce  for 1 hour
Total Time: 2 hours 10 minutes 
Nutrition Facts: 
The entire amount of calories in the pizza is shown in the table below. 
| | | |
| --- | --- | --- |
| Serving  | Ingredient | Calories |
| ⅓ cup | Olive oil | 630 |
| 1⅛ teaspoons | Active dry yeast | 12 |
| 3 cups | All-purpose flour | 1,365 |
| 12 ounces | Sliced mozzarella cheese | 864 |
| ½ pound | Italian sausage | 785 |
| 15 ounces | Canned tomatoes | 136 |
| 1 teaspoon | Dried oregano crushed | 6 |
| 1 teaspoon | Dried basil crushed | 6 |
| ¼ cup | Grated Parmesan cheese | 108 |
| 4 ounces | Sliced mushrooms (optional) | 25 |
| 2 ounces | Chopped bell pepper (optional) | 12 |
Required Cookware
Springform pan/12-inch deep-dish pizza pan
Ingredient List:
⅓ cup of Olive oil
1⅛ tbsp of dry yeast
Water
3 cups of all-purpose flour
12 oz of sliced mozzarella cheese
½ pound of Italian sausage
15 oz canned tomatoes
1 tbsp dried oregano
1 tbsp dried basil
¼ cup of Grated Parmesan cheese
4 oz of sliced mushrooms (optional)
2 oz of chopped bell pepper (optional)
Step-By-Step Direction for  Making The Numero Pizza
The foundation of a Numero pizza is the crust, then the toppings. Now we'll walk you through the process of making Numero Uno pizza step by step. Simply follow our instructions, and you'll be fine.
Therefore, You've traveled a long way; just stick around for a little longer if you want the tastiest pizza.
Step 1 of 3: Preparing The Dough 
The dough is an essential part of a pizza. Furthermore, if you have a stand mixer, it is not difficult to create.
Bloom the yeast by placing it in a small bowl of warm water. And the water should start bubbling after a few minutes. If no changes occur, or if the water simply becomes cloudy, you require fresh yeast.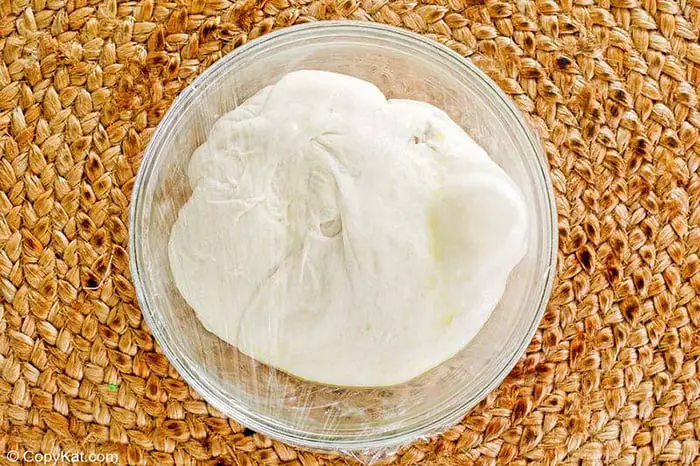 Hence, pour the yeast and water into the bowl of a stand mixer once it has bloomed. Use an electric mixer with a dough hook attachment for the best results.
Meanwhile, combine half of the flour with the remaining dough ingredients. To blend, mix on low for roughly 30 seconds. Turn off the mixer and scrape down the sides of the bowl.
When the ingredients begin to come together, gradually add the remaining flour. Increase the speed to high until all of the dough is gathered on the hook.
Next, remove the dough from the hook and turn off the mixer. And then, cover the mixing bowl with plastic wrap after lightly coating the dough ball with olive oil. Accordingly, put it in a warm place and wait until it's double in size.
Lastly, Punch down the dough lightly to release the air. In addition, before rolling out the dough, cover it and put it aside for 5 minutes. After that, transfer it to the greased pan.
Step 2 of 3: Assembly The Pizza
Firstly, cook sausage until browned and crumbly. 
Second, cover the pan and allow the dough to rise until about doubled. It's going to take about 30 minutes. After that, lay out the cheese slices in the thick layer of the dough. Spread the sausage on the dough.
Now, use your hands and gently crush tomatoes into small pieces. Then sprinkle oregano, basil, and Parmesan on top.
Step 3 of 3: Baking the Pizza 
Baking the pizza is the most crucial part. Therefore, place the pizza in the oven for 25 to 30 minutes at 500 degrees. Wait until the edges of the crust are crisp and golden brown.
Sliced mushrooms can be sprinkled on top of the pizza if desired. Similarly, use chopped green pepper in the final few minutes of baking.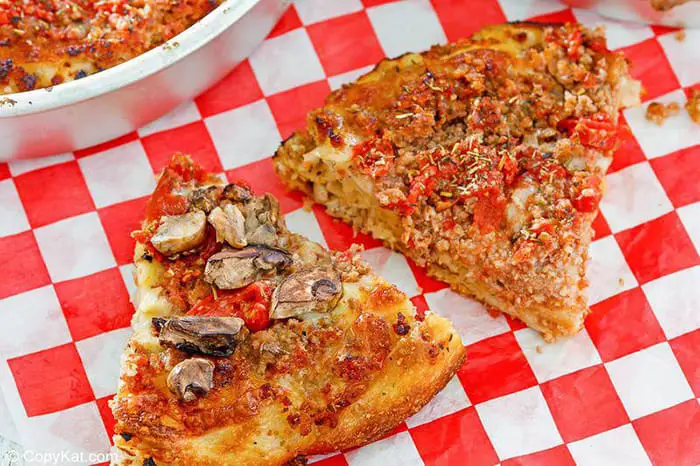 Furthermore, wait for 5 to 10 minutes before you slice it. Finally, your pizza is ready to eat. Now, enjoy your Numero Pizza with your friends and family at home.
Additional Tips for Making a Delicious Numero Uno Pizza
Here are some extra tips to make you understand better. Just keep these in mind as you go through the simple steps.
Is It Okay To Use Mozzarella Slices?
Don't use fresh mozzarella slices. You'll need low-moisture mozzarella blocks. And use at least two layers of cheese to cover the entire surface of the crust.
How to Refrigerate The Leftover Pizza? 
Refrigerate any leftovers overnight, covered. Reheat for 5 minutes over medium heat to enjoy its original taste. 
What Is The Number of Slices In A Large Deep Dish Pizza?
Keep in mind that the large deep dish is divided into ten slices and serves five adults. The 17-inch thin-crust pizza is split into a grid and includes 24 pieces. It also serves roughly five people.
We've come to the end of our journey. We hope you have found what you were searching for. If not, please let us know in the comments section.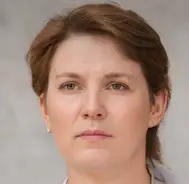 Latest posts by Leah Greenstein
(see all)