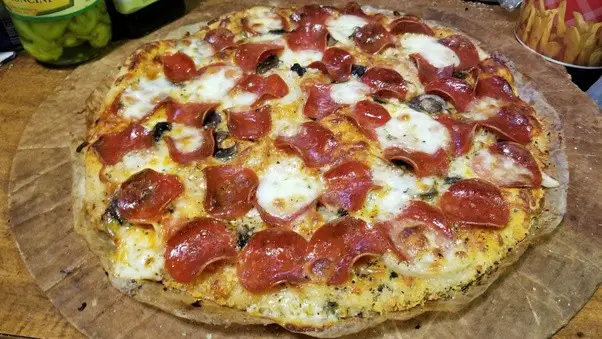 You can make pizza in different ways. You use a convection oven or a regular oven to bake the pizza. This way the taste and texture of the pizza vary. 
So, what are the dissimilarities between bake vs convection bake pizza? 
Firstly, the heat distribution in convection bake mode is even and perfect. However, with regular baking, the heat won't be distributed evenly. This is why it takes less time to make a pizza properly in convection bake mode. However, the ease level of a regular bake oven or setting is much easier. 
Now, this is only a little portion of the whole comparison. We've provided a detailed comparison between the two types of baking. 
Hence, we request you to keep reading! 
Difference between Convection Bake and Regular Bake Pizza 
There are different types of ovens available. Among these of course outdoor ovens like blackstone and roccbox are in demand.
But for indoor cooking-
Convection and regular ovens are quite popular when it comes to baking pizzas. Of course, there are differences between them. Because the settings in these two are different. This is what helps you choose the suitable option. 
So, how does convection bake differ from regular bake?
Well, we've prepared an easy table of info for you to understand that- 
| | | |
| --- | --- | --- |
| Aspects | Convection Bake | Regular Bake |
| Temperature  | Higher  | Normal  |
| Time to cook | Less  | More |
| Energy use | Less | More |
| Pizza quality & texture | Better but sometimes pizza can come out as dry  | Alright but sometimes pizza can be undercooked |
| Ease level  | A bit difficult | Easier |
So, there you go!
The basics have been provided. Are you sure about which type of baking mode you want for the pizza? 
We assume you haven't taken the decision yet. Well, it's understandable. Because the information isn't enough. 
Therefore, let's go through some more info, shall we? 
Overall Comparison between Convection Bake and Bake Pizza
Now, you have already gone through tits and bits of both convection and regular bake. But are you more curious about them in detail?
Well then let's carry on reading!
Heat Distribution 
To make the perfect pizza, you have to provide heat properly. So, which way can you get the best results?
The answer is convection bake. Because a convection oven comes with a fan that circulates air through the cavity of the oven. Therefore, air will be continually circulated. 
Because of this, the oven will let the pizza get even and consistent heat. Thus, the pizza will be perfectly baked.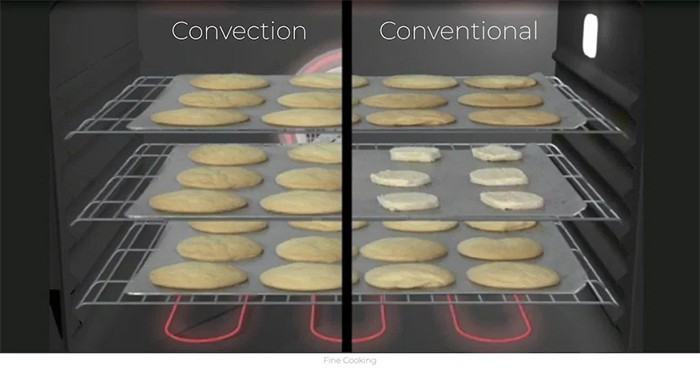 Now, with regular bake mode, this isn't possible. Because the heating elements on both the top and bottom of a conventional oven provide heat. Thus, the pizza that's placed on the middle rack won't be cooked properly. 
Plus there is no fan in this oven. Hence, the air can't flow throughout the cavity of this oven. Therefore, the air circulates passively. 
The pizza won't receive heat properly. So, you might not get well-baked pizza. 
Temperature & Time 
Now, the temperature in a convection setting ranges from 300°F to 550°F. Hence, the cheese will melt in no time with a brown appearance. Let us tell you, that'll taste cheesy and amazing. 
Furthermore, as you'll get more heat and that too evenly, the cooking time will shrink. You'll be able to cook the pizza within 5-8 minutes. 
But unfortunately, there's one downside to this. As you'll get more heat, the crust might get drier than you expect. It can be really difficult to soften the hard pizza crust. 
In reverse, regular bake mode can provide up to 500°F. However, it can get risky to bake the pizza at this temperature with this oven. 
Now, the regular bake setting isn't providing even and too much heat. Thus, the cooking time is more. You don't want to invest time while using the regular bake mode?
Well, then you'll be left with undercooked pizza, which no one wants. 
Texture and Quality of the Pizza 
Now, we all eagerly wait for a perfect pizza when it's inside the oven. Thus, if you take out your pizza after the long wait to find it isn't great, it's sad. 
So, which type of bake will provide you the best texture and quality?
Well, both are great on their own. For example, with a convection bake, you'll get a brown and roasted pizza. You can get a crispy crust as well.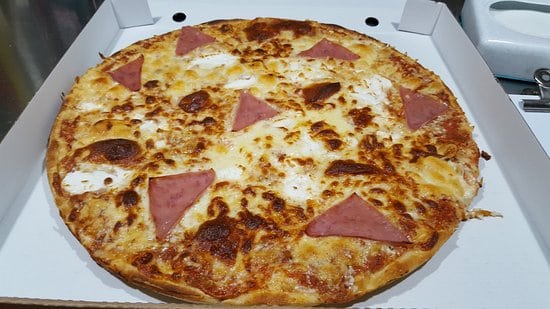 On the other side, regular baking won't really provide the browning of the cheese. But you can get the browning if you bake 5 minutes more than the actual time. 
However, there are some who don't really like the browning. Because they might think it tastes like the pizza has burned and turned hard. This is why some prefer the regular bake instead of convection bake.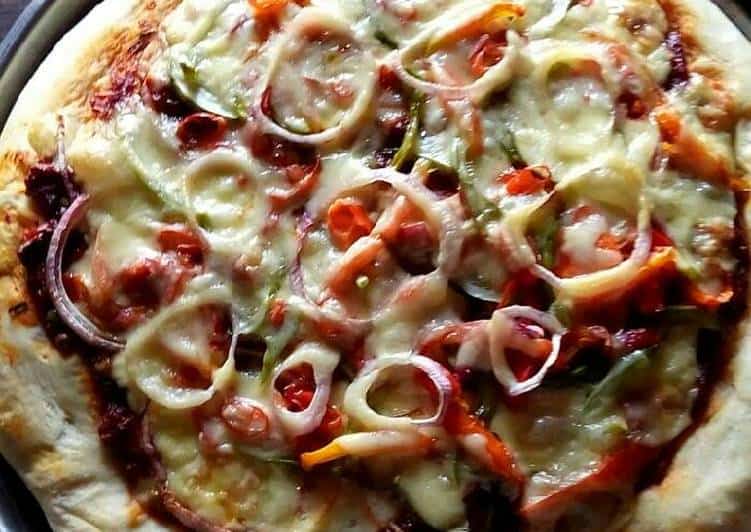 Ease of Baking Pizza 
Now, it's time to see which oven is easier to use.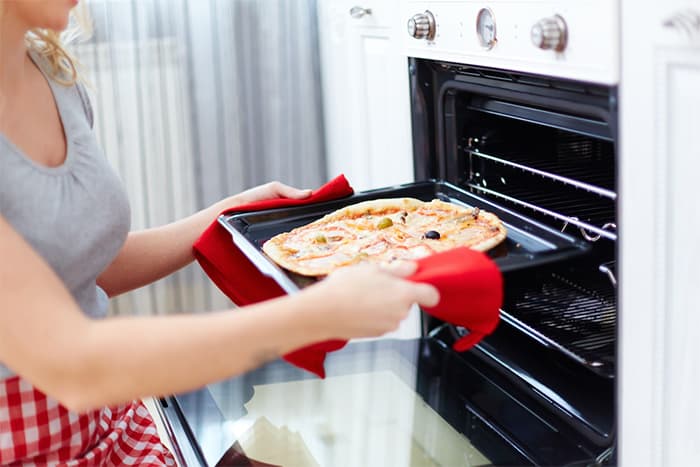 To be fair, with a convection oven it takes practice to cook food to perfection. Because with this oven the temperature is high and time is less. Therefore, some people might burn their pizza if they aren't experienced enough. 
Furthermore, there's a rule of thumb for making anything in a convection oven. That's done by reducing the heat or temp. You have to reduce the temp by 25°F and check for the doneness ¾ of the way through. This will help you get properly cooked pizza without burning it.
So, here's how you can use the convection oven to bake a pizza-
When you're done making the dough, you can directly put on toppings. Or you can lay the dough down on a pizza stone and put it inside your oven. 
Now, in both cases, you should place the oven at the bottom rack of the oven. This way it'll get better air circulation and even heat. 
So, place the pizza inside your oven. Set the temperature at 425°F. At this temp, your pizza will be cooked within 8-10 minutes. But if you want the pizza fast, you can increase the temperature to 450-500°F. This will help you make the pizza within 4-6 minutes. 
Then using a regular baking oven is pretty simple. You don't have to worry about high temperatures. So, you won't burn your pizza very often. But you might get an undercooked pizza. 
Thus, to avoid that, simply follow these instructions- 
Preheat the oven at 350-400°F. Prepare the pizza. Then use a pizza screen to lay the pizza down on something. By the way, some also use a pizza stone to bake the oven. According to them, the pizza gets more heat that way.
Don't have a pizza stone with you? Don't worry at all! We've mentioned some of our favorites just for you-
AUGOSTA Round Pizza Stone for Oven and Grill
GEEBOBO Pizza Stone for Oven and Grill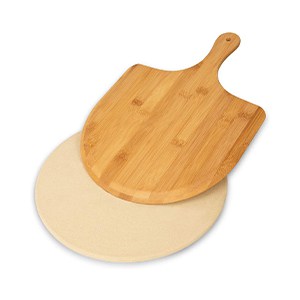 So, get one for yourself and start baking pizza properly!
Now, place the screen or stone with the pizza inside the regular kitchen oven. Bake your pizza at 350-400°F for 15-20 minutes. 
Don't forget to rotate the pizza halfway through. This is crucial because the heat distribution isn't even. 
By the way, you can use bake vs convection bake for frozen pizza as well. In this case, place the frozen pizza on the middle rack of your convection oven. Keep the temperature 400-425°F and bake for 10-15 minutes. 
As you can see, we aren't heating the pizza at a higher temp. Because frozen pizza is already dry enough. If you provide too much heat with less time the pizza can get drier. 
Lastly, in regular bake mode-
You can reheat the frozen pizza at 350 or 400°F for 15 or 20 minutes. Rotate the pizza when halftime is over and bake again.
Energy Use 
It's important to know how much energy is needed by the oven to operate properly. And in this category also, the two modes have differences. 
For example, as you know, convection bake takes less time. Hence, the energy used by the oven within that time period is less. And in a regular bake mode, more energy is used as the time is more. 
Furthermore, you don't have to preheat a convection oven at a higher heat. This also helps to save energy. So, if you want to save the environment and your energy cost, convection bake is the way to go. 
So, that's basically it! All the differences you needed to know! 
Final Verdict – Which Baking Technique Should You Use?
Now, have you decided in which way you want to bake your pizza? 
You haven't yet? Well, no worries! We will help you one last time. 
If you want restaurant-quality pizza within less time, convection bake is the way. But you'll need good practice with the oven. 
But if you don't have time for practicing right now, go for the regular bake. Because you can easily bake the pizza with the basic knowledge you have. But you might not have the tastiest pizza this way. 
Now, we hope you have understood which is right for you! By the way, don't forget to store the leftover pizza. If you don't do that, there's a high risk of the pizza going bad. 
Moreover, you should know eating rotten leftover pizza will make you sick. Thus, it's best to avoid spoiled pizza.
FAQs
Question: Can you bake pizza in convection?
Answer: Yup, you surely can. Convection is a great way to bake quality pizzas. Because the even heat distribution provides you with a perfect pizza. You just have to maintain the proper temp and time to bake the pizza.
Question: What should you not use a convection oven for?
Answer: Convection oven is great for making pizzas, no doubt about that. Because it provides high heat. But high heat is not welcomed for baking cakes. Because the cake will definitely come out as dry. Furthermore, this oven shouldn't be used for making souffle, custard, or quick bread as well. In the case of making desserts, a regular baking oven is far better. 
Question: Do convection ovens have different settings?
Answer: Yes, it does. With a convection oven, you'll get two settings. The first one is a lower fan speed setting. This is great if you're cooking a recipe that requires a longer time. Then higher fan speed is perfect for roasting. You can cook meat, pizza, veggies by using this setting. 
Final Words 
There you go! Everything on bake vs convection bake pizza. All this information will surely help you decide the right one for you. 
Also, if you want better quality pizza, you can always go for pizza ovens. These are specially built for baking pizzas. Hence, you'll surely get the best results. 
Anyway, good luck making your pizza! Goodbye for now!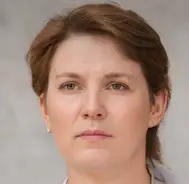 Latest posts by Leah Greenstein
(see all)