Franco Pepe is famous for making the most unique pizza base. The process of making their pizza dough is a bit different. Every step of the dough-making process has to be done manually. 
But remember, this perfect pizza base is worth all the hard work. 
Mastering the perfect pizza dough requires a lot of determination. The dough has to be kneaded to perfection for the best result. 
But don't be worried. We're sharing the best recipe to make Franco Pepe's pizza dough with you. So, you can enjoy Franco Pepe's Pizza at home anytime you want. 
Let's hop right into the dough recipe-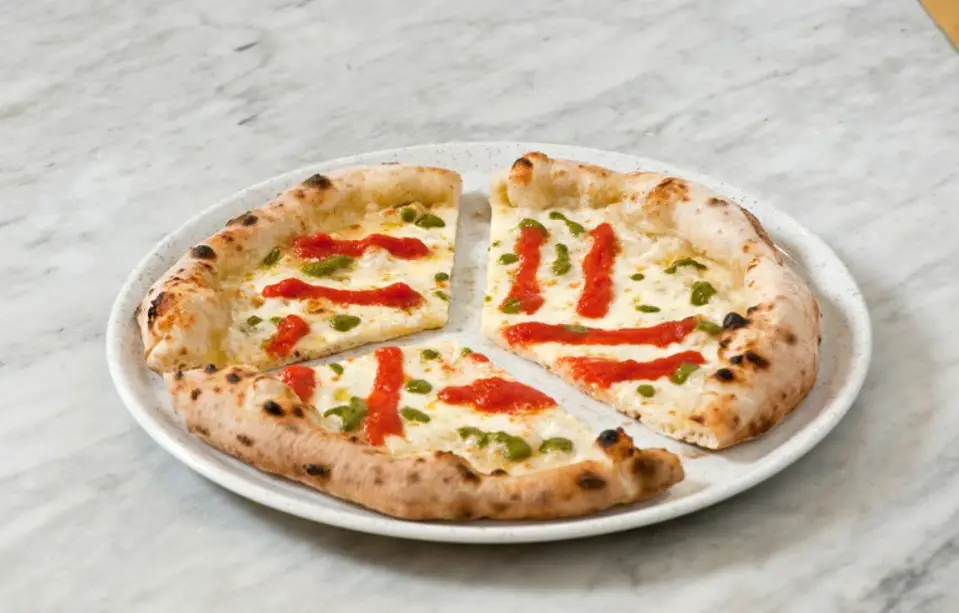 Level: Medium
Serving Portion: 12" pizza (4 slices per pizza)
Preparing Time: 9 hours
Making time: 20 minutes
Total time: 9 hours, 20 minutes
Nutritional Facts (Amount per serving) :
| | |
| --- | --- |
| Calories | 31 |
| Protein | 2g |
| Carbohydrates | 6g |
| Dietary Fiber | 1g |
| Sugars | 4.4g |
| Calcium | 43mg |
| Potassium | 662.5mg |
| Iron | 1.6mg |
Ingredient List
800 grams (6 cups) "00" flour
500 ml (2 cups) water
4 teaspoons salt
2.5 grams dry yeast) 
15 grams (1 tablespoon) sourdough starter
Step-by-Step Instruction For Franco Pepe's Pizza Dough
Pay attention to details and get the reward of the finest dough. Do not skip any step and take your time. Now let's look at Franco Pepe's pizza dough recipe.
Step 1: Dissolve the Yeast 
First, take ½ cup of lukewarm water in a measuring cup. The temperature should be between 98-105 degrees Fahrenheit.
Combine the dry yeast with lukewarm water and mix it properly. Now, wait for five minutes to let the yeast dissolve. 
You'll notice bubbles and a layer of froth on the top.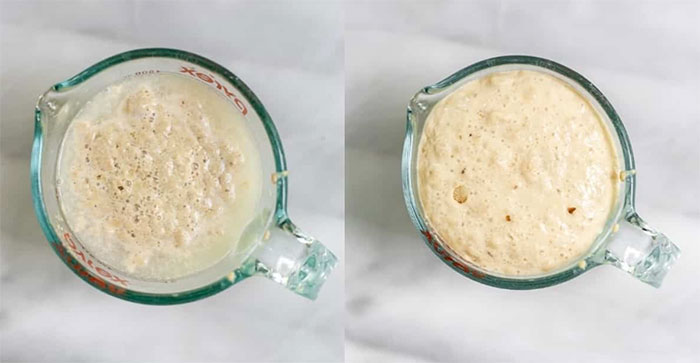 Step 2: Combine All the Ingredients
Take a large bowl. Put about 400 grams of flour in it. Add salt mixed water and combine everything using your hands. Add the remaining flour with one hand while mixing with the other hand.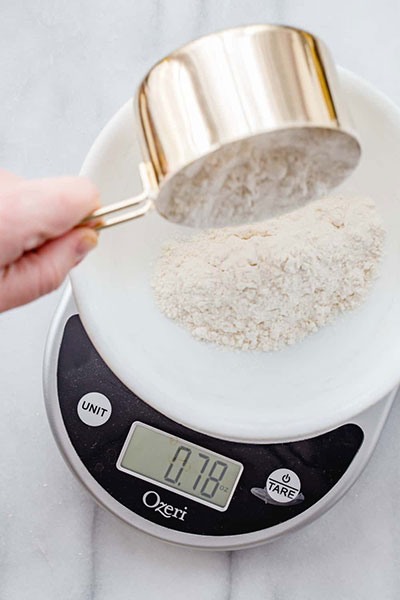 Gradually add the yeast mixture into the flour mixture. At last, add the sourdough starter and mix. Mix everything with patience until it forms a smooth texture and dough-like consistency.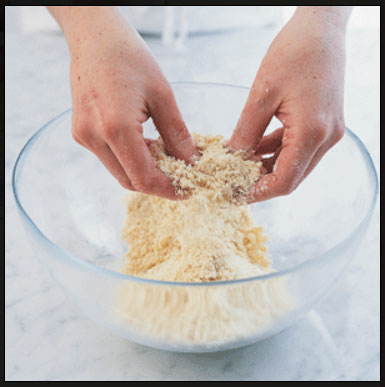 Step 3: Start Kneading the Dough
Sprinkle some flour on a plain and clean surface. Put the dough on the flour-dusted surface. Put a little amount of flour on the top of the dough. 
It's time to knead the entire mixture for about 15 minutes. Keep kneading using both of your hands. Continue until you get a smooth, fluffy, and consistent dough.
Put the dough in a large bowl and cover it with a thin cotton towel. Now leave it to rest and rise for 5-6 hours at room temperature.
Step 4: Knead Again and Shape the Dough
Now, remove the towel and take the dough out of the bowl. Put it on a plain surface. Cut the large dough ball into 6-7 small dough balls.  Take 250g portions of dough for each small ball. 
While shaping, pull into the center. Pull the dough following the technique used in making a mozzarella ball.
smooth, and not sticky at all. It will have elastic-like consistency. 
Finally, they are ready to be shaped into bases.
Flatten out the dough using your hands and make it thin. Don't tear or keep any holes in the dough. Give the dough ball a circular shape of about 12" in diameter.
Now you can add the toppings and bake your pizza.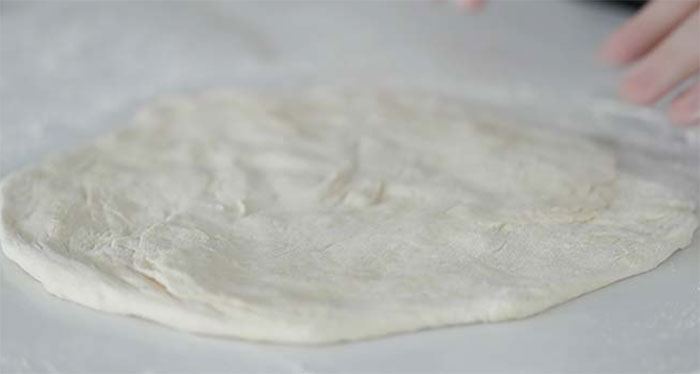 Extra Tips- 
Following the instructions will result in the best dough you've ever made. You can still have more queries that need to be resolved. So, we have some useful tips and tricks to guide you-
How to Fix a Stiff Dough?
To fix a stiff or tough dough add ¼ cup of water while kneading it. Always balance the water and flour ratio in the dough. It should have a sticky texture but it will not completely stick to your hands or the surface. If the dough is too tough, we suggest making another batch of dough. Or as the crust will have a biscuit-like texture. 
How to Prevent Leftover Dough from Collapsing?
Always use boxes with tight lids to store the dough in freezers. Before using, keep the dough outside at normal temperature. Give it time to soften up. If you store the dough balls in the freezer, place them in the refrigerator for 12 hours. That's how you can save your dough from collapsing.
Can We Make Sourdough Starter with Leftover Pizza Dough?
You can make pizza buns if you have any leftover dough. And yes, you can use the leftover dough to make a sourdough starter with it. To make sourdough, put the leftover dough in a covered jar. Leave it at room temperature for 5-6 days. Your sourdough starter is ready.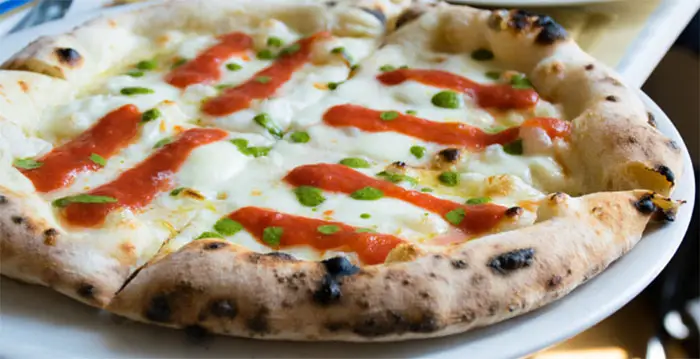 Don't give up on your first attempt if you are a beginner. The instruction will be very helpful if you follow it properly. Now knead the dough and reward yourself with the best pizza crust ever!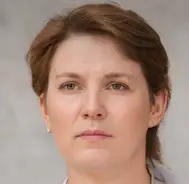 Latest posts by Leah Greenstein
(see all)