Pizza isn't complete without a great pizza sauce. This simple yet essential part of pizza bonds all the flavors of a pizza. 
Grimaldi's pizza sauce is made of common simple ingredients. It is a timeless classic tomato sauce for pizzas. The San Marzano tomatoes in this sauce make it different from the other ones. 
Want to try it out? We have the perfect recipe for this pizza sauce. So, let's make the best pizza sauce at home.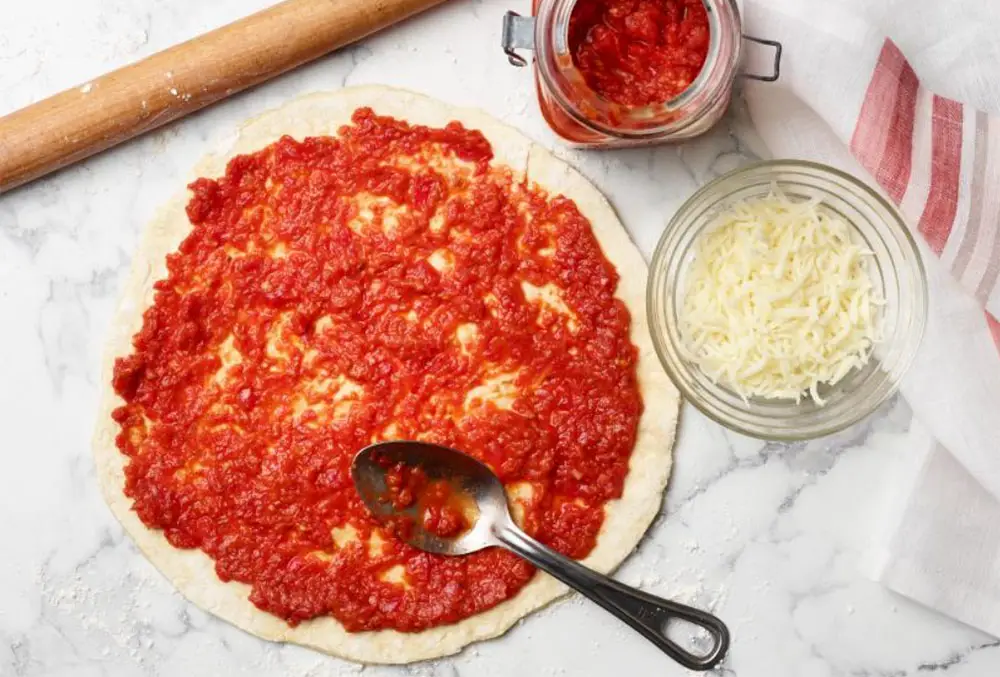 Difficulty Level: Easy
Serving Size: 16'' pizza (6 slices) 
Prep Time: 10 minutes
Cooking Time: 1 hour
Total Time: 1 hour, 10 minutes
Nutrition Facts (Amount per serving) : 
| | |
| --- | --- |
| Calories | 240.4 |
| Calories from Fat | 127g |
| Total Fat | 14.2g |
| Saturated Fat | 2g |
| Cholesterol | 0mg |
| Sodium | 1843.8mg |
| Total Carbohydrates | 28.4g |
| Dietary Fiber | 6g |
| Sugars | 18.5g |
| Protein | 5.5g |
Ingredient List
1 tablespoon olive oil
1 tablespoon unsalted butter
2 garlic cloves, grated (minced)
1 tablespoon dried oregano
½ tablespoon sea salt
28oz (794g) tinned, whole, peeled San Marzano tomatoes
2 stems fresh basil with leaves on
1 tablespoon onion powder
1 tablespoon sugar
Step-By-Step Direction for Making Grimaldi's Pizza Sauce 
Get ready to make the best pizza sauce. Follow the steps and you'll get your desired result. It may take some time to nail this pizza sauce. 
However, if you're careful enough, you won't fail for sure. So let's start making our favorite pizza sauce-
Step 1: Mix The Ingredients 
Take a large bowl and add your canned tomatoes.  Crush and break them up a little using a spoon. 
Add basil stems, onion powder, and sugar to the bowl. Combine them fully with a wooden spoon.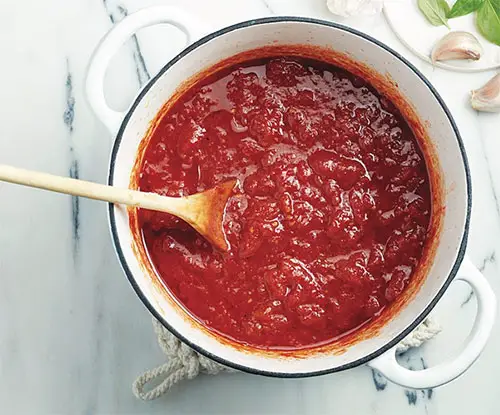 Step 2: Sauté The Garlic 
Now, take a saucepan and heat it just over medium-high. Put butter with the olive oil in the saucepan and stir until you melt the butter.
After melting the butter completely, first, add some salt. Then keep adding garlic, and dried oregano. Stir for about 2 minutes. 
The garlic will start to soften and release its flavors. Once you get a nice fragrance, remove the pan.
Make sure you don't overheat and burn your pan. Overheating will spoil the flavor completely.
Step 3: Simmer the Sauce
In this step, transfer all the mixed ingredients to the saucepan. Stir everything nicely in low heat.
Simmer the sauce at low flame for 45 minutes to 1 hour. The sauce should change its density and have a dark red color. Keep stirring now and then to prevent it from burning.
Check the consistency of the sauce. Dip a wooden spoon in your pizza sauce. If the sauce sticks to the spoon and does not drip, it's perfect.
If the sauce is too runny, simmer it for 10 more minutes. If the sauce doesn't stick to the spoon, it means it's too dry. In this case, add ½ cup warm water and stir to fix the consistency.
Step 4: Serve The Pizza Sauce
Your delicious pizza sauce is ready now.
Let the red sauce cool down completely at room temperature. After an hour when the sauce is cold, transfer it to a bowl.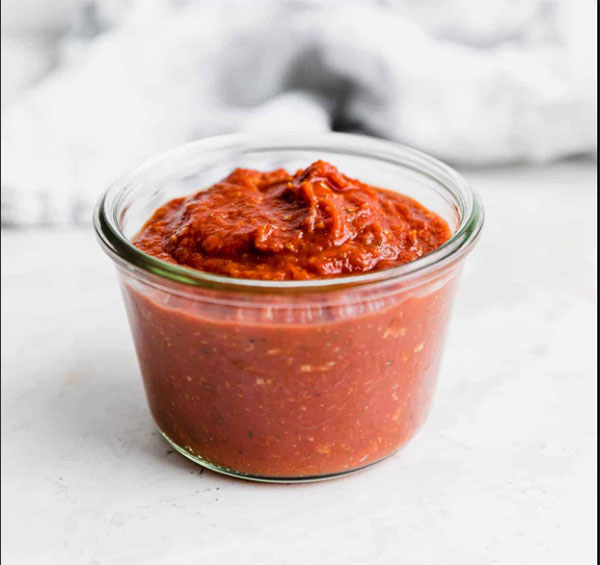 Now spread this delicious pizza sauce on your pizza crust and put your favorite toppings. Bake it and enjoy the taste of your homemade delicacy.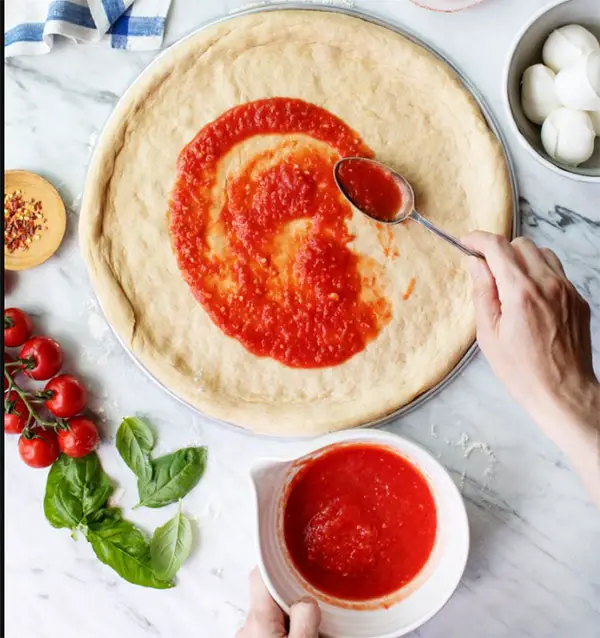 Extra Tips
Follow the instructions and don't skip any step or ingredient. You will be able to make the perfect pizza sauce in no time. However, if you still have further queries, check out these helpful tips.
How Can You Store Pizza Sauce?
Pour the sauce into glass jars. Make sure the jar is air-tight. Mix 1 tablespoon vinegar to prevent it from going bad. Keep the pizza sauce in the refrigerator for up to 6 days. You can also put the sauce in a plastic air-tight container and freeze it. This way, you can preserve it for 1 month.
How to Make Pizza Sauce More Flavorful?
You can make your pizza sauce taste better by adding more ingredients. To make it hot, you can add 1 tablespoon red chili paste to the sauce. Also, add ½ cup grated Parmesan and ½ cup cheddar cheese for a yummy creamy taste. 
Where Else Can We Use Pizza Sauce?
Pizza sauce can be served with different fried spicy snacks. Like- fries, chips, nachos, and many more items. Also, pasta and pizza sauces are quite similar in taste. Pizza sauce is thick and rich. But, it's okay to use it in pasta and spaghetti. 
This pizza sauce will upgrade the taste of homemade pizza like magic. Now make your pizza crowd favorite on every occasion with this recipe.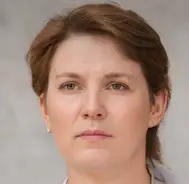 Latest posts by Leah Greenstein
(see all)