Who doesn't love pizza? More so if it's Numero Uno's special. But, as we all know, enjoying Numero Uno's pizzas isn't always doable. There are times when your cravings hit you in the middle of the night but the store doesn't align with that timing. 
You can be your savior in times like that by making numero uno pizza dough at home. 
Yup, you heard me right. You can make this delicious pizza dough at home all by yourself! It's simple to make and will give your pizza the perfect crust. However, there are a few steps that must be followed in order to achieve the desired result.
Difficulty Level: Medium
Serving Size: 8-inch pizza
Prep Time: 20 minutes 
Yeast Rising Time: 10 minutes 
Dough Rising Time: 40-60 minutes + 15-20 dough minutes rising time
Total Time: 1 hr 50 minutes (max)
Nutritional Facts: (serving size of 25 g crust)
| | |
| --- | --- |
| Calories | 210 |
| Total fat | 9g |
| Saturated fat | 1.5g |
| Carbohydrate | 28g |
| Protein | 4g |
Ingredient List
1 cup warm water (110 to 115 degrees)
1/4 ounce active dry yeast
1 teaspoon salt
1/4 cup corn oil
1/2 cup coarse-ground cornmeal
3 1/2 cups flour
1 tablespoon olive oil for pan oiling
Required Cookware
Large mixing bowl
Saran wrap
Step-By-Step Direction To Make Numero Uno Pizza Dough
Making pizza dough is less about mixing and more about kneading. Thus, you must be prepared to put your hands to work. So pull up your sleeves, get your ingredients and follow these steps. –
Step 1: Prepare Yeast Mixture
To make your pizza bread airy, you'll need good yeast. Make sure the yeast you're using is still alive. Your dough will not rise correctly if it isn't.
To begin, pour the yeast mixture into a large mixing bowl. Pour warm water over the yeast. Sometimes your bowl is too big for the yeast to submerge completely. In that case, keep it tilted to one side. That way the yeast will nicely submerge in warm water.
Place the bowl near the stove if you can't keep the water heated. Allow settling for a few minutes until bubbles appear. It's now time to go to the next phase.
Step 2: Mix Ingredients And Knead
Once the yeast is ready, mix in the dry ingredients. Combine 1 cup flour, cornmeal, salt, and corn oil in a mixing bowl. Then mix the ingredients. Start kneading the bread. 
While kneading, gradually add the rest of the flour. Keep kneading the dough till you notice that the dough doesn't stick to the side. 
Once it reaches that state, make the dough into a round shape. Put some flour in your hands to make the process easier.
Step 3: Let The Dough Rise
Take a large bowl and oil its surface. Then, in the oiled bowl, place the rounded dough. Lightly brush the dough surface with some oil too. Then wrap a saran wrap around the bowl. Area the bowl in a warm place for 40 to 60 minutes. This is required for the dough to rise properly.
After the required time, take off the saran wrap. The dough has doubled in size, as you can see. To bring it into form, punch it down. Knead it a couple of times more. After that,  your dough is ready to be used in the pizza pan. 
However, once you place the dough in the pan, let it rise for 15-20 minutes, Then you can add sauce or toppings.
Common Concerns while Making Numero Uno Pizza Dough
Our recipe should be enough to help you get the perfect pizza dough. But you may have a few queries or concerns. We addressed the most common ones below. Check them out if you have the same concerns. 
Does Olive Oil Make Pizza Dough Crispy?
Yes, it does. To do so, drizzle a little extra virgin olive oil over the edge of the dough. After gently sliding the peel in the oven, slide the pizza onto the stone or baking sheet.
Why Is My Pizza Dough Soggy In The Middle?
The heat of your oven is the most common cause of a soggy or undercooked pizza. Check to see if your oven has reached the correct temperature. If you still cook your pizza in it, it won't be cooked properly.
Should I Poke Holes In Pizza Dough?
Poking holes in the pizza dough avoid the formation of bubbles as it cooks. Poke holes in your dough crust with a fork. Then pre-cook the dough crust for 7-9 minutes at 475 degrees. This will prevent bubbles from forming in the crust.
You now know how to make the ideal pizza dough. So you can meet your pizza cravings for a party or late at night.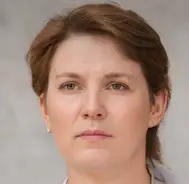 Latest posts by Leah Greenstein
(see all)