Donatos is famous for having 100 pepperoni toppings on one pizza. However, they are very uptight about keeping their recipe a secret. It has stayed that way for a long time.
That is, up until now. We've been able to remake this pizza exactly like Donatos. 
Without any further ado, let's dig right into the recipe.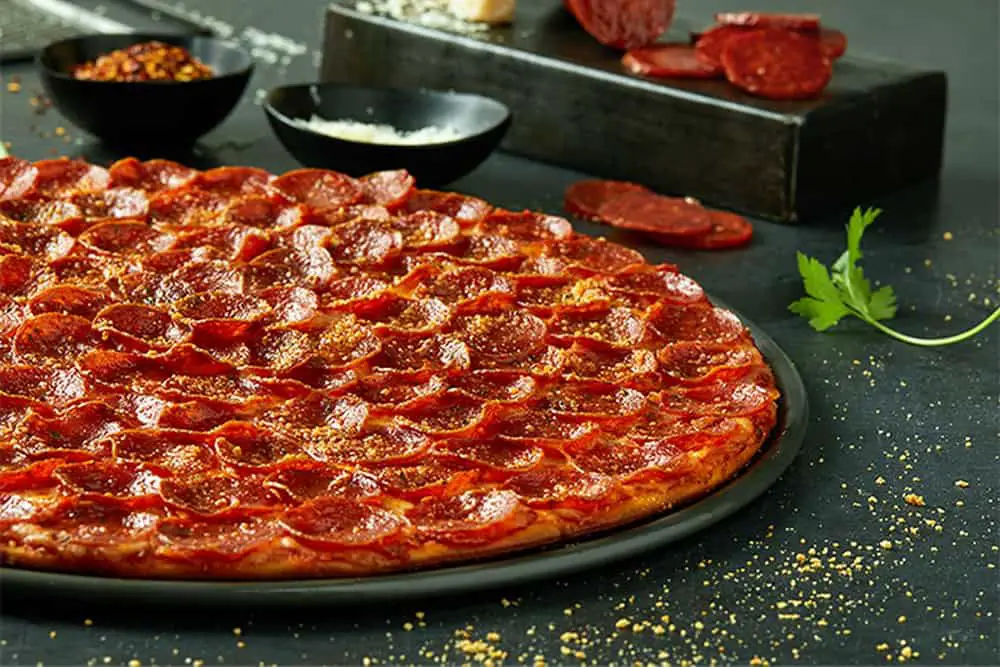 Difficulty Level: Easy
Servings: 4-8 servings.
Required Time: 
Preparation Time: 1 hour 50 minutes
Banking Time: 15-20 mins
Total Time: 2 hours 10 minutes
Nutritional Facts:
313 calories per slice
Necessary Equipment
You're going to need some special kitchenware for baking a pizza. They are:
A Kitchen Scale that can measure ounces
A perforated Aluminum pan
Baking stone (optional)
Pizza cutter
Ingredient List
1 teaspoon Yeast
13.67 oz Flour
6.88 oz Water
2.12 oz Egg (1 whole egg)
1 tsp active dry yeast
1.94 teaspoon salt
0.69 oz Oil
1.61 teaspoon Sugar
8 oz of the Donatos sauce
7.68 oz of mozzarella or provolone cheese
4.8 oz of pepperoni
Step-by-Step Preparation of the Donatos Pepperoni Pizza
Have you prepared all your tools? Are you ready to make this mouthwatering 100 pepperoni topped pizza? Let's begin then-
Step 1: Preparing the Dough
Start by preparing the dough. Take the yeast and put it in a bowl. Then pour 2 oz of water in there. Take a pinch of sugar and add it. Now stir it so there are no clusters. 
Take the flour and pour it into a different bowl. Add salt and sugar to it. Mix them well.
Now set aside the egg and oil in different containers. 
Check if the yeast water has turned foamy. If it didn't, then wait for 5 minutes. Then you can move on to the next step even if it doesn't turn foamy. 
But you should be aware though. If your pizza doesn't show any sign of fermentation, it means the yeast is dead. You're gonna have to buy new yeast then.
Now add all the ingredients to the yeast bowl. Mix them until all the ingredients have mixed properly and turned into dough. 
Divide the dough into two parts and make them ball-like. Put them in a bowl and cover them up. Now keep them at room temperature for an hour.
Step 2: Flattening the Dough
Take one dough ball and flatten it out. Use a rolling pin to make it slightly larger than 14" in diameter. Don't use too much flour and keep it as circular as you can.
When you've made it larger than 14", put the perforated pan on top of the dough. The pan is 14" so you'll understand if your dough is 14" or not. 
Now trim the extra skin off of the dough. You can add those extra skin to the other dough ball.
Now roll the skin lightly on the pan until it's slightly larger (maybe half an inch). It needs to be slightly larger because the dough will shrink.
If you're going to make only one pizza, flatten out the other dough. Then keep it in the refrigerator.
Now use a non-stick spray on the pan and place the dough. Use the non-stick spray on top of the dough as well. Keep it at room temperature for at least 30 minutes. 
Step 3: Preparing the Pizza
Before you start preparing the pizza, preheat the oven for 30 minutes. Begin preparing once preheating is done.
Pour 8 oz of sauce on the dough. Don't use any spoon or spreader to spread the sauce around. Instead, use the force of gravity and tilt it around. That is the way of Donatos.
Let the sauce cover the entire skin of the dough from edge to edge. Then you can move on to applying cheese. Add mozzarella or provolone cheese. Cover the whole skin of the dough.
Take the pepperoni stick and slice it up into 100 pieces. Then place them circularly from the edge to the center. You can even buy sliced-up pepperonis.
Mix oregano and romano cheese and sprinkle on them just before putting the pizza in the oven. The ideal ratio is 20% oregano and 80% romano cheese.
Set the temperature at 500 degrees F and bake for 15-20 mins. The toppings and the cheese should be done by then. But if the crust isn't done, take it off the pan. And lay the pizza on the stone for a minute or two. 
Once done, use a peel to take your pizza out of the oven.
Extra Tips to Ensuring the Best Donatos Pizza Experience
Now you know how to make the Donatos Pepperoni Pizza. But, you might still have some questions left. We've answered some of the most common questions below.
How to Slice the Pizza?
Donatos slice their pepperoni pizza by a 5×2 cut. Resulting in 18 pieces. You can also do a 4×2 cut resulting in 15 pieces. But you can cut it up in 8-12 slices.
Can I Turn it into a Low-Carb Pizza?
Yes, you can. But you have to change up some ingredients. You could use almond flour and 1 tablespoon of psyllium husk powder. Also, use Rao's Tomato Sauce instead of any other sauce.
What Pepperoni Does Donatos Use?
It is still unclear which pepperoni brand they use. But you can try using the Ezzo GiAntonio to get the closest flavor.
Now you can savor your favorite Donatos pizza whenever you want. That too, right at your home. Be sure to let us know in the comments about how your pizza turned out.