Pizza is one of the most popular dishes. We never say no to it. However, the dough is a crucial part of this dish. This is what makes the variation of its taste! 
The dough may seem quite complicated to prepare. However, it's mandatory for a pizza! But the thing is, this is easier to prepare than you thought! 
And today we've got the Di Fara pizza dough recipe for you in a simplified form.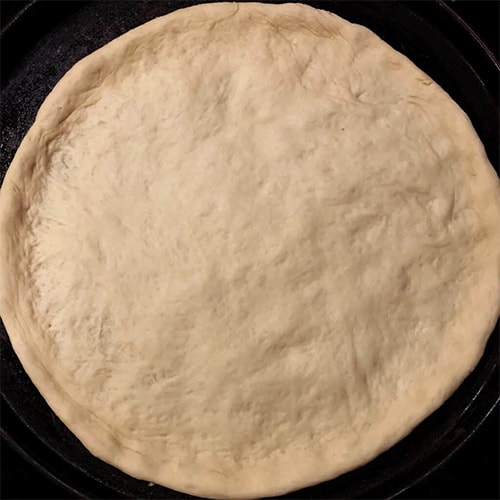 Level: Easy
Yield: 1 serving 
Preparing Time: 20 minutes
Cooking Time: 20 minutes
Rising Time: 1 hour
Total Time: 1 hour 40 minutes
Nutritional Facts
| | |
| --- | --- |
| Calories | 113 kcal |
| Fat | 3 g |
| Carbohydrates | 19 g |
| Protein | 3 g |
| Saturated Fat | 1 g |
| Potassium | 0.032 g |
| Fiber | 1 g |
| Sodium | 0.146 g |
| Calcium | 0.004 g |
| Iron | 0.001 g |
| Sugar | 1 g |
Ingredients to Use
3 tablespoons of buttermilk
2 to 2 ⅓ cups of all-purpose flour. Bread flour can be the alternative (250-295g)
¾ cup of warm water which is about 175ml.
¾ teaspoon of salt
1 ½ teaspoon of sugar
1 packet instant yeast (2 ¼ teaspoons)
2 Tablespoons of olive oil. 
⅛ to ¼ teaspoon of garlic powder. Dried basil leaves are an alternative.
2 tablespoons of parmesan cheese
Step by Step Directions to Prepare The Dough
We're hoping to have all of the ingredients for the dough on hand. It's now time to move on to the next section. That's how you make the dough. Thus, without any further due, let's hop into the directions given for the recipe!
Direction 1: Putting The Ingredients Altogether
Take a large mixing bowl. Now, combine 1 cup of sugar, flour, instant yeast, and salt in that. After that, put the buttermilk into the mixture. This gives a different flavor to your crust. Moreover, it strengthens the dough. 
Then add garlic powder and dried basil. Remember that adding garlic powder and dried basil isn't mandatory. Stir in the olive oil and warm water with a wooden spoon until well combined. Gradually add another cup of flour.
Mix until the dough comes together into a cohesive, elastic ball. Then start pulling the dough away from the basin's sides. The dough, however, will be a touch sticky. However, you can still control it with your hands.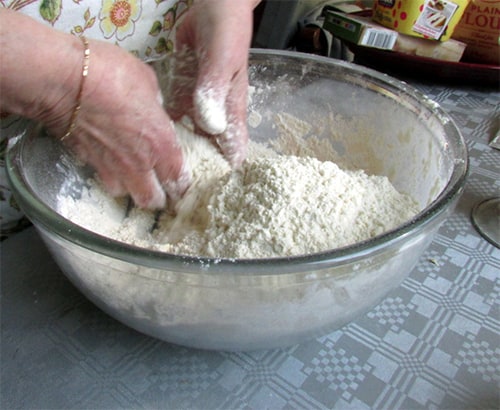 Direction 2: Making Up The Dough
In a separate, large, clean bowl, pour a significant amount of olive oil. Brush the oil down the bowl's edges using a pastry brush now. After that, lightly coat your hands with flour and roll the pizza dough into a spherical ball.
Place it in a bowl that has been brushed with olive oil. Then using your hands, roll out the pizza dough. The bowl should then be wrapped with plastic wrap. Place it in a warm place now.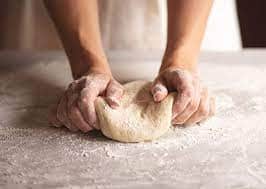 Direction 3: Shaping The Dough
Deflate the dough with your hands once it has risen. Then knead the dough for a few minutes until it is smooth. It could take around 5 minutes. You can now shape the dough into a precise square or round shape. 
You can do this with your hands or with a rolling pin. Place the dough on a pizza pan lined with parchment paper. Then, to make a crust, press or fold the edges together. Drizzle roughly a tablespoon of extra virgin olive oil over the top of the pizza.
Then, using your pastry brush, coat the dough in olive oil. You're not done yet. Because you will conclude the recipe by putting on the Parmesan cheese. You may use a brush or a spoon to brush the dough with this cheese. 
You're just going to love the smell that this cheese would produce!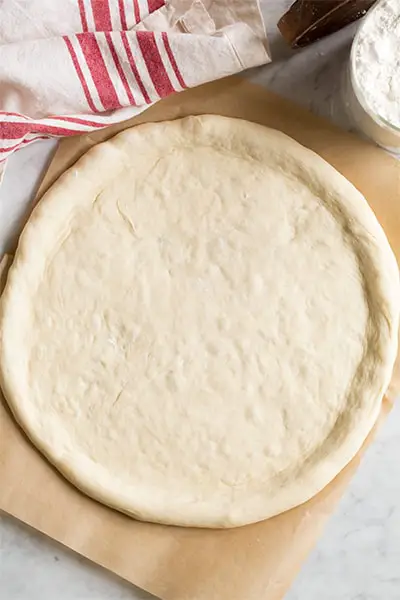 Finally, your perfect dough is ready! But now comes the main secret of Di Fara pizza. Because the secret they maintain is the toppings they use for their pizzas! They use the freshest ingredients all the time. 
Moreover, they use bufala mozzarella, basil, and oregano from Israel, flour from Italy. Additionally, they don't use the local tomatoes but tomatoes from Salerno. Finally, with the dough and all of the toppings, you can make your own pizza!
Important Tips
Although we've come across the recipe, we still need some important tips. So, some of them are provided below.
Should I Stretch Out Or Roll The Dough?
You should stretch out the dough. You should never use a rolling pin to stretch pizza dough. Because it expels all of the gas, the texture becomes solid and compact. Flour both sides of the proofed and rounded pizza dough. Instead of forcing the dough to stretch, let it do so naturally.
Is This Dough Vegan Friendly?
Well, this dough is vegan-friendly. Moreover, vegans can enjoy the pizza entirely. However, it also depends on the toppings that are used. To keep it vegan friendly, you must not add any ingredients like meat, butter, or cheese. 
So, this is all about the recipe for this fresh and tasty dough. We hope our recipe was quite helpful to you. Don't forget to try out the recipe provided by us.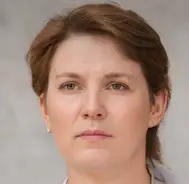 Latest posts by Leah Greenstein
(see all)