Avocado chicken salad is a quick and easy lunch option during the summer. Although, chopped apples are an unexpected element in this chicken salad. The apple adds tartness, sweetness, and crunch to the chicken salad, completing the flavor profile.
So you see, this dish has a satisfying taste! Though, we do commonly use mayo in chicken salad recipes. But you will never miss it here!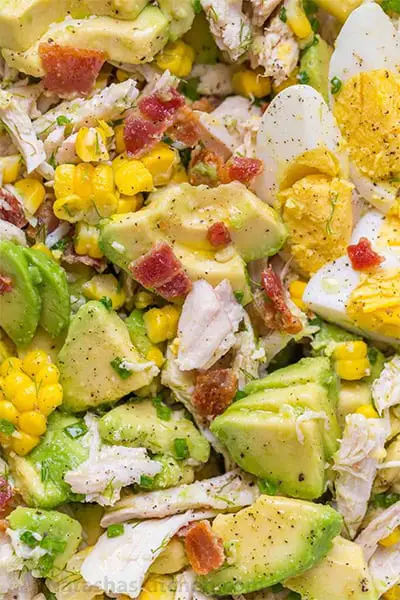 Servings: 2
Time For Preparation: 10 minutes
Time For Cooking: 5 minutes
Total Time: 15 minutes
Nutrition Facts
| | |
| --- | --- |
| Calories | 324 |
| Fat | 20g |
| Saturated Fat | 3g |
| Cholesterol | 48mg |
| Sodium | 1002mg |
| Potassium | 535mg |
| Carbohydrates | 11g |
| Fiber | 5g |
| Sugar | 1g |
| Protein | 25g |
| Vitamin C | 12mg |
| Calcium | 17mg |
| Iron | 1.1mg |
Ingredient List
1 cup of cooked chicken, finely chopped
1 ripe avocado, seeded and peeled 
1 peeled apple, finely cored and chopped
¼ cup of celery, finely chopped
¼ cup of red onion, chopped finely 
2 tablespoons of parsley or cilantro, finely chopped 
1 tablespoon of lemon juice or 2 teaspoons of lime juice  
½ teaspoon of kosher salt
Pinch of black pepper, freshly ground
Salad greens or sandwich bread
Instructions to Prepare The Salad
Well, there might be various instructions and directions for this recipe. But we've broken them down into two very simple methods. For your betterment, the methods have been stated below.
Step 1: Putting The Ingredients Altogether
In a medium mixing bowl, combine the chicken, apple, avocado, red onion, and celery. Mash the avocado gently with a fork. Now, whisk everything together to ensure that everything is evenly distributed.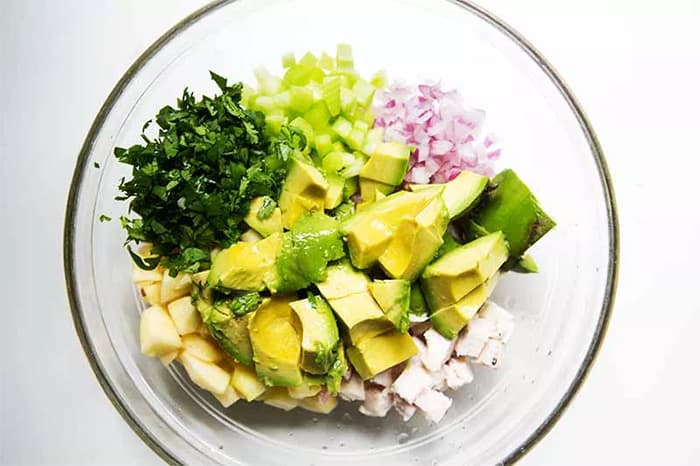 Step 2: Mixing The Ingredients 
Toss the cilantro, lime, or lemon juice, parsley, pepper, and salt in a mixing bowl. To taste, add additional lime juice or salt. You may find the mixture too dry. In that case, add one or two teaspoons of olive oil to let it not dry.
Place the chicken salad in a bowl and cover thoroughly with plastic wrap. You need to do it so that no part of it is exposed to air. Now, you can store it in the refrigerator for a few days.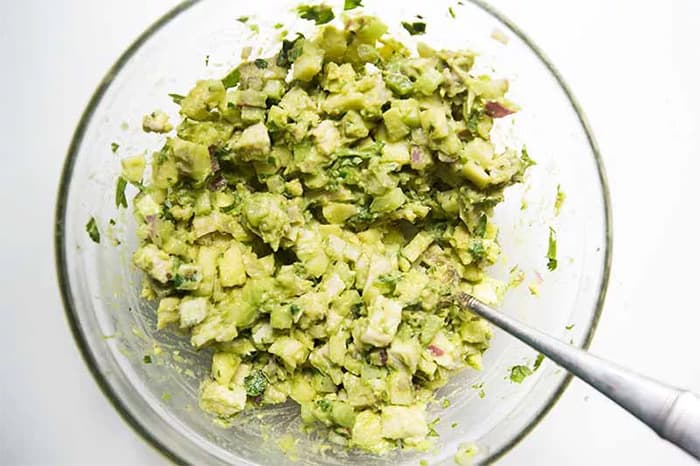 Finally, your avocado chicken salad is ready! Now, you can serve it on toasted bread, sandwich bread, or salad greens. Enjoy the salad!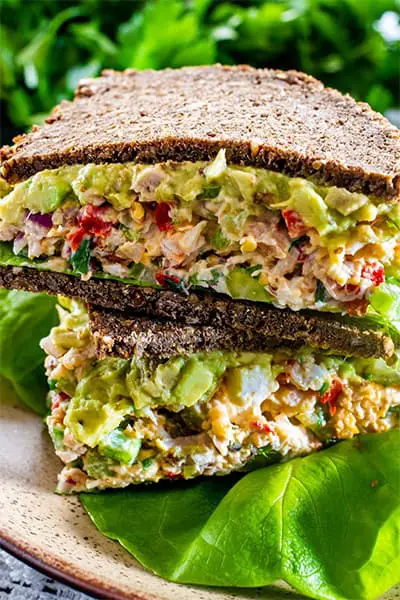 A Few Tips You Might Want To Know
Although the recipe has been given, you still might need some tips. So, some of the necessary tips have been shared below.
How Long Do Avocados Generally Last in Salad?
Avocados are not only delicious but also quite pricey in terms of produce. You can keep a cut avocado fresh in the refrigerator. It generally stays fresh for up to 5 days or even a week.
How Do I Keep The Avocados Fresh in The Salad?
Simply wrap your avocado around the chicken, ensuring a secure seal. The avocado will stay greener in the fridge if you seal it well. If you want to keep your avocado fresh, wrap it separately from your salad while keeping it.
Why Is My Chicken Salad Getting Runny?
You may see extra liquid releasing at times. Before mixing the chicken and mayo thoroughly, don't add any watery vegetables like celery. Failing to do so results in your chicken salad turning into a watery chicken salad.
When Should I Avoid Eating Avocado?
Avocados have a lovely, slightly sweet scent and a nutty flavor when fully ripe. As the fruit ripens, it may develop an off-putting flavor and odor. Having a sour flavor or smell isn't a good sign. Because it has likely been spoiled by germs and should be thrown away. It could be rancid if it has a chemical odor and flavor.
Can I Eat Avocado Chicken Salad on My Keto Diet?
Avocados are an excellent addition to a ketogenic diet. Because they have a high level of heart-healthy fats. In a 3.5-ounce (100-gram) portion, they've roughly 8.5 grams of carbs and nearly 7 grams of fiber. This is similarly low in net carbohydrates.
Avocado chicken salad is absolutely a mouth-watering dish. Additionally, it is very nutritious and healthy for us. We've simplified the recipe for you. So, make sure to try out the recipe!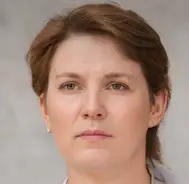 Latest posts by Leah Greenstein
(see all)