Avocados are delicious! They are even better when packed with shrimp. This is a great appetizer to serve during a dinner party. 
Whether it is for your family or friends, shrimp salad stuffed avocados are a must in summer! But, to be honest, not every dish can provide that kind of delight. As a result, we made an easy recipe that would satisfy your palate.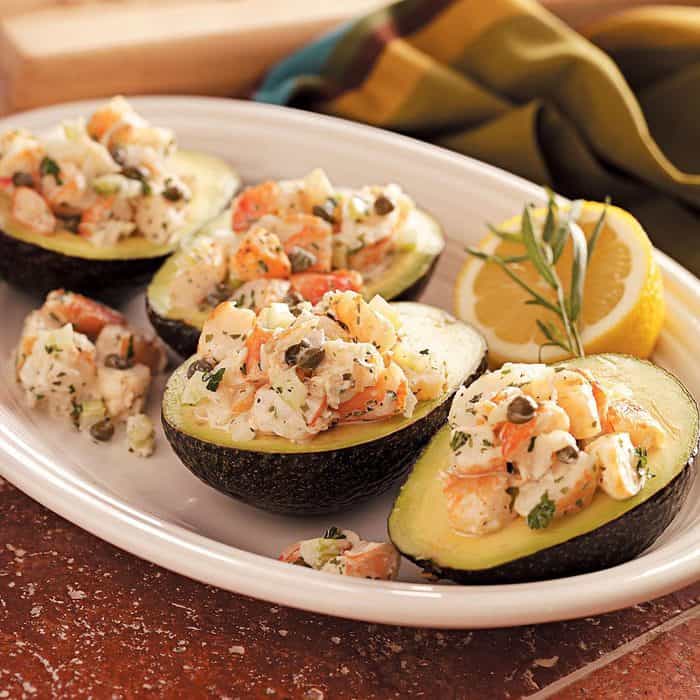 Level: Easy 
Serving Portion: 2 servings
Preparing and Cooking Time: 10 minutes 
Total time: 10 minutes
Nutrition Facts
Amount Per Serving :
| | |
| --- | --- |
| Calories | 294.2                  |
| Saturated Fat | 2.6 g |
| Monounsaturated Fat | 9.7 g |
| Polyunsaturated Fat | 4.7 g |
| Total Fat | 19.5 g |
| Cholesterol | 167.5 mg |
| Potassium | 617.1 mg |
| Sodium | 410.7 mg |
| Total carbohydrate | 13.1 g |
| Sugar | 3.0 g |
| Dietary Fibre | 6.7 g |
| Protein | 20.7 g |
To make this delightful meal, you don't need to have any special equipment. The equipment needed for this recipe is the ones that are very common. 
Ingredient List
1/2 pound cooked shrimp with medium size, peeled and deveined, chopped coarsely
1/2 cup celery, chopped
1/4 cup onion, chopped
3 tablespoons of mayonnaise
4-1/2 teaspoons of drained capers 
1 tablespoon of minced fresh parsley
2 teaspoons of Dijon mustard
1 to 3/2 teaspoons of lemon juice
3/4 teaspoon of tarragon, dried
1/4 teaspoon of salt, seasoned 
1/8 teaspoon of pepper
2 ripe avocados of medium size, halved and pitted
2 basil leaves, chopped 
Directions for Making Shrimp Salad Stuffed Avocados 
Once you're ready with your equipment and ingredients, it's cooking time! Let's jump into the recipe without any further due.
Step 1: Marination of The Shrimp
Take the shrimp, chopped celery, minced fresh parsley, and the drained capers into a bowl. Then pour 1 tablespoon of lemon juice into it. Now, add some salt along with a ⅛ tablespoon of pepper. 
Take ¼ cup of chopped onion and put it into the mixture.  Finally, add 2 teaspoons of Dijon mustard, ¾ teaspoon of tarragon, and a tablespoon of mayonnaise into it. 
Now, mix it uniformly. Remember, you can add 1 more tablespoon of mayonnaise if you want. But do it only if it's needed.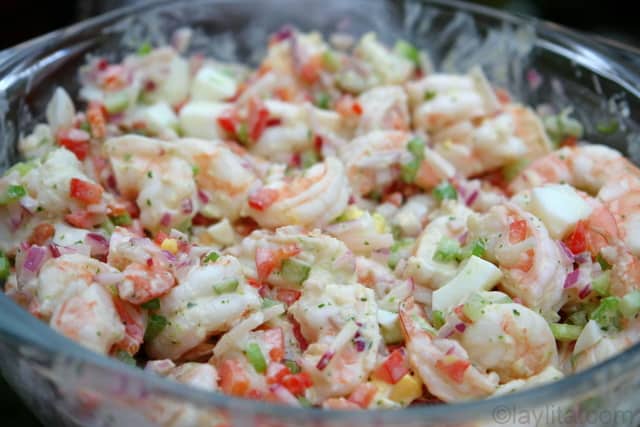 Step 2: Preparing The Avocado
Now, take the halved and pitted avocados. Pour a few drops of lemon juice. So the avocados do not get brown. Don't forget to sprinkle some salt on them.
You might be wondering how to cut half and pit an avocado. Cut a full circle around the avocado longways. Separate it by twisting it. The two sides should smoothly separate. Using a sharp, heavy knife, whack the pit so that the blade cuts into it just a little.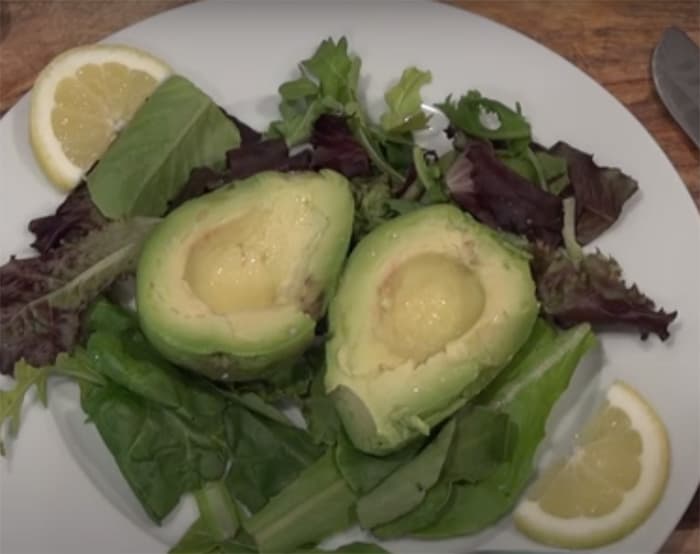 Step 3: Filling The Avocado
Finally, stuff the avocados with the shrimp mixture prepared in the first step. Do not forget to garnish with basil leaves. This would make the meal more appealing.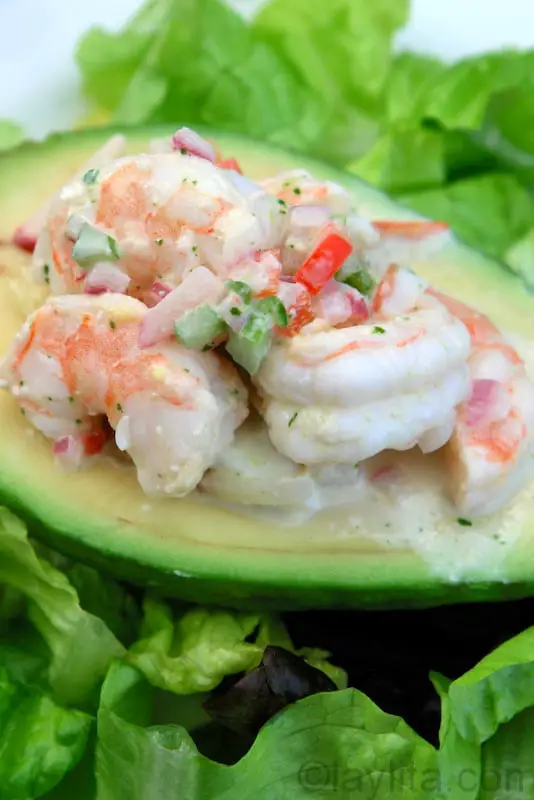 Well, shrimp salad stuffed with avocado is a very popular meal. This mouth-watering dish is perfect for the summer days. Trying out our recipe to prepare this meal would surely satisfy you. So try out our recipe. Get your edible and mental satisfaction! 
A Few Important Tips
You can carry out the recipe without any hassle following our instructions. Nevertheless, some of the tips that you might still be needing are provided below.
Is This Meal Keto Friendly?
Avocados are the epitome of a Keto diet! They're high in good fats, omega-3 fatty acids, and have a low net carb count. Avocados also contain 60 percent more potassium than bananas.
What Kind of Shrimp to Be Used?
You can use 40 to 50 Krill shrimp per pound, cleaned, cooked, and chilled for this dish.
What Kind of Avocado Is to Be Used? 
You may use two big Hass avocados, cut in half.
Can I Use Something Else Instead of Mayonnaise?
You might use more lemon/lime juice and a little olive oil in place of the mayo. You could also use plain yogurt or sour cream. Because the mayo contains cilantro and garlic. You can add a pinch of each to the cream or lemon juice mixture if desired.
Is There A Vegan Substitute for Shrimp Salad Stuffed Avocados? 
Well, vegans can also enjoy this meal with a substitution. You guys can use soya meat instead of shrimp. Soy meat is made from defatted soy flour. It is produced as a by-product of the soybean oil extraction process. 
Well, this meal is very simple, yet very refreshing and delicious. We tried making the recipe as simple as we could for you. We hope you like it and don't forget to try it out! Leave a comment for any query related to it!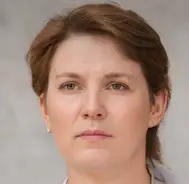 Latest posts by Leah Greenstein
(see all)