Seasonal tomatoes are abundant so we have to use them up before winter arrives. You can prepare a mouth-watering dish with those, called rustic tomato pie. 
This mouth-watering Rustic Tomato Pie has a buttery crust topped. The top is covered with a little goat cheese, pesto, tomatoes, mozzarella, and onions.
This delicious dish might seem hard. But it can be simpler than you can imagine. To know about the recipe, read along.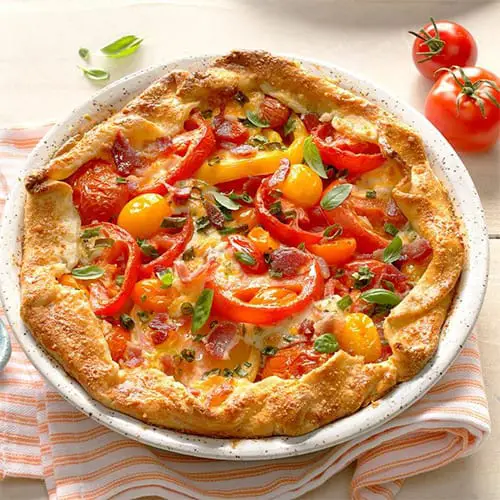 Yields: 8 servings
Preparing Time: 15 minutes
Baking Time: 30 minutes
Total Time: 45 minutes
Nutrition Facts
| | |
| --- | --- |
| Calories | 332 |
| Carbohydrates | 39g |
| Protein | 9g |
| Fat | 16g |
| Saturated Fat | 9g |
| Cholesterol | 34mg |
| Sodium | 586mg |
| Potassium | 546mg |
| Fiber | 4g |
| Sugar | 8g |
| Calcium | 145mg |
| Iron | 3mg |
Ingredient List
4 cups or 2 ½ pounds of tomatoes, sliced or cherry tomatoes, halved 
3 or 4 ounces of soft goat cheese
2 tablespoons of mayonnaise
2 to 3 tablespoons of fresh chives, chopped
1 tablespoon of flour
Half-and-half to brush the edges of the pie
Salt and pepper required as per taste
Direction To Cook Rustic Tomato Pie
Well, this recipe can seem confusing and complex. But we tried to make the recipe as simple as possible for you! 
We've broken down the recipe into 4 main steps, which we've discussed below in detail.
Step 1: Draining The Extra Juices of The Tomato
Place the tomatoes in a colander or on a rack in the sink to drain the liquids. To aid in the flow of juices, season them with ½ teaspoon of salt.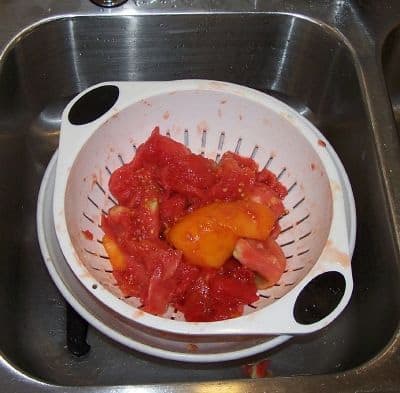 Now, combine mayonnaise, goat cheese, and chives in a small bowl. Then, set them aside.
Step 2: Preparing The Dough
Roll pre-made dough into an oval which is approximately 11 inches. You can also use a circle on a floured surface. Allow for 15 minutes of sitting on the counter. Because it might be too hard to roll as the butter firmed too much. 
You may also roll it out on parchment paper or Silpat baking mat. This would let you move to your baking sheet easily.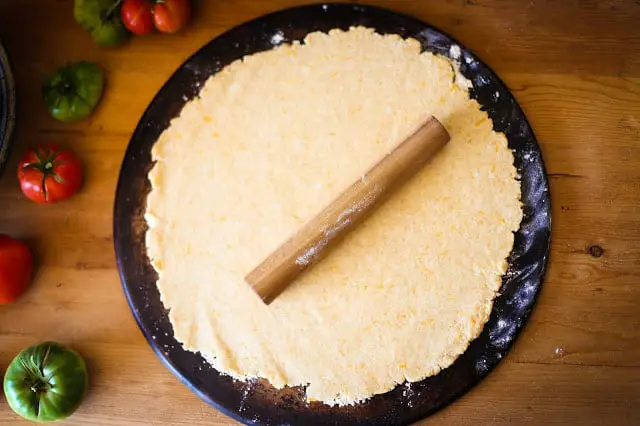 Step 3: Tossing Ingredients on Dough
Over the dough, spread the mixture of goat cheese leaving a border of 2 inches. On top of that, arrange tomatoes. The tomatoes may appear to be too large at first. But they will shrink up. Dust the tops of the tomatoes with flour. The extra liquid will be absorbed by this.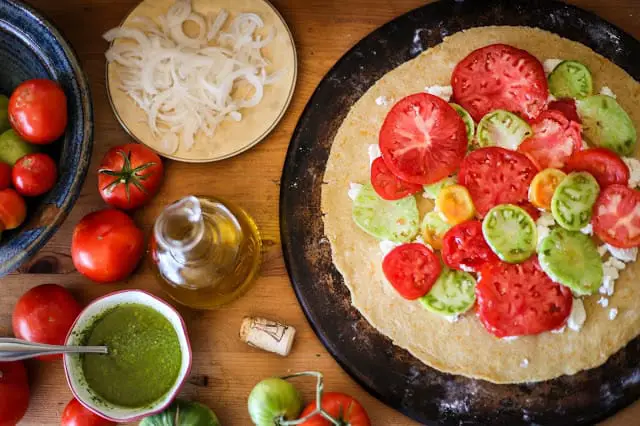 Step 4: Finishing The Dish
To the border of the tomatoes, fold the dough over. It won't cover them, but it will provide a border. Now, brush the dough with half-and-half. Then season it with pepper and toss salt around the edges.
Bake for an hour in the oven. Allow for at least an hour of room temperature before cutting. Finally, your dish is ready and you can enjoy it!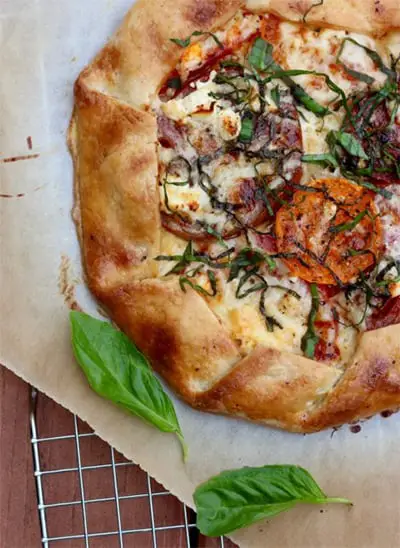 Some Important Tips
Some of you may seek information or have queries related to this recipe. So a few tips that might be helpful to you are given below.
Do I Eat Tomato Pie Cold Or Hot?
Tomato pie is essentially a cold Sicilian pizza with no cheese shredded on top. It has a thick, chewy crust with a thick layer of sweet, tangy sauce on top. It's typically served cold, although it's also good heated or at room temperature.
Should I Refrigerate Tomato Pie?
The Tomato Pie should be refrigerated overnight and eaten within two days. You also have another solution to it. Using a small bit of oil, drizzle it over the sauce. Then place on a tray, cover, and heat at 325° for approximately 5 to 10 minutes.
Can I Heat The Tomato Pie Again?
You might try to bake it from the freezer with the mayo-cheese mixture. Well. you'll end up with a liquidy mess in that case. It's possible to reheat tomato pie! If you want a warm slice, put this baby back in the oven.
This dish is as tasty and palatable as it looks. Although the recipe seemed hard to some of us, it isn't. Don't forget to try out the recipe. Reach out to us for any queries regarding the recipe!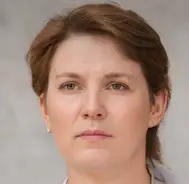 Latest posts by Leah Greenstein
(see all)