Mellow Mushroom fans are always up for trying Mellow Mushroom pizza recipes. Their Kosmic Karma and Holy Shitake Pie have their fans constantly running back to them. 
Their sauce is one of their secrets. That's why we've come forward with the Red Sauce recipe of Mellow Mushroom.
It's a simple recipe but one of the best ones out there. Make sure you have all the right ingredients, and you'll be good to go.
Without any further ado, let's start making our favorite red sauce.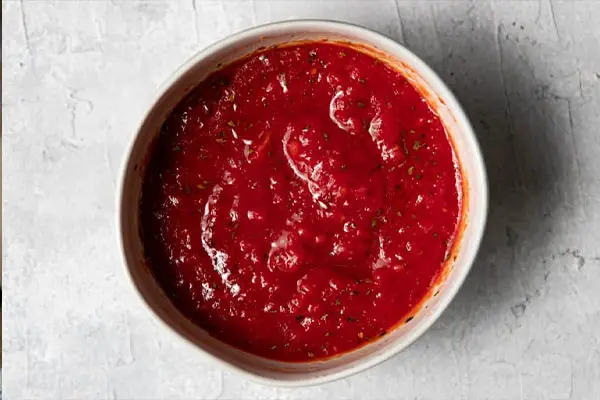 Difficulty Level: Easy
Servings Size: 2 servings
Required Time: 
Preparation Time: 20 mins
Cooking Time: 50- 60 mins
Total Time: 1 hour 10 mins – 1 hour 20 mins
Nutritional Facts: 
The total amount of calories in the Mellow Mushroom Red Sauce is 753 calories.
| | |
| --- | --- |
| Ingredients | Calorie |
| Olive Oil | 119 |
| Butter | 102 |
| Onion | 37 |
| Celery | 4 |
| Garlic | 203 |
| Tomato Sauce | 80 |
| Tomato Paste | 138 |
| Parmesan Cheese | 44 |
| Dried Basil | 2 |
| Dried Oregano | 6 |
| Sugar | 8 |
| Black Pepper | 1 |
| Bay Leaf | 2 |
| Fennel Seed | 7 |
Ingredient List
2 tbsp of Olive Oil
1 tbsp of butter
½ cup of onion
¼ cup of celery
1 cup of garlic clove
1 can of tomato sauce (8 ounces)
1 can of tomato paste (6 ounces)
2 tbsp parmesan cheese
1 tsp of dried basil
1 tsp of dried oregano
½ tsp of salt
½ tsp of sugar
¼ tsp of black pepper
1 small bay leaf
1 tsp of fennel seed
Required Cookware
Step by Step Procedure of the Mellow Mushroom Red Pizza Sauce
Do you have all the ingredients ready at your disposal? Simply follow the steps and you'll be done in no time. Now, let's start making the sauce then-
Step 1: Preparing The Ingredients
Preheat the burner and set a big skillet on top of it. It's alright if you don't have one. A saucepan will suffice.
Pour the oil and heat it up. It should be mildly warm. After that, add the butter. Wait for it to melt and combine with the oil.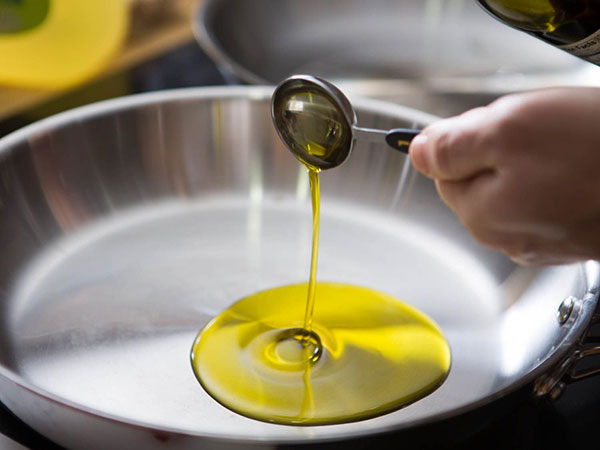 Chop up the onions and the celery while the butter melts. Mince the garlic next. Then add them to the skillet one by one once the butter has completely melted down.
Make sure the flame is at a medium range. Slowly stir the mixture every few seconds. 
After everything has been thoroughly combined, add the tomato sauce and tomato paste. Slowly stir the mixture.
After some time, you'll see the mixture has become smooth. 
Step 2: Simmering The Mixture
Grate the parmesan cheese and start mixing the rest of the ingredients one by one.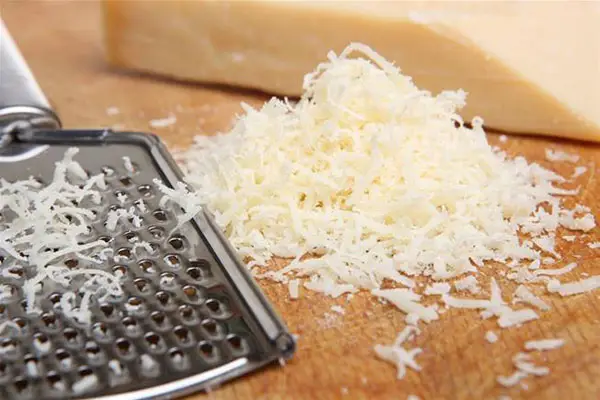 Once you're done mixing all the ingredients, bring the mixture to a light simmer. Simmer it for 40- 60 minutes. 
The timing can vary depending on your taste though. It's just a question of personal taste. Nonetheless, it should be close to ⅓.
Let the sauce cool down. Once you're done with the sauce, take the bay leaf out. The bay leaf is just for extra flavors. You don't need it when you use the sauce on the pizza.
Once your sauce is finished, spread it out on your pizza dough and enjoy.
Storing The Pizza Sauce
You can store the sauce weeks after making it. The taste won't change at all. But it's better not to use it after a month. 
Not like it gets bad or anything. But because the taste deviates after a month.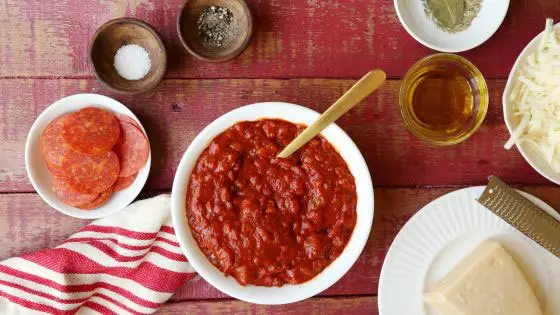 Extra Tips
Your pizza sauce is ready now. However, you may still have some unanswered questions. So, we've prepared this section to answer those questions.
Don't I Have to Store This Sauce For A Particular Period of Time Just Like Other Sauces?
No, unlike most other sauces, you don't have to store this. All you have to do now is wait till it has cooled down.
Can I Use Crushed Tomatoes Instead of Tomato Sauce?
Of course, you can use crushed tomatoes. But if you want it exactly like Mellow Mushroom's sauce, it's better not to.
What if I can't find Dried Oregano Leaves?
If you can't get your hands on dried oregano leaves, use fresh oregano leaves. But, using dried ones is highly recommended. After all, dried leaves and fresh leaves don't give the same flavors.
Now you know the secret to Mellow Mushroom's Red Sauce Recipe. Leave any further questions in the comments section. Also, let us know how your sauce turned out.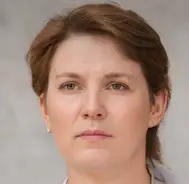 Latest posts by Leah Greenstein
(see all)