Pizza sauce is a must-have ingredient for deliciously flavorful pizza. It combines all the ingredients and unifies the flavors. The secret to a perfect pizza is a well-made red pizza sauce. 
Stanislaus pizza sauce is a timeless classic. The red sauce is thick and has a rich velvety texture. The lovely aroma and intense flavors have made this sauce everyone's favorite. 
This yummy pizza sauce is made of fresh and simple ingredients. It's very easy to make and supreme in taste. 
Guess what, we have just the right recipe for this pizza sauce. No need to wait any longer, let's check it out-
Difficulty Level: Easy
Serving Size: 8 Servings
Prep Time: 5 minutes
Cooking Time: 15 minutes
Total Time: 20 minutes
Nutrition Facts:
Amount per serving
| | |
| --- | --- |
| Calorie | 30 |
| Fat | 2g |
| Cholesterol | 0mg |
| Sodium | 135mg |
| Total Carbohydrates | 7g |
| Dietary Fiber | 2g |
| Total Sugars | 5g |
| Protein | 2g |
| Calcium | 12mg |
| Potassium | 335mg |
Ingredient List
1 tablespoon olive oil
2 cloves of garlic 
15 ounces canned crushed tomatoes
4 tablespoons tomato paste
1/2 teaspoon sea salt
1/2 teaspoon dried oregano
1/4 teaspoon ground black pepper
1/2 teaspoon sugar
Step-By-Step Direction for  Making Stanislaus Pizza Sauce 
After trying this recipe sauce you won't purchase ready-made sauce ever again. Follow the steps and to get the desired result. It takes some time to become an expert in making pizza sauce.  
So, let's get started with making our favorite pizza sauce-
Step 1: Sauté The Garlic 
Start by smashing the garlic, mince them finely. 
Take a pan and heat it just over medium-high. While the pan is very hot, add olive oil. Swirl the olive oil to coat the surface. 
Next, add your minced garlic to the pan. Stir it for about two minutes. Once the garlic starts to soften and release flavors, remove the pan. You'll get an amazing aroma of garlic flavor.
Be careful with the heat, don't burn your pan. If you overheat it, the flavor will be ruined. 
Step 2: Mix Other Ingredients 
In the same pan, add your crushed tomatoes and tomato paste. After that, add sea salt, sugar, oregano, and black pepper to it. 
You can add ½ teaspoon red pepper flakes to make it hot. Skip this if you don't want to make it spicy.
Now, take out your wooden spoon. Stir the mixture for 5 minutes or until you blend the ingredients. 
Step 3: Simmer The Sauce 
Simmer the mixture on low medium heat. Keep stirring the sauce so it doesn't burn. The sauce will begin to bubble. Lower the heat and let it simmer for at least 10 minutes.
At this stage, the sauce will start thickening. It'll have a velvety texture and rich red color.
Check the consistency of the sauce using a wooden spoon. It shouldn't be runny or too dry. Stanislaus pizza sauce is usually very thick. 
Now, dip a wooden spoon in your pizza sauce. If the sauce sticks to the spoon and does not drip, it's perfect. If it's runny, let it simmer for a bit longer. If the sauce is too dry it won't stick to the spoon. In this case, add tomato paste or water to fix it.
Turn off the heat once you get that perfect consistency. Let it cool down at room temperature for 30-40 minutes.
Step 4: Serve The Pizza Sauce
Your thick, red velvety pizza sauce is ready to be served. This sauce surely will improve the taste of your homemade pizza. 
You can use this yummy pizza sauce as a dipping sauce too. It goes well with snacks like breadsticks, french fries, chips, nachos, and many more items. Use a cup or small bowl to serve the dipping sauce. 
The sauce can be used in soup, homemade pizza buns, and sandwiches. The rich flavor will level up the taste of your food.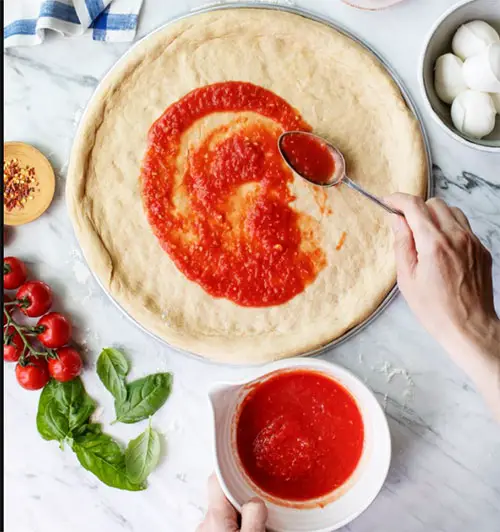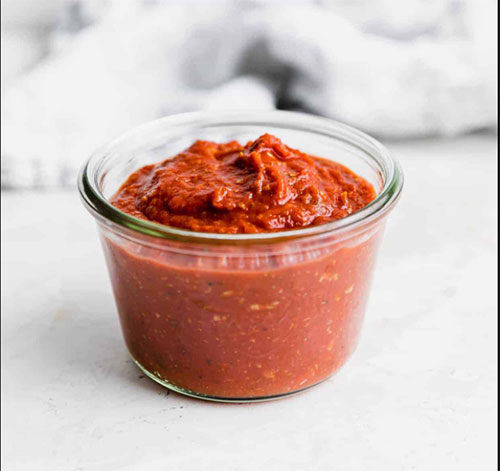 Tips to Enjoy The Best Stanislaus Pizza Sauce
Follow our guide step by step to get the best result. You'll be able to make the perfect pizza sauce in no time. Check out these tips and get effective solutions to your problems-
Can We Use Pizza Sauce to Make Spaghetti and Pasta?
Pasta and pizza sauces are quite similar in so many ways. Pizza sauce is a bit thicker than pasta sauce. But this pizza sauce goes well with pasta and spaghetti. The sauce will add rich flavor to your food. 
How to Make Pizza Sauce More Flavorful?
Homemade sauce lets you be playful with the ingredients. If you want more flavors, add fresh basil leaves. You can also add ½ cup grated Parmesan cheese with other ingredients. The cheese will add a creamy texture and more flavors.
How to Store Pizza Sauce?
Store the sauce in glass jars to keep it fresh. Make sure the jar is air-tight. Mix 1 tablespoon white vinegar to prevent it from going bad. You can store the pizza sauce in a cool place outside. Keep it in the fridge to make it last for up to 1 month. 
Now you've got the perfect secret formula to your favorite pizza sauce. Make it fast and surprise your friends and family.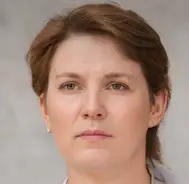 Latest posts by Leah Greenstein
(see all)