White bread is the most common breakfast item for all of us. And who can blame us? It goes with almost everything. From eggs and beans to a wide range of spreads. Although this kitchen staple can be found in super shops, baking is a better option. 
Why? Because it's cheaper, healthier and you know what's going in it. Oftentimes, white bread in super shops has preservatives in it. So it is always a better option to bake it at home. 
Even if you don't fancy that idea, why not try out our fail-proof white bread?
Level: Easy
Serving Portion: 2 loaves (16 pieces each)
Preparing Time: 20 minutes (+ rising time)
Rising time: (15+45+45) minutes
Baking time: 30 minutes
Total time: 2 hours 35 minutes
Nutritional Facts( Per Slice):
| | |
| --- | --- |
| Calories | 265 |
| Total fat | 3.2g |
| Saturated fat | .7g |
| Carbohydrate | 49g |
| Protein | 9g |
Necessary Cooking Equipment
As easy as this recipe is, you will still be needing a few pieces of equipment. They are- 
Ingredients
1 package (1/4 ounce) active dry yeast
3 tablespoons of sugar plus 1/2 teaspoon of sugar
2-1/4 cups of warm water (110° to 115° F)
1 tablespoon of salt
6-1/4 to 6-3/4 cups of bread flour
2 tablespoons of canola oil
Step-By-Step Instructions to Bake White Bread
Now that we have the ingredients clear, it is time to bake. Let's dive in. 
Step 1: Prepare Yeast 
Having good yeast is the key to making your bread fluffy. Make sure that the yeast that you're using isn't dead. Otherwise, your bread won't rise properly. 
Take out a large bowl to start with the yeast mixture. Pour in the yeast and ½ teaspoon of sugar with warm water. If your bowl is too large, keep it tilted on one side so that all the yeast is submerged in warm water. 
If you can't keep the water warm, you can place the bowl near the stove. Let it stand until you see bubbles appearing. Move on to the next step. 
Step 2: Mix Ingredients 
Take the remaining sugar, salt, 3 cups of flour and incorporate it with the yeast mixture. Pour them into the bowl and whisk them in. 
Beat it until it reaches a smooth texture. Once it's smooth, gradually pour in the remaining flour. Pour ½ cup a time and mix it in. Till a soft dough is formed.
Step 3: Prepare Dough 
Shift the dough from the mixing bowl into a floured surface. Knead, knead, knead. Until it reaches a smooth and elastic consistency. Poke it with your finger to understand its consistency. It should feel smooth to touch and shouldn't be sticky. Once you poke it, it should slowly bounce back. 
Once you are done with the dough, place it in a greased pan. The pan should be twice as big as the dough. The dough will rise with time. So if the pan is small, it'll overflow. Once you place the dough, brush its top with some oil. Then cover it and place it in a warm place. Let it stay that way for 1 to 1 and a ½ hours.
Step 4: Bake And Enjoy 
After the dough is doubled, take it out. Lightly cover it with flour before dividing it into two parts. Shape each of the parts into a loaf shape. Then transfer them to pre-greased 9×5-inch loaf pans. Cover them and let it rise again until it's doubled. 
Set it aside for around 1 to 1 and ½  hours. In the meantime, preheat your oven to 375 degrees Fahrenheit. 
Transfer the loaf into the oven and bake it for 30-35 minutes. Until it looks golden brown. Or it sounds hollow when tapped at the top. Once it's done, take it out and let it cool down in a rack.
That's it! You now have freshly baked white bread that you can enjoy with anything. So take your favorite side dish and dig in. 
Some Important Tips 
Here are some tips in case you're facing some trouble while following this recipe. 
How Can You Make White Bread Taste Better?
White bread is a classic. But you can add different ingredients to make it taste better. Strong oils, such as walnut or butter add flavor to the bread. Dry milk powder also adds flavor and softens its texture.
What Can You Use Instead Of Sugar?
If you don't prefer using sugar,  use any other sweetener alternative. Such as coconut sugar, honey, maple syrup, date paste, artificial sweeteners, etc. The taste may vary based on which sweetener you use. 
Can You Let The Dough Rise Overnight?
Yes, you can. But it needs to be kept in the freezer. When you're ready to bake, make sure to get it back to room temperature beforehand. 
What Can Cause Your Bread To Be Dense?
Not kneading the dough long enough can result in dense or heavy bread. Don't mix the salt and yeast together, or lose patience in the middle of shaping your bread. It might result in a loaf with insufficient tension before baking.
That is all from our end. We hope you found this recipe helpful and tried it out by yourself.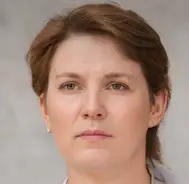 Latest posts by Leah Greenstein
(see all)