What's better than a classic banana bread on the side with a warm cup of coffee? Nothing much. In fact, its moist flavors will allow you to enjoy it on its own. 
But in order to enjoy this delicious goodness, you need to ace the baking. 
Unfortunately, not all recipes can achieve that. Some are too hard to follow. Or even not executed properly. So we jotted down a fail-proof banana recipe just for you. 
You can prepare the most delicious banana bread with the help of this recipe. Let's check it out –
Level: Intermediate 
Serving Portion: 12 slices
Preparing Time: 15 minutes 
Baking time: 1hr 10 minutes
Total time: 1hr 25 minutes
Nutritional Facts( Per Slice):
| | |
| --- | --- |
| Calories | 247 |
| Total fat | 8.8g |
| Saturated fat | 5.2g |
| Carbohydrate | 39g |
| Protein | 3.8g |
Necessary Cooking Equipment 
To make our banana bread, you need the following equipment.-
9×5" loaf pan
Parchment paper
Ingredient List 
1 cup of granulated sugar
1/2 cup of butter
2 large eggs
3 ripe mashed bananas (around 1 1/2 cups)
1 tablespoon of milk
1 teaspoon of baking powder
2 cups of all-purpose flour
1 teaspoon of ground cinnamon
1 teaspoon of baking soda
1 teaspoon of salt
How To Bake Banana Bread ( Step by Step Process)
Now put on your favorite apron and head to the kitchen. And start following the below-mentioned steps. 
Step 1: Prepare The Pan And Then The Oven 
First up, let's preheat the oven. Set it to 325 degrees Fahrenheit and let it be. 
Then prepare the pan. You will need a 9 x 5-inch loaf pan for this recipe. You can, however, use any other pan with identical dimensions. But make sure it's a loaf pan for that perfect shape. 
Grease the pan with butter, oil, or grease spray. Cover it with flour or use parchment paper. We suggest you use parchment paper for at least the bottom. 
Step 2: Mix Wet Ingredients 
Take a big mixing bowl to whisk in the butter and sugar. Make sure that the butter is softened. It shouldn't be too cold nor should it be melted. Keep whisking until it becomes light and fluffy. 
Don't stop midway even if your arms ache. The more you beat, the fluffier your cake will be. 
Once you reach the perfect consistency, put the eggs in. Pour one egg at a time and keep whisking. Once the eggs are incorporated, add the mashed banana and milk into the mixture. Now set it aside.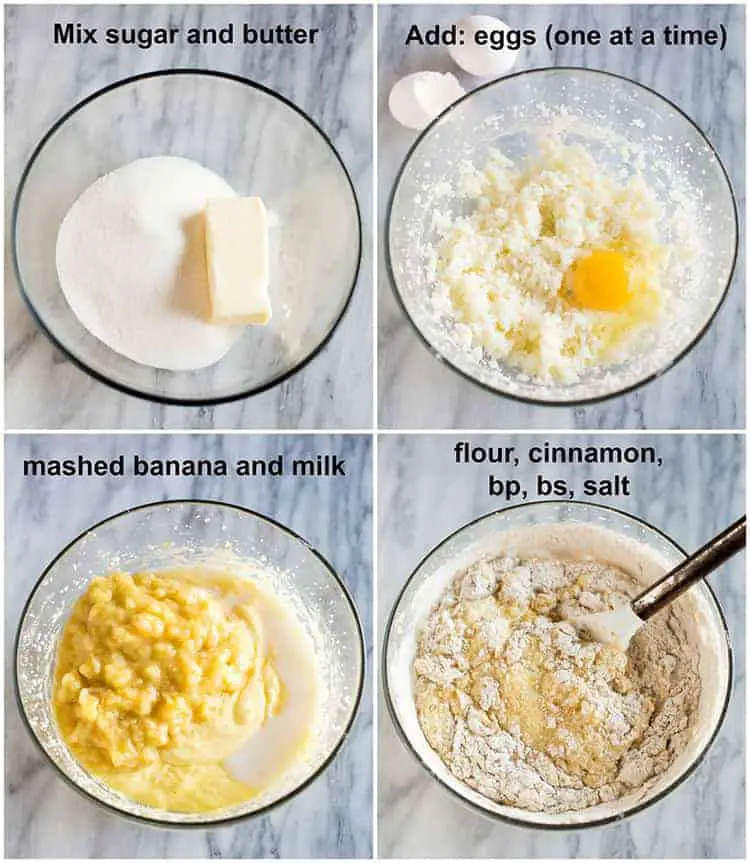 Step 3: Mix Dry Ingredients 
Now take another bowl to mix the dry ingredients. Combine the flour, baking soda, baking powder, salt, and cinnamon in the mixing bowl.
Once mixed, use a sifter to sift them to avoid any chunks. This will ensure a smoother consistency for the banana bread. 
Step 4: Bake And Enjoy
Mix the wet and dry ingredients together until well combined. Pour it evenly into the pan. After that, put it in the preheated oven. Bake it for around 1 hour 10 minutes. 
It may take a few more or fewer minutes. So use a toothpick to check its baked status. Make a hole in the middle with the toothpick. It's done when the knife comes out clean.
Remove it from the oven after it's done and set it aside to cool. Cooling down could take up to 20 minutes. To cut neat pieces, use a sharp knife. Then enjoy it with ice cream, hot beverages, jams, or even by itself. 
Some Important Tips-
Check out these tips that will help you get a better idea of this recipe.
What Happens If You Forget Baking Soda In Banana Bread?
Without baking powder and baking soda, your bread will not rise. So if you forgot to use baking soda, then your banana bread will come out flat. 
Why Did My Banana Bread Come Out Dense?
Although butter and sugar are recommended. After you've added the dry ingredients, don't overmix the batter. Mixing the banana dough too much may result in a dense and rubbery texture. 
What Can I Add To Banana Bread?
You can have a lot of dry food in your banana bread. As per your preference. Some popular choices are different types of nuts, raisins, chunks of chocolate, etc. 
Why Does Your Banana Loaf Crack On Top?
The crack happens when the top of the loaf settles before the bread has finished rising. As the loaf rises, the stress on the cooked top surface causes the cracks. So you don't have to be concerned. That isn't a negative thing.
Can You Leave Banana Bread Out Overnight To Cool?
Banana bread will stay fresh for 4 days if kept at room temperature. So you can leave it out overnight. However, it is better to keep it refrigerated to be safe. You can always microwave it if you like it served warm. 
That is all from our side. We hope you like this recipe. If so, do try it out by yourself.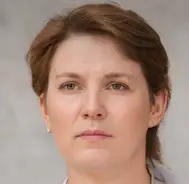 Latest posts by Leah Greenstein
(see all)