This watermelon feta salad is honestly going to be your go-to summer salad this year. It gives you a sweet and salty flavor at the same time. 
The saltiness of the feta cheese flawlessly matches the sweetness of the watermelon. At the same time, the zesty lime dressing makes it tangy.
You can make it quite easily with few ingredients. Altogether, it's a perfectly healthy and low-cal salad. It's also gluten-free.
So, let's see what you have to do to make this salad!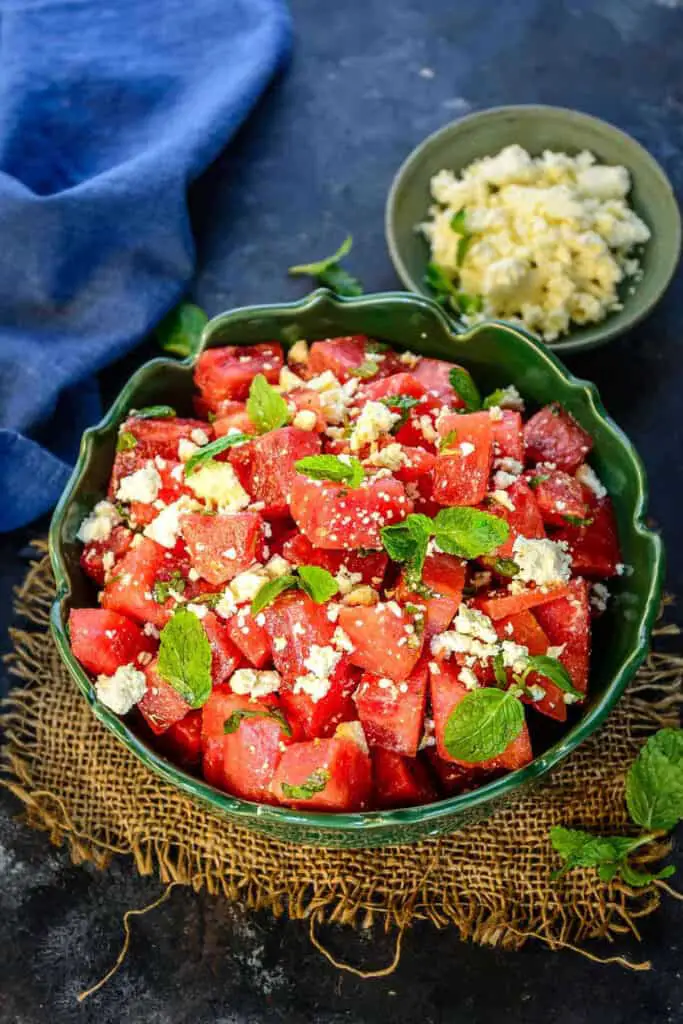 Level: Easy 
Serving Portion: 4 persons 
Preparing Time: 10 minutes
Cooking Time: 10 minutes
Chilling Time: 2-3 hours
Total Time: 2-3 hours 20 minutes
Nutrition Facts (Per Serving):
| | |
| --- | --- |
| Calories | 178 |
| Fat | 11.1g |
| Saturates | 6.5g |
| Sugars | 11.1g |
| Salt | 1.2g |
| Protein | 8.2g |
| Carbs | 11.9g |
| Fiber | 0.6g |
Ingredient List
1 or 2 seedless Watermelon 
200g Feta cheese
Black pepper to your taste
½ tablespoon of Lemon Zest
1 tablespoon Lemon juice
Salt to your taste
¼ cup Chopped Mint Leaves
¼ cup extra virgin Olive oil
Walnuts (toasted and Chopped)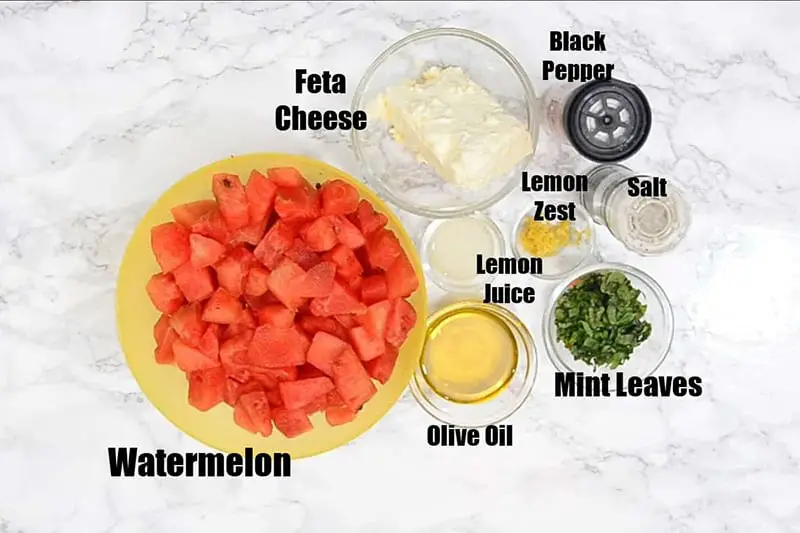 Step-by-Step Instructions of Making Watermelon Feta Salad-
Now that you've all the required ingredients. Follow the instructions below to make your perfect feta salad-
Step 1 of 4: Cut The Watermelon
Start by cutting up the seedless watermelon. It's better if you use seedless watermelon while making this salad. This is because you don't want to bite into seeds while having your salad. 
If you can't find a seedless watermelon, try to take out as many large seeds as feasible. You must do it before preparing the salad.
Then cut the watermelon in half using a big sharp knife. You need to throw away the rind. And then dice the flesh into 1-inch cubes. 
You can use a melon baller, it'll make your salad appealing. You just need to simply make balls from the flesh alternately cutting them into cubes.
After that, you need to cool down 6 cups of watermelon cubes for a few hours. Once you're ready to make the salad, you need to add the watermelon cubes. Do it in a large bowl.
Step 2 of 4: Make The Dressing 
The combination of three ingredients (watermelon, Mint leaves, Feta cheese) will just make your summer even better. To add tiny zest to the salad, you need to prepare a dressing.  
Take a small bowl to blend the dressing. Put ¼ cup of extra virgin olive oil, 1 tablespoon lime juice, and ½ tablespoon lime zest. Then add salt and black pepper according to your preference.
Lastly, add ¼ cup of chopped mint and emulsify it with a whisker. Mix it properly to make your dressing perfect.
Step 3 of 4: Assemble The Salad
In this step, use a big bowl because that will be easier. Put all the chunks of watermelon into the bowl.
Now, drizzle the dressing on top. Don't put the whole dressing on first. Add it gradually according to your need.
Then add some chopped toasted walnuts. You need to toast them at about 150C, for 8-10 minutes in the oven. Now toss everything well.
Step 4 of 4: Garnish The Salad
Lastly, you need to transfer the salad to the serving plate. Then put some nicely cubed crumbled feta. 
You can also crumble it on the top. But if you nicely chop them, they'll look really pretty.
Now, toss the salad again and serve it immediately.
So, that's it! Your watermelon feta salad is ready to eat.
Some Tips for Making this Watermelon Salad
This watermelon feta salad is quite refreshing! However, you need to keep some concerns in mind.
Can I Cut The Watermelon A Day before Making The Feta Salad?
Well, it's best to cut and prepare it on the same day. This is because the liquid soon seeps out of the flesh once the watermelons are cut. Moreover, the juiciness and sweetness of the fruit fade away with time.
Can I Skip The Dressing?
It's your personal choice. Because this salad tastes superb with only watermelon, mint, and cheese. So, if you want you can totally pass over the dressing. Or you can just put on a bit of honey, salt, and pepper.
What Should I Do with The Leftovers? Can I Reserve Them?
Usually, it's best to finish this salad on the same day it's made. Because it's super watery and a bit salty. However, you can also reserve them in a tight-lid glass container, for a night or two. Don't forget to taste it before serving.
That's all about how you can make this super healthy watermelon feta salad. It's unchallenging to make and takes very little time. So you can have it anytime you want.
Relish your salad now! Stay healthy!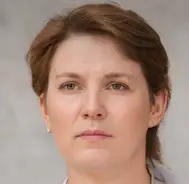 Latest posts by Leah Greenstein
(see all)