Summer is the time when all the vegetables are at their peak. This Greek salad recipe manifests the veggies, without any effort.
It's the perfect dish for those warm summer days. Because the vegetables are normally garden-fresh during summer. This salad is extremely flavorful and reviving. At the same time, it's quite easy to make with few ingredients. 
Without going on and on, let's find out how to make it!
Level: Easy 
Serving Portions: 8 people
Preparing Time: 10 minutes
Total Time: 10 minutes
Nutrition Facts (8 servings):
| | |
| --- | --- |
| Calories | 173 |
| Carbohydrates | 9g |
| Protein | 4g |
| Fat | 13g |
| Saturated Fat | 4g |
| Cholesterol | 22 mg |
| Sodium | 858 mg |
| Potassium | 254mg |
| Fiber | 2g |
| Sugar | 4g |
| Vitamin C | 31.9mg |
| Iron | 1.5mg |
Ingredient List
Even though this recipe doesn't require numerous ingredients. You'd need separate ingredients for the dressing and the salad.
For The Dressing 
¼ cup extra virgin olive oil
3 tablespoon Red Wine Vinegar
2 tablespoon lemon juice
2 tablespoon lemon zest
1 tablespoon honey mustard
3 tablespoon crushed oregano leaves
1 tablespoon thyme leaves
1 ½ tablespoon salt
½ tablespoon black pepper
For The Salad
1 large English Cucumber
1 Bell pepper
3 tomatoes cut in wedges
½ cup kalamata olives
½ cup thinly sliced red onion
7 oz feta crumbled
1 sprig oregano 
1-2 Tomatoes cut in wedges
Step-by-Step Instructions of Making A Greek Salad-
Now, you have all the ingredients prepared. So without wasting a minute, follow the instructions-
Step 1 of 3: Chop Up The Vegetables
Start with chopping a large English cucumber. You want to cut it into slices for a better taste. There's no need to peel their skin because it's paper-thin. Also, it tastes delicious. 
If you're using regular cucumber, you might need to peel it. But it's totally up to you. 
Now, cut the red onion into thin slices. This will enlarge the taste of the salad.
Once it's done, you need to put the cucumber and onion slices into a big bowl.
Then cut ½  cup of kalamata olives. You can also use them without cutting them.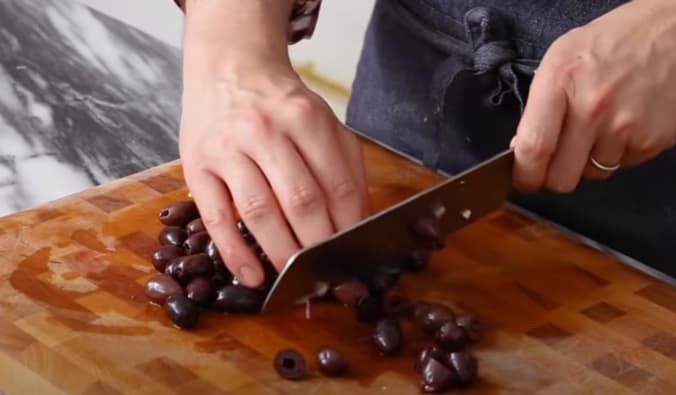 Now, cut down some tomatoes. Either use cherry tomatoes or chop larger ones into wedges. 
Well, salads are all about what will fit your fork. Each bite should be perfect.
Cut down some bell peppers. Separate the seeds, and cut them into small slices.
Now, crumble 7 oz feta cheese on your salad. This will elevate your salad's flavor. And then you need to toss everything well.
Step 2 of 3: Prepare The Dressing 
Now, take a small jar and add¼ a cup of extra virgin olive oil. Then add half of the lemon zest. 
After that, add 1 tablespoon of thyme leaves and 2 tablespoons of crushed oregano leaves. 
Then, add 2 tablespoons of red wine vinegar. It will make your salad more flavorful. Add 2 teaspoons of honey mustard. This will give the salad the perfect sweetness along with the spice.
Finally, add 2 tablespoons of lemon juice for the tanginess.
Now shake it vigorously. Lastly, add ½ tablespoon of salt and shake it again. There you go, your dressing is finally ready.
Step 3 of 3: Combine Everything 
Now, pour the whole dressing into your salad. Give it a toss.
You can add some more oregano leaves if you want. Now, toss it perfectly.
And you're done. Enjoy your tasty and healthy greek salad. Just make sure you dress and toss it before serving.
Some Important Tips-
You might have some questions about preparing this Greek delicacy. Take a look before biting into your salad!
Can I Cut The Tomatoes One Day Before Making A Greek Salad?
Except for tomatoes, you can cut other veggies. You should cut them before serving. Because tomatoes are much better when fresh and unrefrigerated.
Can I Make The Dressing One Night before Serving The Salad?
Well, it's better to make the dressing right before serving the salad. But if you're short on time, make it up to 3 hours ahead of serving. You can keep them at room temperature.
Can I Have Greek Salad for Weight Loss?
Yes, it's perfect for your diet. It contains low calories. At the same time, it provides you vitamins- C and A.
That's all you've to do to make this healthy salad. Your work will be easier if you buy pitted Kalamata olives.
Now taste your salad and comment below how it was!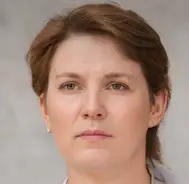 Latest posts by Leah Greenstein
(see all)