Taste the Sweetness With Our Strawberry Shortcake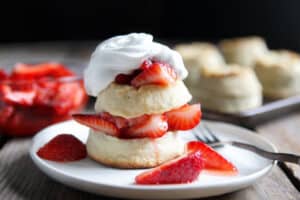 Strawberry desserts are really everyone's favorite. And strawberry shortcake is a vintage choice. The shortcake covered with a layer of strawberries, juice, and whipped cream makes it mouthwatering. 
Type: dessert
Keywords: Strawberry Shortcake
Recipe Yield: 10
Preparation Time: 0H45M
Cooking Time: 0H20m
Total Time: 1H30M
Recipe Ingredients:
Strawberry desserts are really everyone's favorite. And strawberry shortcake is a vintage choice. The shortcake covered with a layer of strawberries, juice, and whipped cream makes it mouthwatering. 
Moreover, you can make it easily and fulfill your cravings anytime! So, without further holding up, let's see the recipe to make your tasty cake.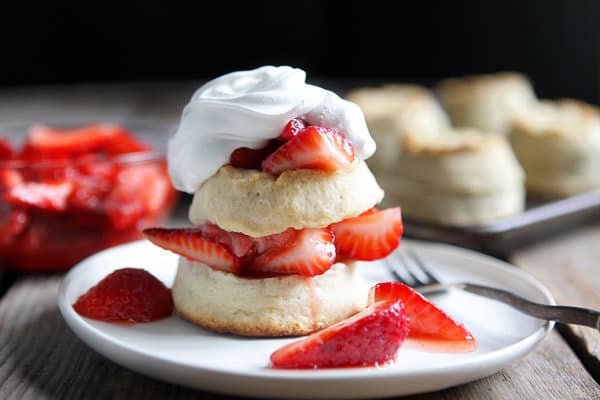 Level: Easy
Serving Portion: 8 to 10 servings
Preparing Time:  45 minutes
Cake Layering Time: 20 minutes
Total Time: 1 hour and 35 minutes
Nutrition Facts (Per Serving):
| | |
| --- | --- |
| Calories | 164.3 |
| Fat | 0.4g |
| Cholesterol | 0.0mg |
| Carbohydrate | 37.3g |
| Protein | 3.4g |
Necessary Cooking Equipment
For making strawberry shortcakes, you need some equipment.
5-quart size of mixing bowl
Electric mixer
These are must-have tools. You need to collect them before forming the cake.
Ingredient List
2 pints ripe, well-rinsed strawberries
¼  cup sugar, or more to taste
4 cups flour
3 tablespoons sugar
1 teaspoon salt
1 teaspoon baking powder
1 ¼ cups butter
¼  cup of  heavy cream
¼ teaspoon vanilla extract
1 egg
½  teaspoon baking soda
1 cup Buttermilk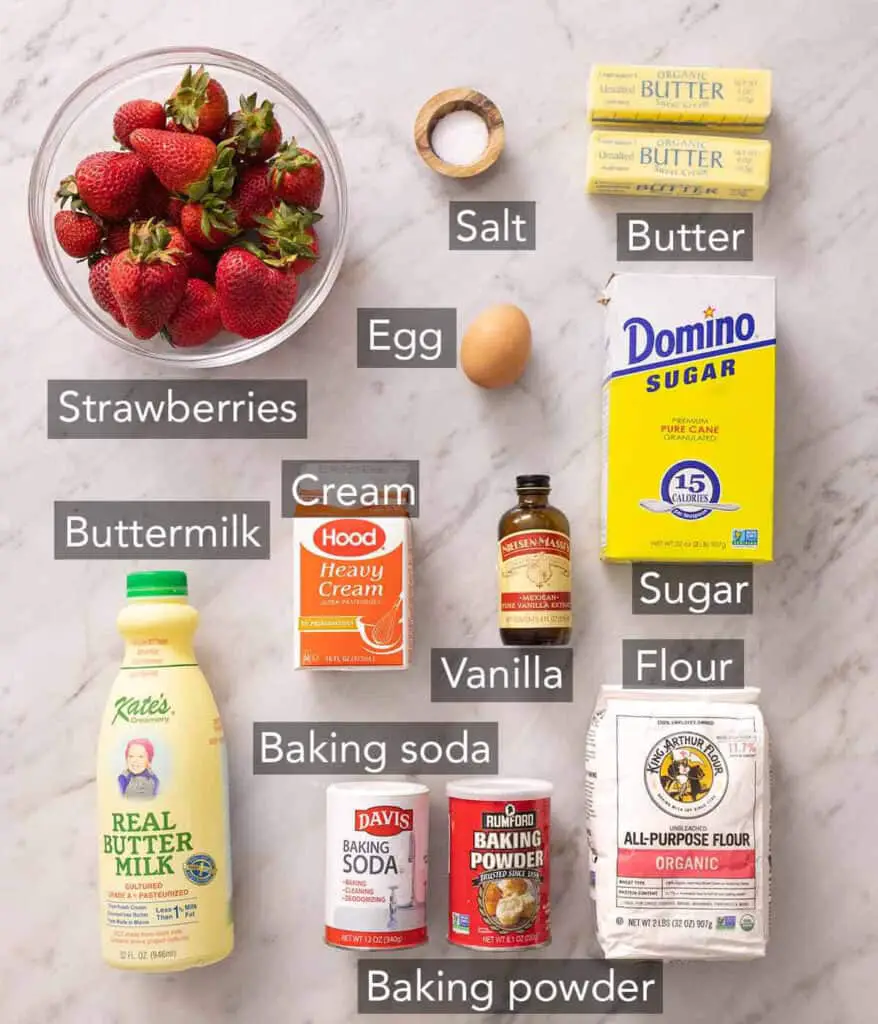 Step-by-Step Instructions For Preparing Strawberry Shortcake-
Gathered your ingredients and equipment? It's time to start your work. Hence follow our instructions-
Step 1 of 6: Prepare The Strawberries
While selecting strawberries, you need to keep one thing in mind. That is once the strawberries been plucked, the ripening action stops. So if you pick under-ripe berries, they won't ripen in your fridge. 
So, select the brightest-looking berries you can find for the highest sweetness! And then make your strawberries into little pieces. After that, you need to place them into a bowl.
Now, you add the sugar into that bowl where you've kept your cut strawberries. Blend it and enclose them up. Then refrigerate for at least 30 minutes.
Step 2 of 6: Mix The Dry Ingredients With Butter
Now into a larger mixing bowl, put 4 cups of flour. To sweeten things up, add ¼ cup of sugar or according to your taste. Add 1 teaspoon of salt. It will help to enhance the flavor. Add ½ teaspoon of baking soda and 1 tablespoon of baking powder. Grasp a whisk and start mixing it up!
Remember, you need to blend it before working in the cold cubed butter.
After that, cut the butter into small pieces and mix them into this flour mixer. You'll find the mixture being grainy.
Now knead them a little more and refrigerate until you make the liquid mixture. Let's chill down.
Step 3 of 6: Mix The Liquid Ingredients
Into a measuring cup, add the cold ingredients. Start with the buttermilk. Put 1 cup of buttermilk. Then add ¼ cup of heavy cream and 1 large egg. Mix it for a minute. 
Step 4 of 6: Make The Dough 
Now take the flour mixture out of the fridge and pour your liquid mixture into it.
Combine everything before spinning the dough out onto an unstained side. Once it's almost altogether,  put this out to a clean surface.
Pat, it gently until it's like cookie dough. You need to pat it until it stops sticking to your finger. The dough should be 1 inch thick.
Step 5 of 6: Cut Into Shapes and Brush
Now, take a cutter and cut them into round shapes. Similar to the picture below-
While cutting them, use flour so it doesn't stick with your cutter. 
Now, brush only the tops with a little bit of cream or milk.
Before putting them into the oven, add a little bit of granulated sugar. It'll put on a crispy texture and sparkle.
Now, these beauties are ready to go into the oven. Put them at 425F (218C) for 15 minutes. You need to put them until they're puffed and turned golden.
Step 6 of 6: Whip The Cream
Now, put 2 cups of heavy cream right into your mixture. Add about 3 tablespoons of sugar and 2 tablespoons of vanilla essence.
Mix it with a low beat first and then after some time at a higher beat. Don't over whip otherwise it'll turn into butter.
Lastly, cut your shortcakes in half. Add a generous amount of whipped cream right on top. Place delicious strawberries. Then take more whipped cream to add to the top one. Add a couple of strawberry pieces to finish it up.
That's it! Your strawberry shortcake is ready to eat.
Some Important Tips-
If you're still puzzled as to what you should do while preparing shortcakes. Here are a few tips to assemble it into a flawless dessert.
How Should You Cut Your Strawberries for Strawberry Shortcakes?
Well, to cut your strawberries, start from the stem of the berry. Begin with crumbling and pulling off the green stem of the berry. Then you need to locate the berry stem verge down on a cutting board. Start cutting them into ¼-inch slices.
What Should You Do If You Want to Hold on Your Cake Satisfying And High?
You should blend some room-temperature mascarpone into your whipped cream. It will offer it a deeper consistency.  This will help you to keep your strawberry shortcake satisfying and high.
What Should You Do with Your Remaining Whipped Cream?
If you have remaining whipped cream, you can store it by wrapping it in the fridge. You can beat the leftover whip cream again thereafter to dust it back up.
Now, it's time to enjoy your shortcake!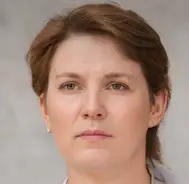 Latest posts by Leah Greenstein
(see all)