Crispy crust, delicious saucy base & perfect toppings- that's mouthwatering Aurelio's Pizza for you.
Arguably Chicago's best pizza, Aurelio's has been unique for its special sauce & thin crust. 
They have been serving delicious pizzas for over 50 years to their customers.
To satisfy your cravings, we have compiled the perfect dough and sauce recipe. These two are preliminary for every topping.
However, we also have included one of their best "The super six pizza" making procedures. 
So, roll up your sleeves and get started for a delicious bite.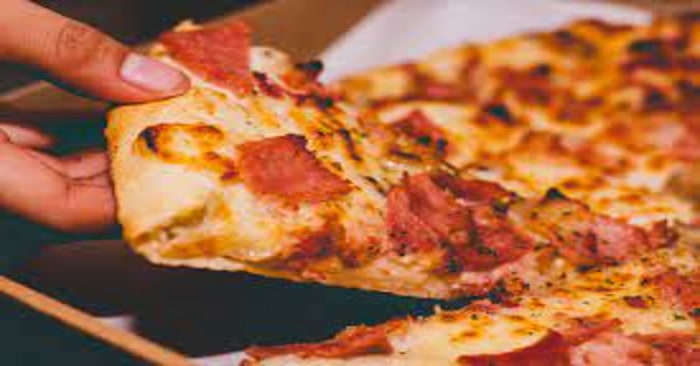 Difficulty Level: Medium
Cooking time: 1 hr 10 minutes 
Dough resting/Prep time:26 hrs.
Total Time: 27 hrs 10 minutes
Serving Size: 4-5 people
Nutrition Info (per slice):
| | |
| --- | --- |
| A.M.T perserving | Percentage daily value |
| Calories – 117 Kcal |         — |
| Calories from Fat 3 g | 3% |
| Cholesterol 0 mg | 0% |
| Sodium 514.8 mg | 21% |
| Total Carbohydrate 23.3 g | 7% |
| Protein 3.3 g | 6% |
Ingredients List
Here are the things you will require.
For sauce:
Crushed tomatoes 28 ounces
Malted barley syrup 1/8 cup
Sugar 1/8 cup
Olive oil 1 tablespoon
Dried  oregano  1 tablespoon
Dried basil 1 tablespoon
For dough:
Warm water  ¾ cup
Malted barley syrup 1 tablespoon
Yeast 1 tablespoon
Olive oil ¼ cup 
Sea salt  1 tablespoon
AP Flour  1 pound
For the signature "Super six Pizza"
Dough ball – 14 oz
Sauce – 12 oz
Fresh pinched Italian sausage – 14 oz.
Shredded mozzarella – 10 oz
Thin-sliced ham – 6.5 oz
Pepperoni (34-36 slices)
Green peppers – 2.5 oz
Mushrooms – 2.5 oz
Required Kitchen hardware:
Saucepan
Bowl
Heavy-duty mixture
Oven
Pizza stone
Step by Step Instruction 
For your convenience, we have described the whole process in three easy steps.
Step 1: Sauce Making
Place oil in a saucepan and set the heat on low. Then add sugar, crushed tomatoes and barley.
After some time, add basil & oregano. Give it a stir. 
Keep it like this until the first simmer. The sauce is ready!
Keep aside the sauce for at least 2 hours to cool down. But don't refrigerate it.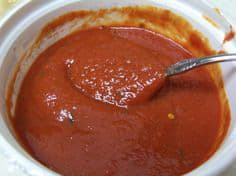 Step 2: Dough Preparation
Take a heavy-duty mixer which has a dough hook. Then add barley, water and yeast. Mix the ingredients till the yeast fully dissolves.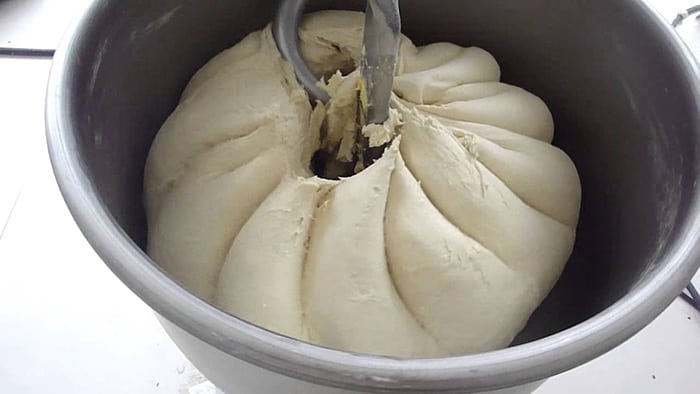 Now, add 1/4 cup of the flour then keep aside in a warm place. After 15minutes, you will notice a spongy texture. 
Then, add oil, salt, and remaining flour to it. Set the speed on low. Mix until the dough takes a dough ball shape. You can add water if needed.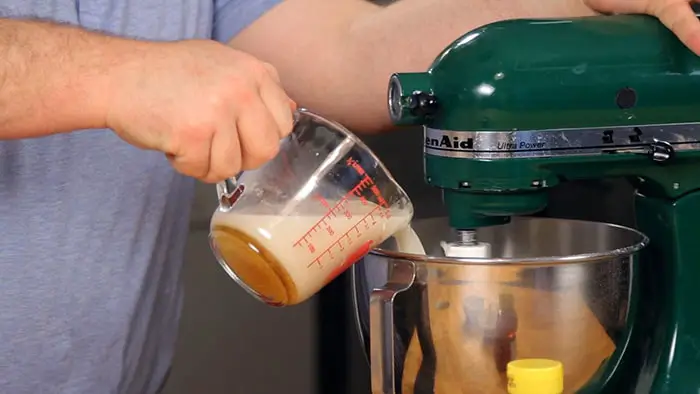 After that, place the dough in an air-sealed plastic bag and refrigerate for 24 hours. This step is very crucial to bring out the right texture and flavor.
After 24 hours, remove the dough from the refrigerator. Place the dough in an isolated place for 2 hours.
Step 3: Pre-cooking The Dough
Preheat both the oven and pizza stone to 500 degrees F. 
Now it is time to roll the dough.
Cut the dough into two pieces. Roll the first one as thin as possible. Dock the dough with a pizza docker or a fork.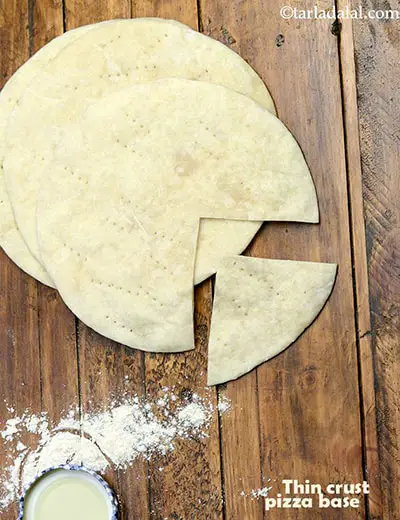 Now, cover your pizza peel with flour and place the rolled dough onto the peel. 
Now, without adding any toppings, slide the dough onto the pizza stone. Cook for 4 minutes. While the 1st piece is cooking, roll the 2nd, and repeat the same procedure.
After 4 minutes, take out the dough. Roll the bubbles of the dough to a straight surface. Your dough is now ready to fill with any of your favorite toppings!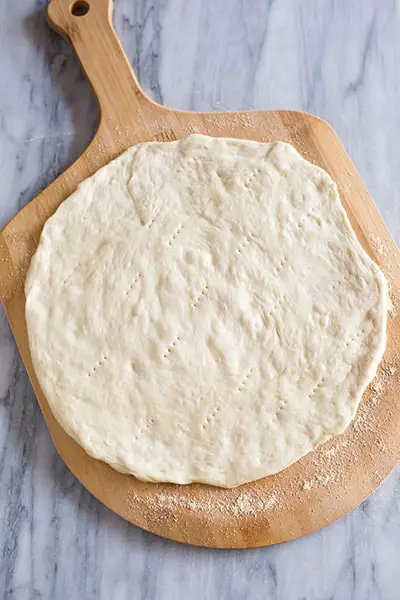 But as we promised, we are bringing you the special Super six pizza secret ingredients next. Try it to have a complete Aurelio's experience.
Step 4: Add The Super Six Toppings & Bake
First, slap and stretch your dough to a very thin, 15" crust. Bake it as we described earlier. Now spread your sauce, leaving about one-fourth from the crust line.
Then add your choice of fresh sliced sausage. Remember to pinch them in small pieces, until it won't fully cook.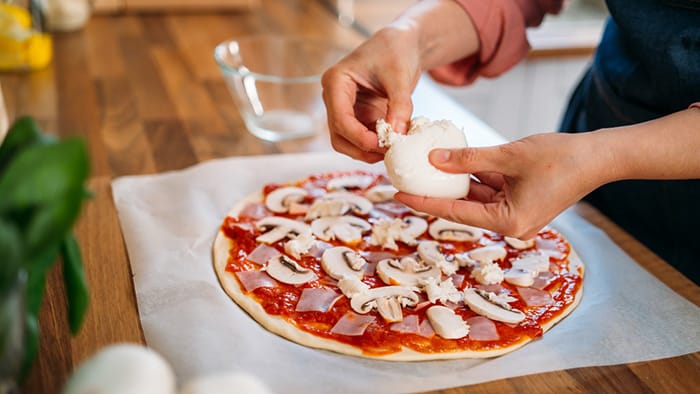 Next, add the first layer of cheese. Then add ham slices, top with mushrooms, pepperoni, and chopped green pepper.
Finally, add your remaining cheese. Top with any seasonings you like. Bake the pizza at 525° F for 10 minutes. Once the crust becomes crispy, take it out of the oven.
Your pizza is ready. Now it's time to serve and enjoy!
Some Important Tips
Here are some common concerns that people face. So check these out to be clear.
I Have Heard That They Use Beer In Their Sauce, Is It Correct? 
Well, Many people have claimed that Aurelios uses beer in the sauce. But, as per the opinion of the majority, we suggest that you  use malted barley.
What Do I Do If I Don't Have A Pizza Stone?
You can use a greased pizza pan instead.
Is There Any Problem If I Don't Pre-cook The Dough?
Precooking the crust gives you a crispier crust. It also prevents the pizza from becoming soggy. Also, it's Auerion's signature move. So, you should try it to have an authentic taste.
Now you know the easiest recipe to make Aurelio's Pizza at home. We hope you like our recipe and will try it out.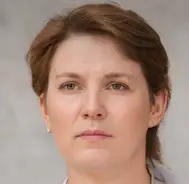 Latest posts by Leah Greenstein
(see all)