The King of all Pizza came from nowhere but New York City. Legends say, "Either you have Dom's Di Fara Pizza or you have nothing."
Di Fara Pizza is known to be one of the best Pizzerias in the world. And Domenico DeMarco is the man who built the empire and the artist of this legendary Pizza. 
Every first-timer who came to Di Fara had their tongue melted, and blown their mind away after having such delicious Pizza.  Some say it's for their drizzling Olive Oil, some say it's for their seasoning Oregano.
And if you want to know how delicious the pizza is, how to cook this pizza. Then you are in the right place. So let's not drag any further and jump into the recipe.
Difficulty Level: Easy
Serving Size: 6-8 Servings
Required Time: 
Preparation Time : 3 Hours 
Cooking Time:  10  minutes
Total Time: 3 hours and 10 minutes
Nutrition Facts:
For servings per pizza slice, the nutrition facts are:
| | |
| --- | --- |
| kCal | 560 cal |
| Total Fat | 21g |
| Saturated Fat | 8g |
| Cholesterol | 790mg |
| Sodium | 980mg |
Ingredient List
Here are the things you'll need to prepare this pizza-
For Dough 
2 cups of flour (Blend of Heckers All-Purpose and Caputo's Chef Flour)
1¾ cups of water (heated to 105-110 degrees)
1 tablespoon salt
1 tablespoon sugar
1 tablespoon dry yeast
3 tablespoons Olive oil
For Sauce
½ cup of Peeled Tomatoes from Parma and a passata
1 tablespoon of Extra Virgin Olive Oil
1½  tablespoons of Sugar 
2 tablespoons of Salt
12-20 Basil leaves
¼ cup of Water
For Toppings
½ cup of Buffalo Mozzarella
½ cup of Regular Mozzarella
2 tablespoons of Oregano
8-10 Basil leaves
¼ cup of Gran Padano/ Hard Cheese
Necessary Cooking Equipment
Step-by-Step Process of Making Di Fara Pizza
You can carry out this Pizza with all the necessary ingredients mentioned above. So, Let's jump into the steps
Step 1: Make The Dough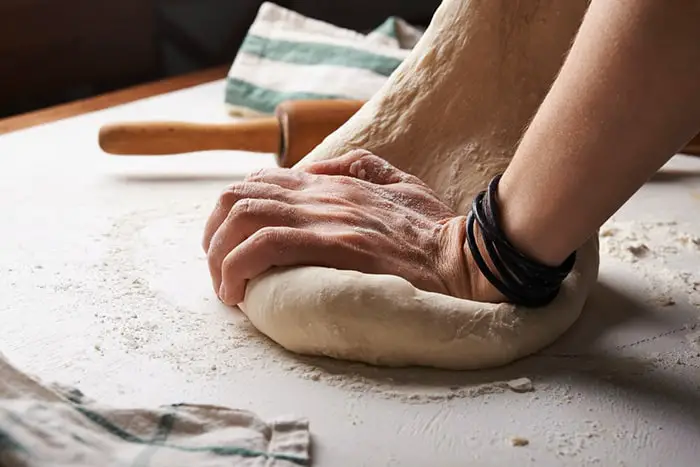 Take 2 cups of Heckers All-Purpose and Caputo's Chef Flour in a bowl. Add some salt and stir it with a spatula.
Now pour ¾ cup water into the bowl. Add the sugar and dry yeast in it. Mix it well.
When the water is soaked within the mixture, pour some water into the flour. Add a tablespoon of oil and start blending the dough. Pound the dough for another 5-7 minutes until it has a better texture. And make sure there are no lumps.
Then, press the dough with your index finger to understand if it needs any pounding. If it reverts back to its original shape, then that's done.
Give the dough a ball shape. Keep it this way in a warmer place for half an hour. It helps in the thickening of the dough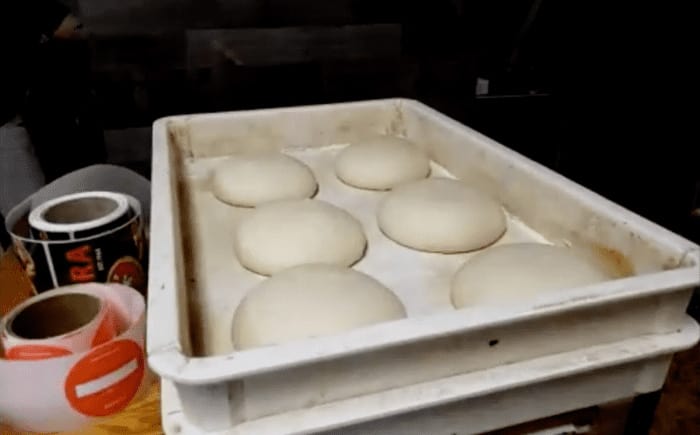 Step-2: Make The Sauce
By the time the dough sets in, we can prepare the sauce. At Di Fara, Dom used to roughly crush the whole peeled tomatoes. So that you get to have a good chance of getting a tomato chunk in your slice.
Put 2 tablespoons of sugar, salt, and some basil in the bowl. Then add some water to it.
Take 3 tablespoons of olive oil in a frying pan. After a while when the oil warms up to 120 degrees, put the tomato paste in it. Cook it for 30-40 minutes in lower heat. When it gets thick, let it cool for a while.
Step-3: Assemble The Pizza
Here comes the interesting part. Now, we'll put everything together. Just like Domenico, we'll stretch out the dough into a circle. We'll be doing this until it gets thin.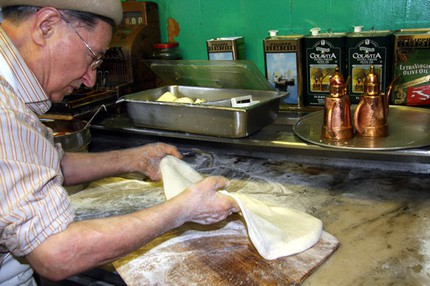 Then, Flour a pizza peel and spread the dough out on it. Spill the sauce over the dough and spread it evenly.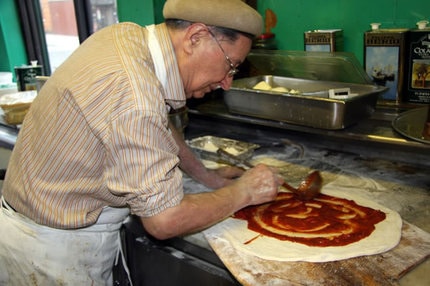 Now as Dom prefers it, Grate the regular mozzarella directly onto the pie. And, there comes the Buffalo Mozzarella from Napoli. Put it in clumps evenly around the pie.
After that, Sprinkle the Gran Padano (Hard Cheese) after grating them.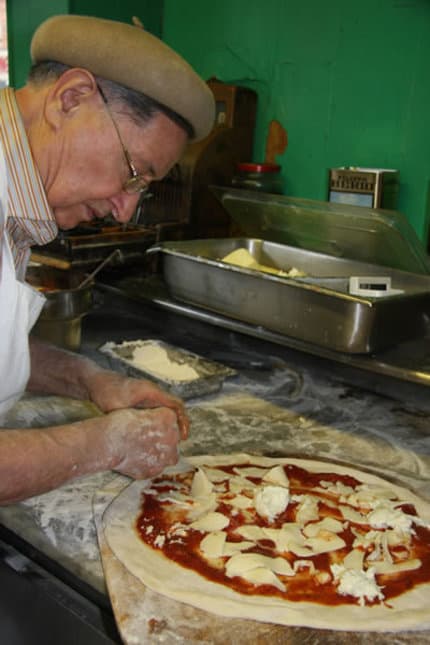 Drizzle extra-virgin olive oil over everything just before putting the pizza in the oven.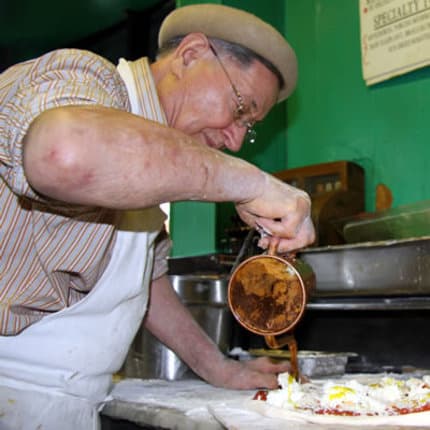 Place it in the oven at 120-130 degrees. Also, Preheating is not needed before putting it into the pizza. It's just a regular gas pizza oven with no coals.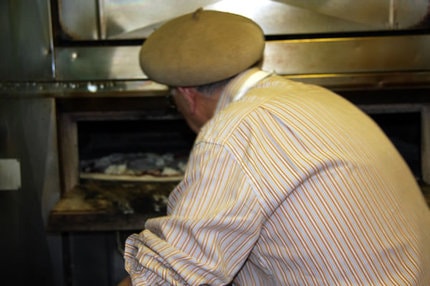 Once you notice the pizza's delicious smell, you can tell your Pizza is ready. The pie is topped with additional Gran Padano as soon as it's out of the oven.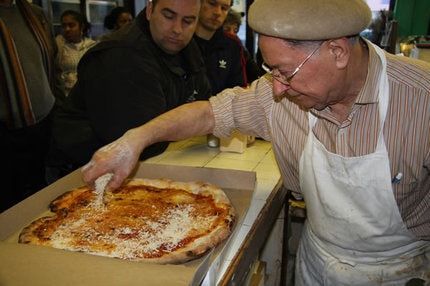 We're almost to the final step. Now, throw in a handful of fresh basil and oregano.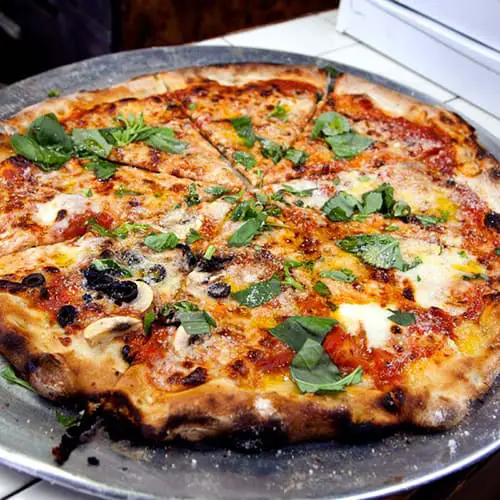 And now, The Famous Di Fara Pizza is ready to take you to Pizza heaven!
Some Important Tips
If you go through the process, you will be able to carry out this easy recipe. But in case you want to have it on your own, here we got some tips
Does Di Fara Have Gluten-Free Pizza Options?
Unfortunately, they don't. As most of their customers are fond of their classic Di Fara Pizza. They didn't think of any other gluten-free menu so far. 
How Long Can The Pizza Be Stored?
This pizza can be stored in the refrigerator for up to four days or frozen for up to one month.
Now that you have a complete recipe for your Di Fara Pizza, what are you waiting for? Grab a bite at this delicious Di Fara Pizza freshly baked from your home.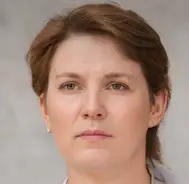 Latest posts by Leah Greenstein
(see all)