Non-homogenized milk is a dairy product that preserves its natural state without undergoing the homogenization process. It maintains separate cream and milk layers, resulting in a creamier texture, richer flavor, and sweeter taste. This type of milk offers benefits like raw nutrition, enhanced taste, and no synthetic vitamins.
Before choosing non-homogenized milk it is necessary for everyone to know what is Non-Homogenized Milk. By reading this article you will explore all about non-homogenized milk and its benefit. So, let's start!
Key Takeaways 
Non-homogenized milk is dairy that retains its natural state, with separate cream and milk layers.
Non-homogenized milk naturally provides a perfect sweetness due to its preserved cream texture.
Non-homogenized milk can be boiled or not , but you need to boil raw milk properly to eliminate bacteria. 
Non-homogenized milk offers benefits such as raw nutrition, enhanced flavor, and no synthetic vitamins.
What is Non-Homogenized Milk?
Non-homogenized milk refers to milk that maintains its natural state, as it has not undergone the homogenization process. To understand this concept better, lt's find out the concept of homogenization.
Homogenization is a mechanical procedure that combines the distinct components of fresh whole milk. Then convert it into cream and low-fat milk,  after that into a uniform and seamless beverage. 
This method involves heating and forcing fresh milk through minute nozzles under high pressure. This forceful pressure causes the fat globules present in the cream to fragment into minuscule particles. It is then evenly distributed throughout the low-fat milk. 
While these minute fat particles are susceptible to turning rancid, the process of pasteurization safeguards homogenized milk from spoiling. 
Now, since non-homogenized milk does not go through this process, it has a  delightful layer of cream at the top. 
Notably, non-homogenized milk has a naturally sweeter taste compared to its homogenized counterpart. 
This sweetness can be attributed to the intact silky texture of the whole cream, which remains preserved. Furthermore, non-homogenized milk possesses a more pronounced and rich flavor profile.
What to Expect from Non-Homogenized Milk?
For individuals accustomed to homogenized milk, the experience of trying non-homogenized milk may be unfamiliar. Within 12-24 hours, fresh non-homogenized milk naturally separates into a light cream top and a denser layer of low-fat milk. 
Over time, the cream thickens and can even form a solid cream "plug," which can be shaken loose or enjoyed separately. The inherent sweetness of non-homogenized milk is more pronounced due to the preserved texture of the whole cream. It results in a richer flavor. 
Even variations like 2% and fat-free milk maintain a decent taste due to the retention of cream during the process. Both professional chefs and home cooks favor non-homogenized dairy for crafting exquisite cheese, yogurt, ice cream, and more.
Can You Boil Non – Homogenized Milk?
Yes, you can boil Non- homogenized milk. But if this milk has gone through pasteurization then it is already bacteria-free. Boiling milk is a common practice, but it's important to differentiate between raw and packaged milk. 
Raw milk requires boiling to eliminate potential bacteria, while packaged milk may not necessitate boiling due to pasteurization.
Cow's milk boils at approximately 203°F (95°C). When incorporated into cooked or baked recipes like puddings, it naturally reaches its boiling point during the cooking process.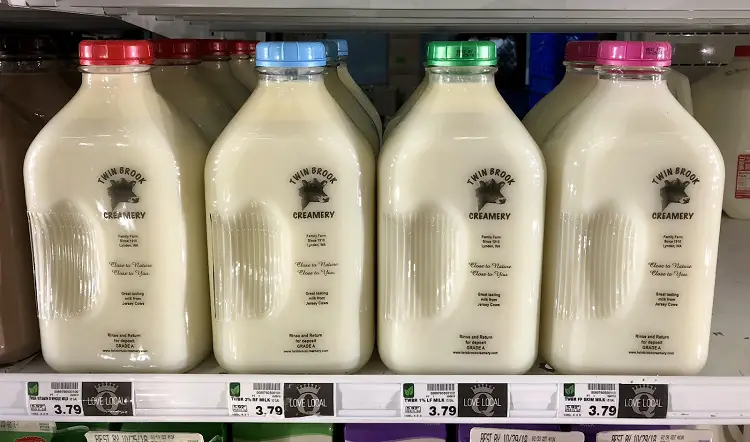 Source: The Cream Layers
While some individuals boil milk to eliminate bacteria and reduce the risk of foodborne illnesses, this precaution is unnecessary.
Milk that has gone through pasteurization already addresses bacterial concerns, making boiling packaged milk redundant. Understanding the distinctions between raw and packaged milk can help ensure proper handling and consumption practices.
How to Create Non-Homogenised Milk?
To produce non-homogenized milk, follow these steps:
Begin with fresh milk that hasn't undergone homogenization. You can verify that by looking for the cream rising to the milk's surface.
Allow the milk to settle in the refrigerator for several hours or overnight, encouraging the cream to ascend.
Delicately skim off the cream from the milk's top using a spoon or ladle.
Pour the remaining milk into a distinct container, ensuring the undisturbed cream at the bottom.
Store the cream and milk separately in the refrigerator until their intended use.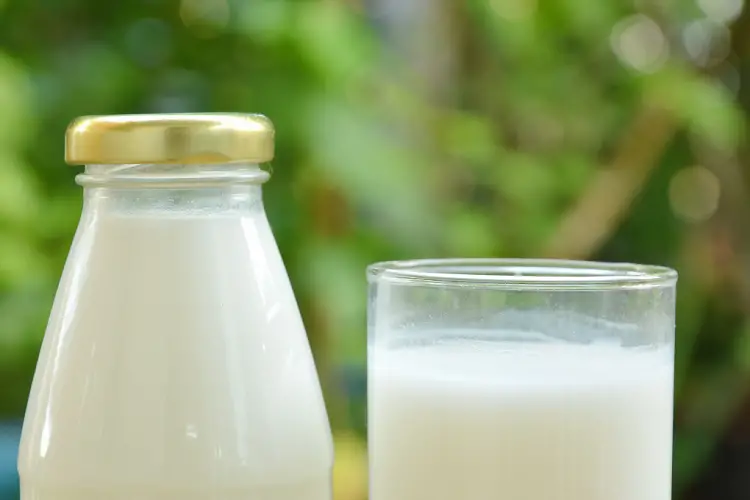 Source: New England Dairy
It's noteworthy that non-homogenized milk can still undergo pasteurization, a process eliminating bacteria while retaining its unique attributes.
Is Non-Homogenized Milk Safe?
Non-homogenized milk is absolutely safe for consumption, as it undergoes pasteurization at 168° F to eliminate bacteria. Just like homogenized milk, non-homogenized milk is also regarded as safe and brimming with nutrients. The process of homogenization has no impact on milk's safety. 
Also, non-homogenized milk is a great option for coffee enthusiasts. Interestingly, now people actually like using non-homogenized milk in their coffee. This preference is rooted in the milk's inherent qualities. Generally, people choose it because of its natural sweetness and richer, creamier texture compared to homogenized milk. 
Benefits of Non-Homogenized Milk
Non-homogenized milk offers a range of advantages over its homogenized counterpart. Here are some notable benefits of opting for non-homogenized milk:
Rich in Raw Nutrition
The luxuriously creamy and velvety texture
Enhanced Flavor like a naturally sweeter flavor 
No Synthetic Vitamins
Importantly, non-homogenized milk can be pasteurized to remove bacteria. It retains its natural qualities and unique attributes. This ensures both safety and the preservation of its inherent nutritional benefits. But you also need to know the detailed benefits of non-homogenized milk.
Frequently Asked Questions
Is Non-Homogenized Milk OK for Babies?
Yes, non-homogenized milk is OK for babies. Whole milk is recommended for toddlers due to their higher fat content needs. Similarly, non-homogenized, minimally processed milk is also a preferable choice for children. This is attributed to its inherent nutritional value, including essential elements like calcium, protein, potassium, and vitamin B.
Does Non-Homogenized Mean Raw Milk?
Not all non-homogenized milk is raw milk but all raw milk is non-homogenized. Non-homogenized milk although not homogenized, goes through the pasteurization process. However, raw milk is also not homogenized but it does not go through a pasteurization process. 
Is Non-Homogenized Milk Expensive?
Yes, non-homogenized milk tends to be more expensive due to its specialized production process and lower popularity. Although the manufacturing process for non-homogenized milk might involve fewer steps, it is still a specialized product. 
Conclusion
Now you know clearly what is non-homogenized milk.
Non-homogenized milk carries a naturally sweeter taste that's hard to resist for people who like natural flavor. For its richer flavor or velvety texture, non-homogenized milk has a way of winning hearts and taste buds alike.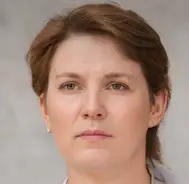 Latest posts by Leah Greenstein
(see all)