There can be nothing more refreshing than a cup of chai latte. Starting a day with one is the best way to enter a quality lifestyle.
This recipe which originates from the Indian subcontinent is somewhat similar to coffee. Yet,  it's more refreshing. If you don't believe us, just try it yourselves.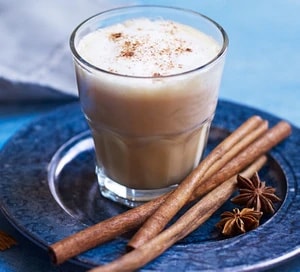 Difficulty Level: Easy
Serving Portion: 4 serving
Preparing Time: 5 minutes
Cooking Time: 7 to 10 minutes
Total time: 12 to 15 minutes
Nutrition Facts
1 mug of chai latte serves you 237 calories.
Amount per serving
| | | |
| --- | --- | --- |
| Nutrition  | Amount | Percentage % |
| Cholesterol | 24 g | 8% |
| Fat | 9 g | 14% |
| Sodium | 130 mg | 6% |
| Potassium | 470 mg | 13% |
| Carbohydrate | 34 g | 11% |
| Fiber | 4g | 17% |
| Sugar | 24g | 27% |
| Protein | 9g | 18% |
| | | |
| --- | --- | --- |
| Supplemental | Amount | Percentage |
| Vitamin A | 4321 IU | 8% |
| Vitamin C | 1 mg | 1% |
| Calcium | 367 mg | 37% |
| Iron | 2 mg | 11% |
The value of nutrition and supplements are approximate. The percentage values are based on a 2000 calorie diet
Required Cooking Equipment
Mortar and Pestle: To grind the spices.
Fine Mesh Strainer: To separate the solid granules of spices at the time of pouring tea in the mug.
Ingredient List
2 cinnamon sticks
8 cardamom pods
4 cloves
6 peppercorns
1 star anise
1-inch piece of ginger, sliced
3 black tea bag (such as Ceylon, Assam, or English breakfast)
500ml whole milk
1 or 2 tbsp. of brown sugar
pinch cinnamon for garnish
Directions To Make The Perfect Chai Latte
Chai latte is easier than making any other recipes. You just need the ingredients mentioned above and 4 simple steps to follow. So without any delay, just dive in.
Step 1: Boil The Water
First, take a medium-sized saucepan and fill it with 2 cups of water. Set it to boil over medium heat. While this continues, take a look at the next step.
Step 2: Infusing The Spices
Take a mortar and put cardamom pods, cloves, peppercorns, and star anise. Smash them with a pestle. Take them out and smash two cinnamon sticks separately. Once again, smash a 1- inch piece of ginger (sliced).
Now add all these spices into the boiling water. Wait until the color becomes reddish-brown. A spicy smell will emerge from the water by now. When it does, add 1 tbsp. brown sugar and 3 black tea bags to the saucepan. Let it infuse for 5 to 7 minutes.
After that, strain the tea between 4 mugs through a mesh strainer. Cover them with a saucer. It's very important to do so otherwise the tea will get cold.
Step 3: Prepare The Milk
Now that you have strained the tea, clean the saucepan with water. Pour 500 ml whole milk into the saucepan. Steam the milk in medium-low heat, otherwise, the milk will splatter. 
Add 2 tsp. brown sugar. After steaming it for 3 to 4  minutes, turn down the heat. Take the saucepan away from the stove. Froth the top with a whisk or milk frother. This will create some foam.
Step 4: Final Touches to The Chai Latte
Now that the milk is prepared, strain the milk into all the tea-filled 4 mugs. Don't strain the froth. Stir each of the mugs perfectly so that the milk and the tea mix well. 
Now, add milk foam on top of each latte using a spoon. Sprinkle a pinch of cinnamon powder for garnish.
And there you are, you've made the perfect chai latte.
Some Facts About Chai Latte You Need To Know
Here is some information that you might not have known about the chai latte. Take a look if you're not too busy.
Is There Any Coffee In Chai Latte?
No, there is no coffee in chai latte. However, it is quite ironic that chai lattes are served in a lot of coffee shops. 
Is There Any Alternative to Whole Milk in Chai Latte?
You can use coconut milk instead of whole milk. However, it will change the taste to a great extent. It will add a sweet, floral, and nutty flavor to your latte. You should also know that it has high saturated fat. If that's not your concern, using coconut milk can be a great choice.
Does Chai Latte Help To Get Rid of Sleepiness?
Chai Latte can do a great deal to free you from sleep. Its caffeine stimulates your nerves and makes you feel fresh. So, if you have tons of work, but you're drowsing, this really works as a life hack.
Does Chai Latte Have Any Health Benefits?
Well, chai latte has multiple health benefits. The ginger in it helps in your digestion. It also reduces your overall blood sugar level. Chai latte can also relieve your headaches or sickness. It's a healthy drink for all seasons.
Chai latte is such a wonderful drink to refresh yourself. No matter what stress you are having, this drink will surely relieve you to some extent. 
Anyway, let us know if you liked this recipe. If you have any other ideas, feel free to share them in the comment section.
Till then, stay refreshed!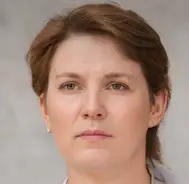 Latest posts by Leah Greenstein
(see all)